Lufthansa, easyJet, Air France-KLM, British Airways and Ryanair shares wilt on tough outlook
Shares in Lufthansa, easyJet, Air France-KLM, British Airways (see below) and Ryanair lost ground yesterday as prospects for an improvement in airline finances received an official downgrade by IATA. The carriers' stocks fell 1.3%, 2%, 3.4%, 3.7% and 4.1%, respectively, yesterday.
European airlines are expected to report a combined USD1.8 billion net loss in 2009 - a major downgrade since the March estimate of a USD1.0 billion loss.
For daily updates on American aviation stock prices and a complete wrap of the day's breaking news, sign up now for a complimentary subscription to America Airline Daily.
Europe selected airlines daily share price movements (% change): 08-Jun-09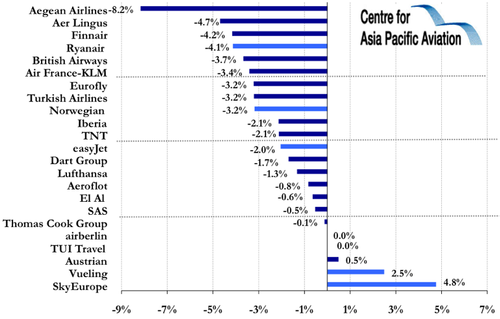 British Airways - "nothing we can do to stimulate traffic"
British Airways CEO, Willie Walsh, confirmed the merger with Iberia (shares down 2.1% yesterday) remains the "right option", but he reiterated calls for urgent cost cuts from unions, stating the airline's business is "under serious threat". He stated, "I intend to everything possible to ensure we [British Airways] don't become the next GM".
Echoing comments from other carriers, Mr Walsh stated there is "nothing we can do in the current environment to stimulate traffic, particularly in the premium market". He stated that the stabilisation of the economy was a pre-requisite for any return to stability in the airline sector, adding, "I don't see a recovery soon".
[See related article on British Airways' latest premium traffic report]