Los Angeles International – potentially a model for the operation of large hub airports
Analysis
Los Angeles International Airport forged its way upwards in the global ranking of busiest airports by passenger numbers in 2016, gaining three places to finish at #4 (#2 in the U.S. after Atlanta), with 8% growth – the second highest improvement of the top 10 airports globally.
Los Angeles International, or LAX as it is commonly known, dominates its own urban metropolitan area, one of the largest in North America. It is in stiff competition with San Francisco International Airport for trans-Pacific traffic, and with San Diego as the main hub for Southern California.
But there are many other local rivalries. LAX is the only commercial scheduled service airport under the ownership of Los Angeles World Airports (LAWA), though that body does also own the Van Nuys general aviation airport. Other metropolitan area airports, such as Hollywood Burbank to the northeast, Ontario to the east, Long Beach to the south and John Wayne Orange County to the southeast, all owned by separate municipalities, are competing with LAX and especially for domestic traffic.
This report looks at present and future growth trends at LAX, local airport statistics, how it matches up to other airports across a range of metrics, at construction activities, and at its ownership.
Los Angeles' economy – more than just entertainment
Los Angeles is the cultural, financial, and commercial centre of Southern California, with an estimated (2016) population of 3,976,322, making it the second most populous U.S. city after New York. But the urban area sprawls well beyond its boundaries, despite it being surrounded on three sides by mountains and by the Pacific Ocean on the fourth. The metropolitan area embraces over 13 million people, while the five-county Southern California (So-Cal) region runs to 18.7 million – again, itself the second most populous after the New York metropolitan area.
Los Angeles is best known for its entertainment industries (television, motion pictures, video games, music recording, and production), contained within what is known as the '30-mile zone' of entertainment headquarters, but it also has clusters of more mundane ones such as aerospace, petroleum, CIT, fashion, and clothing, as well as the tourism that the entertainment industries encourage.
It is the largest manufacturing centre in the western U.S., and the contiguous ports of Los Angeles and Long Beach (just to the south of LAX) are the fifth busiest in the world, with a particular emphasis on the Pacific Rim.
While it is a financial centre, it is perhaps not as important as are other cities. In the 2017 Global Financial Centres Index, Los Angeles was ranked the sixth most competitive financial centre in the U.S., after New York, San Francisco, Chicago, Boston and Washington D.C., and the 19th in the world.
Overall, and despite its comparative lack of clout in the financial arena, the Los Angeles-Long Beach statistical area is the third largest economic metropolitan area in the world after Tokyo and New York, with a gross product of USD866 billion in 2015.
However, that status is not really recognised by the UK's Globalisation and World Cities (GaWC) Research Network, which, in its most recent analysis (2016), classed Los Angeles as an Alpha World City, one of 19, which also includes cities such as Mumbai, Mexico City and Kuala Lumpur. There are seven cities in the 'Alpha +' category above it, and its main U.S. rival, New York, is one of only two 'Alpha ++' cities.
Sprawling area, comprehensive surface transport infrastructure, result in overlap and competition
The area is served by three main airports. With almost 81 million passengers in 2016, Los Angeles International (LAX) in Los Angeles proper is the US' second busiest airport after Atlanta, and the fourth busiest in the world.
There are smaller airports: the recently renamed Hollywood Burbank Airport and Long Beach Airport (both also in Los Angeles County), John Wayne/Santa Ana Airport in Orange County, and Ontario International Airport in San Bernardino County in the Inland Empire, about 40 miles east of downtown.
Several other airports, for example, Santa Monica (the closest to LAX and in the process of being closed down), Torrance, and Van Nuys, handle business and general aviation only.
The nature of this sprawling subregion means that there is considerable overlap of catchment areas, and the opportunity for citizens to use competing airports that are not the nearest to their abode or place of work is enhanced by the well developed freeway system and by a rapidly improving public transport (light, suburban and heavy rail) network. The latter is detailed in a case study in a 2017 CAPA report, see https://centreforaviation.com/shop/air-rail-report.
LAX in a league of its own in the peer review
The table below compares LAX to peer and neighbouring airports on the Pacific Coast, both O&D and hub airports, using a variety of metrics that include aviation and population statistics. (N.B. population figures in this instance are for metropolitan areas, not cities.
Rankings by assorted metrics: LAX and peer/neighbouring airports (passengers - 2016)
Airport/metric

Hub or O&D (primary role)

ASKs

Seats

Frequencies

Cargo payload

Passenger (million)

(2016)

Metro Area population (million)

Hub

3

6

3

9

80.9

13.1

Hub

11

24

16

25

53.1

4.7

Hub/O&D

92

103

90

121

20.7

3.3

Orange County John Wayne

O&D

208

193

183

230

10.5

3.2

O&D

397

372

387

372

2.9

1.3

Ontario International

O&D

369

321

325

354

4.2

4.0 *1

Hollywood Burbank

O&D

379

284

263

380

4.1

1.8 *2
This table shows that the peer airports might be separated into two categories.
Firstly, the international airports that are influenced by hub operations – LAX, San Francisco and San Diego. In this category, LAX is the clear leader, half as big again by passenger numbers as San Francisco, and four times as big as San Diego. It is the only one consistently to get into the global top 10 – by some margin – within each measure.
Secondly, the local airports that have mainly O&D passengers (although some of them may hub through other primary airports like San Francisco, Las Vegas, Seattle or Denver). None of these airports appears to pose a significant threat to LAX.
Location map of Los Angeles in relation to San Francisco and San Diego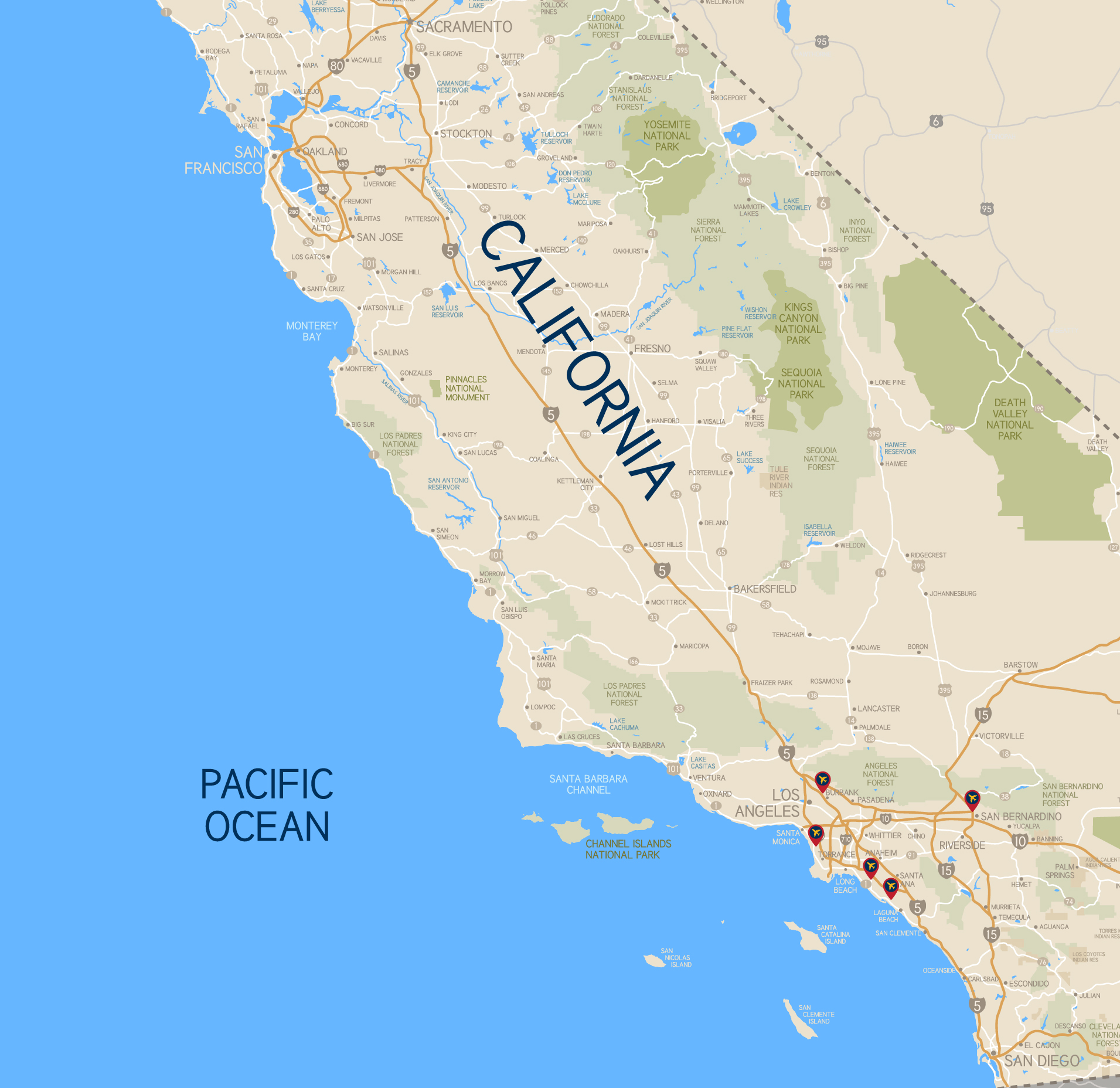 Location map of LAX in relation to Long Beach, John Wayne (Santa Ana), Hollywood Burbank and Ontario airports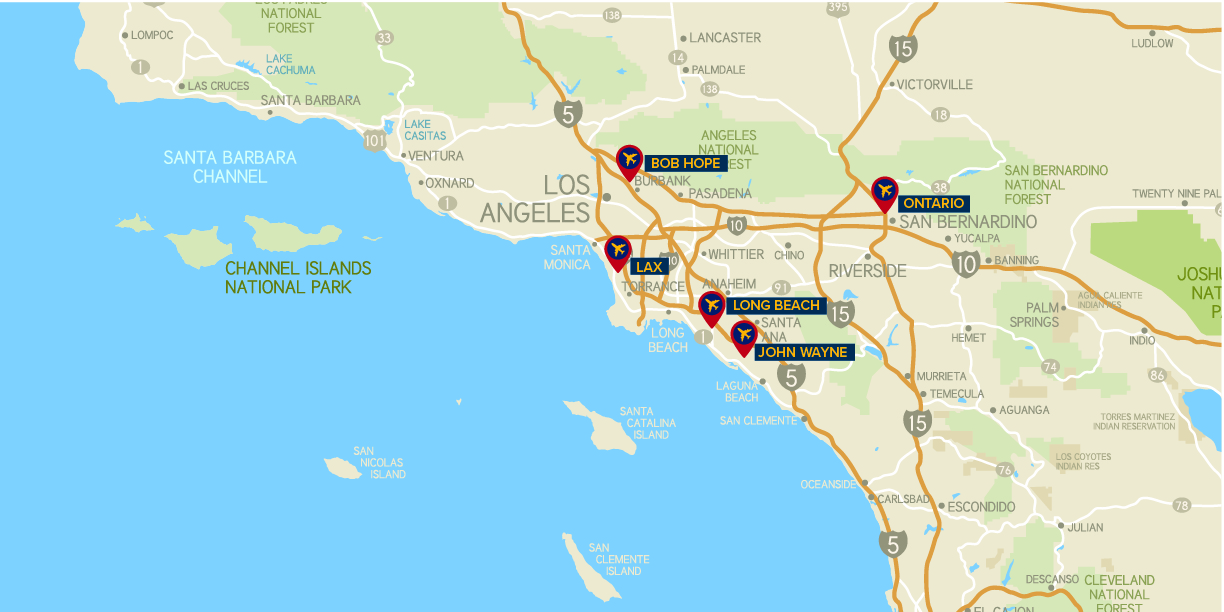 The tables below are a summary of destinations flown from LAX, passenger and freight.
LAX Network Summary (at week commencing 20-Nov-2017)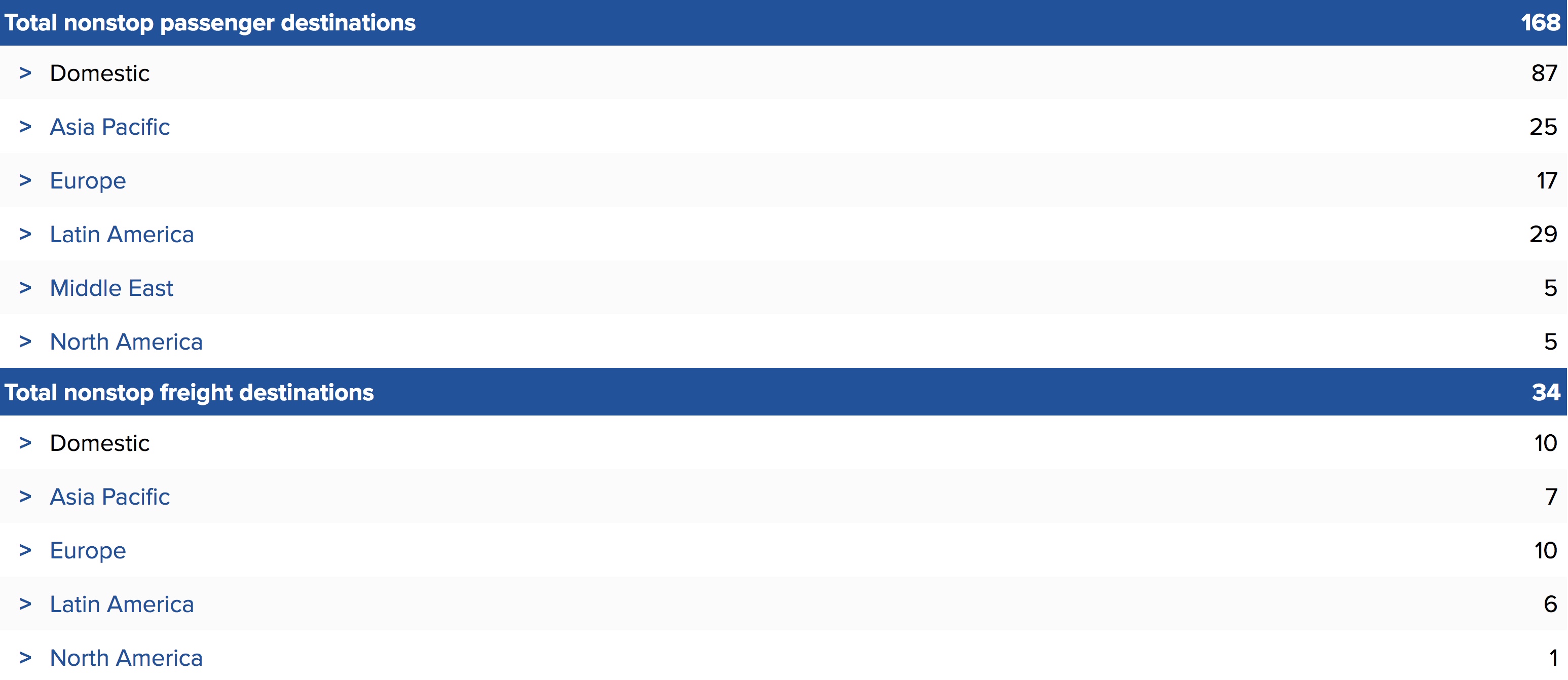 The second fastest-growing airport in the peer group
The table below, using similar data for peer airports, shows in more detail how LAX compares alongside the same selection of US airports. Again, these airports comprise LCC-oriented, regional and large hub facilities, in terms of overall connectivity.
Comparison of airports by total airlines and nonstop destinations: LAX and peer/neighbouring airports
| | | | | | | | |
| --- | --- | --- | --- | --- | --- | --- | --- |
| Airport | Passenger traffic 2016 (in millions) | Passenger growth 2015 -16 (%) | Nonstop passenger destinations | (Of which domestic) | Ratio of domestic to total Passenger destinations (%) | Nonstop freight destinations | (Of which domestic) |
| | 80.9 | 8.0 | 168 | 87 | 51.8 | 32 | 10 |
| | 53.1 | 6.1 | 111 | 70 | 63.1 | 7 | 4 |
| | 20.7 | 3.2 | 61 | 53 | 86.9 | 0 | 0 |
| Orange County John Wayne | 10.5 | 4.6 | 28 | 25 | 89.3 | 0 | 0 |
| | 2.9 | 13.0 | 15 | 15 | 100.0 | 0 | 0 |
| Ontario International | 4.2 | 0.8 | 17 | 15 | 88.2 | 2 | 2 |
| Hollywood Burbank | 4.1 | 5.1 | 14 | 14 | 100.0 | 2 | 2 |
Three interesting facts arise out of this table.
Firstly, with the exception of Long Beach, where a 2015 decision permitted nine extra daily services and the subsequent arrival of Southwest Airlines at the airport, LAX was the fastest-growing airport in 2016 across the entire peer group.
Secondly, it has the highest number of international nonstop destinations overall, and international nonstop destinations, the latter being the litmus test of its competition with San Francisco.
Thirdly, LAX is also the clear regional leader in terms of the number of nonstop freight destinations and international nonstop freight destinations.
International connectivity – strong in Central America, comparatively weak in South America
The route map below shows destinations that can be reached by direct or connecting flights. It is clear that, apart from the large domestic network, international flights are comprehensive to Central America, fairly comprehensive to Europe and Asia Pacific, but less so to South America and virtually non-existent to Africa.
Note that not all the cities can be shown on the map here, one that can be expanded and moved in real time on the CAPA website.
Direct and indirect (connecting) routes from LAX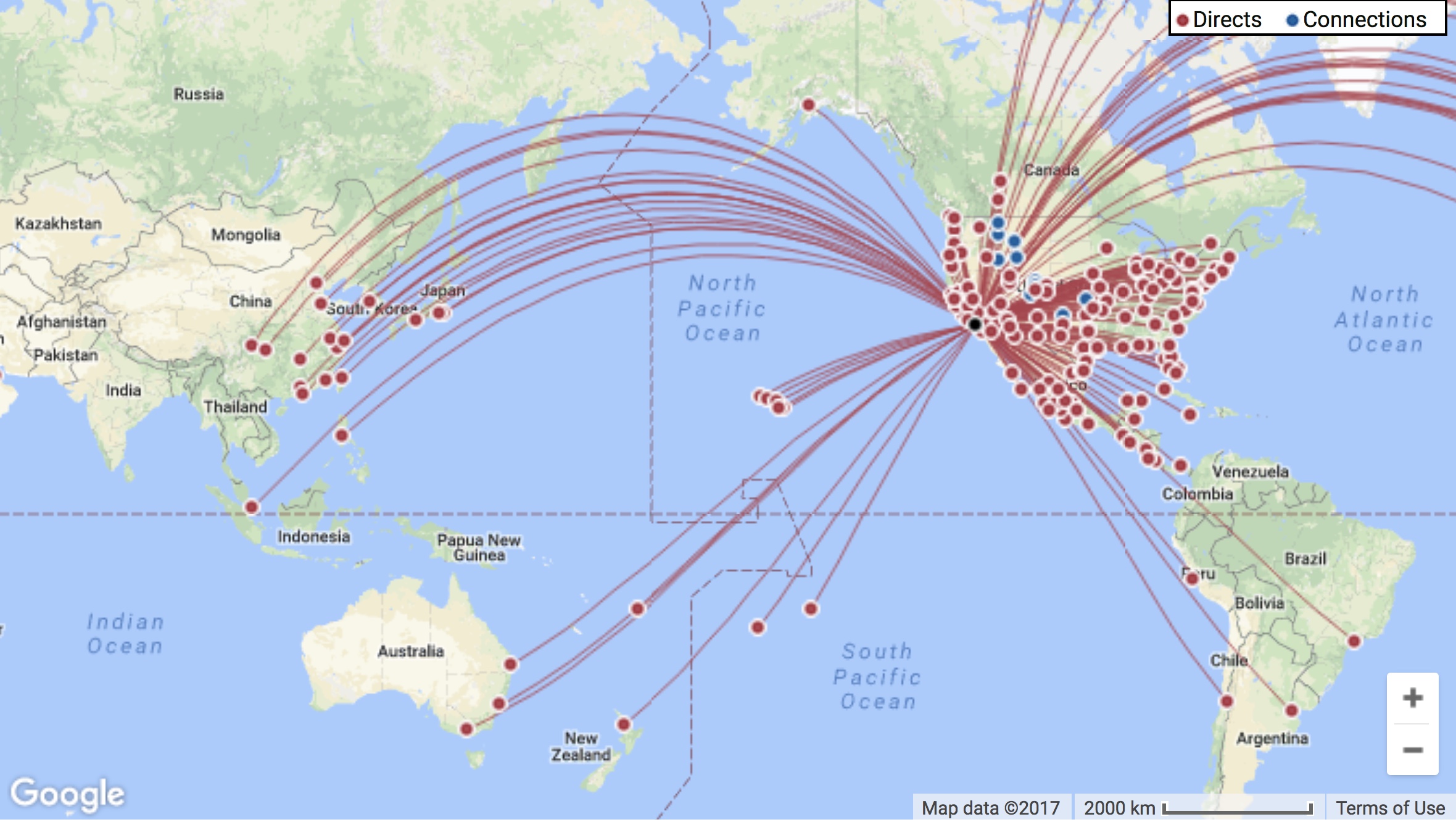 Greater equality of seat capacity distribution than at other hubs
Unlike other large hubs such as Atlanta (Delta Airlines) and Chicago O'Hare (United Airlines, American Airlines) and also more pertinently San Francisco (where United has close to half of the seat capacity), LAX is not dominated by one or two airlines.
Indeed, as the chart below shows, 'others' is the largest category. There is an equilibrium in the distribution of seat capacity between American, Delta, United and Southwest.
LAX total system seats for all business models: week commencing 20-Nov-2017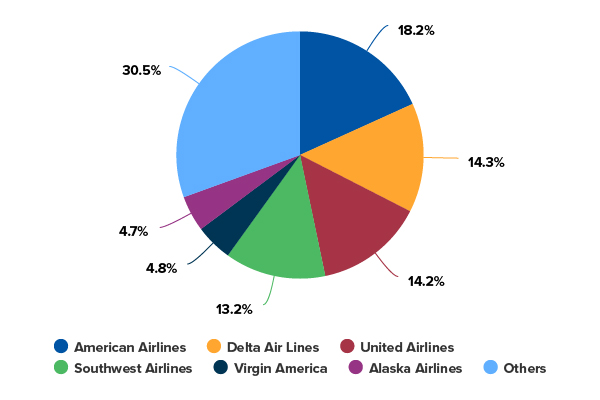 Nor does LAX lack foreign airline penetration. Right now, that is almost 22% of capacity, considerably more than at San Francisco, also Chicago O'Hare and Atlanta.
A good seat balance between regions
Further equilibrium is to be found in the distribution of seats between regions, as shown below.
LAX international departing seats by region: week commencing 20-Nov-2017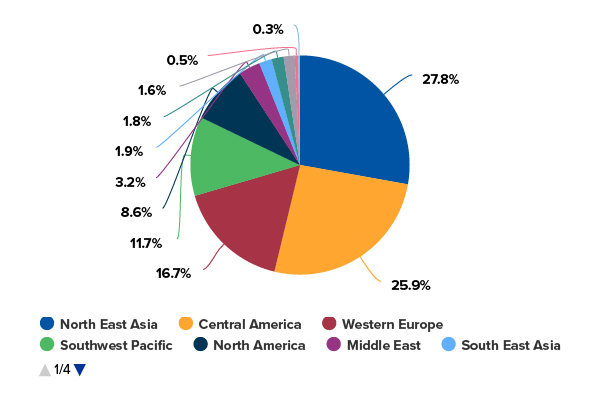 Drilling down to individual countries, those with the highest proportion of seats (top 5, in order) are: Mexico (as to be expected given LAX's location), China, Canada, Australia and the UK.
However, the strong showing of Central America and Mexico in LAX's seat capacity statistics does mean that it trails its main rival, San Francisco, in two important business markets: North East Asia (by almost 10 percentage points) and Western Europe (by five percentage points).
LCC penetration levels similar at LAX and San Francisco
27.5% of seats at LAX are on low cost airlines.
LAX capacity, seat share by airline type: week commencing 20-Nov-2017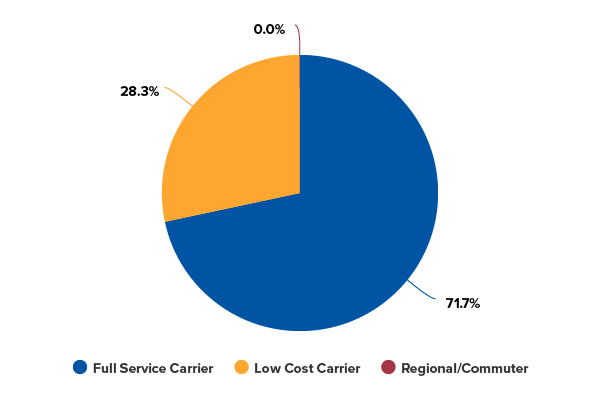 This is how that figure compares with some of the airport's peers, using the same group.
Comparison of selected airports by airline type – seat capacity: week commencing 13-Nov-2017
| | | | | |
| --- | --- | --- | --- | --- |
| Airport | % of seats on FSCs | % of seats on LCCs | % of seats on other modes (e.g. regional, charter airlines) | Clarification of the previous column |
| | 72.5 | 27.5 | 0.0 | - |
| | 77.6 | 22.4 | 0.0 | - |
| | 49.4 | 50.6 | 0.0 | |
| Orange County John Wayne | 55.2 | 44.8 | 0.0 | - |
| | 8.5 | 91.5 | 0.0 | - |
| Ontario International | 34.0 | 66.0 | 0.0 | - |
| Hollywood Burbank | 21.8 | 75.6 | 2.7 | Regional/commuter/charter |
The table shows that there is little difference in the FSC/LCC split between LAX and San Francisco. The LCC penetration is higher at San Diego and Orange County, but it is at the three smaller airport where it is at its highest – rising to 91.5% of capacity at Long Beach.
Thus, LCC seats in the Los Angeles area are spread around the area geographically, unlike the San Francisco Bay Area, where most of the budget capacity is centred on Oakland Airport.
Strangely, there appears to be little room for regional, commuter and charter airlines at most of the airports in the LAX peer group.
Alliance penetration – a perfect distribution of capacity
As for airline alliances and their impact at LAX, this is another example of an orderly apportioning of capacity, with an even split between the three global alliances and just over a third of all capacity being on 'unaligned' airlines.
LAX capacity, seat share by alliance/unaligned, week commencing 20-Nov-2017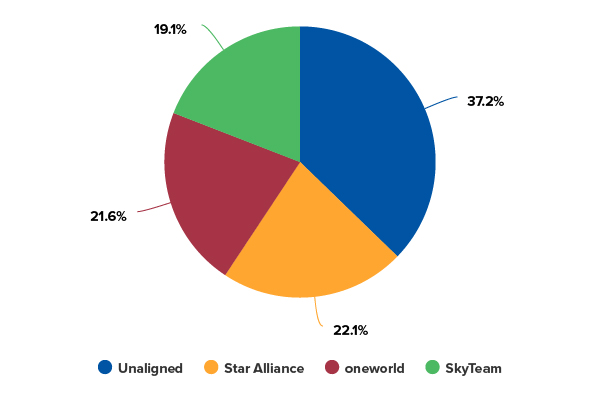 How does this compare with the peer airport group?
Comparison of LAX with selected airports by alliance penetration – seat availability: week commencing 06-Nov-2017
| | | |
| --- | --- | --- |
| Airport | % of seats on unaligned airlines | % of seats on aligned airlines |
| | 36.1 | 63.9 |
| | 28.5 | 71.5 |
| | 63.1 | 36.9 |
| Orange County John Wayne | 58.9 | 41.1 |
| | 91.5 | 8.5 |
| Ontario International | 73.0 | 27.0 |
| Hollywood Burbank | 88.5 | 11.5 |
Again, the propensity for there to be unaligned airlines operating – often LCCs – is greater at the smaller airports, but the message coming out of this chart and table is that LAX has an almost perfect mix of aligned and unaligned capacity, with a third of it unaligned and the remainder distributed evenly among the three global groups; none of them is in a position of dominance.
Consistent passenger traffic growth figures
Passenger traffic growth has been consistent, even during the period following the financial crash in 2008. There has been growth in every year since 2009, and in the past three years it has increased to over 6% year-on-year, and then to 8% in 2016.
However, it has decreased in 2017 (first nine months), and currently stands at + 4.6%. That 2017 reduction is common to many large U.S. airports. San Francisco's growth in the same period of 2017 is 4.5% lower, from 6% in 2016, for example. On the other hand, California has not been as badly affected as airports in the southeast and the Gulf of Mexico by weather-related incidents.
LAX annual passenger numbers: 2009-2017 ytd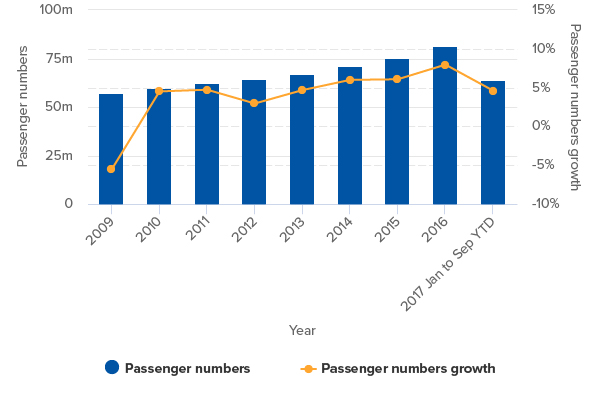 Cargo capacity is growing steadily
Cargo capacity at LAX is high and has been growing remorselessly since 2013, when it was 2.6 billion kg, to 2017 (to date), when it is calculated to be 3.5 billion kg for the full year.
LAX annual total system cargo capacity: 2013 - 2017
While most cargo is on passenger flights (belly hold), a little under half of capacity is on dedicated freighters in the week commencing 13-Nov-2017. There are over 20 dedicated cargo airlines using the airport, together with the parcel carrier FedEx and numerous airlines operating under the badge of another, DHL.
That dedicated freighter presence means there is broadly a 50:50 split between domestic and international capacity in the cargo segment.
Again, there is an even split in the capacity between the main airlines, and with the same order of seniority as in the passenger segment: American, Delta, and United. In this case, though, Southwest is absent, and the fourth largest airline by freight volume is a foreign one – Korean Air, followed by two Chinese ones.
LAX total system cargo payload by airline: week commencing 20-Nov-2017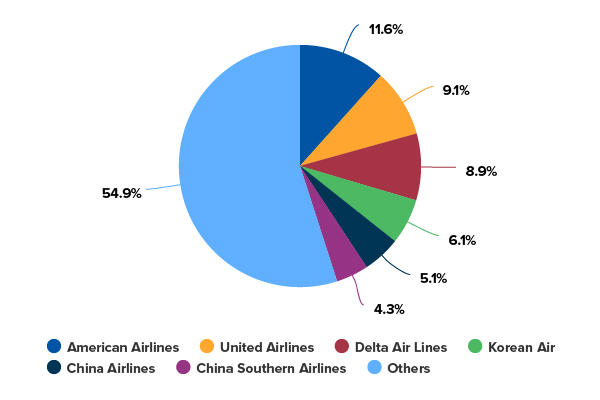 Layout and construction activities
LAX has four concrete runways, the shortest being 2.7 km.
There are nine passenger terminals, one international – The Tom Bradley International Terminal – and the remainder domestic. There is extensive 'exclusivity'; for example, Southwest at Terminal 1, American and American Eagle at Terminal 4, United in T7 and T8 etc., although airlines may rent out gates to other airlines.
The Tom Bradley International Terminal, otherwise known as Terminal B, handles most of the foreign airlines. It is the largest terminal by seat capacity.
LAX total system seats, terminal share: week commencing 20-Nov-2017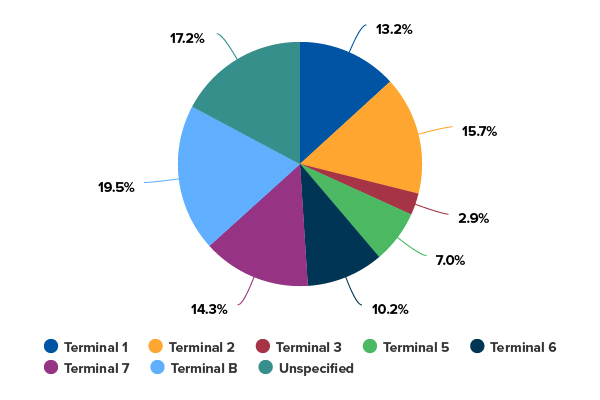 In addition, there are extensive cargo facilities at LAX, and a separately owned and operated heliport.
According to the CAPA Airport Construction Database, LAX is at the back end of USD8 billion worth of infrastructure development projects through to 2023, encompassing terminal construction and renovation, runway reconstruction and relocation, and the installation of a people mover. While much of the terminal renovation work is being undertaken by or on behalf of airlines, the construction of a new midfield satellite concourse has been under way since Apr-2017.
Extensive work on the Tom Bradley International Terminal concluded in Sep-2013 (though further additions are being made still), when it opened with what is regarded as the largest multimedia passenger entertainment systems at any airport – fittingly so, for the international airport that services Los Angeles' entertainment industries.
The ageing nature of its facilities previously had caused it to lose international traffic to the more modern ones at San Francisco. Specific facilities that were put in place for the A380 have meant that LAX handles more A380 services than any other North American city.
The Automated People Mover, or APM, will be an elevated electricity powered train with six stations along a 2.3-mile alignment, providing travellers and employees with a free connection to light rail, regional buses, parking and terminals. Los Angeles World Airports anticipates that by Jan-2018 it will have selected a team for the construction of the project and its operation.
Ownership – a traditional, municipally owned airport
In common with most U.S. airports, and especially the primary hubs, LAX is owned by the public sector – in this case, Los Angeles World Airports (LAWA).
LAWA is a branch of the city of Los Angeles and is also known as the Department of Airports. It is governed by a seven-member Airport Commissioner's Board. The board is appointed by the Mayor of Los Angeles and approved by the City Council. LAWA employs close to 2,500 employees, who work for the two airports under its control.
Apart from LAX, the other airport is Van Nuys – one of the busiest general aviation airports in the world, and situated in the San Fernando Valley.
None of the other Los Angeles area airports mentioned in this report is owned by LAWA – Long Beach, Orange County John Wayne, Hollywood Burbank or Ontario International. Again, they are all owned and operated by various municipalities, with no private sector involvement, though Ontario may be slowly gravitating in that direction.
LAWA has, in the past, owned the terminal at Palmdale Regional Airport, but it was transferred to the city council there in 2013. More recently (2016), it sold back shares in Ontario International that it had purchased in 1982 to the newly-formed Ontario International Airport Authority, following years of dispute during which local municipalities alleged mismanagement of the facility by LAWA, leading to severe traffic losses.
That story is chronicled in several CAPA reports, including this one:
https://centreforaviation.com/analysis/reports/californias-ontario-international-airport-part-1-change-of-ownership-allows-it-to-compete-with-lax-299502
and
https://centreforaviation.com/analysis/reports/californias-ontario-international-airport-part-2-dominated-by-lccs-304923
In recent years, there has been no prospect of LAWA being privatised in any meaningful way. While California has a reputation for being 'hip', it can be a surprisingly conservative place.
However, various studies into the potential privatisation of LAX have been made in the past. One, by Babcock and Brown in the early 1990s, found that privatisation would make no difference in airport revenues, expenses, or efficiency, compared with City ownership. There was also the problem of Federal law forbidding cities to take profits off public airports. But this was before airport privatisation and its benefits began to become manifest throughout the world.
Further soundings were taken later, in order to assess whether a sale or lease could help offset civic losses from the provision of mundane but essential services like sewage provision and refuse disposal.
There is no evidence of any serious demonstration of will for privatisation among politicians. While one cannot say for sure that it will never happen, there are no pointers towards it doing so in the foreseeable future.
But as with other major airports such as New York LaGuardia, Denver and Austin, the growing trend towards public-private-partnerships to build new infrastructure could find a role at LAX, and the sudden spurt of interest again in privatisation by lease (St Louis, Nashville, Westchester) means the 1996 Airport Privatisation Programme is not yet dead, as it seemed to be after the second failure of the Chicago Midway lease effort in 2013.
The growing likelihood of an elimination of Private Activity Bonds and advance refunding of bonds is a further pointer towards a greater adoption of the private sector in the business of construction projects at airports.
Bond funding is a critical part of the mix, but the House of Representatives has just approved a Republican tax plan that calls for their elimination – a measure that would make it more costly for airports that rely on bonds to finance their infrastructure projects.
Summary and conclusions
Los Angeles is world renowned for its entertainment businesses, but behind the scenes it is a workaday city supporting livelihoods for up to 18 million people
Several independently owned airports service the region, with some overlap of catchment area that is afforded by an advanced highway network and an improving rail network
LAX is the leading airport for the whole of Southern California; its main competitor internationally is San Francisco International, which is equally strong on Pacific routes
With the exception of one small airport, LAX has been the fastest-growing in the peer group, in terms of passengers
International connectivity is very good for Central America, not so much South America; more than adequate for Europe and Asia Pacific, and extremely limited for Africa
LAX scores very highly in the variety of airlines operating there and the distribution of seat capacity across the main ones. Penetration by foreign airlines is high. There is also a good balance of seats between regions
LCCs are better established at smaller airports around the Los Angeles region but even so, over a quarter of seats are on LCCs at LAX, slightly more than at San Francisco
Equally, there is an orderly apportioning of seat capacity by alliances and unaligned airlines
Passenger traffic growth has been consistent over the past eight years
Cargo volume growth has been consistently high, and freight is evenly split between dedicated cargo aircraft and passenger aircraft
A series of construction projects that have been under way for several years have now largely reached completion, with the conclusion of the refurbishment of the Tom Bradley International Terminal. The next major project is the implementation of a people mover between terminals and external transfer points
The airport is municipally owned. There is little prospect of terminals or other infrastructure being leased to private operators but public-private sector cooperation on infrastructure projects in the future is not out of the question