London City & Toronto Billy Bishop: City airports – functional, valuable, but not universally loved
Analysis
There are few commercial airports anywhere in the world that can genuinely be referred to as 'downtown' airports and fewer still that are STOL ports (short take-off and landing) only. The recent sale of London City Airport to a consortium including the Canadian pension fund OMERS, has focused attention on these airports. This is because OMERS is also an investor in the Billy Bishop Toronto City airport in its home base of Ontario, Canada, through an investment by its infrastructure division Borealis Infrastructure in Porter Aviation Holdings. Porter Holdings manages the terminal there through a sale and leaseback deal. It may be the only example of one investor having equity in two of these airports.
Apart from ownership commonality, the other thing that links these two city centre airports is politics.
This report examines the relative attributes of these almost unique airports by reference to a range of statistics. It seeks to contrast the two of them from an operational, political and investment perspective, ultimately posing the question: which of them actually is the better investment.
The following airports could be classified as 'downtown.' (There is no formal definition). They are given as examples only; there will be others.
Examples of primary international airports by locality, compared with Billy Bishop Toronto City and London City
It is immediately evident that the Billy Bishop airport is much closer to its Central Business District (CBD) than is the London City airport.
In fact, the distance in the case of Toronto is mainly accounted for by Lake Ontario, since as the airport is located on an offshore island which is now connected to the lake shore by a pedestrian tunnel and walkway, as well as by ferry. In the case of London City, the 6.9 miles distance referred to is actually to the original City of London financial centre. The new financial centre, around Canary Wharf, is closer, at approximately 4.3 miles.
Location map – Billy Bishop Toronto City Airport
Location map – London City Airport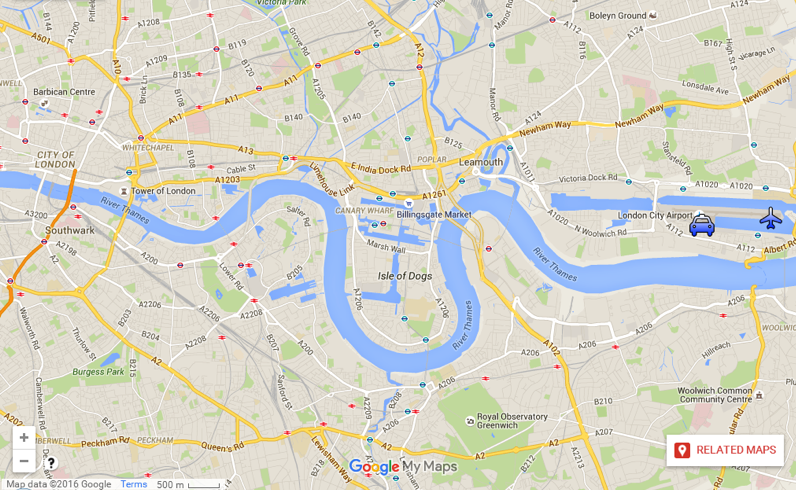 The one important factor that connects the two airports is that both the cities, London and Toronto, are the major financial centres for their countries. While financial activities are also very important in Milan, Miami and Rio de Janeiro, the location of these STOL ports close to the respective financial districts of Toronto and London, both of them partly owned by the same pension fund, invites a comparison.
A useful downtown transport facility, now easily accessible, but not loved by everyone
The Billy Bishop Toronto City Airport (BBTCA), which was formerly known as Toronto Island Airport and Toronto City Centre Airport, is located eight minutes from downtown Toronto: on the Toronto Islands in Lake Ontario. Promoted as 'the most scenic airport in the world', it is the smaller airport serving the Toronto metropolitan area, after Pearson International which is situated to the west of the city. Owing to runway restrictions, operations are limited to turboprop aircraft. The longest of the three runways is 1216 m.
Billy Bishop Toronto City Airport, view looking east
The airport is owned and operated by the Toronto Port Authority but Porter Holdings has controlled the terminal since 2006, and then built a new terminal in 2011. The passenger terminal was sold by Porter Airlines Holdings and City Centre Terminal to a private consortium on a sale and lease-back basis in 2015. That consortium was Nieuport Aviation Infrastructure. The consortium is made up of InstarAGF Asset Management Inc, an alternative-investment manager; Kilmer Van Nostrand Co, an investment firm controlled by Larry Tanenbaum, the chairman of Maple Leaf Sports & Entertainment; Partner Group, a Swiss private equity firm, and institutional clients. No price was disclosed, however a possible sale price of more than CAD750 million was reported. Intriguingly, that was at the same price in CAD and in GBP (GBP750 million) as London City Airport was sold at to Global Infrastructure Partners in 2006, by the entrepreneur Dermot Desmond.
(N.B. At the beginning of Mar-2016 InstarAGF Asset Management Inc and AGF Management Limited announced the successful first close of the InstarAGF Essential Infrastructure Fund with CAD372 million (USD277 million) in firm equity commitments, representing approximately 50% of the fund's targeted size, and the potential for cornerstone investors to upsize to CAD422 million (USD315 million) in committed capital prior to the final close of the Fund. Approximately CAD135 million (USDUSD100 million) of the capital raised by the Fund has already been committed to two investments: an interest in the passenger terminal at BBTCA and a 30-megawatt wind power development project in British Columbia).
BBTCA is the ninth busiest airport in Canada, serving 2.4 million passengers in 2014, which is the most recent verifiable statistic. This makes it smaller than London City by a little less than two million passengers. The airport is said to generate approximately CAD1.9 billion (USD1.5 billion) in annual economic impact and to support approximately 5700 direct and indirect jobs.
Top 10 airports (7-Mar-2016 to 13-Mar-2016, Canada, system traffic), ranked by seats
Rank

Airport

Total Seats

Percentage Market Share

1

990,767

27.77241%

2

484,289

13.57521%

3

397,769

11.14995%

4

364,214

10.20937%

5

171,931

4.81944%

6

138,067

3.87019%

7

99,913

2.80068%

8

97,982

2.74656%

9

82,038

2.29963%

10

45,240

1.26813%
The airport has been a source of controversy between local residents – who have often called for its closure – and the airport's owners and Porter Airlines, which sought the increased use of the facility. The airport's downtown location and runway restrictions have made it possible for Porter Airlines to carve out a niche in the short haul/business segment.
That niche was challenged by other airlines, mainly Air Canada, whose subsidiary Jazz was evicted from the airport when Porter Airlines Holdings and City Centre Terminal acquired it in 2006. Air Canada pressed hard to be permitted to return, filing a law suit after the end of Porter Airlines term of exclusivity in 2010. At the same time the new terminal was partly opened and the original one was relocated for use as a restaurant for General Aviation users. Air Canada Express (operated by Sky Regional) began flying out of the island airport again in 2011, and in July of the same year the construction of the pedestrian tunnel from the city's downtown area was agreed.
BBTCA's expansion is denied, along with jets; Porter Airlines to stick or twist?
But the story does not end there. Porter Airlines has sought to operate jet aircraft at BBTCA for some time, and its chosen vehicle was the troubled Bombardier C Series. It was supported in this aim by the Port Authority, which wanted to expand infrastructure around the airport and sought CAD100 million from the government to do so if its expansions plans and jet aircraft were both to be approved. The City Council, possibly acting 'on behalf of' residents, and declining to support the spending of any of the City's money on the project, insisted that the Port Authority produce an environmental assessment and updated master plan. A cap on passenger numbers was also produced, which is little more than the current throughput.
Then, in Apr-2015, Air Canada declared its hand; stating that it was opposed to the introduction of jets, adding its assessment that the expansion plan would cost CAD1 billion of public money. Unlike Porter Airlines, Air Canada has a huge presence at Pearson International Airport, its main hub.
When the environmental study of the ToR was published it envisaged a 200 m extension at each end of the main runway to 1.66 km (by comparison, London City's runway is 1.51 km). The number of daily slots would increase from 202 to 242; the number of passengers would increase from two million to four million annually; aircraft movements would increase from 114,000 to 138,000; and the peak number of passengers at one time would grow from 944 to 1,761. The proposal would also include a jet blast barrier and potentially a noise barrier.
Operations at the airport are governed by a 50-year tripartite agreement signed in 1983 between the Canadian Government, the City Council and the Toronto Harbour Commission. The agreement limited noise and banned the use of jets by scheduled airlines. Porter Airlines was seeking specific exemption from the ban for the Canadian-made CS100 aircraft. The CS100 is an aircraft underwritten by the Quebec government to the tune of CAD1 billion – a bailout that was offered as Bombardier suffered a record quarterly loss of CAD4.9 billion. All three of the signatories were needed in order for the ban to be overturned.
But following the Nov-2015 election of the Liberal Party, led by Justin Trudeau (after whose father Montreal's main airport is named), the new transport minister, Marc Garneau, stated that the government would not reopen the tripartite agreement to permit the expansion. It seems that Bombardier is regarded as being 'too big to fail' (the Canadian and Ontario governments have previously bailed out other manufacturing entities such as General Motors and Chrysler). It seems that it is too much to expect that an airport should be expanded so that the aircraft it builds could actually operate there, on Canadian soil. And this, despite the engine maker Pratt & Whitney's insisting that the CS100 would have been quieter than the existing turboprop aircraft that use the facility.
All this leaves Porter Airlines in an untenable position. Statements issued so far in 2016 (Jan/Feb) say that the airline "is committed to serving BBTCA for the long term" and "we will continue assessing options for overall growth" while at the same time the airline has felt obliged to rebuff media reports that it is seeking a potential buyer as an effective exit strategy, hinting instead that it is positioning for a future IPO. Air Canada's position is far less stressful, of course.
A further, and positive, twist in the tale came in early Mar-2016 when BBTCA announced it is among the transportation facilities to be included in the expanded US Customs Pre-clearance Programme. The announcement, which also included Quebec City Jean Lesage International Airport, came as part of Prime Minister Justin Trudeau's effort to make travel between the US and Canada more convenient for travellers and further to enhance trade relations.
Residents spoiled for airport choice
A brief mention should be made here of the airport's surface accessibility compared with that of Pearson International because accessibility is a major issue in the comparable case of London City Airport and London Heathrow Airport.
As mentioned earlier, BBTCA may be accessed by a pedestrian tunnel, which consists of four moving sidewalks for the 240 metre journey 30 metres below Lake Ontario. (It cost CAD82.5 million to build, but much of that comes from the CAD20 airport improvement fee that departing passengers pay). Alternatively, there is a frequent 90-second duration ferry service.
By comparison Pearson International, which is 14 miles from downtown, can be accessed (other than by private vehicle) by various public transport buses from Toronto's suburbs and surrounding towns. However, the long-established Toronto Airport Express bus, which operated from a city centre terminal, ceased operation in Oct-2014. It was replaced by the TTC Express Bus services, with several lines connecting various parts of the city with the airport and with journey times varying from 20 minutes to 90 minutes.
The Union Pearson Express (UP Express) is a dedicated express airport rail link between the airport (T1 station) and Union Station in downtown Toronto, taking 25 minutes and operating every 15 minutes during the day. Union Station is situated close to the City's Yonge Street financial district. However, rider patronage numbers have been poor, prompting the operator, Metrolinx, to cut one way fares below CAD20 in order to compete.
It could be argued that Toronto's downtown residents are spoiled for choice between these two airports, especially those working in the financial sector, but the slightly superior accessibility of BBTCA during working hours combined with the simplicity of a single terminal count in its favour.
There is one other aspect of accessibility that cannot be overlooked here and that is the accessibility that might be required in the event of an emergency such as an aircraft running off the runway and into Lake Ontario. A 1993 report from the Intergovernmental Staff Committee that was sourced under Freedom of Information laws called for, inter alia, a bridge to be built that could be used by emergency services in the event of such an incident. The bridge was never built but Ports Toronto invested instead in an on-site emergency centre and fire hall on the island-side airport grounds so there would be no lapse in response regardless of the situation or mainland access. Additionally, there is the fixed-base presence of the Province of Ontario's Ornge Air Ambulance and Paramedics Service at the airport. The airport also argues that Toronto's emergency responders have the ability to access the airport within minutes by water, through the Toronto Marine Units, and by the ferry, which would be made solely available to emergency response vehicles in the event of an emergency.
Nevertheless the subject remains a bone of contention between the airport and a local pressure group Community Air, which advocates closing the airport and which argues, inter alia, that the Port Authority decision to allow Porter Airlines to commence operations did not include any consideration of the 1993 report.
The remainder of this section of the report is concerned with operational data on the airport.
Billy Bishop Toronto City Airport network summary (at 29-Feb-2016)
| | |
| --- | --- |
| | 2 |
| Domestic only | 1 |
| International | 1 |
| Total nonstop passenger destinations | 18 |
| Domestic | 10 |
| | 0 |
| | 0 |
| | 0 |
| | 0 |
| | 0 |
| | 8 |
| Total nonstop freight destinations | 0 |
| Domestic | 0 |
| | 0 |
| | 0 |
| | 0 |
| | 0 |
| | 0 |
| | 0 |
Other than Pearson International Airport to the west and the J C Munro Hamilton International Airport to the southwest there are no other commercial airports serving the Toronto city region apart from BBTCA. A long-standing proposal to build an airport at Pickering, in the east of the conurbation, is on hold for the moment. This is somewhat surprising as the population of Toronto alone is 2.6 million, in an urban conurbation of 5.5 million, while the population of Ontario is 13.5 million. This makes it (Ontario) comparable with London and the Southeast of England, where there are six airports serving London and carrying the city's name in their titles, and another two within or on the fringe of the commuter belt (2014 estimated population 14 million).
On the other hand, at least there are three passenger airports in the Toronto city region. The other major cities of Montreal, Calgary and Vancouver only have one each, though the latter has three other smaller ones on its fringes. Montreal's airport is more exposed to losing passengers to US airports than are Toronto's. While the Buffalo and Niagara Falls airports in New York State are an hour's drive away from downtown Toronto, neither airport should have much impact on BBTCA because of the nature of its routes and traffic (see later).
The table below compares BBTCA with the other two Toronto area airports across a range of metrics.
Comparison of airports by total airlines and nonstop destinations
Airport

Total airlines

Pax traffic 2015

(unless stated) (million)

Pax to airline ratio

International airlines

Nonstop passenger destinations

Nonstop freight destinations

BBTCA

2

2.4 (2014)

1.2

1

18

0

Toronto Pearson Intnl

39

41.0

1.1

38

170

8

Hamilton Intnl

4

0.33 (2014)

0.1

3

8

8
Some observations may be made immediately from these statistics. BBTCA is identified as a niche airport compared with Pearson, with only two airlines. But the range of destinations provided by those airlines is quite high; over twice as many as Hamilton, which has twice the number of passenger airlines. (Hamilton is really a cargo airport, being Canada's third biggest airport in that segment). BBTCA, on the other hand, has no presence in the cargo market at all.
A lower passenger to airline ratio means that there is more choice per passenger for the size of the total traffic. Clearly, with only two airlines for 2.4 million passengers choice is extremely limited at BBTCA but actually it is only marginally worse than at Pearson, where the number of airlines operating is not much greater than at Montreal, which has a third of Pearson's traffic volume.
An early conclusion therefore might be that BBTCA is a niche airport, but there is scope for it to be less so; at the expense of Pearson as much as of Hamilton.
Connectivity is dictated by turboprop range
BBTCA's route map takes on a star shape, with all the destinations dictated by the operational parameters of turboprop aircraft, and all of them with North America (18 domestic and eight in the US). There is no 'indirect' connectivity (i.e. codeshares).
Direct and indirect (connecting) routes from BBTCA, Mar-2016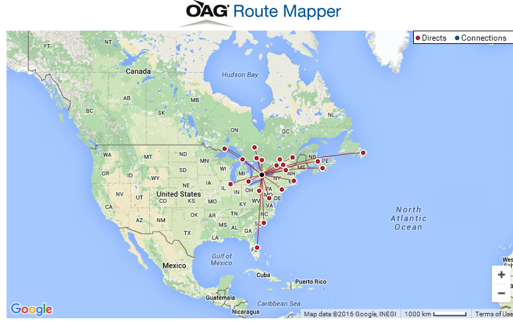 The chart below looks further into the nonstop connectivity of BBTCA compared with its main Toronto area rival, Pearson International Airport. The reliance of BBTCA on the North American market is evident and stark.
Nonstop connectivity values (passenger destinations). Comparison of BBTCA with Toronto Pearson International Airport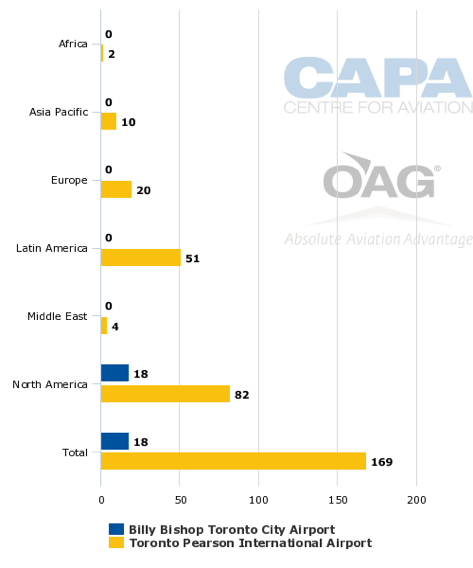 Even then only 29% of seats from BBTCA are available on international services.
Neither of the airlines operating there is classed as a low cost airline; rather, they are a full service airline (Air Canada Express) and a Regional/commuter airline (Porter Airlines).
The split of seat capacity is as follows:
BBTCA capacity (seats per week), by all airlines, total system, 21-Feb-2016 to 28-Feb-2016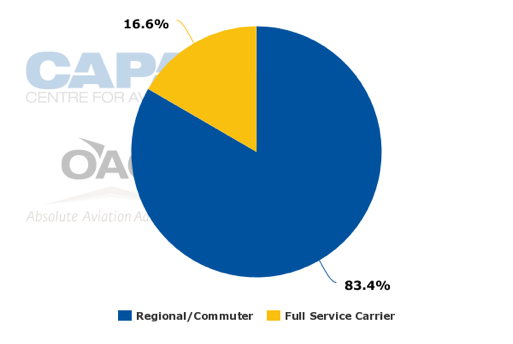 Specifically, Porter Airlines was offering 68,000 seats in the period mentioned above, while Air Canada Express offered 13,580.
The same capacity split therefore applies to other measurements such as Alliance Member/Unaligned (Air Canada Express/Porter Airlines) and the split of frequencies is very similar.
All the saleable seats are in economy class only.
Business routes dominate the international schedules
The top 10 international routes by seats are shown in the table below. It is notable that the majority are business routes, and also to other financial centres (New York, Chicago); the first vacation-oriented destination listed is Myrtle Beach (South Carolina), and only 5% of the seats on offer are to New York Newark.
BBTCA top 10 international routes (seats) 29-Feb-2016 to 06-Mar-2016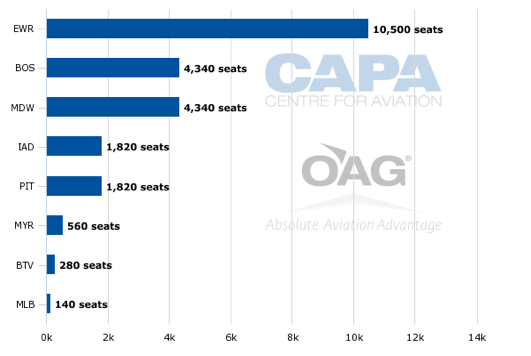 By comparison, the top five international routes at Pearson International Airport include Cancún (#3), Orlando (#4) and Fort Lauderdale (#5), all of them at least being as much tourist as business airports.
Curfew in place, 2300-0700h
The chart below shows available seats per hour at BBTCA for Thursday 03-Mar-2016. The available seats figure is broadly comparable with 'slots' at any airport, and especially so at BBTCA, where the same aircraft type is in use by both airlines.
It demonstrates considerable equilibrium between departing and arriving passengers/aircraft, which makes for more manageable operations, with the exception of 0600-0700 (all departing) and 2200-2300 (all arriving).
There is a strictly enforced curfew in place which prohibits commercial aircraft from landing or taking off between the hours of 2300 and 0645. This was set up primarily on account of residents of the downtown lakeside area, some of whom would be no more than a few hundred yards from the runway and would be therefore exposed to excessive noise, even if it were only from turboprop aircraft. In a further concession to local residents, 90% of flight paths originating in or destined for BBTCA are over water.
BBTCA seats per hour, typical day, Thursday 03-Mar-2016 (all airlines, total system, all terminals, all origins and destinations)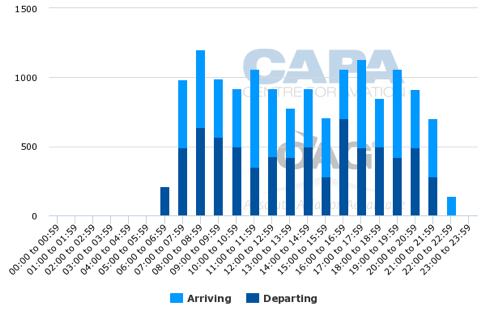 The final passenger chart indicates that almost every flight is within the range 0-2 hours in length.
BBTCA, seats by length of flight, 29-Feb-2016 to 06-Mar-2016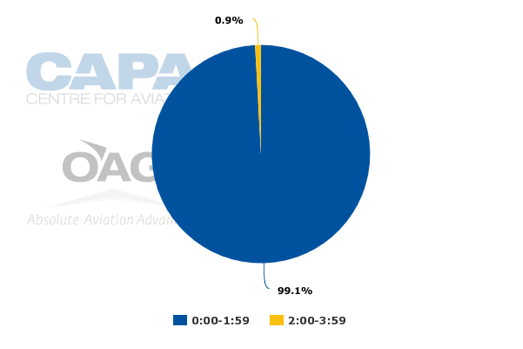 Cargo – all carried by passenger aircraft operations
There are no designated cargo operators at BBTCA. What freight exists is handled as belly hold cargo by the passenger airlines and by general aviation operators operating as couriers. The capacity split in terms of domestic vs. international, and between the two airlines, is very similar to the one for passengers. While it is likely that there is a demand for courier-style services from the large business and financial community that is very close to the airport, it is probably better handled by general aviation, which can respond more quickly to urgent need. Otherwise the greatest amount of scheduled cargo capacity is on the New York Newark route, at close to 120,000 kilos per week.
Recent CAPA reports on Porter Airlines/BBTCA:
https://centreforaviation.com/analysis/reports/porter-airlines-state-of-limbo-persists-as-it-awaits-a-decision-on-its-controversial-expansion-plans-203869
https://centreforaviation.com/analysis/reports/porter-airlines-future-rests-on-controversial-expansion-from-billy-bishop-canadas-airlines-part-3-147775
Turning now to London City Airport (hereinafter LCY), the same headline that was used earlier to describe BBTCA is also appropriate in this case.
LCY - a useful downtown transport facility, now easily accessible, but not loved by everyone
LCY primarily serves the two London financial districts. It is located on a former Docklands site approximately three miles from Canary Wharf and six miles from the City of London. The only London airport actually wholly within London, LCY is the fifth largest airport serving London after Heathrow, Gatwick, Stansted and Luton (which vary from 15 to 35 miles away from the centre).
As at BBTCA, its operations are restricted to STOL (Short Take-Off and Landing) aircraft. However, that is where the similarity of LCY services with those at the Toronto airport largely ends, since LCY serves over 30 mainly business centres; domestically, across Europe and also across the Atlantic to the US, together with a small number of leisure destinations in Europe.
Top five Airports (7-Mar-2016 to 13-Mar-2016, London, System traffic), ranked by seats
Rank

Airport

Total Seats

Percentage Market Share

1

1,839,557

26.14477%

2

801,728

11.39459%

3

477,049

6.78008%

4

263,983

3.75187%

5

135,704

1.9287%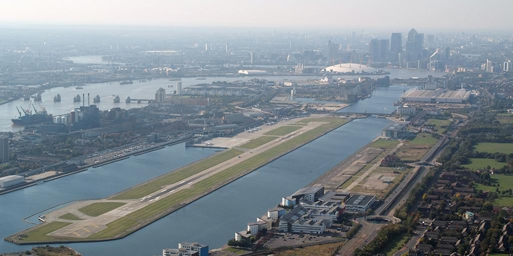 While the number of destinations (18) may be similar to that of BBTCA, LCY counts 10 airlines to BBTCA's two.
As mentioned previously, a change of ownership has recently been completed. The airport was originally constructed in 1987 and operated by the builder, Mowlem, which took a risk in so doing (there was precious little political support for it) and subsequently sold it on (1995) to an Irish entrepreneur, Dermot Desmond, on whose watch it flourished.
Desmond himself sold it on again in 2006 to a consortium made up of Global Infrastructure Partners (GIP, 75%) and AIG Financial Products, which quickly left as a result of the global financial crisis in which it was ensnared, to be replaced Highstar Capital (25%). Desmond made a considerable profit. Within the week of 26-Feb-2016 a further sale has been agreed (100%), with both GIP and Highstar exiting LCY. The new consortium is nominally led by the Alberta Investment Management Corporation (AIMCo), in association with Wren House Infrastructure Management (the Kuwait Investment Authority), Ontario Teachers' Pension Plan and Borealis Infrastructure (OMERS), an investor in the Billy Bishop airport terminal.
The price exchanged is rumoured to be GBP2 billion, a multiple over 40x the 2014 EBITDA, which would be a record for the industry, and by some margin. An assumption is made here that the 2014 financials would have formed the basis for negotiations that began in 2015.
The highest recorded multiple previously was 30x EBITDA (Leeds Bradford Airport in 2006) while the average for recent transactions has been around 14x.
In the main the recent transaction is dominated by pension and investment funds, and three of them from Canada. While most have ample experience of the sector (not AIMCo and not Wren House) they traditionally take a passive role in day-to-day management. It is understood that senior management at LCY will likely be retained, including the CEO, Declan Collier.
There were numerous other parties interested, but in some cases that interest flagged as the sale process unfurled. It is easy to see why when one considers the steep increase in the transaction price:
Transaction record 1995-2016
| | | |
| --- | --- | --- |
| Year | From-to | Value (GBP million) |
| 1995 | Mowlem-Desmond | 23.5 |
| 2006 | Desmond-GIP/AIG/(Highstar) | 750 |
| 2016 | GIP/Highstar-AIMCo consortium | 2000 (?) |
During the period since the airport was first constructed the early transport problems (passengers using rail services had to walk from an 'airport station' that wasn't) have been successively dealt with. The Docklands Light Railway extension in 2005 and the opening of the Stratford (heavy) rail station, which will be on the east-west 'Crossrail' line when that opens in 2018, have jointly contributed to the appreciation voiced by one business magazine that LCY even has 'the best public transport links in the world.'
But one of those links, Crossrail, is potentially LCY's undoing, as explained below. (N.B. Crossrail will be renamed the Elizabeth Line in 2018, but for the purposes of this report it is referred to under its original name).
The ownership of the airport goes in approximately ten-year cycles and it will be interesting to see who will be in control in another 10 years' time but more importantly whether there will still be an airport.
(The sale process for LCY was described in detail in a CAPA report in Sep-2015. https://centreforaviation.com/analysis/reports/london-city-airport--for-sale-but-caught-up-in-a-political-game-242948)
That report highlighted some of the issues that LCY faces as this transaction is completed. Broadly, they are:
The upshot of all this is that politicians are increasingly questioning the raison d'être of LCY, when Heathrow Airport will be so easily accessible by the preferred method of public transport from the catchment area that LCY serves. This standard of public transport accessibility to Heathrow will be considerably better than that found to Pearson International in Toronto.
However, observing procrastinations and delays, this advantage must be tempered by the problems currently being experienced by the existing 'high speed' Paddington rail line between Heathrow airport and the west of the London downtown area, causing many carriages to be taken out of service.
And the question it prompts is this: despite such a large price tag, whether the new investors were attracted by the fact that the land value might be as high if the airport were ever to be decommissioned in favour of thousands of new apartments. Current CEO Declan Collier seemed to hint as much when he said "I look forward to working with the new shareholders as responsible, long-term investors."
The remainder of this section of the report is concerned with operational data on the airport.
London City Airport Network Summary (at 29-Feb-2016)
| | |
| --- | --- |
| | 10 |
| Domestic only | 0 |
| International | 10 |
| Total nonstop passenger destinations | 35 |
| Domestic | 5 |
| | 0 |
| | 0 |
| | 29 |
| | 0 |
| | 0 |
| | 1 |
| Total nonstop freight destinations | 0 |
| Domestic | 0 |
| | 0 |
| | 0 |
| | 0 |
| | 0 |
| | 0 |
| | 0 |
Ten airlines operate at LCY, all of them with international services, and with 35 nonstop destinations, twice the number operating at BBTCA. On the freight side, there are no nonstop dedicated freight destinations at either airport. Cargo is not a priority at these business passenger airports.
For the purposes of this report, where BBTCA was compared with Pearson International and Hamilton International, LCY will be compared not with Heathrow or Gatwick airports but with its two main competitors for business travellers from the east and north sides of London (including the financial sectors), namely London Stansted and London Southend airports.
There are three reasons for this. Firstly, there is a larger airport system serving London than Toronto; in fact, the biggest in the world.
Secondly, while Stansted Airport is considered to be a low cost airport because of the presence of Ryanair and other LCCs, it is trying to attract more full service airlines under its new management; British Airways has recently announced that it will begin to operate four services there this year. Even though the new BA operations are leisure routes, the presence of the 'national airline' is an important step towards enhancing the business appeal of that airport. Stansted is an airport that already targets the scientific cluster around Cambridge for business traffic and covets moving more into LCY's territory, if and when a faster rail service connects it with London's Liverpool Street station.
(For more information on the return of British Airways to Stansted, see the related report: https://centreforaviation.com/analysis/reports/british-airways-takes-the-fight-to-ryanair-in-its-stansted-stronghold-for-the-first-time-ever-269279
Finally Southend Airport, out to the east, also seeks some of the action in the London business passenger segment, by courtesy of its rail service from a station in the airport to and from Liverpool Street station in the city (although it will not be part of Crossrail).
Comparison of airports by total airlines and nonstop destinations
Airport

Total airlines

Pax traffic 2015

(unless stated) (million)

Pax to airline ratio

International airlines

Nonstop passenger destinations

Nonstop freight destinations

10

4.3

0.4

10

35

0

19

22.6

1.2

19

136

15

2

0.9

0.4

2

14

0
It is immediately evident that Stansted could be a serious threat to LCY if a fast rail service were to be introduced there (Again, like LCY, it would also be competing with Heathrow once Crossrail opens). Southend Airport, however, has failed to attract many airlines and traffic is in decline at this point.
Again, a lower passenger to airline ratio means that there is more choice per passenger for the size of the total traffic. With 10 airlines operating this ratio is quite positive at LCY, indicating a good choice for passengers there, and better than its main competitor, Stansted. The ratio at BBCTA was the same as at Stansted, i.e. 1.2.
Connectivity – limited mainly to the UK and western Europe
Direct and indirect (connecting) routes from BBTCA, Mar-2016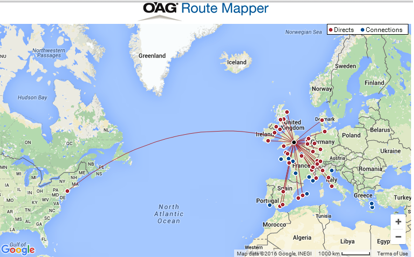 The route map shows that the majority of direct air routes are within the United Kingdom and Western Europe, connecting the main business/finance cities with London. However, there are exceptions. There are no airlines, for example, that seem prepared to compete with the rail service on routes such as LCY to Manchester, Liverpool or Leeds Bradford, or even to Birmingham, a route which has not been operated from a London airport for many years. That route distribution bears some similarities with the one at BBTCA.
There is only one long haul route, the one operated by the British Airways mainline to New York J F Kennedy International Airport (New York being a city where there is no equivalent airport to LCY). Various plans have been aired for further long haul routes, but none have been introduced. It is believed that the LCY-JFK route is not profitable for BA but that might improve if a dedicated Bombardier C Series aircraft were to be used at LCY, as it would have the range for nonstop operations (the westbound A318 service presently operates via Shannon in Ireland where it refuels).That would open the way to more transatlantic routes, perhaps Washington and Boston.
But the existing route has to be kept in perspective. Right now there are only 352 seats offered on that New York service in an entire week, just 0.3% of capacity.
In the following chart international nonstop connectivity is compared between LCY and all the other five London airports. LCY's niche European market is immediately evident.
Nonstop connectivity values (passenger destinations). Comparison of LCY with London Heathrow, Gatwick, Stansted, Luton and Southend airports
In fact LCY is mainly a European airport; only a quarter of seat availability at present is on domestic routes.
There is a fairly even split between the seat capacity of UK domestic airlines (56.6%) and foreign ones (44.4%); a quite different scenario from the one at BBTCA.
BA is easily the leading airline at LCY by capacity
British Airways (mainly in the guise of CityFlyer) is the leading airline, ahead of CityJet, the Irish regional airline that is slowly building up its operations there and is third in the seat capacity league. Flybe might reconsider its ambitions with regard to LCY in the event of RAF Northolt, close to Heathrow Airport, being opened to commercial traffic.
Flybe is championing that cause:
See the related report https://centreforaviation.com/analysis/reports/northolt-airport-in-a-policy-vacuum-it-could-help-solve-the-uks-london-connectivity-problem-267224
London City Airport capacity (seats per week, total system, all airlines, 29-Feb-2016 to 06-Mar-2016)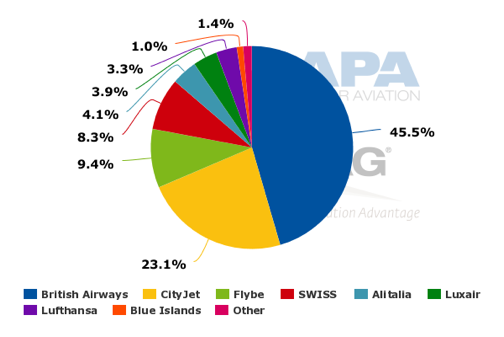 Business routes again dominate the international schedules
As with BBTCA, full service airlines predominate in terms of the percentage of seat availability, but not to the same degree as at the Canadian airport. Currently the ratio is as follows: Full service airline 61.9%; Regional/Commuter 28.8%; Low cost airline 9.4%.
While there have been periods when there were charter services at LCY, the growth of LCCs to almost 10% of seat capacity is a recent phenomenon. Moreover, alliances have also made an inroad. Only 38.8% of seat capacity is on unaligned airlines, with oneworld the leader (through BA of course) on 45.5%.
While British Airways is the leading airline, these are the leading countries by weekly seat availability. Note the importance of Switzerland, a financial centre across several cities that has always featured highly at LCY. At least one of the Swiss airports doubles as a ski resort airport in the winter months. The leading country market, the Netherlands, attracts services from most of the airports in the UK. Currently BA, Flybe and CityJet fly there (Amsterdam), but KLM does not.
There is a growing number of routes that could also be classified as leisure (e.g. for city breaks) as well as for business, such as Florence, Granada, Menorca and Nice.
London City Airport international capacity, seats, by country, (29-Feb-2016 to 06-Mar-2016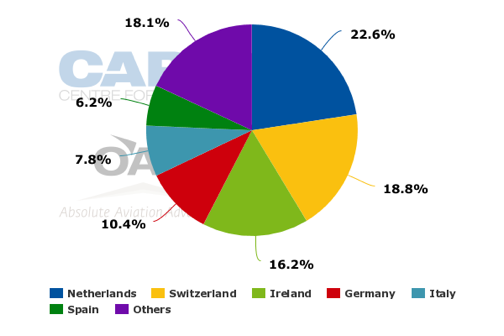 Small jet aircraft certified to operate
LCY does not have the same issues as BBTCA in terms of jet restrictions. Several jet types are certified to operate there, including Embraer 170 and 190 and the A318 as used by BA. While many operations are still on turboprops the most used aircraft as measured by seat availability is the AVRO RJ85, flying almost 29,000 seats per week.
Traffic – LCY is the fourth fastest-growing UK airport in 2015
According to provisional figures released by the UK Civil Aviation Authority, LCY was the fourth fastest growing airport in the UK in 2015 at +18.4%, behind the smaller Glasgow Prestwick (+33.2%) and much smaller Lands End (+20.8%) and City of Derry (+18.8%) airports.
The chart below tracks growth in the period 2011-2014, during which growth averaged more than 10% in each of the last two years.
London City Airport, annual passenger numbers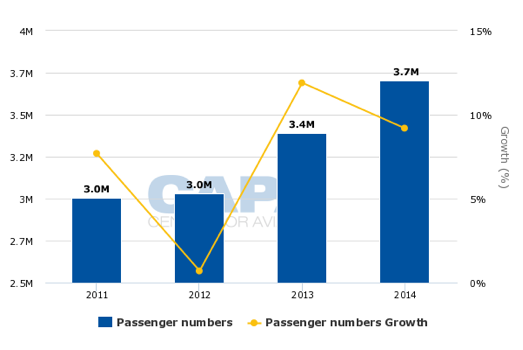 Charges – the potential for increase threatens the sale
LCY's charges to airlines are quite high, although at close to GBP20 per passenger they still fall short of those at Heathrow Airport. A potential issue that has arisen since the sale of the airport was announced is that British Airways, with 40% of capacity, has hinted that it might pull out of LCY if charges were raised to help cover the cost of the sale price, which IAG Chief Executive Willie Walsh has labelled 'foolish'. Having said that, Mr Walsh then added that he could not understand how the new owners would be able to achieve a RoI if they did not increase charges.
While other airlines are understood to support BA tacitly, this may be no more than bluster. It is not easy to understand what advantage, other than a short term one, BA would obtain by relinquishing its slots to competitors and writing off years of effort building up routes there. Calling a London airport's bluff is not exactly new to BA.
But BA has started to put in place an operation at Stansted Airport. While there are only five routes planned for now, and all of them leisure routes, an alternative to LCY is therefore at hand. BA has not operated at Stansted since it sold its loss-making LCC Go-Fly to the equity firm 3i in 2001 (it was subsequently absorbed by easyJet).
Variable operating hours
While the chart below is typical of most working days, there is considerable variation from Friday to Sunday inclusive.
LCY seats per hour, typical day, Thursday 03-Mar-2016 (all airlines, total system, all terminals, all origins and destinations)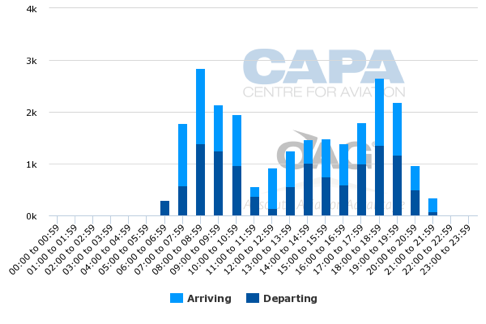 On Fridays, for example, flights are compacted between 0600 and 1300, and on Saturdays and Sundays between 1200 and 2200.
The final chart shows a similar profile to the situation at BBTCA by way of typical stage lengths, with most of them being in the 0-2 hour time range, a small percentage (6.6%) being up to three hours, and only the New York flight going to eight hours.
London City Airport seats by length of flight, total system, (29-Feb-2016 to 6-Mar-2016)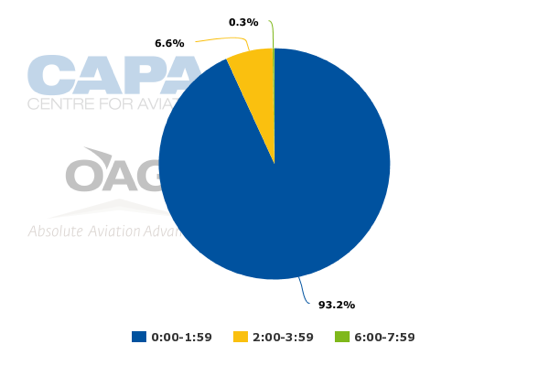 Freight profile of LCY and BBTCA is very similar
The cargo profile for London City is very similar to that of the Billy Bishop airport. Again, all freight that is not accounted for by local courier services is carried in the belly hold of passenger aircraft (there is a well-established business jet community with its own Private Jet Centre but little general aviation activity). There are no dedicated cargo airlines, despite the airports coexistence with the London docks, which are growing in importance again.
British Airways has the greatest belly hold capacity and Switzerland is the country among the O/Ds with which there is the greatest capacity.
Conclusion – which of these two STOL ports makes the better investment?
Summary of Previous Analysis
There are few genuine downtown airports in the world. While not unique in catering to high value business traffic, BBTCA and LCY are ahead of any other airports in doing this;
There is far more airport competition for LCY than there is for BBTCA, even though their wider metropolitan areas are similar in size and population;
There is a greater degree of airline choice for consumers at LCY;
The two airports serve the two primary financial centres of their respective countries;
There is a broad span of external investment in both airports, with one of the investors common to both LCY and BBTCA airports;
In terms of traffic they are of equivalent size, both being in the 2m – 5m ppa category;
There are many more airlines at LCY, five times the number at BBTCA;
BBTCA is more of a niche airport than is LCY, in terms of both the number of airlines operating and the scope of the route network. LCY has a broader span of airline types, including almost 10% seat capacity on LCCs;
LCY is one of the fastest growing UK airports. While up to date growth statistics for BBTCA are not available, LCY almost certainly beats it by that measure;
Neither airport has any appreciable cargo traffic on scheduled airlines;
BBTCA is closer to the CBD than is LCY, and is even at walking distance. On the other hand, Toronto Pearson is more easily accessible from downtown Toronto and its financial district than is London Heathrow from the equivalent district(s) of London, although the latter situation will change within three years;
Both are restricted to STOL operations. LCY covets more long haul services. BBTCA does too, but is politically restricted, even from merely operating jets;
There is resistance to the further development of both airports on environmental grounds. Among the local population this is slightly more noticeable today in Toronto, but in the case of prominent government representatives it remains more so in the case of London;
While both airports have been adversely affected by political decisions, LCY is worse off in that respect. No-one is campaigning actively in favour of closing down BBTCA;
There are arguments in favour of both camps. What cannot be disputed is that there is a big and important financial sector firm that saw fit to invest in both airports. That firm is one of the largest institutional investors in Canada and an organisation that is in it for the long term in everything it does.
What swings the argument in favour of the Toronto airport – to paraphrase ex US Defence Secretary Donald Rumsfeld – is that the uncertainties are more certain at Toronto than they are at London.
Those uncertainties for LCY include the refusal of previously granted planning permission for necessary expansion, the potential arrival of a Mayor who would be no more sympathetic than the existing one, declining political approval generally, the prospect of higher charges driving out airlines and the imminent arrival of a high speed train that will operate directly to one of the world's biggest airports.
For all its own difficulties, BBTCA does not have to contend with all that. Moreover, moves are already afoot in the Canadian national parliament to convince authorities in Toronto to moderate their opposition to jet operation (i.e. the Bombardier C Series) at BBTCA.