London airports and a new runway: Heathrow the business champion but the biggest growth is elsewhere
Analysis
As the British government approaches a final decision on the construction of an additional runway in southeast England it is pertinent to look at how passenger traffic is developing at the two main airports that are in contention – Heathrow and Gatwick, and at the next two largest London area airports, Stansted and Luton.
While Luton stepped back from the runway debate (its 'proposal' was submitted by a third party), the management at Stansted Airport (M.A.G), having been knocked back by the Airport Commission's report, has found renewed vigour as the scope of the objections to both Heathrow and Gatwick expansion became clear. Indeed, the suggestion that the government might decide to let airports compete, rather than itself funnel resources into one location, has inspired M.A.G. to revisit its own ambitions for Stansted.
That is assuming of course that a decision is ever reached, as, unbelievably, it has been postponed yet again while the Prime Minister, Mrs May, ensures that a Cabinet transport sub-committee that is known to be divided on the issue has a good debate about it. Then, having made a recommendation, MPs - also divided - will have another year to argue over it and - perhaps - fail to reach a consensus.
UPDATE: On 25-Oct-2016, the UK government announced "its support for a new runway at Heathrow – the first full length runway in the south-east since the second world war. The scheme will now be taken forward in the form of a draft 'National policy statement' (National policy statement">NPS) for consultation."
The decision is a milestone because, at last, a government has at last actually pronounced a favourite. But the saga is far from over. The decision is still subject to a vote in Parliament, as well as a promised legal challenge by opponents of the Heathrow runway. It remains doubtful that a final, formal decision will be taken by the end of 2017.
(See also: South East England runway decision – UK Prime Minister Theresa May could select a radical solution)
This report begins by comparing the UK's main airport, London Heathrow, with a selection of peer-group hub airports in Europe. Having established Heathrow's current status, it then compares that airport with the others in London.
How the four airports compare: #1 - London Heathrow
Heathrow's World Ranking (as of 17-Oct-2016)
| | | | |
| --- | --- | --- | --- |
| ASKs | Seats | Frequencies | Cargo payload |
| 2 | 4 | 9 | 12 |
Heathrow is primarily an international airport; its route network is small compared with European peers
Airline Summary for London Heathrow (at 17-Oct-2016)
| | |
| --- | --- |
| | 81 |
| Domestic only | 0 |
| International | 81 |
| Total nonstop passenger destinations | 174 |
| Domestic | 8 |
| | 14 |
| | 30 |
| | 72 |
| | 6 |
| | 12 |
| | 32 |
| Total nonstop freight destinations | 14 |
| Domestic | 0 |
| | 0 |
| | 3 |
| | 9 |
| | 0 |
| | 2 |
| | 0 |
Heathrow is clearly strong where international services are concerned. There are no domestic-only airlines operating there.
After Europe, North America has the greatest number of destinations, but only by two more than Asia.
On the other hand, the actual number of destinations served nonstop from Heathrow is low in comparison with a peer mainland European hub airport group composed of Paris Charles de Gaulle; Amsterdam; Frankfurt; Madrid; and Rome.
Comparison of nonstop routes, London Heathrow and European peer group airports (as of 17-Oct-2016)
| | |
| --- | --- |
| Airport | Number of nonstop destinations (international) |
| | 174 (166) |
| Paris Ch de Gaulle | 246 (231) |
| | 245 (244) |
| | 257 (243) |
| | 175 (146) |
| | 181 (157) |
Much of the slack is taken up by London Gatwick Airport in a way that does not apply to any of the other cities. There is no competing airport in Amsterdam and Madrid, and only small to mid-sized ones in Paris, Frankfurt and Rome. Moreover, all of these airports – other than Amsterdam - have a bigger domestic network; Heathrow has only eight domestic destinations.
Nevertheless, the argument for a third runway at Heathrow has focused on how close it is to absolute capacity, and that the pressing need for a runway is specifically on account of the lack of services to emerging economies that will be even more important as the UK leaves the European Union.
Heathrow is the leading European full service airport hub
Heathrow Airport remains the legacy/full service/ network airline airport par excellence. As of the third week of Oct-2016 98% of seat capacity is on full service airlines and only 2% on LCCs.
London Heathrow Airport capacity share (seats) by airline type, full system: 17-Oct-2016 to 23-Oct-2016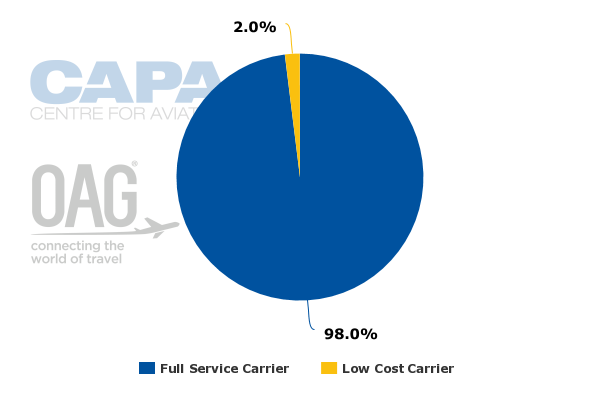 This is how Heathrow compares with its peer European mainland airports by that measure.
Comparison of selected European principal hub airports by airline type – seat capacity: 17-Oct-2016 to 23-Oct-2016
| | | | | |
| --- | --- | --- | --- | --- |
| Airport | % of seats on FSCs | % of seats on LCCs | % of seats on other modes (e.g. regional, charter airlines) | Clarification of previous column |
| | 98 | 2 | - | - |
| | 86.7 | 12.3 | 1.0 | Regional & Commuter; Charter |
| | 74.6 | 23.2 | 2.3 | Regional & Commuter; Charter |
| | 97.1 | 2.3 | 0.6 | Regional & Commuter |
| | 79.3 | 19.7 | 0.2 | Regional & Commuter; Charter |
| | 70.2 | 29.5 | 0.3 | Regional & Commuter |
Only Frankfurt International Airport (which is complemented by a small but almost entirely LCC airport at Hahn) comes close to matching Heathrow in this respect.
Seat capacity by airline – BA is dominant at Heathrow but by less than the average for its peer group
There is a dominant airline at Heathrow: British Airways, which has almost 50% of seat capacity, and no other single airline exceeds 4.5% of capacity.
BA has its main global hub there, though threats have been made by its CEO that the parent company IAG could expand operations elsewhere (e.g. Dublin) if charges at Heathrow rose to pay for a third runway.
London Heathrow Airport capacity, seats, per week, total system, all airlines: 17-Oct-2016 to 23-Oct-2016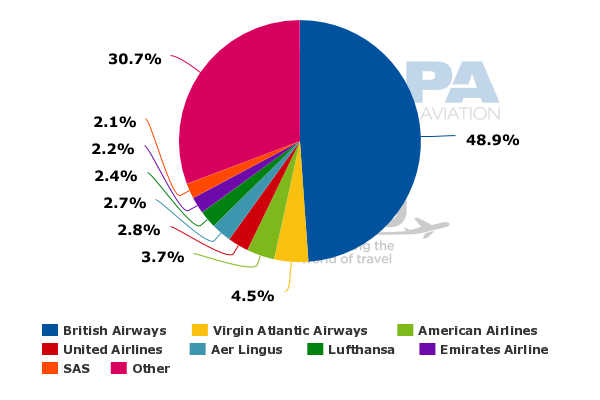 This is how the dominance of the 'national carrier' compares at the peer European airport group.
Comparison of dominance of the national carrier by seats at major hub airports (as of 17-Oct-2016)
British Airways' dominance is marginally below the average rate for the group, in which Lufthansa is easily the most dominant airline at Frankfurt Airport. Lufthansa Group also operates well over 50% of the capacity at Munich Airport.
Alliance seat share – Heathrow the most important oneworld base, but Madrid is not far behind
The next set of data concerns seat capacity share by alliance. It is clear from the chart below that oneworld is the major alliance at Heathrow, with 58.7% of capacity – exactly 10 percentage points more than that of British Airways, its main European member.
London Heathrow Airport capacity, seats share by alliance, total system: 17-Oct-2016 to 23-Oct-2016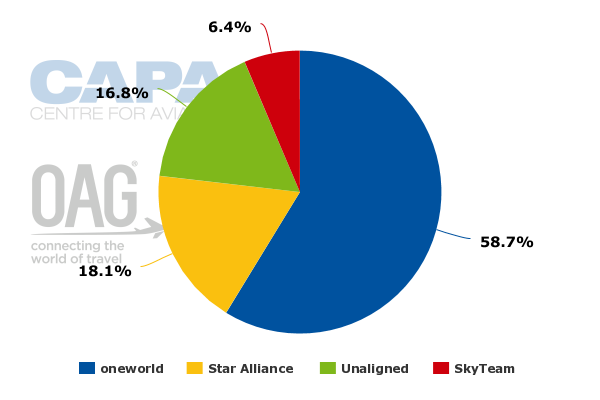 Star Alliance (European leader Lufthansa) is the next largest, with SkyTeam (Air France/KLM) on only 6.4%, and with 16.8% unaligned.
Heathrow is oneworld's major European base and that is confirmed by the table below, which compares the peer airports by this measure. However, Madrid is not far behind, indicating how capacity could also be shifted there by IAG in the event of a serious falling out between IAG and Heathrow Airport Holdings over capacity.
Madrid's Barajas Airport has four runways and they are underused.
Percentage of seats on the airline alliances at European hub airports
| | | | | |
| --- | --- | --- | --- | --- |
| Airport | Oneworld | | | Unaligned |
| | 58.7 | 18.1 | 6.4 | 16.8 |
| Paris Ch de Gaulle | 5.8 | 11.7 | 60.1 | 22.4 |
| | 3.6 | 7.3 | 58.7 | 30.5 |
| | 5.6 | 78.5 | 4.6 | 11.4 |
| | 50.4 | 6.4 | 19.4 | 23.5 |
| | 7.5 | 10.3 | 45.3 | 36.8 |
Heathrow is also notable for having the second lowest percentage of unaligned airline seats, after Frankfurt.
Seat share by class – Heathrow leads in first and business class seats
Another measure of interest is that of capacity share by seat type (first, business, premium economy and economy) between these airports.
Heathrow Airport and peer group combined schedule by class of seat - one-way weekly departing seats (total system): 17-Oct-2016 to 23-Oct-2016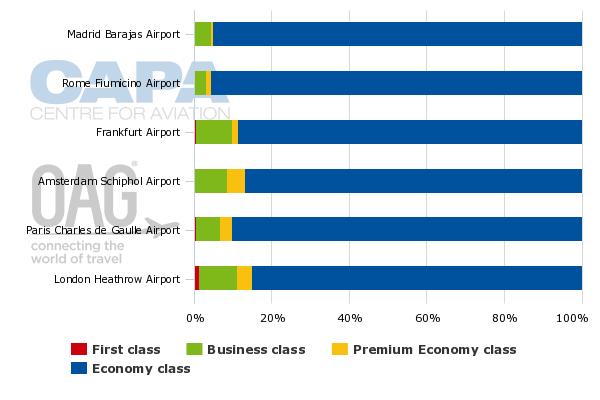 In this case Heathrow Airport is the clear leader in the declining arena of first class seats, with 1.2% (Paris and Frankfurt airports have only 0.5% each, and the others have none). It is also the biggest airport for business class seats (9.9%), but not for premium economy (second to Amsterdam). Consequently, it is the airport with the lowest percentage of economy class seats.
Operational capability – a good balance between arriving and departing, but a night curfew has thwarted growth
The chart below shows seat capacity by arriving and departing flights on a typical day, which is Tuesday 18-Oct-2016. Heathrow has a greater equilibrium between departing and arriving seats than most airports.
Between 2330 and 0600 Heathrow is restricted by the Government to 5,800 night-time take-offs and landings a year. Examination of whether or not an extension of this quota would be appropriate in the light of the runway decision has been considerable, given that outside that period it operates at almost maximum capacity.
Heathrow Airport, seats per hour, typical day: Tuesday 18-Oct-2016 (all airlines, total system, all terminals, all origins and destinations)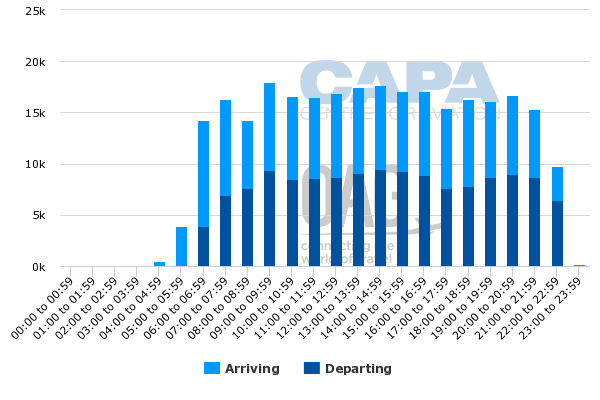 Other peer group airports have similar constraining curfews or limitations, with little or no flight activity between 0000 and 0600.
Seat capacity growing mainly on account of larger aircraft
Seat capacity has grown in each of the last five years, by 5.72% on average as the chart below demonstrates, but mainly because of larger aircraft size rather than an increase in the number of rotations.
London Heathrow Airport, seat capacity year on year growth: 2012-2016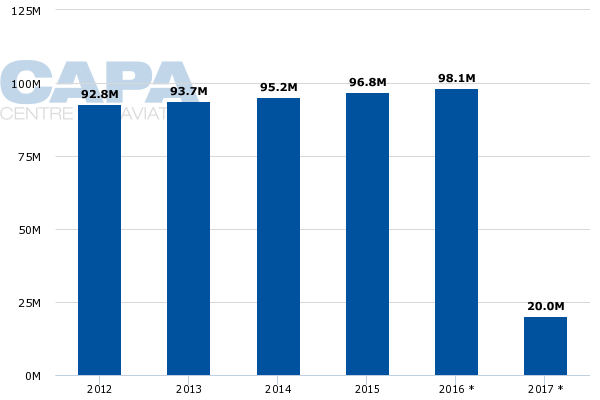 While that is not the lowest growth rate among the peer group (Frankfurt's is just 3.6% and CDG's 5.4%), it is some way behind the others and especially Amsterdam (+26.7%).
Amsterdam is connected to every airport that matters in the UK, and has been heavily promoted as an alternative global hub to Heathrow for decades.
Capacity growth rates at peer airports: 2012-2016
Airport

Seat capacity growth rate %,
2012-2016

5.72

Paris Ch de Gaulle

5.4

26.7

3.6

8.9

7.1
Traffic growth slightly exceeds capacity growth
In comparison, passenger traffic has grown by 7.1% during a similar period (2012-2015, 2016 is still in progress), slightly outstripping capacity growth.
London Heathrow Airport passenger traffic growth: 2012-2016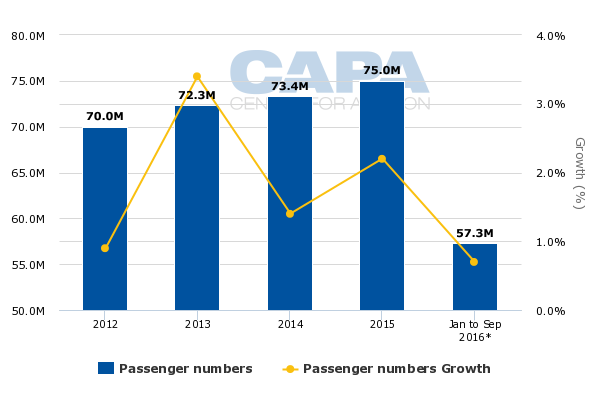 Passenger traffic growth at peer airports, which are not as severely capacity constrained, has been similar with the exception of Amsterdam. Growth at Madrid and Rome has only come in the last two years, cancelling out previous losses.
Passenger traffic growth rates at peer airports: 2012-2015
| | |
| --- | --- |
| Airport | Passenger growth rate %, 2012-2015 |
| | 7.1 |
| Paris Ch de Gaulle | 6.8 |
| | 4.3 |
| | 6.1 |
| | 3.5 |
| | 9.2 |
In summary, Heathrow:
Is very strong on international services as a percentage of the whole, but the actual number of both domestic and international destinations offered is low compared with its European peer group.
Is close to absolute capacity for much of the working day, with capacity growth over the last five years having come mainly from the deployment of larger aircraft.
Has undergone slightly more traffic growth than capacity growth in the last four years.
Is the leading full service/network airport among its peer group, with 98% of seats on FSCs.
Has an averagely dominant national carrier.
Has the second highest level of seats on global alliances, after Frankfurt Airport.
Has more first and business class seats than its European peer group rivals.
Suffers curfews and night-time bans similar to members of its peer group.
Heathrow having been established as the dominant UK airport for FSCs, business travel and alliance congregation, the following text concerns how the other airports match up.
Firstly, the map below identifies the location of Heathrow and rival airports.
London's airports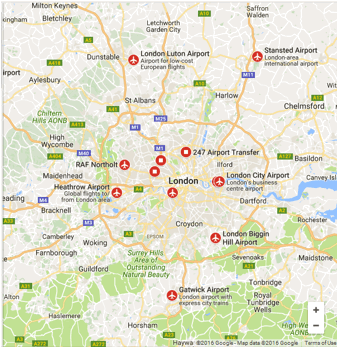 The other three airports under scrutiny are all owned by separate consortiums:
| | | |
| --- | --- | --- |
| Airport | Owner | Ownership breakdown |
| | | Ferrovial (25%); Qatar Holding (20%); Caisse de dépôt et placement du Québec (12.62%); the Government of Singapore Investment Corporation (GIC) (11.20%); Alinda Capital Partners (11.18%); China Investment Corporation (10%); Universities Superannuation Scheme (10%). |
| | Ivy Holdco Ltd. | Global Infrastructure Partners funds (41.95%); Abu Dhabi Investment Authority (15.9%); Korea National Pension Service (12.14%); CalPERS (12.78%) and Future Fund Board of Guardians (17.23%). |
| | Manchester Airports Group (M.A.G) | Ten Greater Manchester municipal authorities (64.5%); IFM (35.5%). |
| | Luton Borough Council | The airport is leased to London Luton Airport Operations Limited under a 30-year concession contract currently held by AENA (51%) and Ardian (AXA Private Equity) (49%). |
In terms of airlines and destinations, the table below shows how the three airports compare with Heathrow.
Comparison of nonstop routes (as of 17-Oct-2016)
Airport

Number of nonstop destinations
(international)

174 (166)

172 (166)

154 (148)

109 (104)
Looking at competition from this viewpoint, Gatwick has exactly the same number of international destinations as does Heathrow, although the vast majority of them (121) are European, compared to 72 at Heathrow.
Similarly, 144 of Stansted's destinations (all but 10 of them including six domestic ones) are European. The only other continent to which there are direct flights from Stansted is Africa.
Luton Airport has fewer destinations overall (109), and again – with a heavy European orientation (101).
Stansted and Luton tie on LCC capacity ratio
It was shown earlier that 98% of seats at Heathrow Airport are on full service airlines. The table below compares full service and low cost airlines for the other three airports.
Comparison of the four London airports by airline type – seat capacity: 17-Oct-2016 to 23-Oct-2016
Airport

% of seats
on FSCs

% of seats
on LCCs

% of seats on other modes (e.g. regional, charter airlines)

Clarification of previous column

98

2

-

-

26.6

61.3

13.1

Regional & Commuter; Charter

0.3

95.5

4.2

Regional & Commuter; Charter

2.1

94.5

3.4

Regional & Commuter; Charter
It is this table that indicates best the segmentation between the airports, which emerged when the BAA began to be split up in 2009 with the sale of Gatwick Airport.
While Heathrow is the primary full service airport, Stansted is the low cost airport par excellence with 80% of its seats taken up by one LCC (Ryanair), out of 95.5% overall.
However, Ryanair's dominance is slipping with the introduction of new airlines, and will retreat further when Jet2.com opens a major base there in summer 2017.
Gatwick falls between the two with a more equitable split of capacity; indeed, it is possibly the best 'balanced' airport in capacity terms in the UK, and it has an unusually large regional/commuter and charter airline presence.
Some of that charter presence has been gained from Luton, which was historically the HQ location for airlines such as Britannia and Monarch before the latter shifted its focus on to scheduled services. More recently Luton has picked up low cost airlines and traffic at the expense of Stansted, to the point where its LCC capacity ratio is now almost identical to that of the Essex airport, just 30 miles to the east.
EasyJet retains its headquarters at Luton, at least for now (it periodically threatens to move away from the UK in the light of the referendum result), but its seat ratio at Luton (40.6%) is only just more than at Gatwick (37.9%), where it offers far more flights, destinations and capacity.
As for British Airways – it remains wedded to Heathrow, unless and until it fulfils its threats to shift capacity elsewhere. While it retains a 14.6% seat share at Gatwick (mainly secondary European routes and some long haul), it has none at all at Luton and a tiny, almost immeasurable (0.02%) presence at Stansted, where it started four mainly leisure routes this year – its first flights there since its low cost subsidiary Go Fly operated there between 1998 and 2001. Those routes have at least been extended into winter 2016.
Ryanair has the highest seat capacity share at any of the airports
The presence of the five largest airlines at each of the competitors to Heathrow is shown below. This table confirms the concentration of FSCs and alliances at Heathrow; of a mix of airlines at Gatwick (including Norwegian, for which it is the intercontinental hub); of LCCs at Stansted; and of a mainly low cost/minor charter mix at Luton.
The five largest airline presences at each airport
| | |
| --- | --- |
| Airport | 5 largest airlines and percentage of seat capacity |
| | BA (48.9%); VS (4.5%); UA (3.7%); LH (2.8%); EI (2.7%). |
| | U2 (37.9%); BA (14.6%); DY (6.7%); MT (5.5%); ZB (5.3%). |
| | FR (80.1%); U2 (11.4%); MT (2.2%); BY (1.8%); PC (1.4%). |
| | U2 (39.6%); W6 (30.3%); FR (12.3%); ZB (5.9%); BY (3.4%). |
Alliances – Heathrow is the clear leader in London
It was shown earlier that Heathrow has the second lowest amount of 'unaligned airline' seat capacity among its European peer group, after Frankfurt. This is how it compares with the other London airports:
Percentage of seat capacity on the alliance airlines at London airports
| | | | | |
| --- | --- | --- | --- | --- |
| Airport | Oneworld | | | Unaligned |
| | 58.7 | 18.1 | 6.4 | 16.8 |
| | 15.3 | 1.5 | 0.4 | 82.9 |
| | 0.2 | 0.0 | 0.0 | 99.8 |
| | 0.0 | 0.2 | 0.2 | 99.6 |
Stansted and Luton airports can be discounted entirely as 'alliance hub' airports. They are not, and probably never will be.
The interesting comparison here is between Heathrow and Gatwick – the airport that aspires to match Heathrow by winning the right to build a second runway there, as opposed to a third at Heathrow.
Gatwick's unaligned seat capacity stands at 83%. It would be a very difficult job to attract the alliances to split their operations between the two airports. The airports are connected by motorway, but those are some of the busiest roads in Europe. There is no direct rail connection, and a helicopter service between them that was tried in the 1980s did not last long. There has been no purposeful planning whatsoever to regard them as one 'item,' which might have been the case had BAA not been privatised and then broken up.
Moreover, British Airways and IAG are completely opposed to being forced to expand operations at Gatwick, and the other two alliances total only 1.9% of capacity between them.
On the other hand, Gatwick's argument has always been that the established and traditional alliance system will not last; it will be replaced by looser airlines ties and more point-to-point routes, both short and long haul.
Heathrow dominates first and business class; Stansted and Luton are economy only
Heathrow Airport, as demonstrated previously, is the leader in the provision of first and business class seating among leading European airports. This is how it compares with its rival London airports:
Heathrow Airport and London peer group combined schedule by class of seat - one way weekly departing seats (total system): 17-Oct-2016 to 23-Oct-2016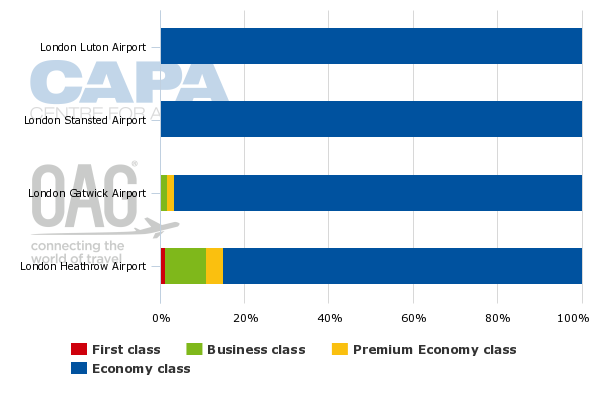 Of London airports, only Heathrow offers first class seat capacity, and the business class capacity is six and a half times that of Gatwick while the premium economy ratio is 2.5 times as great. Both Stansted and Luton offer actually (Stansted) or virtually (Luton, 0.02% business class) economy Class seating only.
Operational capability – no airport has an advantage
Heathrow's 'operational capability,' as measured here by seat capacity, is very well balanced during a typical working day, although the night-time flight limitation imposes constraints on it. Operations of the competing airports are summarised as follows:
Airport

Night curfew or limitation?

Observations

Yes, 2330 - 0600

As above.

Yes, 2300 - 0600

Generally well balanced between departures and arrivals.

Slightly more early morning (0000 – 0200) traffic than at Heathrow.

Yes, 2300 - 0600

Strong disparity between departures and arrivals in the period 0600 – 0700 and 2200 – 0000.

Occasional arrivals and departures in the period 0000 to 0500, including cargo.

Yes, 2300- 0600

(Noise limitation measures only)

Disparity between departures and arrivals in the period 0600 – 0700 and 2100 – 0000. Occasional arrivals and departures in the period 0000 to 0500, more than at Stansted.
No airport gains advantage from having a broader operational scope than the others. That situation is unlikely to change in a country which values noise restrictions highly at airports.
Seat capacity growth – much greater at Gatwick, Stansted and Luton
Capacity has grown by 5.72% at Heathrow in the period 2012 – 2016, despite the constraints on it. This is how the competing London airports compare:
Capacity growth rates at peer London airports: 2012-2016
Airport

Seat capacity growth rate %,
2012-2016

5.72

36.2

31.4

54.0
This is an intriguing statistic because the other airports have their own constraints – for example, a single operational runway at Gatwick (it is the world's busiest single runway airport) and at Stansted and Luton, limited UK connecting flights and relatively poor (though now much improved) surface transport to all three of those airports compared with Heathrow.
Despite this, capacity has grown by six and a half times that of Heathrow at Gatwick, by five and a half times at Stansted, and by nine and a half times at Luton. That said, it is hard to argue that Heathrow would not have grown much faster, had there been greater capacity available.
Traffic growth at Stansted and Luton up to four times that of Heathrow
The table below compares traffic growth between these airports in a similar period.
Passenger traffic growth rates at peer London airports: 2012-2015
| | |
| --- | --- |
| Airport | Passenger growth rate %, 2012-2015 |
| | 7.1 |
| | 17.8 |
| | 29.1 |
| | 28.1 |
Once again the rate of passenger growth at the other London airports has exceeded that at Heathrow, despite the constraints that they have faced: by two and a half times at Gatwick, and by around four times at Stansted and Luton.
Airport charges: a belated issue for consideration by the Airport Commission
The final comparison made here is between airport charges. Belatedly charges became an issue in the Airport Commissions deliberations over an additional southeast England runway, and particularly so when IAG began to insist that its passengers should not be made to pay now for infrastructure that would not be in place for 10 years.
The following table gives sample landing charges (there are, of course, other methods of charging) for the London airports peer group for 2015, for five different aircraft types. Two of the airports have peak and off-peak rates, and in those cases the peak rate was selected.
Combined Landing / Terminal Charges for London Heathrow Airport, London Gatwick Airport-peak, London Stansted Airport-peak, London Luton Airport (USD) for 2015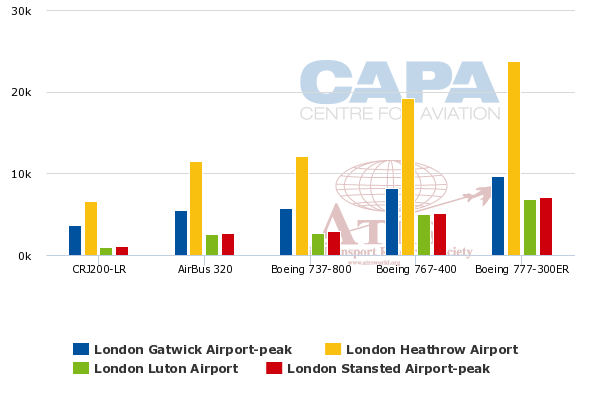 Landing charges are uniformly higher at Heathrow, followed by Gatwick, and then the two 'low cost' airports.
Summary and conclusions
As the parliamentary vote has been put back another year there will be time for MPs to reflect on these and other statistics before they back the expansion of Heathrow or opt for another way forward.
The Heathrow option remains the favourite, at least in the case of its endorsement by the government, although what Parliament would make of the proposal is anyone's guess and the usual suspects will be very active behind the scenes in persuading members to vote in favour of their preferred option (which might simply be 'anything but Heathrow').
If Heathrow does go ahead (either a new northern runway or the extension of the existing northern one), then that does not necessarily spell the end for the other airports and their investors by any means. They will have 10 years in which to modify their master plans accordingly, most likely focusing on long haul LCC operations where appropriate, while continuing to push for improvements to infrastructure – both within the airport and as a means of accessing it.
They will gain some comfort from the words of the new Transport Minister, Chris Grayling – who is still clearly feeling his way into the job – that he will deal with the 'Heathrow' issue now, and that it will be for future governments to deal with what follows, later.
Yet again that demonstrates a lack of joined-up thinking by the government, which is effectively tearing up two reports into UK airport capacity that have been published in the past 13 years, apart from the Airport Commission's.
These were in favour of simply offering up a short-term solution that ignores capacity elsewhere; but not actually in the short term, as yet more 'debate' is to follow.
If this report says anything it is that changes are already under way in the UK's aviation industry; that many of those changes have materialised in the 16 months since the Airports Commission's report was published; and that there is a very strong case for keeping all options open to develop all the UK's existing airports because the model on which the Heathrow recommendation was made is already fragmenting.