Libya's economy recovers as airlines restore networks post-revolution
Analysis
Libya has mounted a strong economic recovery, enticing international carriers to rapidly rebuild their capacity, withdrawn after a bloody revolution engulfed the northern African state in Feb-2011.
The country's two state-owned airlines, Libyan Air and Afriqiyah Airlines, which both suffered extensive damage to aircraft, resumed operations late 2011 and are gradually reestablishing their pre-war networks as aircraft return to service.
Their initial focus has been on linking key economic and political partners around the Mediterranean, including Turkey, and to the Middle East as well as Britain.
A merger of the two carriers is also progressing slowly though earlier expectations of a union in the first half of 2013 appear to have been put back to at least early 2014.
Meanwhile Turkish Airlines, Tunisair and EgyptAir lead the foreign airline capacity levels reintroduced.
Libya's economic rebounds, but risks remain – IMF
Libya's economy has rebounded strongly in 2012, with GDP growth of 121.9% forecast by the International Monetary Fund (IMF), turning round a dramatic 59.7% decline in GDP in 2011.
The 2012 performance is underpinned by faster than expected restoration of oil production and consumer price inflation easing significantly from 15.9% in 2011 to a projected 10% for 2012 and falling to just 0.9% in 2013.
However, the IMF remains concerned about on-going domestic security instability which poses a risk to the country's outlook, restricting the private sector recovery and discouraging expatriates from returning home.
"In the near term security must be established, hydrocarbon production restored to pre-2011 levels, fiscal discipline exercised, the banking system revived, and macroeconomic stability maintained," the IMF says in an Oct-2012 update.
Oil production has returned to close pre-war levels of around 1.6 million barrels of crude oil per day after coming to a virtual halt during the uprising.
The prolonged fighting also had a far-reaching impact on standards of living, basic public services and employment.
International airlines return as the economy picks up

International airlines quickly reestablished routes to Libya in 2012 as the country's political environment stabilised and the economy enjoyed a faster recovery than expected, attracting investors.
Tunisair launched Djerba-Tripoli services in May-2012 and increased its Tunis-Tripoli frequency from 14 to 17 times weekly. Tunisair competes with Libyan Airlines and Afriqiyah Airways on the route.
Turkish Airlines was quick to resume services to Libya following the revolution, first to Benghazi from Istanbul on 13-Sep-2012 and then to Tripoli on 24-Sep-2012. It currently operates twice daily to Tripoli and 10 weekly frequencies to Benghazi.
Top 15 airlines serving Libya ranked by total seats offered: 03-Dec-2012 to 09-Dec-2012
Libya-airline-ranking.PNG" alt="" width="326" height="409" />
Also, EgyptAir operates daily Cairo-Tripoli and Benghazi.
From the east, Royal Jordanian Airlines operates a daily A321 service between Amman and Tripoli, offering 1,112 seats for the week 03-Dec-2012 to 09-Dec-2012 against Libyan Airlines' 885 and Afriqiyah Airways' 286 seats a week.
However, Royal Jordanian will cut its capacity to 796 seats in the first week of Apr-2013, giving up its dominant market position to Libyan Airlines. Royal Jordanian also operates three-times weekly to Amman-Benghazi and once weekly Amman-Misurata, with both routes using a 99-seat Embraer 195.
Libya to Middle East capacity by carrier (seat per week one way): 03-Dec-2012 to 09-Dec-2012
Libya-to-Middle-East.png" alt="" width="760" height="600" />
European air services quickly regained momentum from Apr-2012.
Libya to western Europe capacity by carrier (seats per week, one way): 03-Dec-2012 to 09-Dec-2012
Air Malta too has steadily rebuilt its capacity to Libya since resuming services to Tripoli on 28-Nov-2011. It competes with Libyan Airlines on the Malta-Tripoli route and operates on its own to Benghazi, providing 311 seats a week.
Italian flag carrier, Alitalia was the first EU carrier to resume services to Tripoli in Nov-2011 and currently operates daily Rome Fiumicino-Tripoli services using A319 aircraft but will return to double daily from Apr-2013, operated by a mix of Embraer E-175 equipment and MD-80 aircraft offering a total of 1,764 seats a week, up from 1,148 at the same time in 2012, according to Innovata.
Lufthansa increased Frankfurt-Tripoli capacity in Apr-2012 to a daily service from three times weekly offering after it relaunched the route in Feb-2012, using A320 aircraft. At the time, Lufthansa's general manager in Libya, Antonio Tassone, said: "The resumption of our flights to Tripoli is a strong and important signal to Libya and western business community that we are confident to be back".
Austrian Airlines resumed five times weekly Vienna-Tripoli service in June using Fokker F100 equipment, while British Airways returned in May-2012 with a three times weekly service connecting London-Heathrow and Tripoli.
And Qatar Airways currently operates to Libya's northeastern Mediterranean port city of Benghazi three times weekly direct from Doha and daily to Tripoli via Alexandria using A320 aircraft. Benghazi, Libya's second largest city, is a major economic centre, a key destination for trade and exports and home to many industries, including oil refining, food processing, cement production and tuna fishing.
Etihad Airways has the Abu Dhabi-Tripoli route to itself with a three-times weekly service.
However, Emirates and KLM both cancelled previously announced plans to resume services to Libya and have given no update on when they may do so.
Emirates had announced on 13-Aug-2012 it would reinstate a four-times weekly Dubai-Tripoli services on 29-Oct-2012. Emirates senior vice president commercial operations for Africa, Jean Luc Grillet, said at the time: "In resuming our flights to Tripoli, Emirates is underlining its commitment to Libya at a time when the country is demonstrating its strength and resilience in the face of adversity. We have been closely monitoring the situation in Libya and feel that the time is right to re-launch our services, which will help to support business, international trade and passenger travel to and from Tripoli, as well as strengthening the country's overall infrastructure."
However, the carrier's website gives no indication of whether flights will be reinstated. It reads: "Emirates flights to/from Tripoli, Libya have been suspended indefinitely. Emirates continues to monitor the situation in Tripoli but no date to reinstate flights has been determined."
Tripoli had been part of Emirates' route network since March 2001.
KLM in Apr-2012 called-off its planned daily Amsterdam-Tripoli service scheduled to start for 28-Oct-2012 after earlier delaying a Mar-2012 start.
Libyan airlines focus on rebuilding pre-revolution networks

Both of Libya's state-owned carriers, Libyan Airways and Afriqiyah Airways were badly affected by the conflict which resulted in their fleets sustaining extensive damage from the fighting.
Libyan Airlines resumed operations with a limited fleet on 17-Oct-2011 followed by Afriqiyah on 01-Dec-2011, having grounded their operations in Feb-2011 when the fighting broke out.
See related article: Rebuilding Libya's aviation industry crucial to economic recovery
Libyan Airlines is the country's biggest carrier as measured by total seat capacity, producing 23,166 seats in the week from 03-Dec-2012 to 09-Dec-2012 compared to Afriqiyah's 15,320 seats in the same period. Its first post-revolution international service was from Tripoli International Airport to Cairo International Airport.
Before the revolution, it operated to destinations in north Africa, the Middle East and Europe. Key destinations included London, Frankfurt, Milan, Rome, Kiev, Istanbul, Algiers, Casablanca, Sfax, Cairo, Alexandria, Amman, Dubai, Jeddah and Damascus. The carrier also operated a domestic network to Tripoli, Benghazi, Ghat, Sebha, Surt and Kufra.
Today its network covers 18 destinations, largely focused on north Africa and European coverage limited to Britain and Greece.
Libyan Airlines route network: as of 10-Dec-2012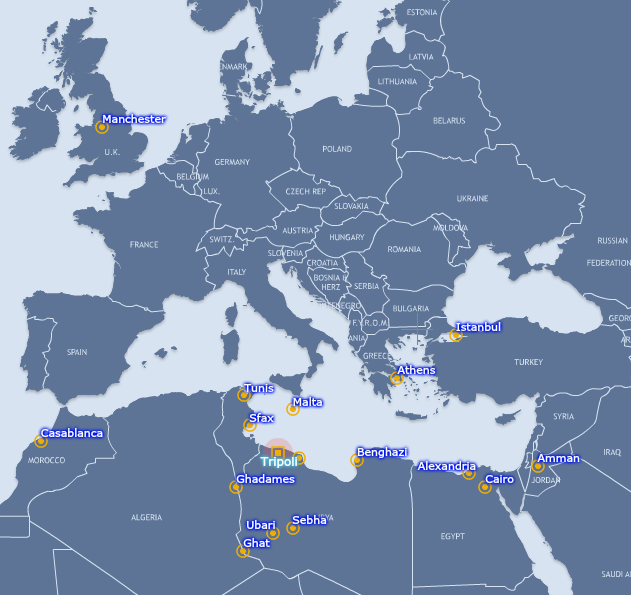 The most recent addition to the network was a twice weekly Tripoli-London Heathrow service launched on 14-Nov-2012 with A320 aircraft, adding to its biggest British route to Manchester where it operates three times a week, according to Innovata.
Libyan Airlines' top 12 routes ranked by seats: 03-Dec-2012 to 09-Dec-2012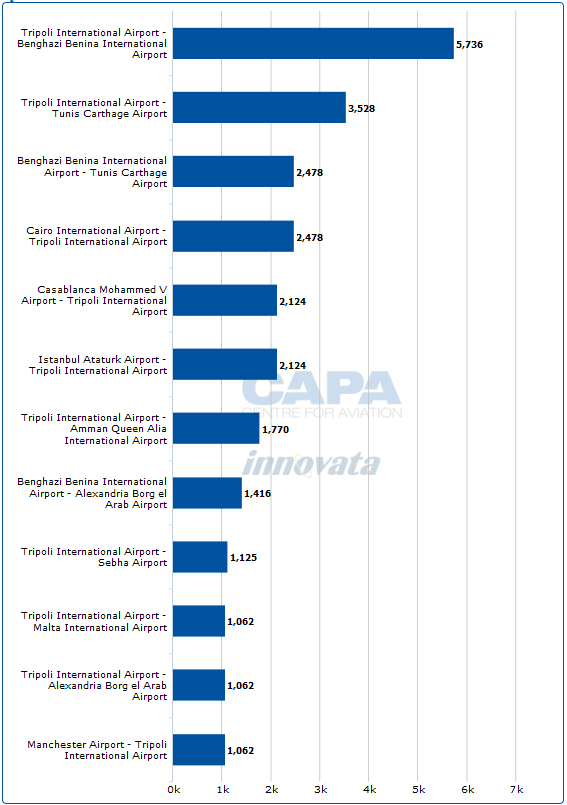 The airline will restore its pre-conflict route network with a priority on developing connections with Turkey and east Asia to cater for the influx of foreign labour needed to help rebuild the war-torn country. Services to European business centres will follow.
Turkish Airlines was quick to resume service to Libya and had been heavily involved in the humanitarian side of the conflict. Turkish Airlines dominates the air route between Turkey and Libya on the back of improving economic relations.
Turkey to Libya capacity by carrier (seats per week, one-way): 19-Sep-2012 to 02-Jun-2013
Both Libyan Airlines and Afriqiyah have been focused on completing repairs to aircraft damaged during the conflict.
Libyan Airlines CEO Khaled Taynaz reportedly stated in Aug-2012 that repair work on the airline's fleet is nearing completion and the carrier should have seven Bombardier CRJ900 aircraft operational by the end of Mar-2013.
After suffering badly during the civil conflict, Afriqiyah Airways expressed its renewed optimism for the future on 12-Nov-2012 when it increased its order for A350 aircraft, announcing a new firm order for four A350-900s. The carrier has also converted its original order for six A350-800s into six of the larger A350-900 model, taking the total number of A350s on order to 10 A350-900s.
First deliveries are scheduled to start in 2020. The airline plans to deploy the aircraft on new routes to the United States, the Middle East and Asia.
Libya projected delivery dates for aircraft as at 12-Nov-2012
Libya-projected-delivery-dates-for-aircraft-as-at-02-Aug-2012.png" alt="" width="530" height="300" />
Afriqiyah's route network is significantly changed from its pre-revolution network.
Shortly before the conflict the carrier served 31 destinations including 18 throughout Africa, seven in Europe, including London, Rome and Paris, two points in the Middle East and as far east as Dhaka and Beijing.
The London and Rome routes are reportedly served using a wet leased A320 from Air Moldova.
Afriqiyah, resumed operations on 01-Dec-2011 to destinations including Cairo, Tunis, Istanbul, Dubai, Alexandria, Faro and Khartoum, however, it is still to return to any of its routes south of the Sahara Desert. CEO Rammah Ettir has previously stated most routes were unprofitable, except for Lagos and Accra.
It launched three times weekly services Tripoli-Casablanca on 21-Nov-2012 and three times weekly Tripoli-Dusseldorf on 03-Dec-2012. In addition, Afriqiyah reportedly also plans to launch Benghazi-Dusseldorf services.
Afriqiyah Airways route map, as at 09-Dec-2012*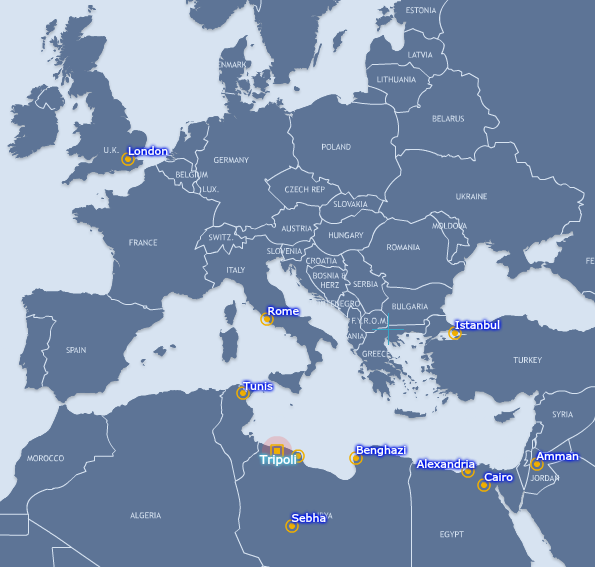 Near the end of 2010, Afriqiyah Airways had been steadily developing its network, launching service to Beijing, Lyon and Milan in the months before the revolt.
But between Mar-2011 and Aug-2011 the company was "focussed on repairing our fleet" after one aircraft burned in Aug-2011 and four A320s were damaged. At the end of the fighting in Tripoli, the carrier had just two aircraft in flying condition, although none were operational during the conflict.
Libyan Airlines, Afriqiyah merger not until 2014
Long-running moves to merge Libyan Airlines and Afriqiyah appears to be progressing slowly but faces significant logistical hurdles.
The flag carriers were originally expected to merge in late 2011, however, the Arab Spring and poor organisation forced this deal to be repeatedly postponed.
A merger would take at least 18 months according to an IATA study, with the process further hampered by the destruction of Afriqiyah's offices during the conflict.
In Mar-2012 the Libyan Government reportedly authorised the interim Finance Ministry to purchase shares of the four companies that own Libyan Afriqiyah Aviation Holding Company(LAAHC), whose subsidiaries include Libyan Airlines, Afriqiyah Airways, Libyan Aviation Supply Company and Libyan Company for Aviation Handling and Maintenance.
LAAHC is owned by the Libyan National Social Fund, the Libyan National Investment Company, the Libya-Africa Investment Fund and the Libyan Foreign Investment Company. A merged airline will retain the Libyan brand.
Long-term strategic partner will be sought ahead of privatisation

The optimistic scenario is that the resulting combined state-run carrier could eventually be privatised if it becomes attractive to competitors or other investors.
Libya's then interim Transport Minister, Yousef El Uheshi stated in Mar-2012 that although the interim Government was keen to privatise its transportation sector, it would not happen quickly. "It is too early to talk about privatisation, it's not something you can start straight away. We will start with a strategic partner which will serve us in the next 10 or 15 years," he said. Mr El Uheshi estimated the sector will need an investment of at least USD8 billion.
....and open skies planned
Libya faces a common dilemma in these circumstances: whether to protect its home grown airlines or to create the environment for aviation to play a major role in its economy. The two are not necessarily incompatible, but there is a great temptation to restrict foreign airline entry in order to create greater value in the local carriers.
In the present environment and with so much potential upside for Libya's air service growth, a restrictionist approach merely to support the two airlines could stifle much economic growth.
The current Minister for Transport Dr Yousuf Al Wahaishi announced plans in Aug-2012 for the country to introduce an open skies policy as part of a scheme to establish the country as a regional hub between the Middle East, Africa and Europe.
Libya has much to do – and aviation must play an important role
According to the IMF, the government's medium term focus needs to be on infrastructure renewal, private sector development, improving education and health services and putting in place and effective social safety net, within a framework of transparent and accountable governance.
Foreign assets which stood at nearly USD177 billion in 2011, reached nearly USD196 billion in 2012 and are forecast to be USD206 in 2013. At the end of 2003 foreign assets totalled USD20 billion.
Over the six years to 2010, Libya's economy grew at an average of about 5% with annual consumer price inflation averaging less than 4%.
The country remains heavily dependent on oil which accounts for over 70% of GDP, more than 95% of exports, and approximately 90% of government revenue.
Restoration of air services and renewal of infrastructure will play a vital role in mitigating some of the risks Libya faces as it rebuilds its economy and as a nation freed from the bonds of the Muammar Gaddafi era. Assuming an open skies regime is implemented, the government may well be looking to find partners for its nationally established airlines sooner rather than later. That hopefully would allow achievement of both objectives, of stimulating rapid expansion of air service connections, as well as creating a strong foundation for a local aviation industry.
Under the Gadaffi regime, aviation, like most other core industries, languished. Libya now has the opportunity almost to start with a clean slate. Surface infrastructure will be a priority too and here as in many other sectors, investment, private or government, will be essential.