Lebanon's Middle East Airlines (MEA) second at bat for SkyTeam in the Middle East
Analysis
Middle East Airlines (MEA) formally joined SkyTeam on 28-Jun-2012, becoming the alliance's 17th member and second anchor in the fast growing Middle East region. With the addition of Saudi Arabia Airlines (Saudia) to SkyTeam at the end of May-2012, SkyTeam has swiftly and firmly expanded its presence in the region, which had previously been one of the alliance's chief white spots.
With a fleet of 16 aircraft and only 30 destinations MEA does not have the heft of Saudia, or some other prospective alliance partners in the region. But it also does not come with the baggage that some other partners would bring. Unlike the 'Big 3' of the Gulf region – Emirates, Etihad Airways and Qatar Airlines – MEA's ambitions and international reach are relatively modest and will not significantly overlap with existing SkyTeam members. It has also been consistently profitable over the past decade, something of a rarity for smaller state-owned carriers in the Middle East, and has an efficient, modern fleet offering reasonable service and product standards.
MEA's ascent into SkyTeam has been a long one. The carrier was formally accepted as a future full member in early 2011, but had been linked with possible associate member status as early as 2003. Between 2004 and early 2011, there was an on-again, off-again relationship between the carrier and the alliance, reportedly due to concerns over the status of the carrier's Cedar Miles frequent flyer programme under the alliance.
A number of deadlines for membership were missed and MEA's evenutal status in SkyTeam remained somewhat nebulous for a number of years. Air France, which has a strong relationship with MEA, acted as its sponsor during the joining process.
The carrier's membership offers SkyTeam increased access to destinations in the Middle East and Western Africa. About 40% of the MEA's network is concentrated in the Middle East – it operates to eight destinations in the GCC and another five across the rest of the Middle East.
MEA's membership increases SkyTeam's share of total Middle East capacity from about 14% to nearly 16%, according to Innovata data. SkyTeam became the largest alliance in the region only one month ago, when Saudia formally joined, and now has nearly double the capacity share of Star and about quadruple the capacity share of oneworld.
See related article: Saudi Arabian Airlines, now known as Saudia, joins SkyTeam and adds 35 destinations
Middle East capacity share by alliance (% of seats): 25-Jun-2012 to 01-Jul-2012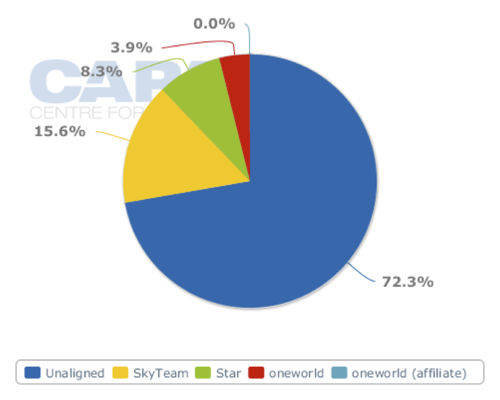 Overall the Middle East still remains a blank spot for global airline alliance coverage, with more than 70% of capacity still operated by unaligned airlines. MEA is only the fourth carrier in the region to join an alliance following Saudia, Royal Jordanian (oneworld) and EgyptAir (Star Alliance). Qatar Airways, which unlike market leader Emirates has looked at joining a global alliance, could significantly alter the balance of power among the alliances in the key Middle East region but for now appears to be pursuing a strong bilateral relationship with British Airways rather than membership in oneworld.
See related article: oneworld's BA and Qantas may shake up global alliances irreversibly as Emirates and Qatar enter
While MEA strengthens SkyTeam in the Middle East, particularly the Levant region, the Lebanese carrier also operates to 13 destinations in Western and Southern Europe, including three seasonal destinations (Copenhagen, Nice and Dusseldorf). Its European operations include the SkyTeam hubs of Paris CDG and Rome Fiumicino. The carrier has a strong network into Mediterranean destinations such as Larnaca and Athens.
MEA has also found a niche in West Africa, operating services to Abidjan, Lagos, Kano and Accra. Of these, only Kano is a brand new destination for SkyTeam, but MEA generally offers increased density of operations into Africa for the alliance. West Africa currently accounts for about 10% of MEA's total capacity (see Background information).
Since 2003, MEA has undertaken fleet renewal programme, adding four Airbus A321s, eight A320s and four A330-200s, giving it one of the most modern fleets in the region. The airline carries a three-star ranking across its business and economy cabins from airline rating company SKYTRAX. Membership in SkyTeam is expected to provide a spur for the carrier to continue to improve the products and services offered to customers, as well as delivering better service consistency.
A decade of profitability for MEA
MEA has also been consistently profitable, something few state-owned carriers in the region can boast. After a long run of losses in the 1990s, the Lebanese government stepped in to effect a turn around in 1998. A four-year restructuring effort followed, which has seen the carrier report consecutive profits between 2002 and 2011.
MEA annual operating and net profits: 2002 to 2011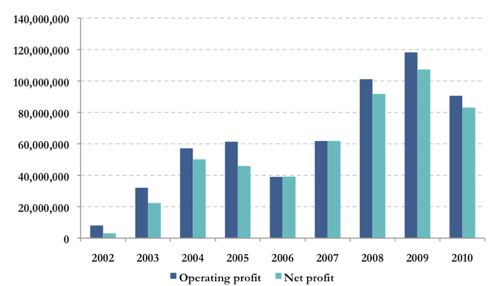 The carrier's profits have shrunk over the past few years however, due to expanding regional competition, political unrest in the region – notably in neighbouring Syria - and the continuing climb in oil prices. MEA's long-serving chairman Mohamad El-Hout recently stated that the carrier achieved a profit in 2011 of around USD40 million, well down on the USD83 million net result it achieved in 2010.
The carrier has also complained that it is vulnerable to competition from Middle Eastern and European carriers, as a result of Lebanon's open skies policy. Turkish Airlines, Emirates and flydubai all have significant presences in the Lebanese market, as does SkyTeam members Air France and Saudia. In 2011, Mr El-Hout stated that the open skies policy could lead the carrier to face "critical circumstances" and possibly force it off some routes.
But SkyTeam membership should help the carrier compete more effectively against larger carriers. While MEA accounts for only about 35% of scheduled capacity (seats) in its home market, the six existing SkyTeam member which serve Beirut – Aeroflot, Air France, Alitalia, China Eastern, Saudia and TAROM – account for another 12%. As a result SkyTeam now has 47% capacity share in the Lebanese market, putting it ahead of Star which has been the largest alliance in Lebanon with a capacity share of about 14%
Lebanon capacity share by alliance (% of seats): 25-Jun-2012 to 01-Jul-2012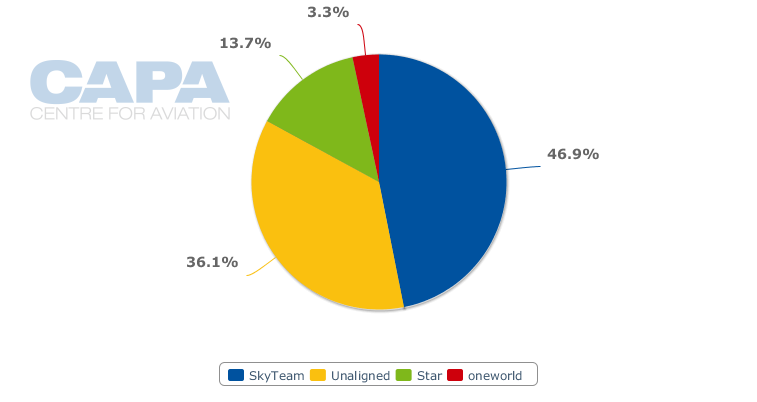 Lebanon capacity share by carrier (% of seats): 25-Jun-2012 to 01-Jul-2012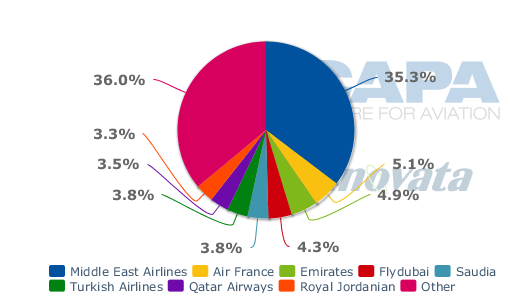 SkyTeam says MEA will particularly benefit from the improved access to markets in Brazil, Canada and the US, where there are large Lebanese communities. MEA will be able to improve the connections it provides to these countries by working with SkyTeam members Air France and Alitalia via their Paris and Rome hubs.
In announcing its ascension into SkyTeam, Mr El-Hout stated: "Joining SkyTeam allows us to expand our global reach and offer our customers hundreds more worldwide destinations. Becoming a SkyTeam member is integral to our strategy for growth and increased profitability as we look forward to a future of cooperation with our alliance partners."
Optimistic, if cautious, outlook for MEA
The carrier's outlook for 2012 is for its run of profits to continue, although the regional situation means that the outlook is fragile. In early Jun-2012, the Lebanese Tourism Minister, Fadi Abboud, said 2012 tourism levels would roughly match 2011 levels, of about 1.8 million. Tourism numbers slumped by around 300,000 in 2011 compared to 2010, but mostly due to the closure of road traffic from Syria. The Lebanese Tourism Ministry has launched an advertising campaign in GCC nations to encourage travel to the country.
MEA is not without it internal issues either, including a fair degree of labour unrest. There was a brief but acrimonious pilots strike in late 2011, which quickly saw the carrier threaten salary cuts and dismissals and required the intervention of the Lebanese Labor Minister Charbel Nahhas. Pilots at the carrier, represented by the Lebanese Pilots Association, were also involved in a months-long dispute over pay and other conditions in 2010 that saw strikes conducted early in the year.
Thanks to its monopoly status, fares at the carrier remain high. Lebanese tourism officials, including the Tourism Minister, have encouraged the carrier to reduce fares to promote travel into the country. In 2011, there were also rumblings that MEA's status as exclusive national carrier, due to expire at the end of this year, could be terminated early in favour of a new government-supported start-up. MEA's local competition for now remains limited to small charter carriers such as Med Airways and MenaJet, but several other companies are reportedly sizing up the Lebanese market.
IPO at MEA delayed but still on the cards
The Lebanese national bank Banque du Liban controls around 99.4% of MEA, but is a reluctant long-term owner. Under a national privatisation scheme, the bank had been due to conduct a partial sell the carrier off as early as 2002. However, the planned sale - as well as a number of subsequent IPO plans - have all been abandoned. The most recent of these was a proposed 25% listing in 1H2010, which was abandoned due to the softness of local finance markets.
The regional unrest and the depressed state of the Beirut Stock Exchange – which lost 20% of its value over 2010 and 2011 – has also not been conducive to a listing for the airline. Given the carrier's consistent profitability, the long-term prospects for a listing remain positive and MEA plans to introduce a dividend policy, although no timeframe has been announced.
Even with SkyTeam membership under its belt, MEA is not taking an aggressive approach to its expansion plans. SkyTeam membership will funnel more traffic into the carrier's Beirut hub, and the carrier believes that participating in the alliance will also help yields, but the main benefit will be the massive extension of its reach.
Otherwise, MEA will continue much as it has done over the past few years; a measured expansion allowing it to concentrate on profitability rather than passenger numbers. The carrier plans to expand its fleet of 16 aircraft to around 20 aircraft by 2020, although currently it only has outstanding orders for another two A320s.
In 2010, the airline announced it was assessing the A350 and 787 for its future long-haul fleet, aircraft that would add considerably to the flexibility of its operations. It has also been reportedly been looking at regional jets or turboprops for regional operations. It expects its network will grow by around 30% by 2020, to about 45 destinations.
Just where MEA will expand remains to be seen. The airline has previously outlined a number of destinations it would like to add to its network, including Moscow, Khartoum and Madrid, all of which are destinations it has operated to in the past. The addition of next generation long-range widebody aircraft at some point in the future also opens the possibility of operations into the Asia-Pacific, North America and even South America.
MEA will act as SkyTeam's gateway into the Levant, and to a lesser extend across the Gulf region and the rest of the Middle East. Although a small addition in comparison to Saudia, MEA appears to be another solid fit for SkyTeam, which is now the premiere alliance in the Middle East.
Background information
Middle East Airlines network map: 28-Jun-2012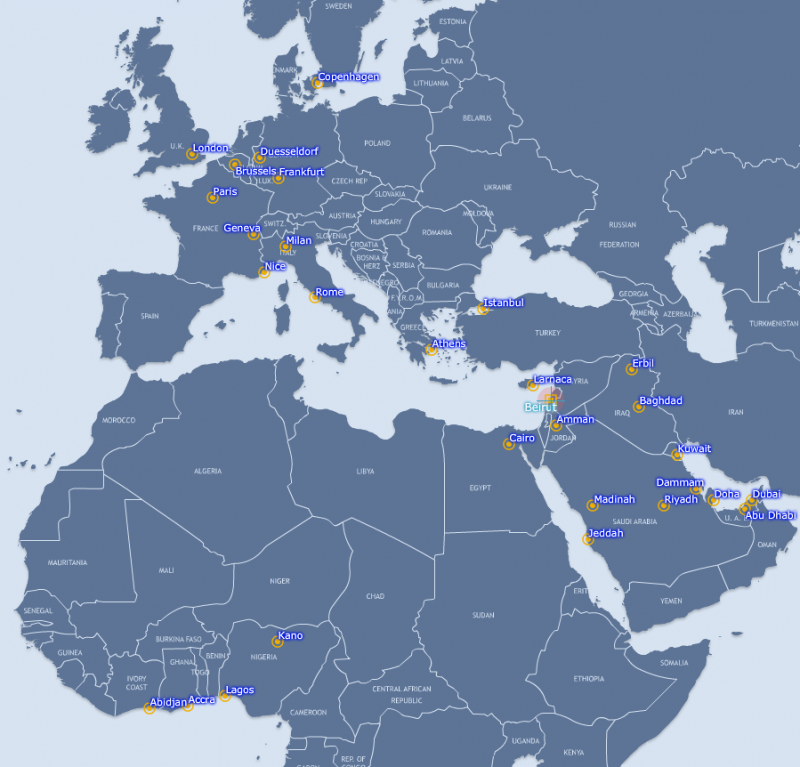 Middle East Airlines capacity (seats) by region: 25-Jun-2012 to 01-Jul-2012