LCC stocks mostly down: SkyEurope slumps, Southwest, Ryanair and easyJet ease
LCC stocks were mostly down yesterday (22-Jun-09), reflecting overall reductions in the US and European markets. Only Air Arabia and Dart Group, parent of Jet2.com, were up, by 2.1% and 5.8%, respectively.
Selected LCCs daily share price movements (% change): 22-Jun-09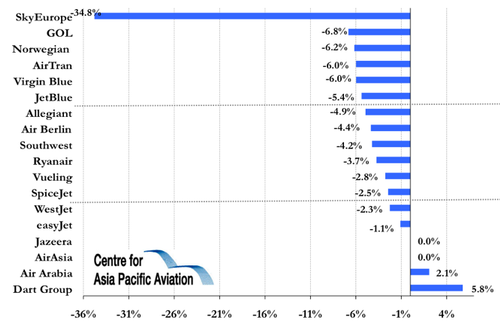 Among the European LCCs, Air Berlin, Ryanair and easyJet were all down, by 4.4%, 3.7% and 1.1%, respectively. However, the worst performing LCC stock of the day was struggling Bratislava-headquartered SkyEurope, which has been granted creditor protection allowing it to operate while it undergoes a restructuring of its operations to "make the company more attractive for potential investors". The carrier can receive up to nine and a half months protection and will continue full operation of scheduled and charter flights, as well as preserving its workforce and paying suppliers.
Elsewhere, in North America, Southwest's shares slipped 4.2%.
NB: All these carriers all feature prominently in The Centre's forthcoming LCC Outlook 2009 report.