24-Jun-2009 12:10 PM
LCC stocks mixed: AirAsia and Southwest down, easyJet and Ryanair up, Air Berlin surges
LCC stocks were mixed yesterday (23-Jun-09). Among the North American carriers, Allegiant, Southwest, WestJet, JetBlue and AirTran's shares all slipped, in the range of -0.9% to -3.8%. Asia Pacific LCCs were also down, reflecting general weakness in Asia Pacific markets.
Selected LCCs daily share price movements (% change): 23-Jun-09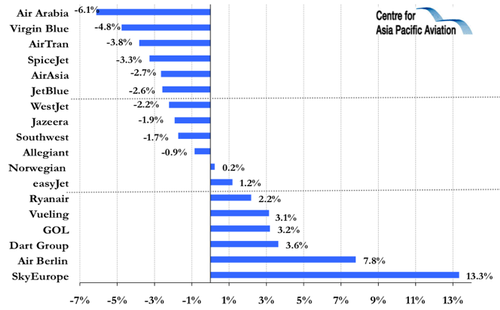 Elsewhere, in Europe, SkyEurope (+13.3%) regained some but not all of Monday's 34.8% share price slump as it requested protection from creditors as it restructures. Air Berlin, Dart Group and Vueling also gained yesterday, by 7.8%, 3.6% and 3.1%, respectively.
Clickair CEO, Alex Cruz, on Monday stated the carrier's branding would be scrapped in mid Jul-2009, following its merger with Vueling. The new carrier plans to focus initially on traffic originating in the Spanish market, although the airline would remain committed to maintaining its UK services.
NB: All these carriers all feature prominently in The Centre's forthcoming LCC Outlook 2009 report.