Las Vegas McCarran charts solid growth as it enjoys a significant increase in international traffic
Analysis
Las Vegas McCarran International Airport posted strong gains in international passenger traffic during 2014 and continued to record solid increases in domestic traveller throughput, which reflects the airport's staying power in a post consolidated US market place.

The airport attracts a mix of leisure and business travellers whose end destination is Las Vegas. That mix also ensures that a variety of airlines serve Las Vegas, reflected in ultra low cost airlines Allegiant and Spirit having a strong presence in the market and Southwest serving as the airport's largest airline.

Las Vegas is not resting on its laurels in expanding its international scope. The airport and community have created clear cut targets for international visitor growth, and McCarran is laying the groundwork to attract new service.
McCarran is close to recovering to its 2008 passenger levels of 44 million
Las Vegas McCarran handled 43 million passengers in 2014, up 2.4% year-on-year versus growth of 0.5% the year prior. The airport is growing closer to reaching the passenger levels it enjoyed in 2008 – 44 million – before US Airways in 2011 made some cuts at the airport following its merger with America West.
Las Vegas McCarran International Airport annual passenger numbers: 2008 to 2014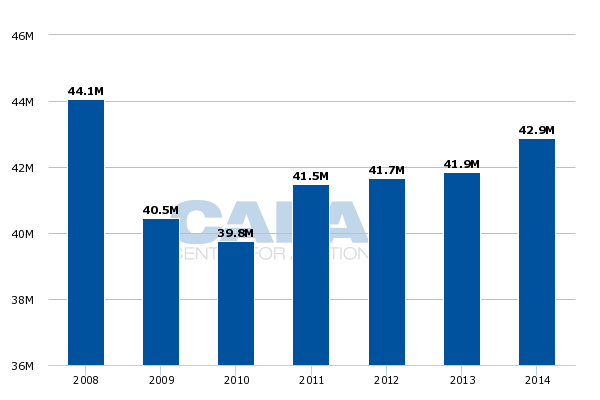 The airport's largest airline measured by both seats and ASMs (13-Apr-2015 to 19-Apr-2015), Southwest Airlines, posted 3% passenger growth at McCarran in 2014.
American also recorded 3% growth and United a 1.3% increase in passengers it transported to Las Vegas. Allegiant's passenger numbers meanwhile fell 2.4% and Delta posted a nearly 9% decline.
Las Vegas McCarran International Airport capacity by airline (% of seats): 13-Apr-2015 to 19-Apr-2015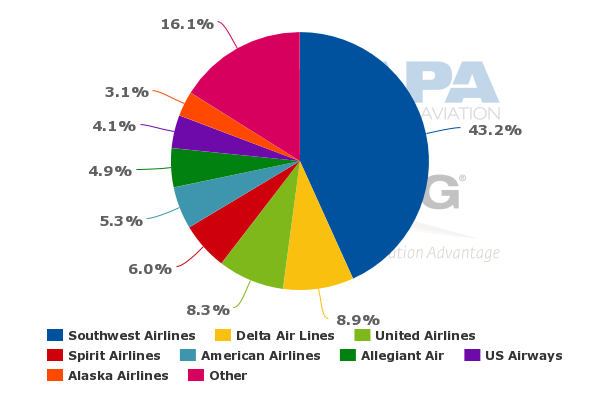 Las Vegas McCarran International Airport capacity by airline (% of ASMs): 13-Apr-2015 to 19-Apr-2015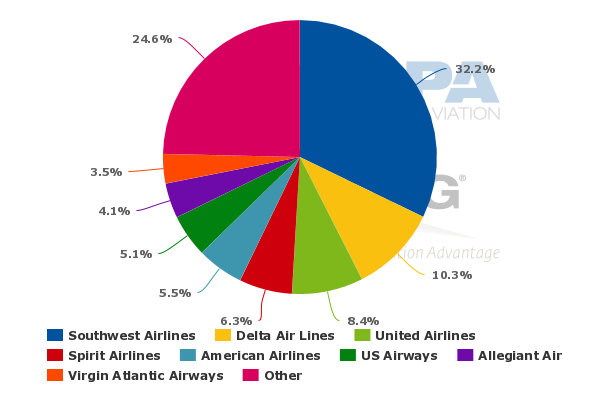 After posting solid 1.7% domestic passenger growth in 2014, new domestic routes added by airlines from Las Vegas in 2015 include JetBlue's flights to San Francisco, new service by Spirit to Boston and Allegiant's introductions of flights to Indianapolis and Tulsa. Spirit plans to add new flights from Atlanta to Las Vegas in May-2015, a new route also being introduced by fellow ULCC Frontier Airlines.

Las Vegas sits in a unique position of having a wide array of coverage by both low-cost and full-service airlines. During the last few years ULCC Spirit Airlines has expanded rapidly from the airport and established a crew base in Las Vegas, and the airport is now the airline's second largest base measured by ASMs (13-Apr-2015 to 19-Apr-2015).
Spirit's commitment to the airport remains firmly intact, evidenced by comments its CEO Ben Baldanza made to the Las Vegas Review-Journal in late 2014. He remarked that McCarran is "likely to get bigger for us", and highlighted the airport's international potential. Spirit is planning 30% capacity growth in 2015, and has approximately 101 Airbus narrowbodies on order, so Las Vegas is likely to play a key role in Spirit's growth plans.
Mexican airlines help drive McCarran's international passenger growth
Las Vegas' international passengers increased 12.5% in 2014 to 3.3 million, an impressive performance given that so many US airports are vying for new international flights. Mexican low-cost airlines have made a pronounced push, with VivaAerobus resuming flights to Monterrey and Volaris launching new flights to Cancun in late 2014. Volaris' new service to Cancun joined its existing flights from Mexico City Juarez and Guadalajara to Las Vegas. Interjet during the last couple of years has added service from Mexico Toluca and Monterrey to Las Vegas. Aeromexico also operates service from Juarez to Las Vegas.

The airport has also drawn service from elsewhere in Latin America. Copa introduced flights from its Panama City Tocumen hub to Las Vegas in 2012, and the airport estimates that the airline posted a 57% increase in passengers on the route from 2013 to 2014.

Azul founder David Neeleman told Bloomberg in mid-2014 that the airline had its sights on Los Angeles and Las Vegas for new long-haul flights. But the timing of Azul's potential service to Las Vegas is uncertain given Brazil's economy is in weak shape and the devaluation of the BRL against the USD is curbing travel for some Brazilians.

During 2013 Canada's WestJet became the first international airline to reach the one million passenger milestone in Las Vegas and transported 1.1 million passengers to and from Las Vegas in 2014. Presently, (13-Apr-2015 to 19-Apr-2015) WestJet operates flights to Las Vegas from Calgary, Edmonton, Kelowna, Ottawa, Vancouver, Montreal, Toronto, Winnipeg and Saskatoon.
McCarran estimates that Air Canada's passenger numbers increased 24% year-on-year in 2014 to 631,620. Air Canada offers service from Calgary, Montreal, Toronto and Vancouver to Las Vegas. Data from CAPA and OAG show that for the week of 13-Apr-2015 to 19-Apr-2015 Canada represents McCarran's largest international market by seats, and the UK accounts for the majority of international ASMs deployed from the airport, measured by country.
Las Vegas McCarran International Airport international capacity (% of seats) by country: 13-Apr-2015 to 19-Apr-2015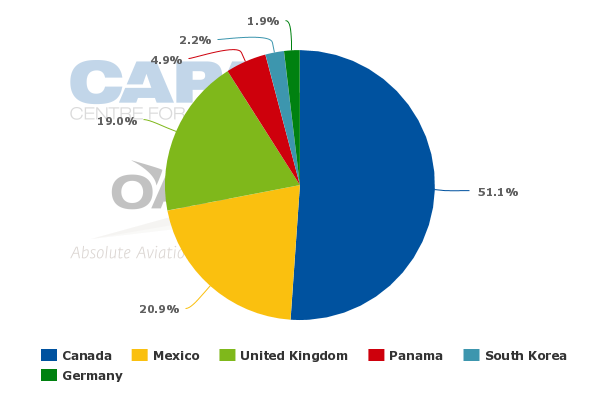 Las Vegas McCarran International Airport international capacity (% of ASMs) by country: 13-Apr-2015 to 19-Apr-2015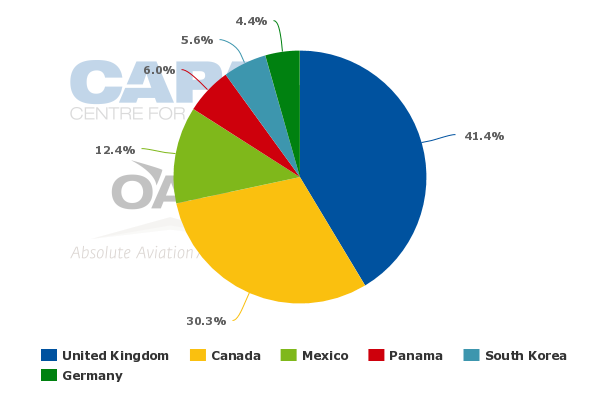 Presently, British Airways operates service from both London Gatwick and London Heathrow to Las Vegas. Virgin Atlantic also offers flights from Gatwick and Manchester and Thomas Cook operates service to Las Vegas from Manchester. McCarran also boasts service to Asia with flights to Seoul operated by Korean, and Edelweiss is scheduled to add a third weekly flight from Zurich to the airport in Jun-2015.
Clear goals emerge to increase international visitors to Las Vegas
Similar to all airports that are not hubs for US major airlines, McCarran is actively pursuing more international service. In late 2014 the Las Vegas Review-Journal stated that the Las Vegas Convention and Visitors Authority set a goal of building international travellers from 20% to 30% by 2020. A new terminal that opened at the airport in 2012 handles some domestic, but largely international traffic, and according to the publication, passengers can easily access US Customs and Border protection.
McCarran now has the capacity to handle approximately 55 million passengers annually. All of those factors, coupled with Las Vegas' attractiveness as an end destination, are positioning McCarran for future growth.
McCarran adopts a realistic attitude as it achieves a favourable level of stability
It is difficult to predict when new long-haul service to Las Vegas will materialise as many global geographies are facing weakening or uncertain economic conditions. Las Vegas McCarran stands in a favourable position given that Southwest, which remains largely a domestic airline, is its largest airline. Having a strong domestic airline as an anchor carrier gives McCarran a certain level of stability that many airports in the consolidated US domestic market do not enjoy.

McCarran is also realistic in its outlook at is declared at the beginning of 2015 that it had been cautiously optimistic as passenger traffic had modestly but steadily improved during the last few years. Having seen the cyclicality of the aviation business, and also feeling some direct effects of the consolidation that has taken place during the last decade, McCarran's cautious optimism is both welcome and shrewd as it works to solidify its place in the new stable US market place.
The entry into the skies of 787s and A350s, along with more efficient larger widebodies is opening new route potentials, so that Las Vegas is increasingly appearing in the short lists of foreign airlines for new destinations to the US.