LAN-TAM merger to reshape Latam aviation – and, perhaps, global alliances
Analysis
LAN and TAM are clearly not superstitious. But there will be bad news for some. The carriers' surprise announcement on Friday, 13-Aug-2010 that the two major Latin American airlines were to merge promises to reshape the entire South American market. And, because the emerging markets there are becoming so valuable, the impact will reverberate loudly around the world – not the least for Star Alliance and one world global groupings, as LAN belongs to oneworld and TAM to Star.
The deal is only formative at this stage and, given the importance for the region of this proposed combination, all sorts of unexpected potential obstacles will inevitably emerge in coming weeks. The prospects of it going ahead do however appear to be positive.
"A journey that will create one of the leading airline groups in the world"
This was how LAN CEO, Enrique Cueto described the deal. The combined airline group, with a fleet of more than 220 aircraft, would offer passenger services to over 115 destinations in 23 countries, along with extensive cargo services. In 2009 the carriers jointly generated revenues of USD8.5 billion, carrying over 45 million passengers and cargo of 832,000 tons. It will have some 40,000 employees. The airlines between them also have another 200 aircraft on order.
The combined carrier would become easily the largest operator in South America, considerably raising the bar in terms of financial control within a region. Air France-KLM, the Lufthansa group and, recently British Airways-Iberia all have consolidated airlines in a way that was unknown even a decade ago - but still they pale in comparison to the effect that this group will have on its home turf.
And its route coverage - and financial scale - is also massively the most extensive:
Key points of the announcement:
1. The Structure – similar to Air France- KLM
The (non-binding) MOU the carriers have signed would combine their holdings under a single parent entity, LATAM Airlines Group, covering both passenger and cargo services;
"Strategic decisions" relating to the alignment of the activities of LATAM group holdings will be "jointly managed" by the "controlling shareholders";
The new LATAM Airlines Group includes:

Lan Airlines and its affiliates in Peru, Argentina and Ecuador (LAN has already established a multi-national identity by a process of cross-border partial acquisitions, giving the airline a very powerful position in the region);
Lan Cargo and its affiliates;
TAM Lineas Aereas S.A.;
TAM Mercosur; and
all other holdings of LAN and TAM;

Each airline would continue to operate separately under its existing operating certificates and brands, and would "work to build a comprehensive network of international passenger flights and cargo services throughout the region". This would presumably also involve a process of route rationalisation, although that more sensitive topic is not directly addressed in the announcement;
Mauricio Rolim Amaro, currently Vice-chairman of the Board of Directors at TAM S.A., will be Chairman of LATAM and Enrique Cueto, currently CEO of LAN, will be LATAM CEO;
Maria Claudia Amaro, currently Chairman of the Board of Directors of TAM, becomes Chairman of TAM under the new structure. Marco Bologna, currently President/CEO of TAM S.A. becomes CEO of TAM. Libano Barroso, currently president of TAM Lineas Aereas S.A., continues in that role. Ignacio Cueto, currently President/COO of LAN, becomes CEO of LAN Airlines.
2. A USD3.7 billion stock purchase by LAN
The all-stock transaction, valued at USD3.7 billion, involves TAM investors receiving 0.9 LLAN shares for each TAM share. The economic interests of LAN and TAM are combined under a single parent entity designed to satisfy foreign ownership and control requirements in each country they operate. So, for example, existing stock exchange listings remain;
3. Combined FFPs – but no word about the Star Alliance-one world crossover
According to the announcement, the new combination will offer "seamless travel throughout the region and beyond. Frequent flyer programme members would be able to earn and redeem miles on more flights, and be able to earn miles through more partners than ever before."
The carriers however make no reference to the way their new FFP merger would work in the context of their conflicting alliance memberships, giving rise to the probability that one or other alliance will be shed.
See related report: LAN-TAM merger upsets the oneworld-Star Alliance balance in Latin America. The quest for El Dorado
4. A major global carrier
Significantly, apart from creating a major force in South America, the airlines jointly create a new major operator on the global stage, with important flow-ons for their strategic and commercial negotiating clout. They will not be among the top ten, but they will still be a force to be reckoned with.
5. Route expansion potential
Some idea of the potential power of this new entity – and of its value for alliance members – can be derived from the ambitious plans the announcement talks of, in expanding into Europe and North America.
Suggested growth into new markets by LATAM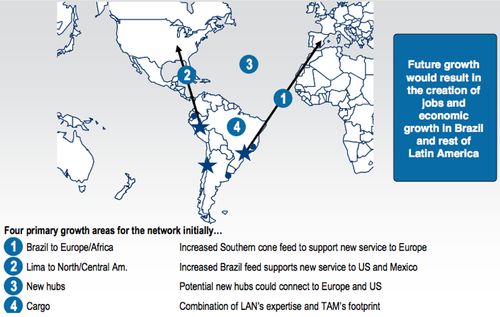 6. Synergies expected to top USD400 million annually
The rewards for the carriers are immense, with expectations of annual synergies Worth USS400 million, "broadly in equal proportion from alignment of the passenger networks, growth in the cargo network (both internationally and in Brazil), and reduced cost". One third of these synergies within the first year after closing the transaction; by the end of the third year of joint operation, the full amounts should be generated.
Another step towards rationalisation of an archaic industry
Last Friday's announcement was another step taken along a course of circumventing the archaic regulatory structure of global aviation, which prevents mergers across national borders.
This is not the first venture of this sort. Although LAN has been at the forefront of innovative thinking in its cross-border moves, the barrier to cross-border ownership among major network airlines was breached in 2004 with the joining of Air France and KLM. But there are some notable differences between that union and the latest.
First, Europe is home to a great many large, established carriers. While the Air France-KLM group created a sizable entity, it was surrounded by carriers of similar size and power, which made the merger important - but not overwhelming.
The same would not be true of the LATAM group. The airlines exist on a continent with few substantial rivals and the geography is quite different from the close quarters that European carriers inhabit.
Secondly, LAN already consists of a group of carriers that collectively, with TAM, cover much of the region. For South America, this is a very large transaction that would provide a platform from which these two carriers can influence most of the travellers to, from and within the continent.
Thirdly, as noted, it would be the first major venture of this sort that involves airlines in competing alliances. With a "joint" frequent flyer membership having feet firmly planted in different alliance camps, the complexity of choice for travellers and administration by program will be a complication that needs to be dealt with – perhaps by dropping one of the alliances.
And finally, as also noted above, the financial dominance of the grouping within the region would be unprecedented in global aviation.
Evolving the archaic aviation system – and a challenge to alliances' roles?
Regardless of the final configuration of the deal, now still in the MoU phase, this is another important step in the restructuring of the global aviation market.
It advances, yet again, the formulae by which carriers can join forces and seek to dominate markets. In that respect it is a welcome move and presages further innovations in evolving the limiting structure and model that currently prevents aviation from becoming a truly global industry.
Ironically, the vehicle for achieving some rationalisation in this ancient system has been the use of alliances to allow major airlines to gain wider marketing and sales influence. And, as the system evolves and liberalises, so their relevance to airlines will diminish. The relative significance of achieving local power over allegiance to a particular alliance can be seen in the LAN-TAM MoU. The alliance becomes secondary. So, with liberalisation comes a reduction in the power and value of the alliances.
But those at the helm of SkyTeam, Star and oneworld, while immediately occupied with the implications of this merger, will not be lying awake at night worrying on that score. Thanks to the combined inertial forces of nationalism, vested interests and unpredictable competition laws, the alliances will have little to fear for at least a decade to come.