LAN-TAM concessions to increase competition on Santiago-Sao Paulo route
Analysis
LAN and TAM are confident they will be able to complete their merger in 1Q2012 at the latest, believing the concessions they are offering to mitigate competitive concerns on routes between Brazil and Chile are more than sufficient. LAN and TAM are offering slots at congested Sao Paulo Guarulhos airport for any carrier interested in launching service on the Sao Paulo-Santiago route along with capacity and price guarantees.
Chile-based LAN and Brazil-based TAM, which are already the two largest airline groups in Latin America, first announced in Aug-2010 their plans to merge and create a new holding company to be called LATAM Airlines Group. LAN and TAM were initially expecting to complete the merger in 2Q2011 but have faced delays in securing the required approvals, in particular from Chilean competition authorities.
Chile's anti-trust court TDLC held a public hearing late last month which included testimony from LAN and its smaller Chilean rivals. The TDLC is now reviewing the testimony and information submitted. LAN CEO Enrique Cueto told CAPA during last week's IATA AGM that he expects a decision from TDLC in Jul-2012. "We think we will have a resolution in mid-July. We're optimistic about that," Mr Cueto says.
Appeal to Supreme Court would push back completion of merger from 4Q2011 to 1Q2012
If there is no appeal of the TDLC decision, Mr Cueto believes LAN and TAM could still complete their merger by the end of this year. However, he concedes an appeal to Chile's Supreme Court will cause a further three-month delay and push the completion of the merger into 1Q2012.
Also speaking to CAPA during last week's IATA AGM, TAM CEO Libano Barroso said the Brazilian carrier is confident the merger will be completed in 4Q2011 or 1Q2012. He says a decision from TDLC is expected within 60 days. A final decision from regulators in Brazil, where there has been less initial resistance compared to Chile, is also expected within the next few weeks.
Chile's other two other major domestic carriers, Sky Airline and Pal Airlines (Aerolinea Principal), could potentially appeal the TDLC decision. Such an appeal is unlikely to result in a rejection of the proposed LAN-TAM tie-up but LAN's competitors could lodge an appeal simply to annoy its rival.
LAN and TAM now account for more than 60% of capacity to, from and within Chile
Chile consumer rights group CONADECUS also could potentially lodge an appeal. CONADECUS has been challenging the proposed merger, claiming LAN already has too dominant a position in the Chilean market and engages in predatory pricing. LAN currently has about a 75% share of Chile's domestic market while LAN and TAM combined account for about 60% of Chile's international traffic.
See related story: Sky expansion reduces LAN-TAM domination in Chile
In terms of total capacity in Chile, LAN and TAM combined now account for 64% of all seats, according to Innovata data.
Capacity in Chile (seats per week to/from) by carrier:
13 Jun-2011 to 19 Jun-2011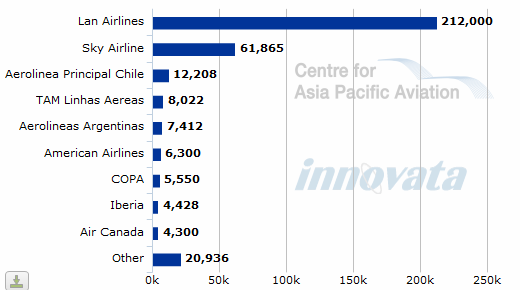 At LAN's Santiago hub, LAN and TAM combined account for nearly 70% of all seats. In comparison, at larger Sao Paulo the two airline groups account for only one-third of all seats.
Santiago Airport capacity (seats per week to/from) by carrier:
13 Jun-2011 to 19 Jun-2011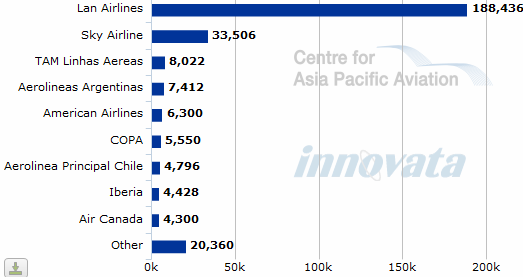 Sao Paulo Guarulhos airport capacity (seats per week to/from) by carrier:
13 Jun-2011 to 19 Jun-2011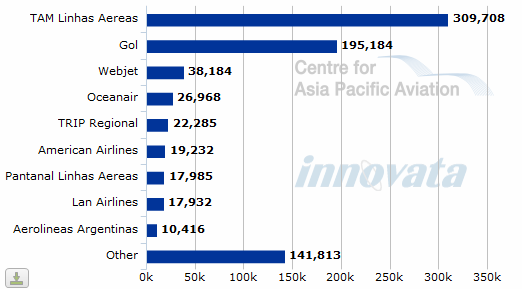 Mr Cueto is extremely confident of ultimately receiving a favourable ruling from TDLC and, if necessary, Chile's Supreme Court. He believes the concessions being offered go beyond concessions offered by other airline groups in similar proposed merger transactions.
Mr Cueto says LAN and TAM now capture 90% of the market between Santiago and Sao Paulo. LAN and TAM are the only two carriers operating non-stop flights between the two cities but about 10% of the market is captured by carriers offering a one-stop product, including from Brazilian low-cost carrier Gol. As LAN and TAM understand they need to offer "mitigation" to make sure this route remains competitive, Mr Cueto says LAN and TAM are guaranteeing to increase capacity on the route by 10% per annum for the next five years.
LAN and TAM offer other carriers slots at Sao Paulo Guraulhos
In addition, LAN and TAM are offering to give any carrier which is willing to compete with LAN-TAM on the Santiago-Sao Paulo route slots at Guarulhos. Mr Cueto says LAN and TAM are also offering to interline or codeshare and have a reciprocal frequent flier arrangement with the carrier willing to take these slots and launch service between Santiago and Sao Paulo. He says this would allow the new carrier to more effectively compete for business passengers as their passengers would be able to fly one way on LAN-TAM and the other way on the competing carrier. "We think we'll have a more competitive route after we merge," Mr Cueto says.
According to Innovata, LAN and TAM combined now operate about 10,000 seats per week from Santiago to Sao Paulo. LAN operates four daily flights on the route and TAM operates two daily flights.
Capacity (seats per week, one-way) from Santiago to Sao Paulo Guarulhos, 30 May-2011 to 4 Dec 2011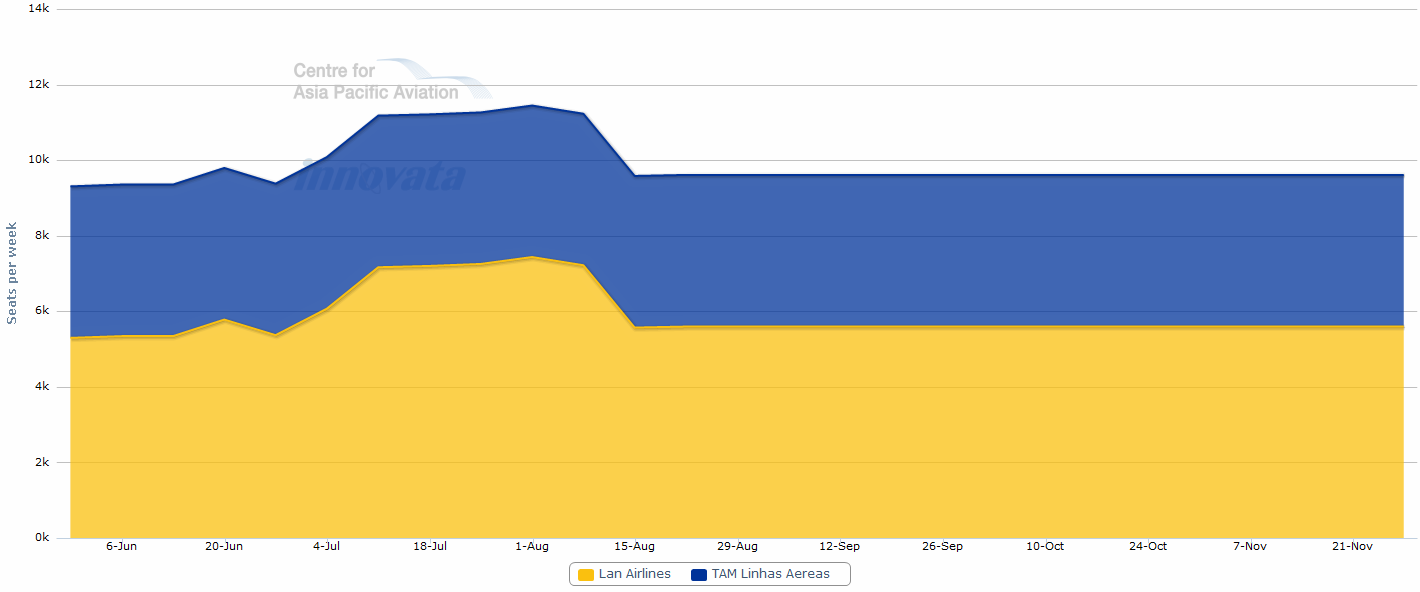 Air fares between Santiago and Sao Paulo are typically high, which could persuade a carrier to join LAN and TAM on the route. The lowest roundtrip fare on the route is typically USD500 to USD700 during off-peak periods and over USD1,000 on some peak days. Mr Cueto says as part of its concessions LAN and TAM are promising to review its prices on the Santiago-Paulo route and reduce fares by at least 10%.
Lowest return economy class air fares (USD) for travelling non-stop between Santiago and Sao Paulo:
Oct-2010 to July-2011

Airlines which could potentially be interested in launching services between Sao Paulo and Santiago, particularly if handed peak hour slots at Guarulhos are Sky, PAL Airlines, Avianca Brazil and Gol. Sky is mainly a domestic carrier but doubled its international network late last year when it launched services to Buenos Aires and Lima (Sky also serves Arequipa in Peru and La Paz in Bolivia). Sky has been considering Sao Paulo as part of the next phase of its international expansion plan. PAL's scheduled operation is now entirely domestic but the carrier operates international charters and has been looking at launching international scheduled services.
Gol previously operated non-stop flights on the Santiago-Sao Paulo route but currently only serves Santiago via Buenos Aires. Gol has been shrinking its international operation in favour of more profitable shorter-haul domestic flying but the opportunity to assume peak hour slots at Guarulhos from its archrival TAM could entice it to consider resuming non-stop flights to Santiago. Avianca Brazil is primarily a domestic carrier but expanded into the international market late last year when it launched services from Sao Paulo to Bogota and has been looking at additional international services.
Mr Cueto says from LAN's Santiago hub, Sao Paulo is the third largest single market after Buenos Aires and Lima. When factoring in flights to both Buenos Aires airports (AEP - Aeroparque and EZE - Ezeiza), LAN has more than twice as many seats to Buenos Aires compared to Sao Paulo. But the Buenos Aires route is much more competitive, with LAN competing against Aerolineas Argentinas, Gol, Sky and Air Canada. Between Santiago and Lima, LAN also has two competitors – TACA and Sky.
LAN's top 10 international routes based on capacity (seats per week), 13 Jun-2011 to 19 Jun-2011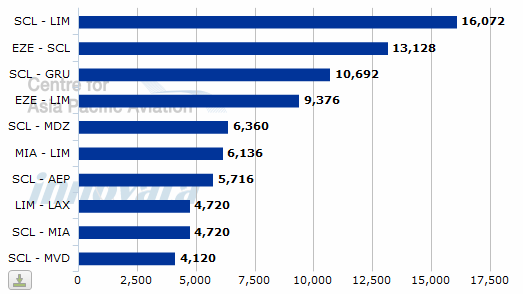 For TAM, Santiago is the carrier's second largest international market after Buenos Aires. LAN also serves the Buenos Aires-Sao Paulo market but after they merger LAN and TAM will still have thee competitors in this market – Aerolineas Argentinas, Gol, and Qatar Airways. LAN and TAM account for less than half of the total capacity currently in the Buenos Aires (AEP and EZE)-Sao Paulo market.
TAM's top 10 international routes based on capacity (seats per week), 13 Jun-2011 to 19-Jun-2011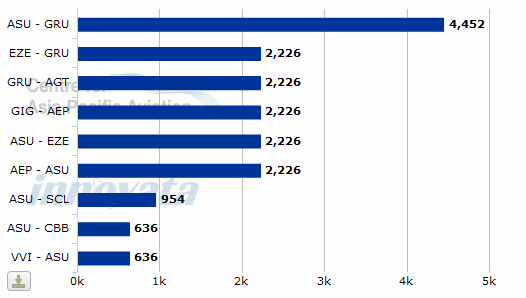 LAN and TAM, however, will likely have a monopoly in the smaller Santiago-Rio de Janeiro market. LAN is already the only carrier operating this route as TAM currently doesn't connect Santiago and Rio non-stop. LAN now offers about 500 weekly seats from Santiago to Rio de Janeiro although it significantly increases its capacity on this route during peak periods.
Overall Mr Cueto believes the merger is beneficial to consumers in both Chile and Brazil. Combined the airlines will have sufficient traffic to support a larger international hub in Sao Paulo, including the prospect of new European routes which are currently not viable for TAM by itself. From Santiago, there will be opportunities to grow LAN's network in Asia-Pacific using the new feed from TAM. LAN currently only operates one route to Asia-Pacific, connecting Santiago with Sydney via Auckland. Mr Cueto says it is too early to say what new routes could be launched after the merger is completed as LATAM still need to conduct an analysis of potential new markets.
LATAM could select one global alliance next year
He says it is also too early to say which way LATAM will go when it comes to the global alliances. LAN is now part of oneworld while TAM is in Star. It is possible the two carriers will remain in separate alliances as they will continue to operate as separate entities under LATAM. Mr Cueto says whether LATAM opts for one alliance or stay with two will be considered but only after the deal is completed. "When we have approval we'll start to look at the best structure going forward," he says. "We don't know yet the best solution."
Meanwhile LAN is working on completing a restructuring of Aires, a loss-making Colombian carrier LAN acquired late last year, ahead of its merger with TAM. Mr Cueto confirms Aires will be re-branded Lan Colombia but only after it completes an IOSA safety audit. He expects this will occur late this year.
Aires currently operates B737-700s and Bombardier Dash 8s while the narrowbody fleet of both LAN and TAM consists entirely of A320 family aircraft. Mr Cueto says Aires/Lan Colombia will also start operating A320s but will continue to operate some B737-700s for some time as the B737-700 leases are not expiring for a few years. He says LAN is also now analysing whether to retain Aires' turboprops. He says as a group "we prefer bigger aircraft" but points out the Colombian domestic market is unique and may need turboprops to retain certain routes.
The addition of Aires gives LAN passenger carriers in five countries – Argentina, Colombia, Chile, Ecuador and Peru. As TAM has passenger airlines in Brazil and Paraguay, the new LATAM group will have seven South American countries covered.