Korean traffic returns to pre-crisis levels. Air New Zealand yields showing signs of improvement
Air New Zealand reported smaller yield reductions in Feb-2010, although international yields continued to be battered, down 15.4% in the month. (This was off growth of 21.4% in Feb-2009 - the peak of the cycle for Air NZ - thanks to exchange rates at the time). International yields are down 13.3% in the year-to-date period (eight months to Feb-2010).
Short-haul yield contractions were much less severe, down 3.2% in the month for the smallest yield reduction since Mar-2010. This compared to a year-to-date decline of 8.1% and follows growth of 1.4% in Feb-2009.
Group yields slipped 8.2% last month (following a 10.4% contraction in Jan-2010 and off growth of 11.3% in Feb-2009), or by 1.4% excluding the impact of foreign exchange, for the smallest decline since Mar-2009, but adds to the 3.8% decline experienced in Feb-2009. On a year-to-date basis, the carrier reported declines of 9.6% and 9.1%, respectively, in these areas.
Air New Zealand yield developments: Jul-2008 to Feb-2010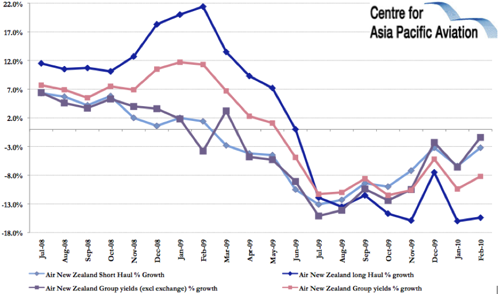 Also in the month, the carrier reported a 3.1% increase in passenger numbers, to 997,000, driven by a 4.3% increase in short-haul, which made up for a 4.1% decline in long-haul services. The carrier reported an average passenger load factor of 83.2% in the month, a 5.0 ppt load factor improvement.
Air NZ will "transform" its short-haul Tasman and Pacific Island services later this year, "setting a new benchmark in terms of competitive pricing, choice and the airport experience" and introducing a range of product developments. The carrier will be cutting the price of its lead-in fares to be more competitive with LCCs on the route, while standardising the A320 Tasman Pacific fleet to one-class (ie dropping Business Class) with 171 seats.
Shares in the carrier remained stable following the traffic release yesterday, but are down 0.8% in early morning trading today.
Korea's domestic and cargo traffic returns to pre-global financial crisis levels
Shares in Korean Air and Asiana gained 1.7% and 1.5%, respectively, yesterday, as South Korea's Ministry of Land, Transport and Maritime Affairs stated air passenger numbers and cargo volume in Feb-2010 have recovered to pre-global financial crisis levels.
International passenger numbers were up 12.6% to 3.1 million (but down 3.8% compared to Feb-2008 levels), while domestic passenger numbers were up 26.0% year-on-year, and by 14.0% compared to Feb-2008 levels, to 1.5 million. Cargo volumes gained 21.8% year-on-year to 215,000 tonnes, with a 1.4% increase from Feb-2008 levels.
Chinese stocks gain
China's stock gained yesterday, driving the benchmark index to a three-week high.
China Eastern Airlines rose 2.4% in Hong Kong trading and 3.3% in Shanghai, to its highest level since Aug-2008. The carrier's President, Ma Xulun, was quoted by Bloomberg yesterday stating the carrier would receive more than 30 aircraft in 2010 to support its ongoing expansion plans.
Shares in Hainan Airlines were also stronger yesterday, up 3.1%
Asia Pacific selected airlines daily share price movements (% change): 22-Mar-2010