Korean LCC t'way grows Daegu base, seeking expansion outside congested Seoul, Busan and Jeju
Analysis
After several years of uncertainty, the Korean LCC t'way appears to be settling in for the medium term. T'way was Korea's smallest LCC until the mid-2016 launch of Air Seoul. A few initiatives indicate t'way is planning more strategically, and for the future, suggesting greater confidence. Bulking up, diversifying and creating new growth areas could help the airline with its plan to IPO in two years.
T'way is expanding its Daegu base in southern Korea. The LCC missed the big growth out of Korea's major cities when its positioning was fragile. With Seoul and Jeju facing capacity constraints Korea's LCCs turned to Busan, but now Busan is also constrained. T'way's expansion in Daegu is 83km from Busan.
Daegu is Korea's third largest population area, potentially making it good for outbound, with inbound more of a challenge to market but not impossible. Regional Korean airports, like their Japanese peers, will increasingly try to attract foreign airlines. T'way plans to add 737-900s, which can be used to upgauge or reach further into Southeast Asia, which Korean LCCs have only partially penetrated.
Korea's LCCs are exploring growth outside Seoul
Korea's LCCs were mostly growing out of Seoul – domestically and internationally. The major exception was Air Busan, based at its namesake home city of Busan in Korea's south. Jeju Air also grew out of its namesake home, Jeju, but internationally Jeju Air is larger in Seoul. EastarJet had a small presence in CheongJu, in the middle of the country.
Busan has attracted more growth in the past two years, partially as Seoul becomes restricted in slot availability, and there is competition in the market from local and foreign airlines.
Now Busan joins Seoul and Jeju in having slot restrictions.
Slot restrictions at Jeju are significant as that is the only notable domestic destination, since Jeju cannot be accessed by the high-speed train that otherwise links cities on peninsular South Korea.
See related report: Korea's Busan grows regional LCC services while waiting for long-haul flights. Can Seoul share?
Map of Korean LCC bases: Nov-2016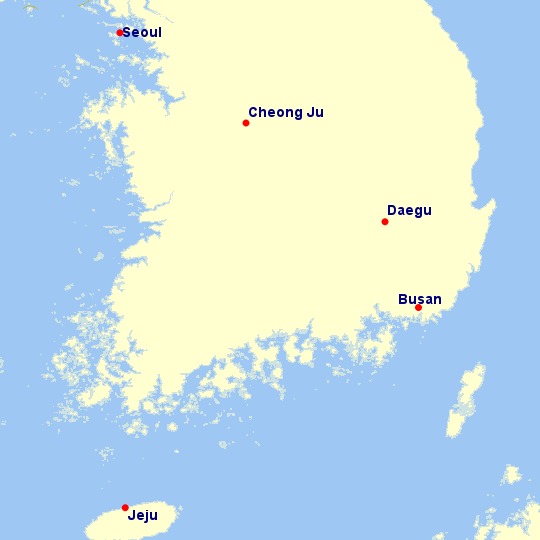 T'way expands in Daegu, Korea's third largest population area
T'way is expanding its presence in Daegu. Daegu was Korea's sixth largest airport in 2015 based on passenger movements. With two million annual passengers Daegu is significantly smaller than even the fourth largest, Busan, with 12.3 million passengers.
However, Daegu is Korea's third largest greater population area after Seoul (encompassing Incheon and Gimpo airports) and Busan. Jeju is Korea's second largest airport, but almost all of this traffic is visitor movements as the local Jeju population is small. Cheongju handled slightly more passengers (2.1 million) in 2015 than Deagu's 2.0 million. Cheongju has benefitted by being an early secondary base for EastarJet.
In Daegu there was 21% traffic growth, to 1.8m passenger movements, in 9M2016. In Cheongju there was 39% growth to 2.1m movements, but Cheongju's faster growth is distorted because its traffic fell more sharply in 2015 than Daegu's – due to MERS. As Cheongju's traffic fell more sharply, it made a stronger rebound in 2016.
10 largest Korean airports ranked on total passenger traffic: 2015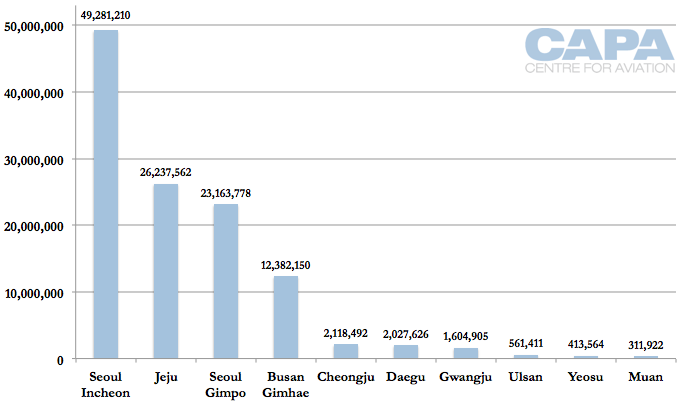 T'way serves seven international cities from Daegu
T'way serves seven international cities from Daegu, three of which (Cebu, Hong Kong and Shanghai) it does not serve from any other Korean city. Of the four cities t'way serves from Daegu that it also serves from other Korean cities, the other Korean city is always Seoul. Except for Taipei, t'way has more service from Seoul than from Daegu. Taipei is an exception because of bilateral constraints covering the Seoul-Taipei city pair.
On three of t'way's international Deagu services there is competition: Air Busan to Osaka Kansai (same frequency), Tigerair Taiwan to Taipei (t'way has one more weekly frequency) and China Eastern to Shanghai Pudong (China Eastern has four more weekly flights). Daegu also has services to cities that t'way does not serve, including Beijing, Sanya and Sapporo.
Domestically, t'way has 28 weekly flights to Jeju. Air Busan has 14, Asiana 21, Jeju 18, and Korean Air 21. So while t'way is the largest, it is far from having a majority position.
Korean Air also operates 14 weekly Daegu-Seoul Incheon flights, but these are mostly feeder flights for Korean Air's international network. Korea's high-speed train is typically much cheaper than air travel, it runs at higher frequency, and the stations are in city centres.
Summary of t'way destinations and weekly frequencies and competitors on Daegu services: week commencing 26-Dec-2016
Air Busan and Jeju Air are the only other LCCs serving Daegu, while Tigerair Taiwan is the only foreign LCC. T'way's growth at Daegu has sharply accelerated since mid-2016. From t'way's first scheduled international Daegu service in early 2015 until Apr-2016, the LCC seldom operated more than 10 weekly international services from Daegu.
This went up to 13 by May-2016, and in Sep-2016 reached 31 weekly international services from Daegu. Having started the year with 1.5 daily international flights from Daegu, t'way will end 2016 with six daily international flights.
T'way's growth has attracted Air Busan, which – after very occasional international service from Daegu in the past two years – will end 2016 with 21 weekly international services – half the size of t'way. Air Busan may regard Daegu as a logical growth market as Daegu is only 83km from Air Busan's main hub at Busan, which is constrained, and not about to benefit from more growth in capacity for a number of years. Daegu almost forms part of Busan's catchment area.
Weekly Korean LCC flights from Daegu: 2015-2016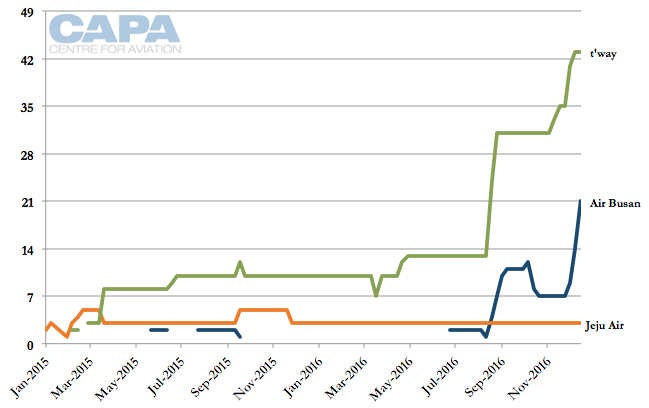 At Daegu t'way is the second largest operator domestically, with a 28% share of available seats (Korean Air is slightly larger at 29%), but internationally t'way holds a majority 58% of the market.
Daegu airport international seat capacity by operator: 7-Nov-2016 to 13-Nov-2016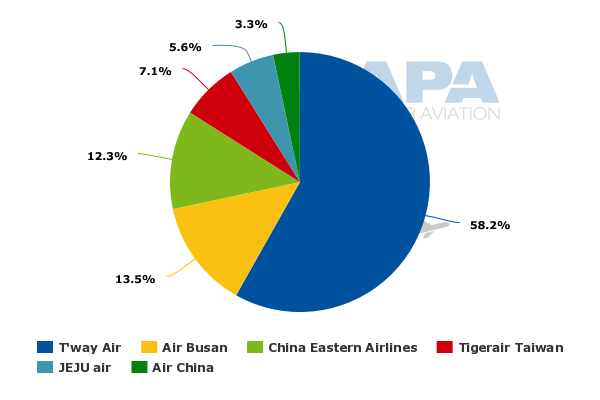 For t'way Daegu (TAE on the graph below) is its largest international base after Seoul Incheon. This is unusual for a Korean LCC, as most would have a combination of Seoul, Busan and Jeju. This reflects t'way's slower growth during periods of uncertainty.
T'way top 10 hubs/bases/stations/focus cities ranked on available seat capacity: 7-Nov-2016 to 13-Nov-2016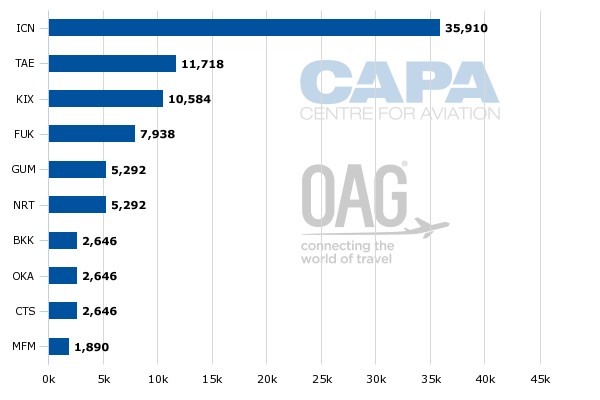 T'way upgauges with 737-900s
T'way operates a fleet of 15 737-800s but has signed a LoI for two 737-900s, T'way VP Business and Management Hyung-Yi Kim told the China Low Cost Carriers Summit.
Korea's LCCs have mostly favoured the 737-800, with no -900s in use. Air Busan was an early adopter of the A321 and in Nov-2016 the A321 is the majority of its fleet, accounting for 10 of 16 aircraft (the remaining six are A320s). Jin Air became the first Northeast Asian LCC to operate widebodies, using the 777-200. These are used on long haul markets but also for regional flying, such as on congested markets like Hong Kong. However, a widebody operation brings a much higher capacity and capital costs than using a larger version of an existing narrowbody family.
See related report: Jin Air expanding and receiving greater recognition from parent Korean Air. Maybe Australia next
With t'ways' intent to take only two -900s, so far, it is too early to read much into the decision. But around Asia there is a growing trend of upgauging in a narrowbody family. AirAsia's A321 order brought larger narrowbodies to the spotlight even though it was not the first example.
The -900 could enable t'way to upgauge on domestic and international routes where there are slot constraints. The -900 could also enable t'way to fly further into Southeast Asia, which is relatively uncharted territory for Korean LCCs.
By fleet, t'way is the second smallest LCC – and second smallest airline in Korea. The only smaller is Asiana's new Seoul-based LCC, Air Seoul, which launched in mid-2016.
T'way was similar in size to EastarJet when Eastar cut back on growth. Eastar has accelerated and become larger than Air Busan, which has cut back on growth as it transitions Boeing aircraft out for an all-Airbus fleet. T'way, Air Busan and Eastar are broadly in the same space.
The larger LCCs are Jin Air (22 aircraft) and Jeju Air (25). Jin Air and Jeju Air have the advantages of being bigger, and holding strong strategies. Yet the 10 aircraft that separate the largest LCC from the smallest in size (excluding start-up Air Seoul) means that the Korean LCC chapter is not finalised, and momentous changes should not be ruled out.
See related report: Korea's Eastar Jet LCC joins U-FLY LCC alliance to strengthen position in China and Southeast Asia
Korean LCC fleet: 2008-Nov-2016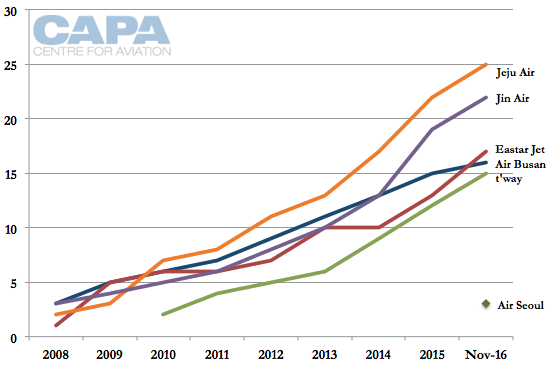 Outlook: t'way has been Korea's smallest LCC, but appears to be settling in; potential IPO
T'way has had a tumultuous history. It was assumed for a few years that the airline would exit the market. Its future looked particularly bleak when its majority shareholder went out of business. Until Air Seoul's mid-2016 launch, t'way was the smallest LCC in Korea.
Life has not been easy for t'way, but a number of events indicate that the airline is settling in and making strategic plans. These factors include the Daegu base, larger 737-900s for upgauging or flying to previously inaccessible destinations, and plans for its own MRO facility in Korea. Then again, t'way may want to appear to be bulking up, to be diversified and on solid ground as it considers an IPO in two years. Without new initiatives and future growth opportunities, t'way's positioning would probably not be compelling to investors.
Slot constraints, low fuel prices and surging inbound and outbound demand provide comfort. Korea's LCCs are probably secure for a few years – the first time in their history that they have had external fundamentals so good.
The market is unlikely to become comfortable. Infrastructure expansion in a few years means that existing LCCs – and potentially new ones – could seek to get ahead. It is good to see t'way finally settle in, but its future is not yet secured.
Six LCCs in Korea (with a proposed seventh: Nambu Air) is too many, and the future looks likely to be dominated by Jeju Air and Jin Air.
See related report: Air Seoul launches to support its parent, Asiana. Korea's seventh LCC, Nambu Air, plans start-up