Korean LCC fleet approaches 150 aircraft: new aircraft gaining popularity over secondhand leases
Analysis
Korea is Northeast Asia's first major LCC market and has been vibrant. Korea's LCC sector ended 2017 with 121 aircraft, and this number could reach 150 in 2018.
Yet positive dynamics has not translated into big business for Airbus and Boeing; Korea's LCCs have favoured leased secondhand aircraft. In their early years, Korea's LCCs could not place direct orders, and full service airlines could offload older aircraft to their LCC children. It is not uncommon for Korean LCCs to operate aircraft older than the airline has been in business – even a gap of a decade is not unheard of.
But change is afoot. Jeju Air has taken some new aircraft while the airline T'way plans to introduce the first MAX family member (a MAX 8) to be operated by a Korean LCC in 2019, and Air Busan will do so for the neo programme (A321neo) in 2020. The increased range of the neo and MAX could lure Korea's LCCs, but the sector's biggest opportunity remains in short haul flying.
Summary
Korean LCC fleet reaches 121 in 2017. Could reach 150 in 2018.
Korean LCCs had a net growth of 18 in 2017, a reduction from 2016 (+22) and 2015 (+19).
Half of the Korean LCC fleet has been added in the past three years.
Korea's LCCs ended 2017 with 121 aircraft
The Korean LCC fleet ended 2017 with 121 aircraft across the six LCCs.
Notably, in 2017 Jeju Air widened the gap with the second largest LCC, Jin Air. Since 2010, Jeju Air has consistently been Korea's largest LCC, but only by a few aircraft. Jeju Air's growing leadership position cements its place as a significant airline and gives it breathing room such that it cannot quickly be overtaken by a nearby competitor.
In 2018 Jin Air is planning significant growth to end the year with 30 aircraft, while Jeju Air plans to end 2018 with 41 aircraft. Jin Air's fleet plan includes six 777-200s in the 30 aircraft. The 777-200s will mostly serve markets (Honolulu, Cairns) that Jeju Air does not have in its strategy. (Jin Air's 777s also seasonally serve some constrained regional Asia markets, such as Hong Kong.)
In 2017 t'way also overtook Eastar Jet, albeit by only one aircraft. This reflects strongly on t'way, which had been Korea's smallest LCC (until Air Seoul launched). At times t'way has had significant business and shareholder problems that could have put the airline out of business.
Korean LCC fleet at year end: 2008-2017, Mar-2018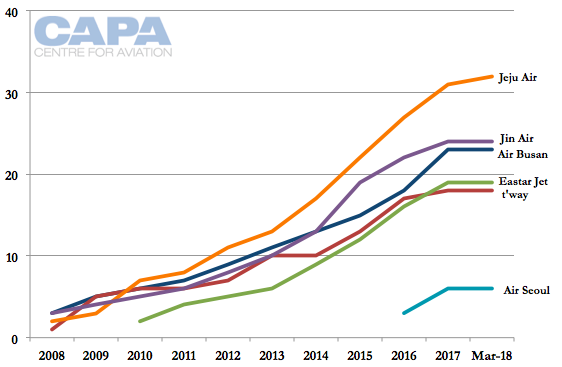 Half of Korean LCC fleet added in past three years
2017's LCC fleet of 121 aircraft represents a net increase of 18 aircraft compared to 2016. Of the 18, Air Busan took delivery of five, Jeju Air four, Air Seoul three, and two each went to T'way Air, Eastar Jet and Jin Air.
The figure of 18 additional aircraft for 2017 is slower than the 22 aircraft Korea's LCCs collectively added during 2016. 2017's growth was likely smaller than the airlines would have liked, due to the usual infrastructure gripe: Jeju and Busan are maximised, Incheon was constrained until Jan-2018's opening of terminal two, and traffic rights are short in some markets.
2017's addition of 18 additional aircraft is one less than 2015's 19 additional aircraft, but 2017's growth in absolute terms is still well above prior years.
Activity at Korea's LCCs has increased in recent years: nearly half (49%) of Korea's LCC fleet was added in the past three years (from 2015 onwards). Two-thirds of the fleet (67%) was added in the past five years (from 2013 onwards).
Total Korean LCC fleet at year end (right axis), and net additions from previous year (left axis): 2008-2017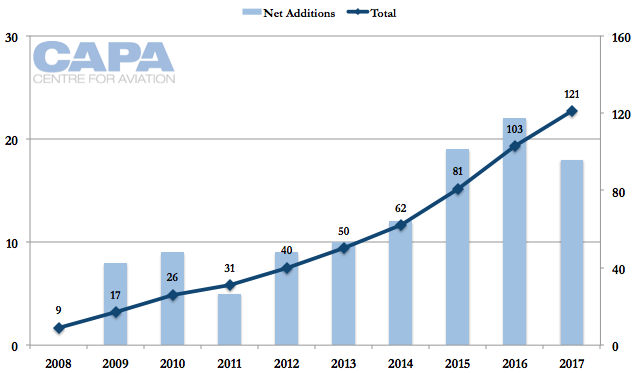 Korean LCC fleet could reach 150 in 2018
The Korean LCC fleet is due to surpass 140 aircraft in 2018 and could even reach 150 aircraft, depending on plans from undisclosed airlines and revised disclosed plans.
Jeju Air operates a fleet of 737-800s exclusively, and is planning to take delivery of eight aircraft (also all -800s) in 2018, comprising:
1x in 1Q2018
2x in 2Q2018
2x in 3Q2018
3x in 4Q2018
Jin Air plans a net increase of six aircraft as it takes delivery of additional aircraft and replaces an existing unit. Jin Air's fleet plan is:
Air Busan is Korea's third largest LCC. After stagnating in 2015 and 2016 it has grown, and is now just behind Jin Air in fleet size. Air Busan has not given fleet forecasts, but plans to introduce A321neo aircraft in 2020.
Air Busan fleet summary as at 05-Mar-2018
Eastar Jet ended 2017 with 19 aircraft and says only that it plans to end 2018 with more than 20 aircraft.
Eastar Jet fleet summary for as at 05-Mar-2018
T'way Air is planning strong growth for 2018 by adding six aircraft. T'way ambitiously plans to have a fleet of 50 aircraft, including 10 widebodies, by 2025.
Air Seoul has not stated growth plans for 2018.
Korea previously favoured secondhand leases, but new deliveries are increasing
The Korean LCC fleet was previously characterised by secondhand leased aircraft, some aircraft a decade older than the airline had been in business for. Airlines argued that secondhand leases were more cost-effective. The 737 is popular with Korean LCCs, and the type's single-engine supplier clears a big hurdle about fleet commonality.
Part of the explanation also has historical context: in their early years the LCCs struggled to receive serious consideration by airframers. Then again, the LCCs had limited capital, and the independent LCCs did not have big-name backers.
Secondhand aircraft at Air Busan, Air Seoul and Jin Air are common, as the aircraft are often hand-me-downs from their parent airline (Asiana for Air Busan and Air Seoul; Korean Air for Jin Air).
But change is afoot, and deliveries direct from manufacturers are on the rise. This is a new opportunity for the OEMs, although some new aircraft are from lessors' existing order books.
Jeju Air took a pair of new deliveries, but the airline believes this will be a one-off due to very favourable pricing and timing on the aircraft. Jeju Air does not plan this to be a shift only towards aircraft that are new. Most recently, Jeju Air's latest fleet addition was a 737-800 previously flown by Norwegian.
Next-generation narrowbodies are slowly coming into Korean LCC fleet plans: t'way plans to introduce one 737 MAX 8 in 2019, and at least seven further MAX 8 aircraft by "late 2020". Aircraft fresh from the factory need not wait until the MAX: in Dec-2017 t'way took a new 737-800 from BOC, which ordered the aircraft.
The first -neo in the Korean LCC fleet is set to join later than the MAX as Air Busan plans to introduce A321neos in 2020.
Outlook: Korean LCC market taking on more prominence as opportunities beckon
Korea was the first major LCC market in Northeast Asia but for a long time kept a low profile, largely due to the lack of a domestic market post-high speed rail and to the dominance of its two major international airlines. Independent ownership at some LCCs meant uncertainty in the sector's early years.
Use of new aircraft is becoming popular, but at Korea's smaller LCCs. Jeju Air is sticking with its mostly secondhand strategy, while the next largest LCCs can take aircraft from their parent airline owner.
New aircraft will likely become more popular as Korea's LCCs seek the range advantage of the neo and MAX. Rising fuel prices could also mean that next generation aircraft come into favour.
Then again, Korea's biggest opportunity for LCCs is well within short haul range – China – but that market awaits liberalisation that is far more difficult to plan for.