Korean Air returns to profit in 1Q2014 on the back of yield recovery and cost discipline
Analysis
One key topic in Asian aviation is when airlines will slow capacity growth and even consolidate. Partnership is the order of the day. But capacity discipline is already in play in Korea where largest carrier Korean Air returned to profit in 1Q2014. Capacity was down 2% but revenue was up 0.3% while costs decreased by 5.0%.
Korean Air reported a KRW68 billion (USD63.5) million reduction in its fuel bill, a reduction of 6.2%, faster than Korean Air's rate of reduced flying. The lower fuel bill is consistent with regional trends. More encouraging was Korean Air's cost discipline: labour costs fell by 11%, or KRW51 billion (USD47.6 million), a sum not far off from Korean Air's fuel savings. Whereas fuel costs are broadly outside an airline's control, Korean Air has re-asserted control over manageable costs like labour.
Europe, China and the domestic Korean market saw drastically improved performance while other regions saw revenue decreases slower than capacity reduction. While Korean Air is now out of the doghouse, its operating margin is less than 1% and it posted a net loss.
Korean Air returns to profit on revenue increase and cost discipline
Korean Air in 1Q2014 returned to profit, although barely so, posting a KRW17 billion (USD15.9 million) operating profit. Korean Air's income before tax and net income improved but were still in the red.a
Korean Air non-consolidated income instatement (KRW billion): 1Q2014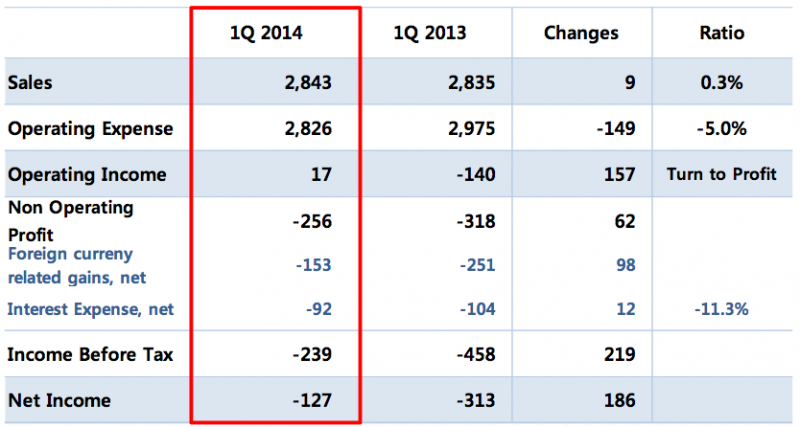 Korean Air revenue increased by 0.3% on a 2% capacity reduction. This continues the decreased ASKs seen by Korean Air in the full-year of 2013. The decreased capacity stands in contrast to most of Korean Air's growth-happy Asian peers. Lower fuel and labour costs pushed Korean Air into the black at the operating level.
Korean Air annual available seat kilometres: 2009-2013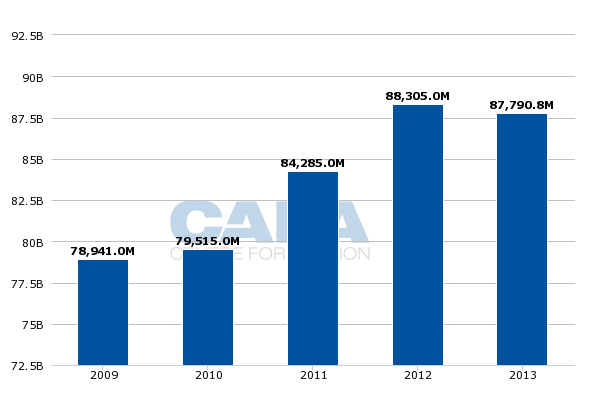 Korean Air's core businesses – passengers and cargo – decreased their revenue composition. International passengers, domestic passengers and cargo contributed 88.9% of Korean Air's revenue in 1Q2013, but this decreased to 84.2% in 1Q2014.
Korean Air revenue composition: 1Q2014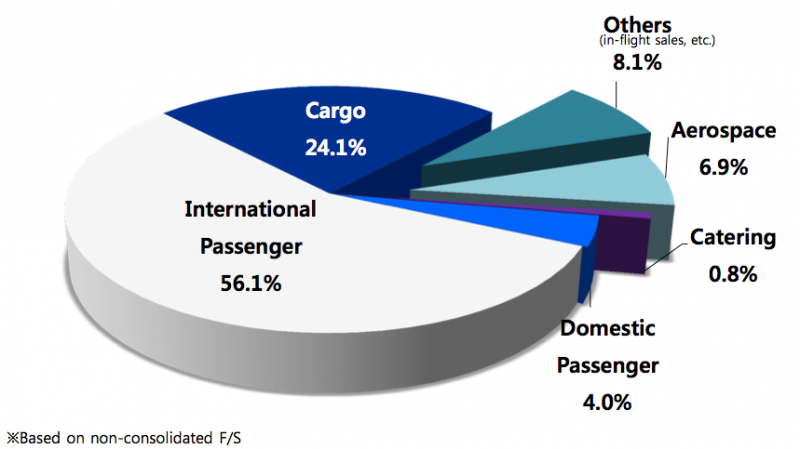 Europe, China and domestic market post biggest passenger revenue gains
The biggest passenger revenue gains came from Europe, China and the domestic Korean market. These were enough to offset weakened performance in Japan due to the depreciating yen and political tension, Americas due to decreased capacity, and Southeast Asia also due to decreased capacity.
Korean Air passenger revenue change (KRW billion) by region: 1Q2014
| | |
| --- | --- |
| Region | Difference |
| Americas | -25.95 |
| | 57.9 |
| Domestic | 28.91 |
| | -84.33 |
| | 57.74 |
| SEA | -26.75 |
| Oceania | 0.48 |
To bring the revenue changes by region into focus we compare the year-on-year change in revenue with that of year-on-year change in RPKs. In Europe, China and the domestic Korean market, revenue grew faster than the increase in RPKs. Oceania saw slight revenue gain despite a 7% decrease in RPKs. Revenue fell in the Americas, Japan and Southeast Asia, but revenue fell slower than RPK changes.
Such volatility in markets is not encouraging, but Korean Air appears to have managed the immediate change and must now hone its strengths to refine performance. Ideally it will maintain momentum in existing strongly-performing markets while trying to bring back past performance in under-performing markets.
Korean Air passenger revenue and RPK change by region: 1Q2014
| | | |
| --- | --- | --- |
| Region | Revenue Change | RPK Change |
| Americas | -3.0% | -3% |
| | 15.7% | 2% |
| Domestic | 17.0% | 8.70% |
| | -24.8% | -26% |
| | 18.5% | 11% |
| SEA | -4.5% | -6% |
| Oceania | 0.3% | -7% |
Korean Air's labour cost reduction was almost as much as its fuel bill reduction
Lower expenses were always to be expected given the decrease in fuel, as seen with other airlines across the region – and world. But Korean Air's 1Q2014 cost performance was notable given the carrier reported a 10.9% decrease in labour costs, saving the airline KRW51 billion (USD47.6 million). This is not far from the KRW68 billion (USD63.5) fuel bill reduction. It is unclear how Korean Air reduced its labour costs far beyond the decrease in capacity. Employee figures, for example, were not provided, prohibiting possible comparisons.
Other noticeable developments was an approximately 1ppt decrease in operating costs from the retirement of 747 BCFs. Korean Air still operates some 14 747-400s, and their future (but unspecified) retirement should further positively impact maintenance costs.
Korean Air operating expense breakdown: 1Q2014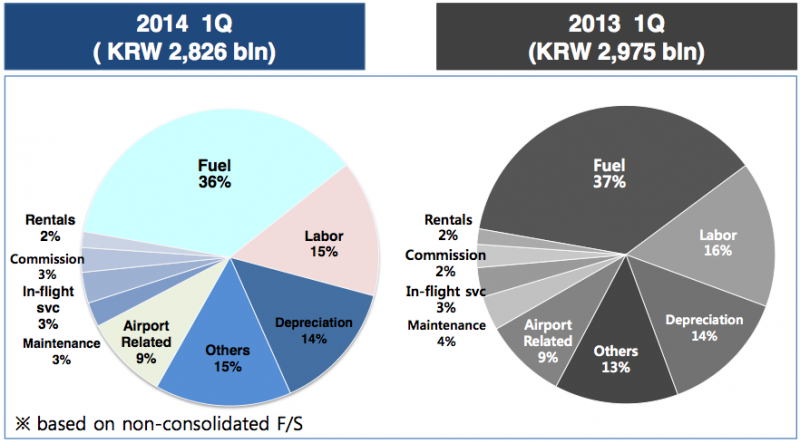 Expanded China-Korea air services agreement still limits expansion
As a large sixth-freedom carrier, Korean Air is dependent on nearby China to feed many of its flights, as well as supply point-to-point traffic. Korean carriers had reached the limit of the Korea-China air service agreement. While this agreement was expanded in Apr-2014, the additions were still well below levels that the market could sustain.
Of the 17 new routes, Korean Air and Asiana were allocated four routes with 13 weekly services. Korea's five LCCs – Jeju Air, Jin Air, Air Busan, Eastar Jet and T'way Air – were allocated the remaining 13 routes with 38 weekly services. In total South Korea and China agreed to add 17 new routes, with 51 weekly services while 13 existing routes received a 39 additional weekly services. The challenge is that many new markets are too thin to support full-service and premium propositions, hence the majority of new additions went to Korea's LCCs. Korean Air and Asiana require additional capacity in main and second-tier cities, but this was far more limited (partially due to slot restrictions in China).
China is wary of an open skies agreement with China for fear Korean carriers will intrude too aggressively into sixth freedom markets that would otherwise be served direct by China's airlines - even where they currently have little or no service.
As the market stands in Jun-2013, the two largest carriers by far in the China-Korea market are Korean Air and Asiana, accounting for approximately 45% of seat capacity. The third largest carrier in the market, China Eastern, has just over half of Asiana's capacity.
South Korea to China (seats per week, one way): 19-Sep-2011 to 7-Dec-2014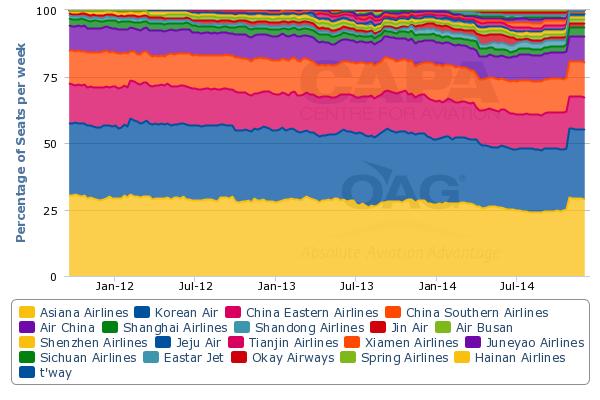 Cargo division increases load factor with minor yield reduction
Korean Air in 1Q2014 saw a 7.6% increase in FTKs on the back of only a 1.4% increase in AFTKs, leading to a load factor improvement of 4.5ppt. This however came with a yield trade off of a 1.3% reduction.
Korean Air cargo traffic: 1Q2014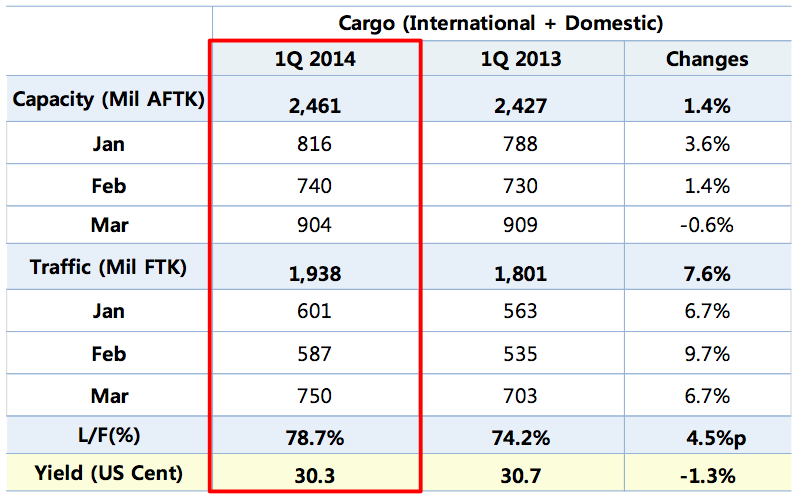 Korean Air increased carriage in every region except Oceania while transit cargo traffic increased in every region.
Korean Air cargo business summary: 1Q2014
Korean Air was helped in 1Q2014 by the retirement of its last 747-400BCF, which airlines have found too costly to operate. Cathay Pacific has also withdrawn its 747 BCFs. For 2Q2014 Korean Air expects new IT products, seasonal fruits, and the Brazil world cup to increase air cargo demand. Korean Air says it will adapt to market changes by controlling capacity and further increase operational efficiency with fuel efficient aircraft. Korean Air expects to focus on emerging markets including China, Vietnam and South America.
Korean Air is one of the few Asian carriers still operating through cargo/passenger service to South America. Korean Air expects to focus on high-yielding cargo products like medicine, e-commerce, agricultural and marine products. Many of these require sophisticated climate control, which has a high barrier to entry, although that is not preventing a number of cargo carriers from focusing on this niche.
Korean Air ends 1Q2014 with 146 aircraft. Aircraft order may be needed soon
Korean Air ended 1Q2014 with 146 aircraft and between Jun-2014 and the end of the year Korean Air is expected to take delivery of five 777s, three 747s, two A380s and four A330s, according to CAPA's Fleet Database.
Korean Air fleet: as of 31-Mar-2014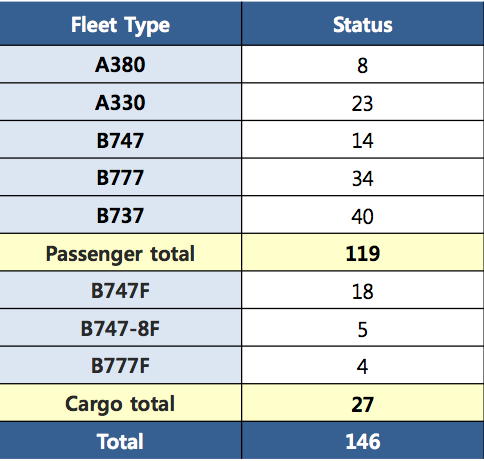 With deliveries sparse after 2017, and Korean Air having an average fleet age of 10 years, renewal is in order for both short- and long-haul fleets.
Korean Air projected delivery dates for aircraft purchased from OEMs and leased from lessors new aircraft order pipelines as at 9-Jun-2014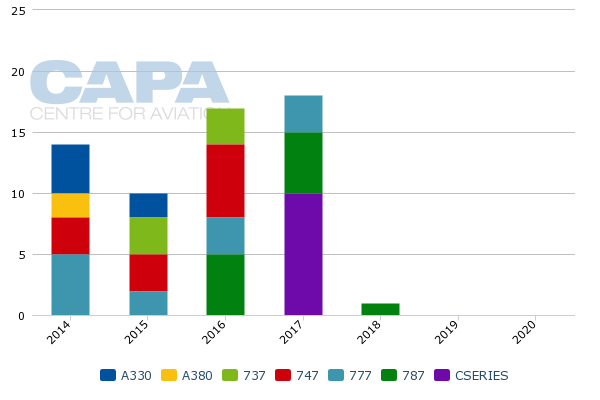 Korean Air average fleet age: 09-Jun-2014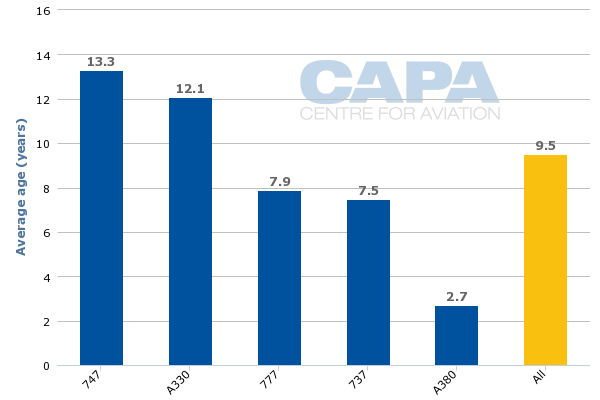 Georgia, 'Times New Roman', Times, serif;">Source: CAPA - Centre for Aviation Fleet Database
A good performance clouded by investor concern over debt and a new investment in Hanjin
Korean Air managed itself well, although there is obviously still much room for improvement. Hopefully Korean Air will be able to maintain momentum as it plans capacity increases in 2Q2014. As its capacity modesty was one reason for the better 1Q2014, this does suggest some further headwinds. Korean Air's cost discipline is interesting but also obscure at this stage, given the airline's limited disclosure of these details.
Korean Air has been the quiet achiever in the North America-Asia transfer market, holding a large portion of traffic in the market without emphasising its role. Korean Air has been looking to diversify itself away from this core market to find new opportunities. Such a move is sensible considering the very large Asia-North America capacity growth which is being added well ahead of demand. In the medium term Korean Air holds an advantage for its geography (unlike Hong Kong or Taipei), hub airport not being constrained by slots (unlike Beijing, Hong Kong and Tokyo) and being permitted to cater, albeit in a limited way to the outbound-China sixth-freedom market (unlike Taiwanese carriers).
See related report: Korean Air seeks new markets after betting the house on N America, seemingly without SkyTeam support
Despite the upbeat attitude at Korean Air's main division, it carries considerable uncertainty over what the market consider to be a growing debt profile against a backdrop of bankruptcies of second-tier chaebols. Korean Air plans to sell some assets, but this is in contrast to its injecting KRW400 billion (USD373 million) into sister company Hanjin Shipping. Through the capital injection, Korean Air gains a one third shareholding in Hanjin. Although the timing is convenient in helping Hanjin's cash flow problems, Korean has always supported the concept of a holisitic multimodal logistics operation. This is a long term strategy at best, though given the close links between the companies, it may well succeed in due course.
It is rare for an airline to be lending financial assistance to a non-airline company, but Korea's shipping companies have been depressed since the global financial crisis. As a family-run chaebol, it is the collective that remains important. Hanjin sits on high ground, but it is also undoubtedly mindful of impacts to Korean Air, its flagship business and one close to the family in personal value.