Korean Air and Asiana make strong gains. Air New Zealand shows life, but Virgin still has the blues.
Analysis
Korean Air (+9.2%) and Asiana (+6.8%) each responded well to a more favourable outlook in Korea, as the won rose against the US dollar and the local market index, the KOSPI, improved 1.9%.
Air China (+5.0%) and its two main competitors also had a good day, with China Southern up 3.5% and the fragile China Eastern gaining 3.0%.

Virgin Blue however lost 5.4%, as shareholders abandoned ship (although, after yesterday's strong performance on Wall Street, the carrier's shares have risen with the overall market tide in early trading today, regaining most of that loss, to be selling at AUD 18.5cents).
Asia Pacific airlines daily share price movements (% change): 10-Mar-09
The Korean market

Both major Korean carriers have suffered in recent months as Korea's economy has declined sharply, although perhaps not as much as some of their main competitors in the region.
So yesterday's improvement was welcome - and likely to be followed again today as the effects of Wall Street's 5% rise overnight spreads its warmth over Asian markets.
Asiana Airlines share price: 02-Jan-09 to 10-Mar-09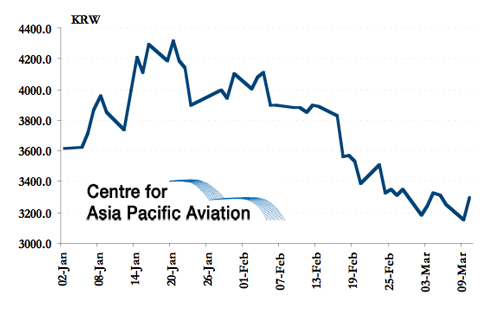 Korean Air share price: 02-Jan-09 to 10-Mar-09