Key Boeing customers Southwest and American satisfied in the early days of 737 Max 8 operations
Analysis
After making its US debut with Southwest Airlines and American during 2017, the Boeing 737 Max will continue to populate the fleet of those large operators in 2018. Combined, Southwest and American hold firm orders for 253 of the 737 Max 8 variant.

Although those airlines have hundreds of Max narrowbodies on order, the actual operating fleet of Max jets in the US remains small. CAPA's fleet database shows Southwest and American operate fewer than 20 of the 737 Max 8 model; however, the 737 Max fleet will continue to grow steadily in the US throughout 2018.

So far, the Max 8's service entry has been reasonably smooth, and Southwest has publicly declared that the aircraft is meeting its expectations in fuel burn performance. The airline also recently stated that it had not experienced any major issues with the new narrowbodies.
The US' largest domestic airline is also hinting that benefits from new tax regulations in the country could spur additional aircraft orders for Boeing from one of its most influential customers.
Summary
Southwest's Max 8s are likely to remain operating on domestic routes for the short term
American opts for a more subdued roll out of its Max 8 jets
Southwest satisfied with the 737 Max 8 in its early days
Southwest launched 737 Max 8 operations in Oct-2017, becoming the US launch customer for the variant. As of 1-Jan-2018, the airline was operating 13 Max 8 narrowbodies and has 157 of the jets on order.
US airlines operating and holding orders for the Boeing 737 Max 8, as of 1-Jan-2018

Aside from some issues with aircraft spoilers on the 737 Max 8 inaugural flight, Southwest appears satisfied with the aircraft's service entry. Company executives referred to a fairly unusual maintenance issue on the Max 8 that had been resolved through working with Boeing.

In late Oct-2017, when Southwest had 10 of the jets in service, the airline's evaluation was that the aircraft was operating as advertised. Its fuel burn was 14% better than that of the 737-800s, and no unexpected issues had arisen. At that time towards 152,000 passengers had travelled on the Max jet, and the fleet of 10 aircraft had flown approximately two thirds of Southwest's domestic network. The airline also stated that the Max 8's dispatch reliability was in line with the performance of its fleet of 737-800s.
Southwest is likely to keep Max 8s in domestic operations for the short term
Operating more range is one of the biggest advantages Southwest gains from incorporating the 737 Max 8 aircraft type into its fleet.
The aircraft's range of 6,510km, versus the 5,768km of Southwest's 737-800s, brings an ability to penetrate deeper into Latin America, and eventually to operate service to Hawaii. Initially, Southwest plans to operate -800s to Hawaii as it works to achieve certification for over-water operations for that type before moving into the Max, which will become the main aircraft Southwest will operate to Hawaii over the long term.

For the short term, Southwest should likely keep the Max 8 narrowbodies on domestic operations as the airline builds up its comfort level in operating the aircraft.
Previously, Southwest has not disclosed any plans for new international markets in 2018, after introducing service to Turks & Caicos in late 2018. Company CEO Gary Kelly has declared: "Hawaii is the thing for us to answer right now". Southwest has pledged that its capacity growth in 2018 will fall below 5.7%.

See related report: Southwest Airlines believes it can attain positive RASM and flat cost growth in 2018
Southwest follows through on using tax windfall to modernise its fleet
As the changes in recent US tax regulations sink in across various industries, Southwest stated in late 2017 that the lower corporate tax rate could provide the impetus for accelerating new aircraft orders. The US corporate tax rate is falling from 35% to 21%, and Mr Kelly recently told the news outlet Bloomberg that the reduction could lead to further fleet modernisation.

Southwest retired its 737 Classic aircraft in 2017 and its average aircraft age is now 10.6 years, which is relatively young compared with some of Southwest's larger global US network rivals. American's average fleet age is 10.4 years, Delta's average age is 16.9 years, and United's is 14.5 years.
Southwest Airlines average fleet age for aircraft in service, as at 01-Jan-2018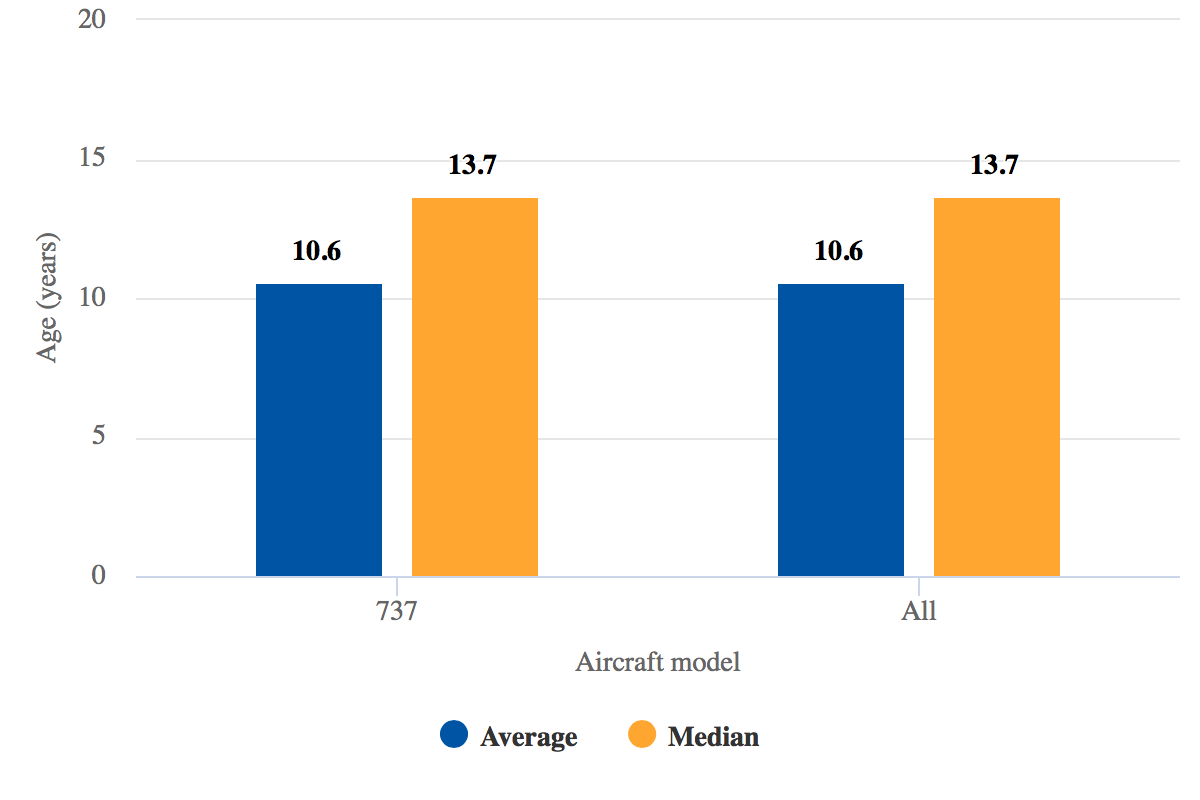 With the retirement of its Classics, Southwest's 737-700s are now the oldest aircraft in its fleet, and the type remains the backbone of the airline's operations. The 508 type -700s make up 72% of Southwest's total fleet of 702 aircraft.
Southwest Airlines fleet summary, as at 1-Jan-2018

Southwest recently followed through on its calculations that changes in the corporate tax rate could facilitate additional aircraft orders.
It has exercised options for 40 Max 8 jets scheduled for delivery from 2019 to 2022. The airline is also deferring deliveries of 23 737 Max 7s: from 2019 to 2021, to 2023 to 2024.
The 175-seat Max 8s are higher gauge than the 150-seat Max 7s, reflecting the upgauging trend that has been the mainstay in the US market for the past few years. Southwest holds the largest number of Max 7 orders, at 30.
Global airlines holding orders for the Boeing 737 Max 7, as at 1-Jan-2017

American uses its Boeing Max 8s as part of a years-long narrowbody revamp
As of 1-Jan-2018, American Airlines was operating four 737 Max 8 aircraft and has an additional 96 on order. It plans to take delivery of 16 Max 8s in 2018, and 20 each year from 2019 to 2022.
American Airlines projected delivery dates for aircraft on order, as at 1-Jan-2018
American is in the middle of a narrowbody replacement programme: the Max is replacing older Airbus A320 narrowbodies and MD-80 jets. The airline's initial configuration for the Max jets stirred a controversy that eventually forced American to abandon plans to configure the aircraft with 29in seat pitch in the main cabin. American gave one inch back, for a 30in seat pitch.

There has been some debate about the passenger comfort and experience on American's 737 Max 8 aircraft, due to the tighter pitch and the airline's decision not to install seatback screens in the aircraft.
American has made few public comments about the operating performance of its Max 8 jets, but with just a few of the aircraft in its fleet, the airline could be waiting to build up more robust operational data before drawing major conclusions about the aircraft's performance.
Also, the 737 Max 8 still only constitutes a small proportion of American's fleet. With just 16 deliveries planned in 2018, American's year-end total Max 8 jets will only reach a mere 20 aircraft.
Two important Boeing customers satisfied in the early days of the Max 8
Boeing 737 Max operations in the US remain in their infancy. But the airframer's customers for the latest iteration and deployment of Boeing's venerable narrowbody there seem satisfied with the aircraft's performance in the early days of its service entry.
This result is a boon for Boeing, given that Southwest and American are two of its most important global customers.