Kenya Airways to focus on Asia, with new Beijing and Shanghai routes, as 787s and more 777s arrive
Analysis
Kenya Airways is planning major expansion of its Asian operation as the carrier rapidly expands and renews its widebody fleet. The flag carrier plans to launch two new destinations in China, Beijing and Shanghai, by the end of 2014 and add at least one destination in Southeast Asia in 2015.
Kenya Airways is taking delivery at the end of Mar-2014 of the first of nine 787-8s, all of which are slated to arrive by the end of 2015. The SkyTeam carrier is also taking delivery of two additional 777-300ERs in mid-2014. Its total widebody fleet will expand from 11 aircraft currently to 16 by the end of 2015, with almost all of the additional capacity being allocated to Asia.
Kenya Airways joins rival Ethiopian Airways in tapping surging demand in the Asia-Africa market. The carrier has improved the African connections available to its growing Asian passenger base by increasing frequencies through the utilisation of smaller aircraft.
Kenya prepares for its first 787-8 delivery
Kenya Airways currently operates a fleet of 42 passenger aircraft consisting of five 777s, six 767s, 13 737s and 18 E-jets, according to the CAPA Fleet Database.
The carrier plans to take delivery at the end of Mar-2014 of its first of nine 787-8s that it ordered in 2006. It is due to arrive in Nairobi from Seattle on 4-Apr-2014.
Kenya Airways fleet summary: as of 17-Mar-2014
Kenya Airways COO Mbuvi Ngunze tells CAPA that the first commercial flight with the 787 will be at the beginning of Jun-2014 on the Nairobi-Paris route. Kenya Airways currently operates four weekly flights to Paris CDG using 767-300ERs, according to OAG data.
While the first 787 will be operated regionally in the first two months, to airports including Mombasa in Kenya and Dar es Salaam in neighbouring Tanzania, these will be strictly training flights to familiarise pilots and technical staff with the new aircraft. (Previously there were reports that the aircraft would operate scheduled services within Africa in April and May.)
Kenya Airways now expects to receive five additional 787-8s by the end of 2014. Mr Ngunze says these six aircraft will be used to replace the carrier's six 767-300ERs as Kenya Airways seeks to phase out the type by the end of 2014. The final three 787-8s from the firm part of the carrier's 787 order are slated to be delivered in 2015 and will be growth aircraft.
Growth in the long-haul network however is planned for 2014 as the carrier plans to take two additional 777-300ERs around the middle of the year, with the first aircraft slated to arrive in Jun-2014. These are both growth aircraft as Kenya Airways plans to retain its four existing 777-200s which are seven to 10 years old. Its six 767-300ERs are older, with an average age of 15 years and the youngest being almost 13.
Kenya Airways average aircraft age by fleet type: as of 17-Mar-2014
While there will be some capacity expansion to Europe as Kenya Airways plans to up-gauge some European flights to 777-300ERs, an overwhelming majority of the capacity expansion made possible by the new widebody deliveries in 2014 and 2015 will be allocated to the Asian market. Kenya Airways currently serves Delhi and Mumbai in India along with three destinations in East Asia – Bangkok, Guangzhou and Hong Kong – with some of the Guangzhou flights and all of the Hong Kong flights served via Bangkok.
Kenya Airways already upgraded capacity to Guangzhou in Nov-2013 by transitioning three of its Guangzhou frequencies to non-stop using the 397-seat 777-300ER. The carrier took delivery in Oct-2013 of its first of at least three 777-300ERs. The type is currently only used on the Nairobi-Guangzhou non-stop route, according to OAG data. Kenya Airways committed in 2011 to leasing two new 777-300ERs from GECAS and in 2013 committed to leasing a third aircraft.
Kenya Airways plans to transition the current remaining four weekly one-stop Guangzhou flights via Bangkok to non-stop after receiving the two additional 777-300ERs. The carrier is also planning to launch service to Beijing in Sep-2014 using 787-8s.
While Kenya Airways' initial six 787s are all replacement aircraft for the 767-300ER, the carrier is preparing to use the 777-300ER on some European 777-200 routes, starting with its daily Amsterdam service from early Jun-2014 according to OAG data. This frees up the 777-200 to take over 767 routes which in turn frees up the 787 to open Beijing.
Mr Ngunze also revealed that Kenya Airways plans to launch service to Shanghai by the end of 2014; but Shanghai will be served via Bangkok and the carrier has not yet decided whether to deploy 787-8s or 777-300ERs on the route. Kenya Airways currently operates seven weekly flights to Bangkok, with three flights continuing onto Hong Kong and four to Guangzhou.
As Guangzhou is transitioned to a daily non-stop there is an opportunity to transition the four Bangkok-Guangzhou frequencies to Bangkok-Shanghai.
Kenya Airways has already secured a late evening slot pair at Beijing. It is now working with Chinese authorities to secure a slot pair at Shanghai Pudong. This could prove challenging as the carrier will need to turn around at Pudong at roughly 20.00 to 21.00 hrs in order to maintain its current Bangkok schedule. Pudong slots are generally only available during late night hours, as is the case with Beijing.
The Africa-China market is growing rapidly but remains relatively under-served. No Chinese carrier currently serves Africa while Ethiopian Airways, Kenya Airways, South African Airways, Air Algerie, Air Mauritius, EgyptAir and Angola's TAAG are the only African carriers with non-stop services to China. The China market is however increasingly well served by the Gulf carriers as they add new African spokes to their networks.
China to Africa non-stop capacity (seats) by carrier: 17-Mar-2014 to 23-Mar-2014
Beijing and Shanghai are logical new destinations for Kenya Airways
Guangzhou – which is also served by Ethiopian, EgyptAir and Air Madagascar (the latter via Bangkok) – is a large trading hub with a good mix of Africa and China origin traffic. It is also a hub for SkyTeam member and Kenya Airways codeshare partner China Southern. But Kenya Airways is keen to grow its online mainland Chinese network to include Beijing and Shanghai, which have higher volumes of passengers heading to Africa and generally better yield.
The Beijing-Africa and Shanghai-Africa market predominantly consist of Chinese originating passengers. Ethiopian, SAA, Air Algerie, Air Mauritius, EgyptAir and Angola's TAAG currently serve Beijing.
Air Mauritius is currently the only African carrier serving Shanghai non-stop (Air Seychelles, with Etihad, has a one-stop) but Ethiopian plans to launch service to Shanghai on 29-Mar-2014, with a daily non-stop flight from Addis Ababa using 787-8s.
Ethiopian already serves Hangzhou, which is only about 160km from Shanghai, via Delhi. Ethiopian is the only African carrier serving Hangzhou or any secondary Chinese destination.
"Guangzhou is a trading hub but the most important traffic is coming from Shanghai and Beijing," Mr Ngunze says. "There's a lot of trade which is growing; there's also a lot of labour traffic into Africa and there's tourism which will grow. We have got to be able to position ourselves to sell that."
Kenya Airways plans to expand Southeast Asian network in 2015
While Guangzhou and Beijing will be served non-stop, Kenya Airways plans to continue serving Hong Kong and Shanghai via Bangkok. Having the two tags enables the carrier to preserve its current daily Bangkok service. While China-Africa is a much bigger market than Thailand-Africa, there is considerable local traffic to and from Thailand and Kenya Airways is also using Bangkok as its hub to connect with other Southeast Asian destinations, such as Jakarta via a codeshare with Garuda Indonesia and Hanoi and Ho Chi Minh via a codeshare with Vietnam Airlines.
Kenya Airways plans to expand its online network in Southeast Asia in 2015 using the last three aircraft from its firm 787-8 order. Jakarta and Ho Chi Minh are possibilities as well as Kuala Lumpur in Malaysia. Mr Ngunze points out that SkyTeam promotes the concept of its members flying into the hubs of other members and says that Ho Chi Minh is currently Kenya's biggest offline market in Southeast Asia. "But it has to make financial sense," he adds.
Rival Ethiopian has built up a network in Southeast Asia by adding Kuala Lumpur in late 2012 and Singapore in late 2013 as tags to its Bangkok service. Ethiopian also has been looking at adding Ho Chi Minh, Manila and Jakarta.
Kenya Airways will also expand in India as part of an increased focus on Asia
Kenya Airways also plans to add capacity to its two existing destinations in India. The carrier currently serves Delhi with four weekly 737-700 frequencies and Mumbai with 11 weekly frequencies, including seven with 767s and four with 737-700s, according to OAG data. At the beginning of Apr-2014 Delhi is being upgraded to daily 737-700 flights while Mumbai is being upgraded to double daily including seven with 777-200ERs and seven with 737-700s.
The additional Delhi and Mumbai flights will result in about a 40% increase in South Asia seat capacity by Kenya Airways, from about 4,600 to almost 7,800 weekly seats. South Asia currently accounts for about 5% of the carrier's international seat capacity and Asia overall accounts for about 12%.
Kenya Airways international capacity by region: 17-Mar-2014 to 23-Mar-2014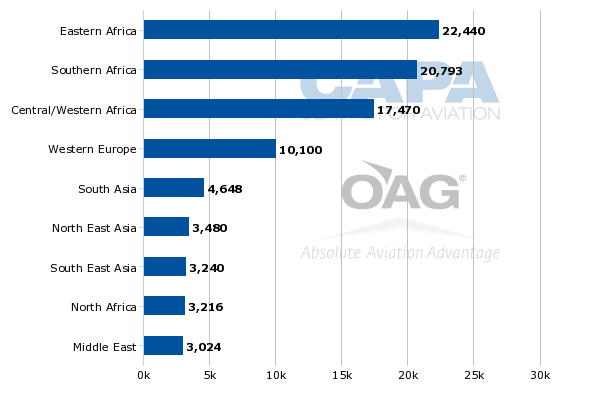 Kenya Airways currently has 25 weekly flights to Asia along with seven flights within Asia. This should grow to 35 weekly flights to Asia, plus seven flights within Asia, by the end of 2014.
Asia will likely account for nearly 20% of Kenya's international seat capacity by the end of 2014, putting it at roughly the capacity share Asia accounts for at rival Ethiopian. In the fiscal year ending 31-Mar-2013 (FY2013), Asia and Middle East point of sale accounted for 20% of revenues at Kenya Airways compared to larger 32% share at Ethiopian.
Kenya Airways will leverage its strong African operation as it expands in Asia
Asia-Africa is a fast-growing market predominantly now served by the Gulf carriers. But East African carriers are well positioned to grow their presence, given the central location of their hubs. Nairobi and Addis Ababa are in ideal locations to funnel passengers from Asia to destinations throughout Africa, providing generally quicker connections compared to the Middle East.
Kenya Airways and Ethiopian both have large African networks which have been developed in part to pursue transit traffic from Asia. Ethiopian currently has 57 destinations in Africa, including 15 in Ethiopia while Kenya Airways has 56 destinations in Africa, including five in Kenya, according to OAG data.
In FY2013, Africa point of sale accounted for 52% of Kenya Airways' revenues, including 5% for Kenya.
Kenya Airways network summary: as of 17-Mar-2014
Over the past year Kenya Airways has restructured its regional international operation to improve frequencies and connections. This has been achieved without overall capacity changes, as a majority of the carrier's international routes of less than four hours have been transitioned to E-jets. This in turn has freed up larger 737NGs to operate medium-haul international routes, in turn in some cases releasing widebody aircraft for longer routes.
Kenya Airways currently operates 18 E-jets, including 13 E190s and five smaller E170s, according to the CAPA Fleet Database. While its E170s have been in service for four to seven years, all 13 of the E190s have been delivered since 2011 with nine arriving since mid-2012, according to the CAPA Fleet Database.
Mr Ngunze says about 45% of the carrier's African network is now flown with E-jets. "We have been able to increase frequency and give the market significant options," he says.
While the use of the E190s has resulted in improved schedules and connections, Kenya Airways' international capacity within Africa was down 5% year over year for the six months ending 30-Sep-2013 (1HFY2014). Capacity to Europe was also down 5% as Kenya Airways restructured its European operation, cutting unprofitable frequencies including a daylight flight to London.
Europe point of sale accounted for 22% of Kenya Airways' revenues in FY2013. London, Paris and Amsterdam are currently its only European destinations.
Kenya Airways' outlook brightens after adjustments and transition to more efficient fleet
The capacity adjustments made in 1HFY2014 helped Kenya Airways return to the black with a KES343 million (USD4 million) profit compared to a KES4.788 billion loss (USD 56million) in 1HFY2013. For the year ending 31-Mar-2013 Kenya Airways incurred a loss of KES7.864 billion (USD91 million).
See related reports:
With the more efficient 787 replacing the 767, Kenya Airways should be able to improve the performance of its European network further, while accelerating growth in Asia. The carrier is also keen to further grow its African network over the next few years, using E190s and 737NGs. "We are looking to increase frequency to Africa and create the connectivity with Asia," Mr Ngunze says.
Kenya Airways currently operates nine 737NGs and six 737 Classics, including two 737-300s which it has converted to freighters. Mr Ngunze says the carrier plans to phase out its four remaining 737-300 passenger aircraft in 2014 and return two of its older 737NGs at the end of the year. But the carrier is planning to add five leased 737NGs, including three aircraft by Mar-2015.
Kenya Airways looks to place more aircraft orders to expand to over 100 aircraft by 2021
Kenya Airways could eventually acquire new generation 737 MAX aircraft and re-engined E-jet E2s as part of a plan to grow its fleet to 107 aircraft by 2021. The carrier's 10-year plan also envisions more widebody orders to cover deliveries after the last of its nine 787-8s are delivered in 2015.
Mr Ngunze says the carrier is now looking at acquiring additional 787s and 777-300ERs. A decision is expected this year to firm up options from its original 787 order. When the 787 order was first placed in 2006, the carrier gained options for four additional aircraft. "Today we haven't yet exercised our option but this year we will be doing that review," Mr Ngunze says. "It is in our plan and we will now be firming up the plan."
Kenya Airways has a relatively bright, if challenging, outlook as it rapidly renews and expands its fleet while building a network well positioned to tap into the booming Asia-Africa market.
The introduction of the 787 is a major milestone for the carrier and an important step in implementing its long-term strategy. While Kenya Airways has its share of threats, including possible instability at home, the carrier is on track to continue its emergence as one of the leading hub carriers for Africa and beyond.
Part Two
In the second part of this series of analysis reports on Kenya Airways, CAPA will look at its plans for new budget subsidiary Jambojet.