Reykjavik's Keflavik Airport and Icelandair are booming but the future is not so clear
Analysis
Once regarded as a minnow amongst the big Scandinavian and Nordic airports, Iceland's Keflavik Airport has been expanding, and continues to do so at a very fast rate. It is still a minnow relatively speaking – Stockholm Arlanda, Copenhagen and Oslo Gardermoen airports all handle in the region of 25 million passengers each year or more, while Helsinki Vantaa Airport handles around 16 million. Compared to this, Keflavik Airport's 3.9 million passengers in 2014 is small fry indeed in the land of the codfish. But its growth rate of over 20% was more than three times greater than the average rate recorded by those four peer airports. Moreover, Keflavik's monthly passenger growth so far this year (Jan-2015 to Oct-2015) averages almost 26%.
This report looks at what is causing that growth, which airlines are driving it (focusing on flag carrier Icelandair), and how the airport authority is going about catering for it. It also throws some light on what has made Iceland one of the fastest growing tourist – and transit – destinations and how that remains a conundrum for both Keflavik Airport and Icelandair.
As an airport representing the capital city, Keflavik is only a regional giant when compared to Vagar, which serves Tórshavn, the capital of the Faroe Islands (around 250,000 passengers annually) or Kangerlussuaq, the hub airport for Greenland, which handles much less than that. So for comparison purposes only the four main capital city airports are dealt with here.
To put those four airports and Keflavik into context, the chart below indicates their respective global rankings as represented by various metrics as of the period week commencing 23-Nov-2015.
Global rankings by assorted metrics: Keflavik, Copenhagen, Stockholm, Oslo and Helsinki airports
| | | | | |
| --- | --- | --- | --- | --- |
| Airport/metric | ASKs | Seats | Frequencies | Cargo payload |
| | 214 | 347 | 437 | 345 |
| | 81 | 62 | 55 | 84 |
| | 95 | 73 | 69 | 112 |
| | 106 | 63 | 61 | 94 |
| | 90 | 118 | 95 | 134 |
Keflavik is clearly far behind its peers in all categories but not so much so in ASKs which is representative of the high number of mid long haul flights there, as will become apparent later.
The main international gateway is isolated from the city along an exposed road
Keflavik International Airport (also known as Reykjavík-Keflavik International Airport) is the largest airport in Iceland and by far the main international gateway to the country. Keflavik International is located 50km/31 miles west of the Icelandic capital on the coast and accessible by road from downtown in around 45-60 minutes by road, less from nearer suburbs. The rapid increase in the number of bus companies – there was a monopoly by an Icelandair subsidiary company (which still operates) for many years – is testimony to the enormous gains that Iceland has made as a tourist destination, a business centre and a transit point since the financial crash in Sep-2008.
It is reflected also in the much greater scope of accommodation, meetings facilities and other tourist and business infrastructure that has helped Iceland recover from that financial crash and to punch well over its weight economically for a country of only 330,000 people and the most sparsely populated in Europe.
There are occasional plans put forward to improve the road to the airport, which is built across the exposed lava fields of the Reykjanes peninsula, to build a new one or to install a high speed shuttle train to and from Reykjavík. Subsequent to an initial report in Oct-2013 a second phase feasibility study is under way concerning the train but the completion of any such project remains many years in the future and for now passengers must use a road that can be a pleasant drive late on a summer's evening or a nightmare at rush hour during a winter blizzard.
Reykjavík is also served by a domestic airport very close to the city centre, and with some approach and take-off paths over it. It has short runways, but these are not an issue. The airport is a diversion airport for Keflavik, it can handle a B757 and there is an A318 service from the Faroe Islands. It is lack of apron space and political issues owing to its downtown location that dictate that it cannot be more of an international airport.
Domestic airport is not being extended – and will close in 2030
A new terminal building for Reykjavík Airport has been proposed since 2013 to merge two existing terminals but no progress has been made and the plans are in limbo. Irrespective of this initiative the airport is set to close in 2030 anyway.
It has also been proposed that a new domestic airport be built at Hvassahraun, which was selected from a list of four locations on the basis of its preferability in terms of weather, space and barriers, cost and environmental issues. The proposed development will cost approximately ISK22 billion (EUR149 million/USD163.8 million). The geological landscape of Iceland, a country pitted with solid lava fields and which is still in the process of formation, is by necessity a consideration for any construction project. Again no formal decision has yet been taken on this project.
Elsewhere in Iceland there are occasional international services at Akureyri and Egilsstaðir airports in the north and east respectively but the vast majority of international passenger traffic (99%) in Iceland passes through Keflavik, which only handles international services. According to the Icelandic Tourist Board 97.2% of the total number of visitors to the country arrived at Keflavik Airport in 2014.
This means that internal connection traffic has to undertake a surface transfer between the two airports. Domestic services into Keflavik have been considered but for the vast majority of passengers the destination and origin is the city of Reykjavík itself, which dominates the country commercially.
Keflavik Airport is wholly-owned by the government agency Isavia, which is a private limited company with 100% state ownership, since Jan-2010. Iceland's Minister of Finance is responsible for the share in the company, whereas the Minister of Transport, Communications and Local Government is responsible for strategic planning and technical supervision in coordination with the company's board of directors.
Indeed Isavia handles the operation and development of all airports in Iceland along with the management of air traffic in the Icelandic control area; one that has a size of 5.4 million square kilometres, making it one of the largest in the world.
The now frequently extended Leif Eriksson Terminal at Keflavik however, operates as a separate and autonomous entity although there is no private sector ownership there either.
No privatisation envisaged and even if there were it would be limited
The prospect of engaging in a form of privatisation is occasionally discussed but there is no pressing need for the airport to get 'more competitive.' No-one is going to build a private competing airport; the risks would be far too high and there aren't that many places where one could be constructed anyway.
Moreover, because of the niche nature of the country Isavia could keep charges high and be selective about the airlines it encourages if it chose to. Prior to the financial crash Iceland had the fifth highest standard of living on earth and the lifestyle such a scenario supports means that its inhabitants value quality over price – and they still make up a third of all passengers at Keflavik, making on average four trips each year. Airlines have to accept they will pay for the privilege of gaining such customers.
Ryanair for example has never made a serious attempt to gain entry although some discussions have taken place recently. One gets the feeling that if there is ever a place where the airport would set the cost conditions for entry rather than the Irish LCC it would be Keflavik.
However, while Isavia does select the airlines it chooses to meet it insists it does not use its charges in order to be selective.
Landing charges comparison for Reykjavík Keflavik International Airport with: Stockholm Arlanda Airport, Oslo Airport, Helsinki-Vantaa Airport, Copenhagen Kastrup Airport (USD) for 2014. Keflavik easily the highest in all categories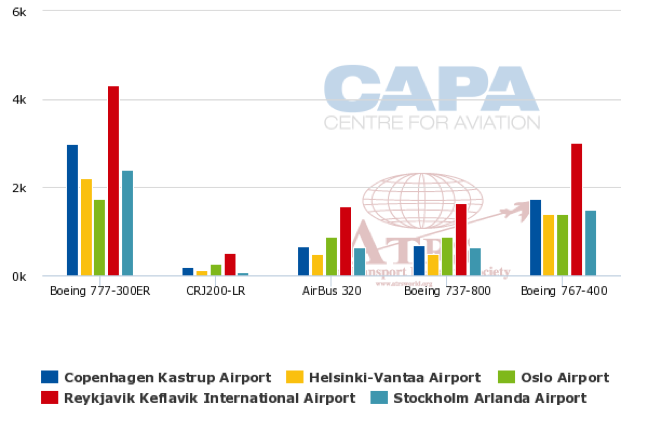 Moreover, looking at a broader span of European airports than the competing Scandinavian airports, as in the chart above, Isavia also insists that its overall charges are comparable with a broader span of European airports as in this example:
Comparison of Keflavik winter and summer charges, departing passengers with other airports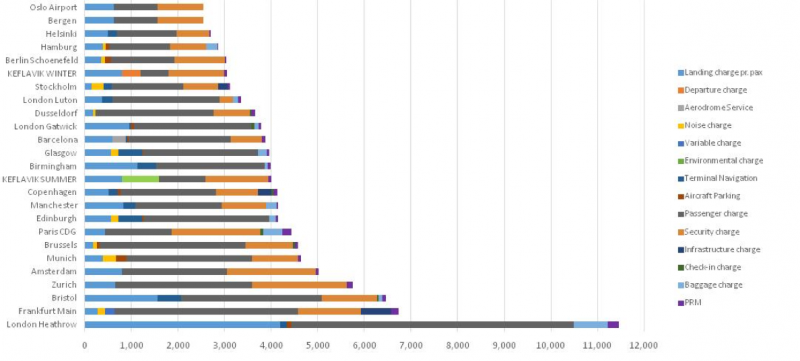 So if privatisation were to come at all it would probably be in the form of limited participation on a PPP basis, perhaps in connection with new terminal and/or runway infrastructure. Or simply a management contract, again for a specific project. Current and projected construction activity is featured later in this report.
Both the Reykjavík airports were constructed during World War 2 and Keflavik, which was built to handle heavy bombers, shared its facilities with a US Naval base under a NATO agreement until 2006. For that reason it always had a solid infrastructure, including two runways in excess of 3000m, making it ideally suited for long haul operations.
Icelandair became all-powerful…
While there have always been a number of commercial airlines operating at Keflavik, as a result of its strategic North Atlantic location, it is the national flag carrier (although entirely private sector) Icelandair that has driven the country's aviation sector. It was formed out of the merger of two private airlines, Flugfelag Islands and Loftleidir, in the 1970s, at a time when trans-Atlantic sixth freedom operations were already established there.
Benefiting from Keflavik's location Icelandair became possibly the first international ticket discounter, connecting mainland European cities (the first was Luxembourg) with North America, using both fifth and sixth freedoms. It then initiated a strategy of vertical integration involving a small number of 3 and 4 star hotels in Reykjavík, a surface transport provider and tour company, and equity holdings in other specialised tourism service providers including a car hire franchise. While such monopoly practices might be frowned upon today it is undoubtedly the case that without such visionary forethought (including the perfection of the stopover package for trans-Atlantic passengers) the Icelandic tourist industry today would be a shadow of what it is now. They ensured the infrastructure was in place to build on.
In this manner Icelandair and its associates controlled the market throughout the 1980s and 1990s, to the extent that entry by any other airline apart from global entities such as SAS and Lufthansa was extremely difficult and even then participation was limited. British Airways for example, despite being the national airline of a mature market for Iceland, eschewed operations to the country for many years.
But that policy had its pitfalls. The cost of visiting Iceland, owing to a very strong króna more than airfare costs, was high and occasional attempts to take on Icelandair by low fare alternatives such as Iceland Express and Go, a predecessor of easyJet, foundered.
The game changer, so to speak, was (ironically) the financial crisis, which halved the value of the króna against major currencies, followed by the volcanic eruption under the Eyjafjallajokull glacier in Apr-2010 and subsequent ash cloud, and other eruptions since. While the inconvenience to air passengers was immense, it focused equally immense attention on the country and was more valuable than 1000 marketing campaigns. Suddenly the world and his dog wanted to visit the country with its unique mix of nature and hedonism. International visitor numbers have doubled in five years.
These events brought about an immediate and consistent growth in airline activity. Icelandair expanded its network in Europe and particularly in North America, thus increasing the ratio of international connection options at Keflavik at the same time by a far greater number. Icelandair insists that this expansion together with improved planning techniques contributed at least as much to the sharp growth in tourists from 2010. The company that acquired Iceland Express' operations and network in Oct-2012, WOW air, was able to make a far better fist of it and expanded its operations so rapidly that it became in effect Icelandair Mark 2, with a similar point-to-point/international transfer business model. easyJet built up the sort of network that Go could only dream about. Other European and North American carriers joined the fray, adding capacity like it was going out of fashion.
…And remains the market leader
The upshot is that while Icelandair remains the market leader with two thirds of all seat capacity momentarily there are now 25 passenger airlines operating at Keflavik. Not much more than a decade ago there were only two operating year-round there – Icelandair and SAS.
Reykjavík Keflavik International Airport capacity (seats, per week, all carriers) 23-Nov to 29-Nov-2015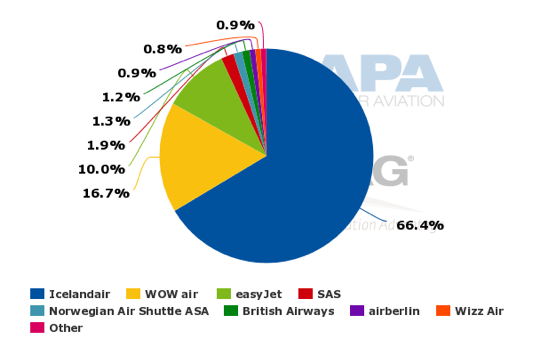 Icelandair's continuing representation (no longer quite domination), together with the fast growing WOW air, is also clear from this chart.
Reykjavík Keflavik International Airport share of seats by local versus foreign airlines, 23-Nov to 29-Nov-2015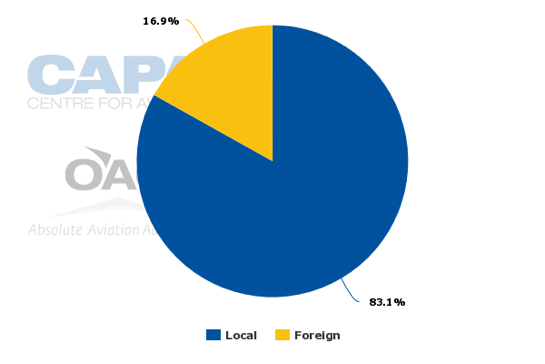 Low cost continues to have an impact, as is evident from the chart below, accounting now for over 25% of all capacity. Icelandair operated from its early days as a high fare carrier on point-to-point routes and a low fare one on sixth freedom operations, which often necessitated the imposition of strict control barriers on transfer ticket sales.
Point-to-point passengers quickly learned that they could get what was sometimes a much lower fare by booking for example London-New York and then dispensing with the Keflavik-New York coupon on arrival in Iceland.
Reykjavik Keflavik International Airport capacity, seats by carrier type, all carriers, 23-Nov to 29-Nov-2015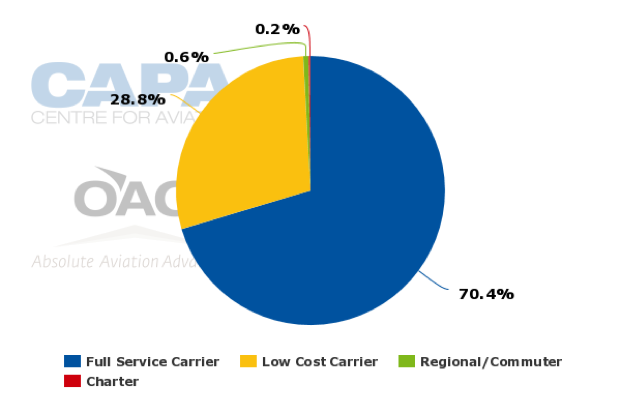 That scenario rarely arises nowadays, partly because intercontinental transfer ticket prices are considerably higher than they were. The huge increase in point-to-point sales has removed the reliance that Icelandair had on transit passengers out of the short Icelandic tourism season of May to September although the proportion of such transit passengers still remains high.
It would be fair to say that while seasonality remains an issue for the Icelandic carriers particularly, its relevance has diminished somewhat as a result of a much enhanced tourist offer introduced during the boom period prior to the financial crash and then again in the last five years, including:
Improved and expanded day excursion programmes from Reykjavík;
Arts (notably music and literature, including festivals);
Indoor attractions;
Shopping/restaurant/bar scene (which benefited notably from the devaluation of the króna);
Considerable development of the Meetings, Incentives, Conference, Events (MICE) industry;
A much wider range of accommodation.
The end result is that Iceland can and is being promoted as a year-round destination despite the lack of daylight from late autumn through to spring.
From Keflavik Airport's point of view however, seasonality of the Iceland product still remains as the chart below shows.
Keflavik Airport passengers 2015 – actual to Oct-2015 and forecast Nov & Dec-2015
The chart shows actual passenger numbers and growth vs 2014 in the first 10 months of 2015; the forecast for the remaining two months and for the whole of 2015; and the month by month and annual figures and forecast for 2016.
The total number of passengers in Jan-2015 for example (which, it should be noted, grew at 0.4 ppts more than the anticipated annual total for the year) was only marginally more than one third of the total achieved in the highest month, Jul-2015.
Growth next year is forecast to increase by 2.6 ppts over the 2015 figure, but the seasonality gap is expected to shrink, with anticipated growth increases of 8.5 ppts in Mar-2016 over Mar-2015 and an astonishing 11.1 ppts between the Apr-2016 and Apr-2015 figures. Compare that with the actual growth figures for May-2015 and Sep-2015 vs the anticipated ones for the same months in 2016. Growth in these shoulder seasons is expected to diminish, while summer season growth will continue but less vigorously.
The supporting tourism infrastructure is adequate – for now
This gives rise to the issue of whether there will be sufficient accommodation infrastructure in place. With 1.35 million tourists expected in 2015 that would be in excess of four times the population. Very few countries register such high tourist-population ratios.
But there is no evidence that accommodation is an issue for most of the year. According to Tourist Board figures the highest room occupancy rate recorded in any month of 2014 was 93% in the capital region (in March – presumably because of a specific event such as a large conference), followed by 90% for July. The annual average was still below 75%. In the remainder of the country the figures are considerably lower, from 50-75% on average down to less than 25%. In the eastern region an occupancy rate of 94% was recorded in Jul-2014. By Dec-2014 it was down to 3%.
So the seasonality issue remains though it is softening. The best conclusion that can be drawn is that the capital region and the country as a whole are adequately provided for in terms of visitor accommodation but are approaching saturation levels in the high summer peak. The arrival of AirBnB helped save the day; there are now over 2000 apartment rooms available to let during the summer period. Without it, tourism growth could have been slower.
Point-to-point or transit? – that is the question
While seasonality issues equally impact on Icelandair, WOW and other airlines, a calculation that the national carrier has always had to juggle, and still does, is revenue and yield management. Icelandair operates in two almost polarised markets: (1) travel from and to Iceland and (2) international transfer.
Even within (1) there are sub-sets. It is incumbent upon the national carrier to provide a platform by which its citizens can travel in order to do business, especially within the industries in which the country has carved an international niche, such as fishing, digital/creative industries and geothermal power. As was mentioned previously those citizens expect to have to pay the price of expanding the air network accordingly, as Icelandair has done and continues to do (followed by WOW air) though efforts have been made to reduce prices ex Iceland.
Also within (1) are incoming tourists, who are more cost conscious, though much less so than they would be when booking a sun vacation in the Mediterranean for example.
(2) Comprises both leisure and business travellers. While they benefit from fast and smooth transfer at an airport – Keflavik – that frequently wins awards (including Best Airport in Europe – ACI ASQ, 2014), they have typically booked flights predominately on the basis of price. Icelandair's prices in this segment have risen considerably as its transfer network (i.e. passenger convenience) has grown to become its main selling point rather than price, thus prompting the route/price competition from WOW, which also offers sixth freedom connections. But they still remain low when unit revenues for point-to-point and transfer operations are compared.
This is a conundrum that the airline will never really shake off while it operates in these disparate markets. It isn't far off the mark to say that a couple of decades ago Icelandair could not have functioned without selling dirt cheap trans-Atlantic connection tickets in the low season. It could have done, by leasing out its (then small) fleet to operators elsewhere in the world during that period, but how would its citizens have travelled abroad or business people entered the country?
While transfer traffic is very much a secondary feature during the Icelandic high season (and may even actively be discouraged at times) it remained a primary feature in the low season. This explains why, even with record numbers of visitors to Iceland, almost 50% of Icelandair's passenger traffic at Keflavik Airport is transfer traffic over the course of the year (technically: 48% in 2015, expected to rise to 49% in 2016). However, the influx of LCCs in recent years meant a reappraisal of policy and it increasingly the case that Icelandair seeks to sell a solid, more highly priced transfer ticket rather than a continually lowering one on point-to-point ones into the country, and especially so in prime markets such as the US and Canada during the summer peak.
The two charts below show how seat capacity is allocated by region and then by country. They emphasise the key and mature markets of the US and UK especially, ones that should have been outstripped by now by emerging markets like southern Europe, possibly even Russia, but which haven't been. And these are two of the countries that provide the greatest numbers of transit/stopover passengers as well.
Reykjavík Keflavik International Airport international capacity seats by region, 23-Nov to 29-Nov-2015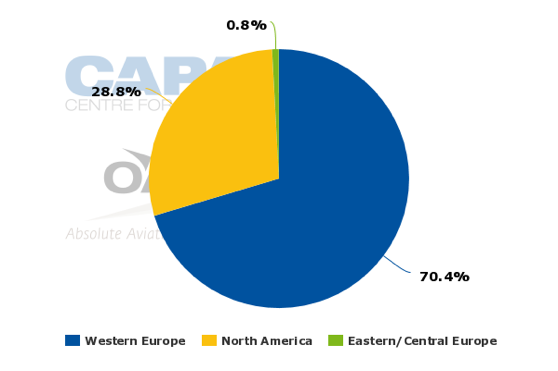 Reykjavík Keflavik International Airport international capacity seats by country, 23-Nov to 29-Nov-2015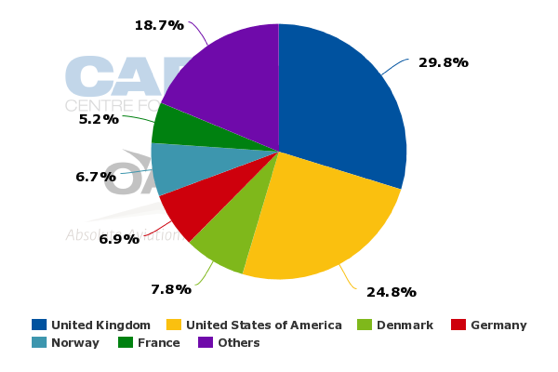 The final graphic of this series is of a heat map that emphasises the allocation of seat capacity at Keflavik Airport via colour coding, the darker areas being representative of greater densities.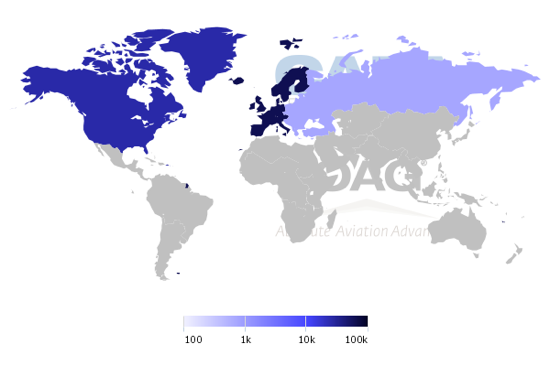 A belt and braces approach is the most sensible one
The message is clear – don't burn your bridges. Baby boomers from the 1970s remember Icelandair with affection from the days when it was known as the hippie airline across the Atlantic. They will still use it now, and the knowledge has been passed on to the next generation(s).
On the other hand the tourist boom to Iceland itself could end as quickly as it began, courtesy of a volcanic eruption that blanketed Reykjavík instead of the rest of Europe, or a severe earthquake (it is one of the least geologically stable countries on earth), a serious accident affecting many tourists (a cross-party parliamentary resolution in Nov-2015 demanded that a tourism risk assessment be prepared), or an unexpected terrorist attack. It must be said that few decision makers in Iceland are unduly worried about any of the above and are more concerned with the potential for insufficient hotel capacity that was mentioned earlier. But in a country where 'expect the unexpected' has become the unofficial slogan the prospect of an unanticipated calamity ought never to be ruled out.
Master plan calls for extended terminal and third runway
And this conundrum impacts on Keflavik Airport too, in its future planning. The ever increasing number of tourists is putting a strain on Keflavik's capacity, rendering a previous master plan redundant. Isavia held a competition in 2014 for a new master plan covering 2015-2040. The winner, Norway's Nordic Office of Architecture, was tasked with coming up with a plan to provide for phased growth to 14 million ppa by the end of the prescribed period.
The new master plan seeks to optimise the airport's existing facilities and takes a phased approach to expansion, so that the airport can continue to operate, unrestricted by construction activities. While the terminal building will expand, gate to gate walking distances within the terminal will be kept to a minimum in order to retain the attraction to transfer travellers that has helped make both the airport and the flag carrier popular with passengers.
Expansion of the airfield also features in the master plan in the form of a third runway to the west of the terminal that would have the effect of making the terminal a 'midfield' one. It is anticipated the third runway would be required at the end of the terminal and apron expansion works, around 2030. Work on the terminal expansion is expected to commence at the end of 2016 or early 2017.
The airport was given a funding boost earlier this year to enable it to conduct its expansion projects. Isavia signed a loan agreement worth EUR32 million towards the expansion with the Nordic Investment Bank. The overall investment expected between 2014 and 2016 is around EUR100 million.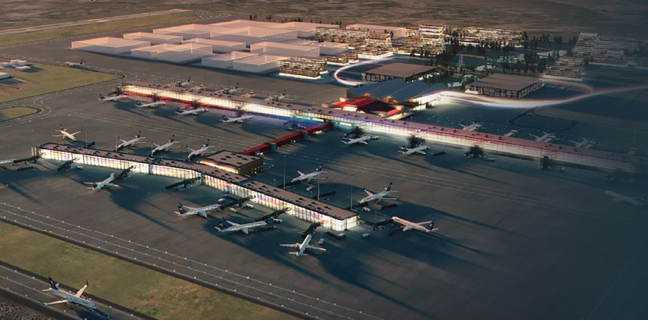 According to the CAPA Airport Construction Database, Isavia is starting to look well beyond the imminent works to when it can handle as many as 25 million passengers per annum.
It also envisages creating over 60,000 jobs, with 10,000 on site and that ISK70 to ISK90 billion (EUR490 million to EUR640 million/USD 518 million to USD675 million) will be invested on expanding the airport in the next five to six years alone.
When the Leif Eriksson terminal opened in 1987 it handled 700,000 passengers. In 2014 it was 3.9 million, with a capacity of 4.5 million.
Reykjavík Keflavik International Airport annual passenger numbers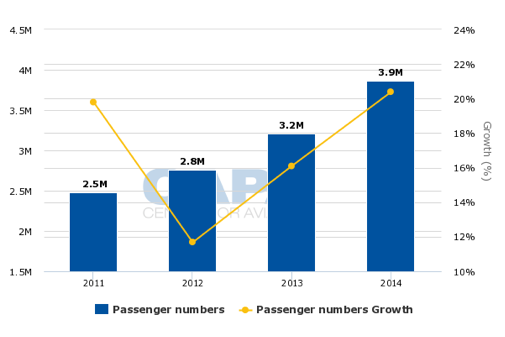 The forecast for 2015 (as per the earlier Keflavik Airport chart) is for 4.9 million passengers and the figures released in Nov-2015 would seem to confirm its accuracy. There is confidence throughout the aviation and tourism industries in Iceland that the 6.25 million estimate figure will be met in 2016.
The physical expansion of the airport is one of several issues to be considered
The potential problem with expansion on this scale is neither one of construction capabilities nor of economics. Iceland has proved itself quite capable of adequately dealing with both demands. Rather, it is a sociological one. Even if the population of Iceland grew to one million in the master plan period that would be just one fourteenth of the projected passenger total. In comparison that would mean that as London Heathrow Airport handled 73 million passengers in 2014 the population of the UK is 660 million, the third highest in the world and more than twice that of the United States. In reality it is 64 million.
Moreover, according to Statistics Iceland, the high growth projection to 2040 only has 500,000 inhabitants in that year (the low projection is just 380,000).
So the question must be – who will build and operate this new airport and the associated businesses that will grow with it? And if it means large scale immigration how would that be received? While Iceland is a tolerant nation that accepts small quotas of international refugees, and it is quite conceivable that many ex-pats could be attracted back (as the Irish are again, right now, to Ireland) Iceland has a very heavily weighted indigenous population (93% as of 2014 with only the Poles otherwise able even to get into single figures).
The message is that the shift from fringe, sideline player to playing an active role in the global transportation network can bring as many questions as it does opportunities. (And that message does not apply only to aviation. The often mooted export of Iceland's' geothermal energy, which would require huge investment, is another industrial application where a balance might have to be sought).
Keflavik – and Icelandair are world leaders in passenger transfer facilitation
If there is one thing that Keflavik Airport does very well – and it surely has had a bearing in its propensity to win service awards – it is the facilitation of transfer passengers. There are probably few airports that do it better and it is testimony to the degree of cooperation between the airport and the two airlines that engage the most in transfer activity – Icelandair and WOW air. (Having said that, the Icelandic Competition Authority reported in Oct-2015 that Isavia had allowed Icelandair priority in slot allocation at Keflavik Airport, thus affording the carrier an unfair advantage. The authority was responding to a complaint from WOW air about difficulty in obtaining slots at certain times of the day).
Direct and connecting flights from Keflavik Airport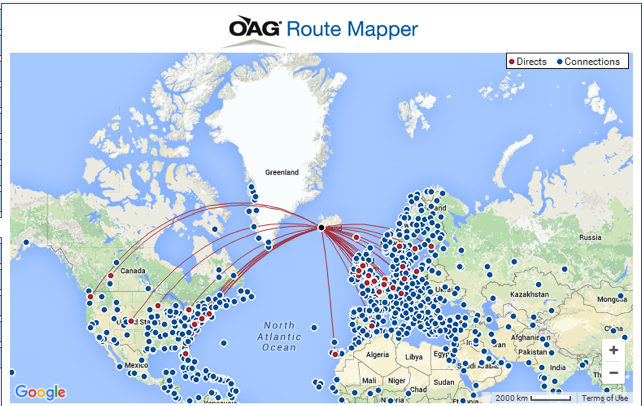 Icelandair's transfer activity is quite possibly the most focused in the world on the long haul inter-connection of primary but non-global cities, along with COPA in Panama, which could potentially be a code share partner. 'Primary' here meaning large centres of population but not 'global' in that they do not appear high in the rankings of Alpha World cities (i.e. the likes of New York, London, Paris and Frankfurt). In some instances those cities are connected demographically, where for example there has been emigration from Scandinavia into North America that continues to promote homeland travel (which typically declines by generation).
In other cases it is merely a case of potential city pairs having been identified for commercial or leisure travel purposes and Icelandair thus provides what is often the only way of making such a journey with one en route change. The aircraft it operates, the Boeing 757-200 and -300 (ETOPS) is perfectly suited to such a role other than at distances over 3000 nautical miles. There is also a B767-300ER in the fleet and a further one will follow for summer 2016. (16 B737-8 or -9 are on order but no B787s).
Icelandair's route network is as follows, segregated into Europe and North America.
Icelandair route network 2016
With 41 spokes at the Keflavik hub, there are potentially 820 international city pairs served there on the Icelandair network although realistically it cannot be that amount, or anything like it. No-one for example is going to travel from New York JFK to Newark, or Birmingham to Manchester, via Keflavik. Icelandair counts 410 for summer 2016. So, the scope of Icelandair's operation that promotes travel and trade to and from a raft of both primary and key secondary cities on either side of the Atlantic is not to be sniffed at.
The WOW factor
While this report deals mainly with Keflavik Airport and its relations with Icelandair, WOW air must not be overlooked for it is expanding very rapidly (some might argue too rapidly, given Iceland's recent experience of excess growth, in the financial sector). Not only is it opening up markets of its own – again on each side of the Atlantic – it is also challenging Icelandair in its own territory.
At the present time (Dec-2015) WOW air's actual and projected route network looks like this:
WOW air route network 2016
Los Angeles

Barcelona

Warsaw Chopin
This impressive route network of 24 spokes potentially permits 276 potentially connectable city pairs although the same caveats to that calculation apply as they do with Icelandair.
It is clear how WOW air mimics Icelandair, and how it is different. For example it appears to be undecided about whether or not it should operate at primary or secondary level airports in Europe, and the decisions may be determined individually by costs. (In the US it has little choice at the moment but it may do as more secondary level airports seek international services – refer to the recent report on Norwegian Air in the link at the end of this report).
There are more sun vacation focused routes than with Icelandair while the routes to Warsaw and Vilnius are surely dictated by the fact that the second and third highest placed nationalities in Iceland after Icelandic are Polish and Lithuanian.
But the most important conclusion is that WOW air is prepared to compete directly with Icelandair on routes such as Boston, Montreal and Toronto and also to take on routes which either Icelandair could not fly for technical (range) reasons, e.g. southern California, (but which it will be able to do in summer 2016), meaning that WOW air could go head to head with it there as well in the future.
Icelandair is more dismissive of the threat posed by WOW and points to the fact that while it had 750,000 passengers in 2014 that was only 100,000 more than did Iceland Express in 2007, before the financial crash. During the same period Icelandair's passenger numbers almost doubled.
However you interpret the numbers this evidence suggests either that Keflavik is a mature base and hub serving markets that are both mature and still expanding; or that there is a momentum building up just as it did in the financial world that could go the same way – out of control. Only time will tell.
Icelandair employs dedicated B757 freighters
Turning briefly to the cargo segment, Icelandair dominates that also, with 96% of capacity momentarily. The airline operates two dedicated B757-200 freighters under the Icelandair Cargo brand, which not only supplies frozen fish in key markets (for example to Grimsby, the UK's self-styled frozen food capital), but also replicates some of the Europe-North America hub-spoke activity that is undertaken by the passenger division.
The split is approximately 66% Europe, 33% North America and with Europe being dominated by activity to and from (mainly to) the UK.
Reykjavík Keflavik International Airport, total capacity per week, cargo payload, by carrier, 30-Nov-2015 to 6-Dec-2015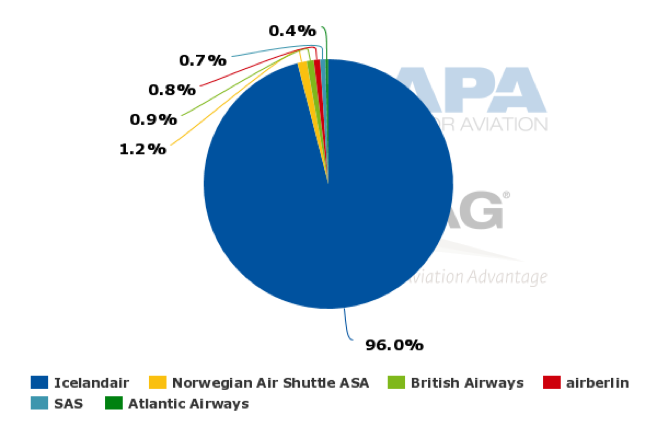 Together with the presence of the ACMI operator Air Atlanta Icelandic, also Atlas Air, Bluebird Cargo/UPS, TNT and Volga-Dnepr Airlines, this ensures that almost 17% of freight activity at Keflavik is on dedicated freighters.
Reykjavík Keflavik International Airport Freighter / Belly-hold split, cargo payload, 30-Nov-2015 to 6-Dec-2015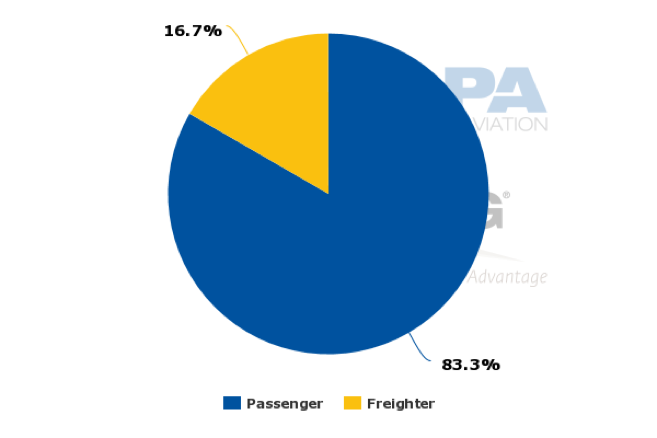 Summary
Both Keflavik Airport and Icelandair, despite being small even by Scandinavian standards, are experiencing an unprecedented boom;
WOW air may be set to follow suit;
Iceland's seasonality issue is softening. Supporting ground infrastructure (e.g. hotels) appears to be adequate but more may be required soon, in and around the capital;
The conundrum that Icelandair has (and WOW air will have) of juggling point-to-point passengers and yield against transit passengers, continues;
There is no certainty that the boom will last;
But Keflavik Airport is catering for it with a 25-year master plan;
This anticipated and unprecedented expansion of Keflavik Airport raises as many social questions as it does answers
There is unlikely to be any significant privatisation activity at Keflavik Airport or Isavia. Icelandair remains in the private sector
Related reports: