Juneyao Airlines, China's boutique carrier, expands internationally and looks for partners
Analysis
There are some 30 airlines in China and almost all of them are affiliated with one of the country's main four airline groups: Air China, China Eastern, China Southern and Hainan Airlines.
An exception is Juneyao Airlines, independently and privately owned. It has found a successful niche operating as a quality premium leisure, or boutique, carrier based at Shanghai, the epicentre of new wealth in the country. Juneyao also carries business traffic, but is perhaps willing to understate its importance in that market so as not to draw attention – and possibly interference from an over-zealous regulator.
The carrier is now targeting a few strategic developments. It has commenced scheduled international operations with a service to Thailand's Phuket and is looking to export its model beyond Shanghai to other bases in mainland China.
But of greatest relevance to the industry is its aspiration to develop a series of partnerships – from marketing to codeshare – to increase traffic flows. It boasts a strong product and network from Shanghai, which most international carriers serve.
Juneyao's first scheduled international destination is Phuket; Bangkok, Gwangju and Singapore may follow
Juneyao commenced scheduled international services on 09-Nov-2012 with four times weekly service from Shanghai Pudong to Phuket, the beach resort destination in Thailand. It is only the second carrier flying to Phuket from Shanghai following service from Shanghai Airlines, owned by China Eastern.
Shanghai to Phuket International Airport (seats per week, one way): 19-Sep-2011 to 05-May-2013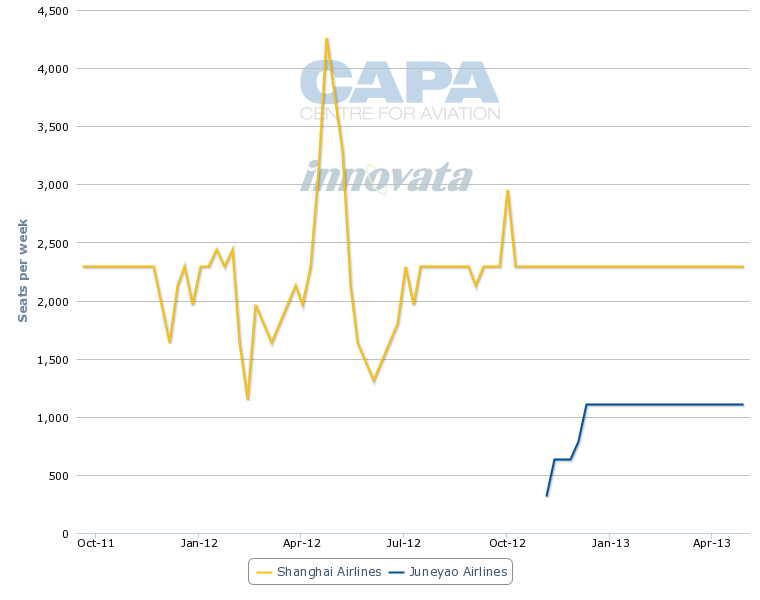 The route will cater predominantly to the outbound Chinese market looking for a holiday, a feature of Phuket services in general. Juneyao had previously launched international services, but in the form of charters to Japan. China's other major independent and privately-owned carrier, Spring, commenced its international expansion in a similar matter. (Both carriers had service to Hong Kong and Macau, each special administrative regions of China.)
Juneyao has applied to China's regulator, the CAAC, to launch daily Shanghai-Bangkok, Shanghai-Gwangju and Shanghai-Singapore service from Dec-2012. It is common for Chinese carriers to apply for more services than they intend to launch initially, as the CAAC typically does not grant authorisations for all route approvals.
Should it enter all the markets it has applied for, Juneyao will face more competition to Singapore, heavy competition to Bangkok and no competition to Gwangju in the southern part of South Korea. Gwangju is South Korea's sixth largest city and currently has no international service; domestic flights are only provided by Asiana and Korean Air. Unlike Bangkok, Phuket and Singapore, Gwangju will likely cater to the large outbound Korean market.
Shanghai to Singapore Changi Airport (seats per week, one way): 19-Sep-2011 to 05-May-2013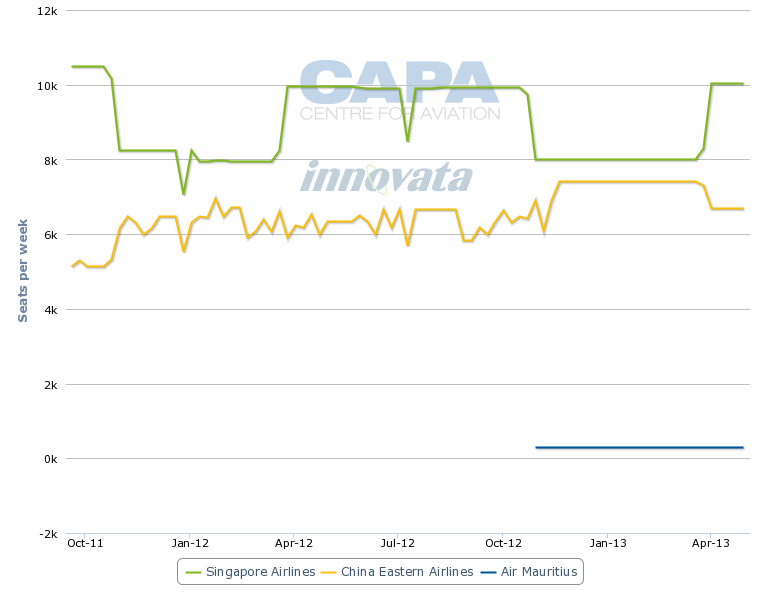 Shanghai to Bangkok (seats per week, one way): 19-Sep-2011 to 05-May-2013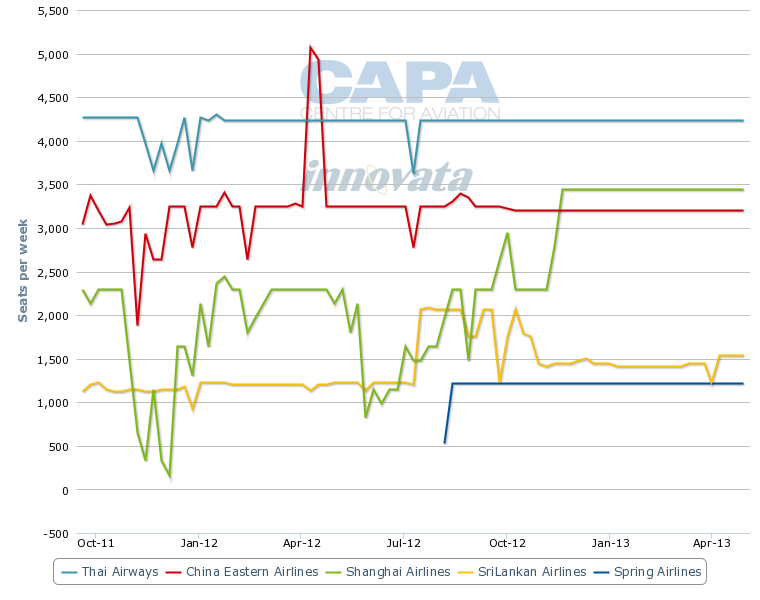 Juneyao is China's 13th largest carrier; A319s being phased out as A321s enter – and maybe bigger aircraft, too
Juneyao Airlines is wholly owned by the Juneyao Group, a self-styled "enterprise group...in the modern service industry". It targets business passengers travelling for leisure and is a full service carrier operating first and economy classes but without the legacy cost baggage of its competitors. By its own calculation, it enjoys a yield premium and has been profitable in every year of its existence. (The Juneyao Group previously invested in other start-ups but has since divested itself of those interests to be entirely focused on Juneyao Airlines.) The carrier plans an IPO on the Shanghai Stock Exchange sometime in the future.
Its traffic is almost entirely point-to-point with less than 10% of passengers taking a connecting flight, but it is open to changing this balance as the market dictates.
All of Juneyao's services are operated by its A319/A320 fleet, which numbered 30 after an A320 delivery on 02-Nov-2012. Juneyao is China's 13th largest domestic carrier and the second largest (after Spring) of carriers not affiliated with the four main airline groups in China: Air China, China Eastern, China Southern, and Hainan Airlines. Juneyao is unique in keeping a Chinese name rather than providing an English translation ("juneyao" means "auspicious").
Top 15 domestic airlines in China ranked by seats: 12-Nov-2012 to 18-Nov-2012
Rank
Airline
Total seats
1
CZ
China Southern Airlines
1,566,684
2
MU
China Eastern Airlines
1,280,852
3
CA
Air China
1,039,613
4
HU
Hainan Airlines
536,112
5
ZH
Shenzhen Airlines
514,796
6
MF
Xiamen Airlines
483,960
7
3U
Sichuan Airlines
378,472
8
SC
Shandong Airlines
338,166
9
FM
Shanghai Airlines
280,628
10
GS
Tianjin Airlines
202,216
11
9C
Spring Airlines
174,696
12
JD
Beijing Capital Airlines
170,553
13
HO
Juneyao Airlines
145,468
14
KN
China United Airlines
105,948
15
8L
Lucky Air
86,432
Juneyao was established mid-last decade as part of the liberalisation wave that saw numerous private carrier start-ups, including Spring. In the last two years, Juneyao's monthly traffic has been growing at a rate of 10-30%.
Juneyao Airlines monthly passenger numbers: 2010 to 2012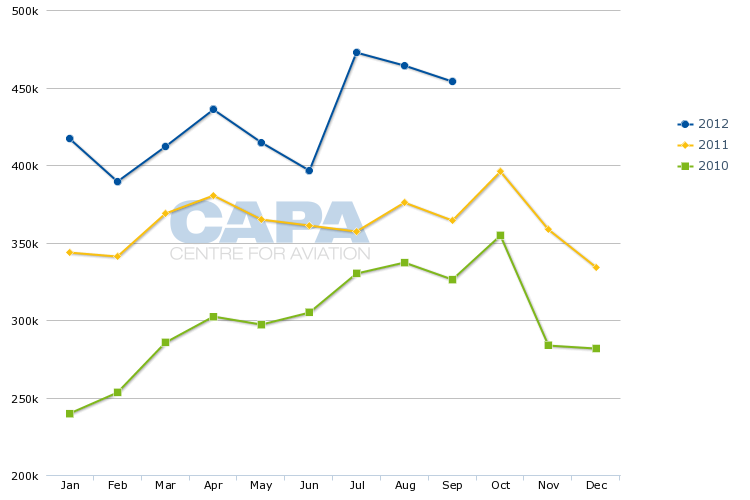 Juneyao's base is the city of Shanghai, where 96% of all flights operate to or from. It has a 9% share of the city's domestic market. Juneyao, like other Shanghai-based carriers, struggles with Shanghai's split airport system: Hongqiao, closer to downtown Shanghai than Pudong, is used almost exclusively for domestic services (93%) while Pudong has traditionally been the international airport but is increasingly growing domestic services as Hongqiao reaches capacity. Juneyao's headquarters are at Hongqiao, but most of its capacity is out of Pudong, and the carrier expects Pudong will see the most growth for the carrier owing to restricted access at Hongqiao.
China Eastern, the largest carrier across the city, has proposed the CAAC allow carriers to pick one airport to base all their operations, but this suggestion has not gained traction. However, a proposal from Beijing-based flag carrier Air China to have carriers base all of their operations at one Beijing airport, following the construction of a new airport later this decade has been received well and is all but final.
Juneyao Airlines top 10 hubs/bases/stations by seats: 12-Nov-2012 to 18-Nov-2012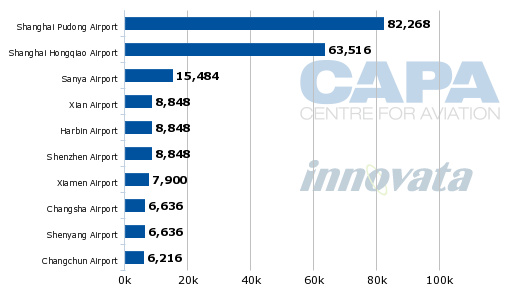 In the absence of freedom of growth by movements/slots, Juneyao is looking to upgauge services. It will replace its two A319s with A320s over the next year and will soon begin to induct larger-capacity A321s. Its competitors, largely state-owned Air China, China Eastern and China Southern, fly widebody aircraft on trunk routes from Shanghai. Juneyao in the long term could look to introduce widebody aircraft but there is currently no official proposal to do so. Introduction of widebody aircraft could ruffle the feathers of its competitors, who could use their influence to have Beijing block the acquisition a problem in a market where the Government must approve all aircraft orders.
Juneyao in Mar-2012 had 25 aircraft and expects to double its fleet to over 50 by the end of 2015 (a target shared by Spring, which also has approximately 30 aircraft in Nov-2012). It aims to lease half of its fleet and own the other half, a change from its current composition of mainly leasing aircraft. Its expansion focus will continue to be heavily on the domestic market, where yields are traditionally much higher. Some 96% of its Nov-2012 capacity is in the domestic market.
Juneyao aims to serve cities with at least a daily offering. Three cities – Harbin, Sanya and Shenzhen – have four daily return services, the carrier's highest frequency of any market.
Juneyao Airlines top 10 domestic routes based on frequency: 12-Nov-2012 to 18-Nov-2012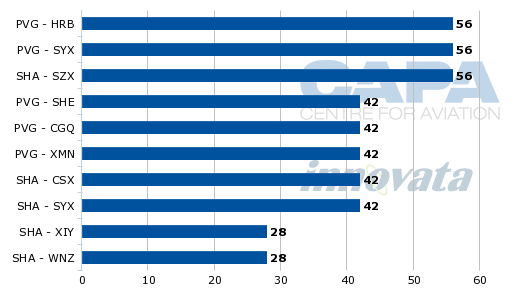 Juneyao seeks route expansion – where permitted
Juneyao and Spring Airlines have expressed interest in establishing a base in southwest China, which is experiencing much higher GDP growth rates and has less competitive air networks. Chengdu, the capital of Sichuan province, has been mooted as a possible base. While Spring's LCC model is transplantable, exporting Juneyao's premium leisure model from Shanghai to another city will be a test.
Establishing another market may be a test for Juneyao, but its opportunities for expansion at home in Shanghai are finite. Even when slots are secured, route approvals can face challenges. Although Juneyao operates on the 'Golden Routes' between Beijing, Guangzhou and Shanghai, it has not been permitted to serve those cities with ideal flight times or frequency; its sole Shanghai-Beijing service arrives just after midnight. Juneyao is also interested in highly profitable cross-strait flights to Taiwan but those services are highly protected.
Juneyao seeks airline partners; it offers attractive proposition of Shanghai market strength
For international services Juneyao relies heavily on travel agents and has partnered with Abacaus in Southeast Asia and AXESS in Japan.
The last major current strategic initiative of the carrier is to find airline partners. It is looking to hub at overseas ports as well as in its home market. It is open to a range of partnership opportunities from marketing to codeshare but the carrier considers itself too small to think about joining a global alliance at this time – even if it is the 101st largest carrier in the world by seat capacity and global alliances have members considerably smaller.
Shanghai Pudong domestic seat capacity by carrier: 12-Nov-2012 to 18-Nov-2012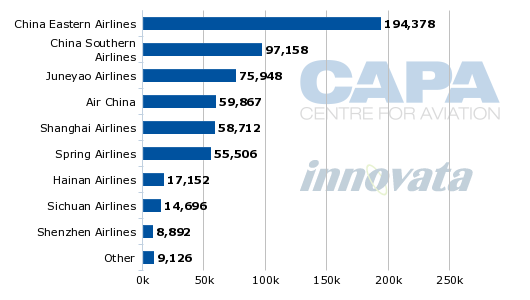 Shanghai Hongqiao domestic seat capacity by carrier: 12-Nov-2012 to 18-Nov-2012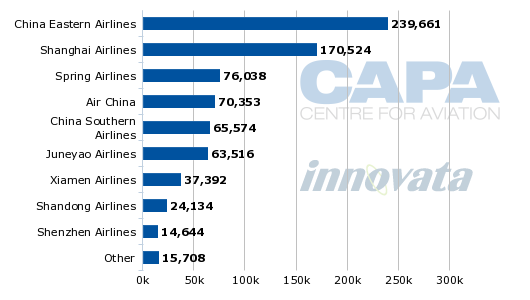 An attractive partner proposition
Juneyao says its IT system can accommodate partnerships, as can the IT of its frequent flyer programme, which is also linked to credit card offers for deeper loyalty. Juneyao says it has designed its platforms to be mindful of one day linking with others.
Juneyao's proposition delivers quality domestic market access from a carrier with a young and more reliable fleet, which also extends to its more refreshing level of service. With SkyTeam's China Eastern accounting for the majority of Shanghai capacity, Juneyao would offers a viable alternative to other carriers.
Its capacity may be smaller owing to greater narrowbody usage and not being able to secure more slots on trunk routes, but its route map is wide. One advantage for prospective intercontinental suitors is that Juneyao's international routes are few and long-haul nil, avoiding competition on what are typically a carrier's more profitable routes.
Despite a strength in Shanghai and weathering the tumultuous period of last decade when private entrants floundered, Juneyao insists on modesty, saying it does not yet consider itself successful. As long as it can keep under the protectionist-inclined regulator's radar, Juneyao offers an attractive long-term opportunity for airlines wishing to make a low level entry behind the Shanghai gateway.