Jetstar's new North Asia focus leaves room for Qantas Singapore expansion to Europe and India
Jetstar is planning to expand its Singapore-based fleet by 50% over the next six months as the low-cost carrier group looks to North Asia for the next phase of its dramatic expansion. As the largest low-cost airline group in the Asia-Pacific region continues to expand at a clip of about 20% per annum, additional capacity will not be directed west towards South Asia, the Middle East or Europe but primarily to North Asia, where Jetstar sees the most opportunities given North Asia's very low LCC penetration rate. This strategy could signal growth for the Qantas brand in South Asia and Europe as the group looks at potentially announcing next month the launch of a new Singapore-based full-service carrier.
The Jetstar Group announced at a press conference in Singapore on 15-Jul-2011 plans to add five A320s and two A330s to its Singapore Changi-based fleet in 2H2011. As a result, the Singapore-based fleet at Jetstar Group will grow from 12 to 17 A320s and from two to four A330s by the end of 2011.
One of the additional A330s will be used to open in Nov-2011 the daily Singapore-Beijing service which was announced by Jetstar earlier this week. The fourth A330 will be used to launch a route not yet announced, which CAPA expects could be Shanghai.
The five additional A320s are to be used in part to expand capacity on six existing routes from Singapore - Denpasar Bali, Ho Chi Minh City, Hong Kong, Jakarta, Kuala Lumpur and Taipei (see background information for details). The additional Singapore-based A320s will also be used to launch services to Hanoi and Ningbo - both routes were recently announced - as well as at least two other new unannounced cities, which CAPA expects could be Shenzhen and Guangzhou.
Jetstar has secured slots and traffic rights for Singapore-Shanghai route
The already announced flights to Beijing and Ningbo will give Jetstar's Singapore hub six destinations in mainland China and nine destinations in greater China. Jetstar has indicated it plans to grow its greater China network to 12 destinations by year-end. Jetstar Group CEO Bruce Buchanan told CAPA that in addition to Beijing, Jetstar has already secured slots and traffic rights for Shanghai Pudong and Shenzhen. While it has not yet finalised arrangements or announced these services, CAPA expects Shanghai and Shenzhen are high on Jetstar's list and could be launched by the end of this year.
Singapore-Guangzhou would be another logical new route for Jetstar as Guangzhou is one of China's largest airports and fastest growing cities. If Jetstar adds Shanghai Pudong, Shenzhen and Guangzhou along with Beijing it will be serving four of China's five largest airports. The other top five Chinese airport is Shanghai Hongqiao, which is primarily a domestic airport that is not accessible by any carrier from Singapore.
Shanghai Pudong would represent another breakthrough for Jetstar as, like Beijjing, the airport currently only has international low-cost services to the Philippines. Cebu Pacific serves both Shanghai and Beijing while another Philippine low-cost carrier, Zest Air, also serves Shanghai. Other foreign low-cost carriers, including AirAsia X, have so far failed to gain access to Beijing and Shanghai.
Singapore-Shanghai and Singapore-Beijing are currently only served by only two carriers. With its new Beijing service, Jetstar will finally be breaking the Air China-Singapore Airlines duopoly while on the Singapore-Shanghai route it would break the China Eastern-Singapore Airlines duopoly. Shanghai is one of only two routes among Singapore Changi's largest 10 routes that currently does not have any low-cost competition. The other route is Singapore-London.
Singapore to Shanghai capacity (seats per week), 11-Jul-2011 to 17-Jul-2011
Note: SIA reduces its Singapore-Shanghai service from five to four daily flights every winter season, due to slot restrictions at Shanghai.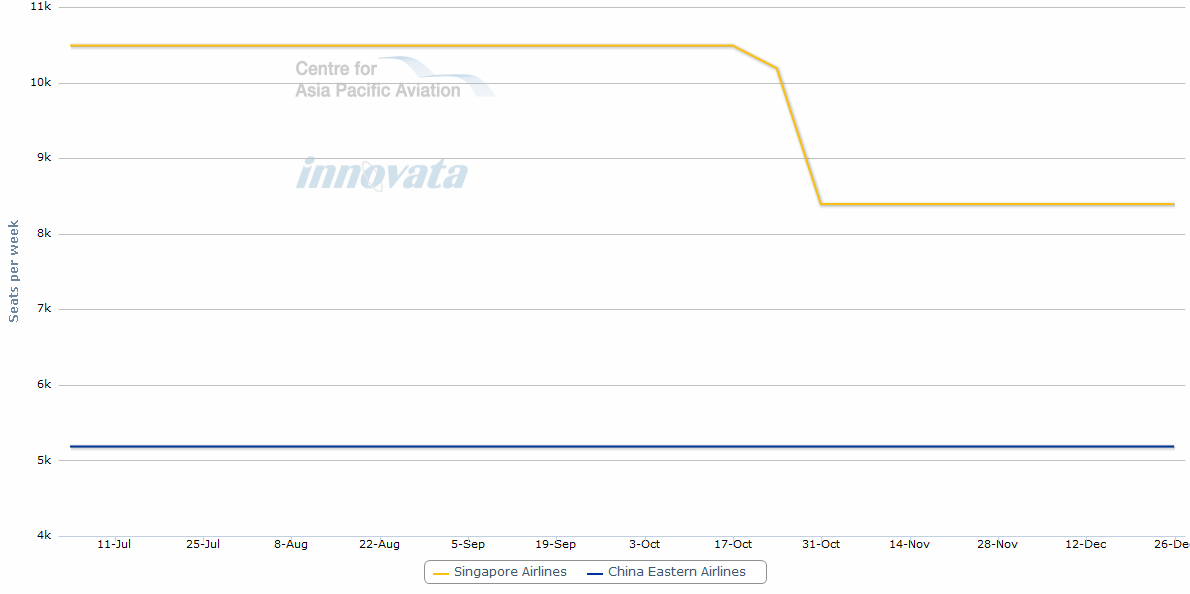 Singapore to Beijing capacity (seats per week), 11-Jul-2011 to 17-Jul-2011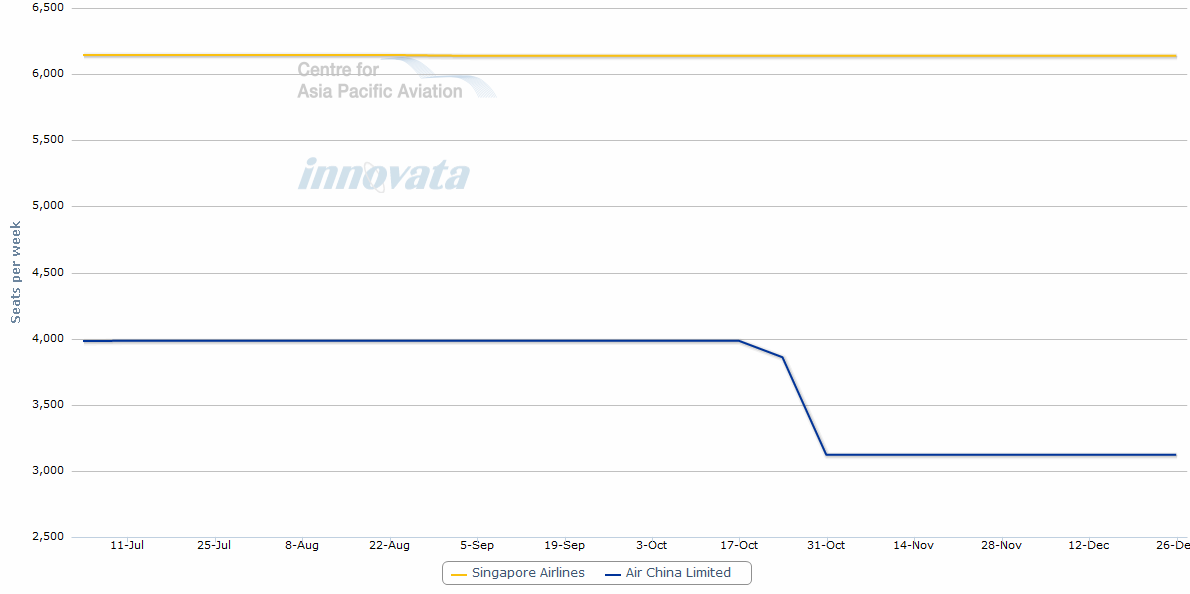 Singapore-Shenzhen is already served by Singapore-based low-cost carrier Tiger Airways as well as Singapore Airlines' (SIA) regional subsidiary SilkAir. Singapore-Guangzhou is currently a much bigger market served by SIA, China Southern and Tiger Airways. SIA announced this week it is doubling capacity to Guangzhou from 30-Oct-2011, when a second daily frequency will commence.
Until now Jetstar's destinations in mainland Chinese have been secondary cities, including Guilin, Haikou, Hangzhou and Shantou. Jetstar Asia is the only carrier serving all these destinations from Singapore except Haikou (which is also served by Tiger and from Sept-2011 by Hainan Airlines) and will be the only carrier in the Singapore-Ningbo market. As Jetstar grows its Chinese and Asian networks, Mr Buchanan sees the carrier entering a mix of secondary or alternative and major airports, similar to its strategy in other places such as Melbourne - where it serves both Tullamarine and Avalon.
With Hangzhou and Ningbo, Jetstar will serve two cities near Shanghai but that does not preclude it from also serving Shanghai. All three markets are large enough to support flights to Singapore. Ningbo has population of almost 6 million while Hangzhou has a population of about 9 million.
Several more Chinese routes expected
While major cities such Shanghai and Beijing offer potentially lucrative opportunities as they are currently underserved, there are now dozens of medium-size cities in China which are rapidly growing and have the base to support services to Singapore, in particular as outbound tourism in China expands rapidly. Singapore is a popular destination for Chinese tourists and as income levels in China grow and LCCs enter new markets, holidays to Singapore is becoming affordable to more Chinese. "We're very, very focused on building a China presence," Mr Buchanan said. "We think this decade is the decade China will bloom."
Jetstar Asia CEO Chong Phit Lian says Singapore-Hangzhou in particular has been a popular route for mainland Chinese, which account for about 50% of the traffic on the route. She expects a similar ratio for Ningbo and hopes the Beijing flight will also attract strong outbound Chinese traffic although she says for now Jetstar is only selling the flight in Singapore. Sales in China will begin after Jetstar receives regulatory approval.
Ms Chong says services to Shantou, Haikou and in particular Dalian mainly cater to Singaporeans as well as Indonesians and Malaysians. All three countries have large Chinese populations. The Indonesia and Malaysia passengers are connecting in Singapore from Jetstar's two Malaysian and four Indonesian destinations to China. Unlike most other LCCs, Jetstar offers a connection product with bags checked through to the final destination although Ms Chong says some Indonesian passengers choose to self-connect and have a stopover in Singapore, where many Chinese Indonesians have family and friends, before travelling onto China.
This is an excerpt from a premium report that also covers:
Group growth of 20% per annum expected
New Jetstar Pacific routes from Vietnam to North Asia in the works
Changi-based A330s to move from Australian to Singaporean AOC next year
Jetstar needs to order the A320neo; group fleet could reach 350 aircraft by 2020
The premium report also contains the following graphics/data:
LCC capacity share (seats) within Asia (%), 2001 to 2011F
Melbourne Tullamarine Airport capacity share (seats per week) by carrier type, 11-Jul-2011 to 17-Jul-2011
Kuala Lumpur International Airport capacity share (seats per week) by carrier type, 11-Jul-2011 to 17-Jul-2011
Singapore Changi Airport capacity share (seats per week) by carrier type, 11-Jul-2011 to 17-Jul-2011
Beijing Airport capacity share (seats per week) by carrier type, 11-Jul-2011 to 17-Jul-2011
Tokyo Narita capacity share (seats per week) by carrier type, 11-Jul-2011 to 17-Jul-2011
Seoul Incheon capacity share (seats per week) by carrier type, 11-Jul-2011 to 17-Jul-2011
Jetstar Group's current network
Additional capacity planned for existing Jetstar Asia-operated routes
Click here to access the full report, which is available for CAPA Members or by separate purchase.