JetBlue touts Boston, Caribbean to investors
Analysis
JetBlue CFO Ed Barnes sees no drop off in demand resulting from this summer's economic woes, but is "monitoring the economic changes closely". The last sign of weakness was in June, Mr Barnes told this week's Dahlman Rose Transportation Conference, adding July and August were in positive territory although not as positive as the airline experienced in the first quarter.
However, he reported Hurricane Irene - which took the worst path in terms of JetBlue operations - cost the airline USD18-20 million which was offset by cost savings, largely fuel, for a net impact of USD8-10 million.
Continued focus on high-growth markets
In the meantime, JetBlue continues its focus on Boston and the Caribbean. Mr Barnes touted the fact the airline is capitalising on the downsizing by US Airways in the case of Boston and AMR in the case of the Caribbean.
Key to its strategy is increasing the airline's relevancy to business travelers in Boston. To that end it restricted its popular All-You-Can-Jet Pass promotion to two markets where it is trying to boost business demand - Boston and Long Beach. It now has a 20% seat share in the market compared to cut backs at US Airways and American. Interestingly, Delta and United are increasing their presence but they remain small by comparison. Delta is nearly back up to 2006 levels while United has surpassed those levels.
JetBlue has more point-to-point services than any other carrier in the market. It is now at 90 daily departures down from its peak earlier this year of 100. However, it is planning to increase daily departures to 150 over the next three years.
Boston seat share: 3Q2006, 3Q2008 and 3Q2011E
The Caribbean was 12% of its business in 2007 and has since doubled to 24% with 70 daily departures, said Mr Barnes. AMR meanwhile has reduced departures to 50 from 100 in the same period.
Daily departures in San Juan - JetBlue vs American: Jul-2007 to Jul-2011
Despite the increased capacity, JetBlue has seen robust PRASM growth peaking at 35% in May.
Caribbean and Latin America unit revenue growth has outpaced system average
Pulling back on growth
While the carrier is tempering future growth, adjusting delivery positions and working with Embraer to sell off three delivery positions, JetBlue's current financial position allows it to pursue opportunistic growth should they present themselves, citing the success of both Boston and Latin/Caribbean.
These two high-growth regions will play out over the next few years. Meanwhile, the carrier will be keeping ASM growth in the rest of the network very low at about 2% for full year 2011.
Targeted capacity growth
Network strategy working
The idea is to reduce seasonality by concentrating on business travelers in Boston, visiting friends and relatives (VFR) traffic in the Latin/Caribbean and increasing the number of partnerships at its New York Kennedy base.
Interestingly, Mr Barnes indicated that key to its Kennedy strategy is to continue widening the number of partnerships to increase the number of destinations worldwide it can offer.
"We are well positioned to service global carriers," he said, "especially those that are not aligned. You will see over the next few years a pretty constant pace on the partnership adding more about every two months. We will then decide which are working best to develop deeper relations with some partners. As we go wide, we develop large volume so we can offer a lot of destinations. We'll see which really develops and then take the opportunity to deepen partnerships but it will be over two years before we do that."
Currently, the airline partners with Aer Lingus, TAM, Icelandair, South African, Emirates, Cape Air, Lufthansa - which has an ownership stake in JetBlue - Virgin Atlantic, El Al, Qatar and American. It began offering interline sales in March and expects to add more during the second half but now offers about 300 destinations worldwide.
Its strategy has paid off with nearly 40% year on year PRASM growth in Latin/Caribbean markets. Even so, its high growth in the region is expected to moderate over the next few years, Mr Barnes told investors. Indeed, he said the company is very pleased with the network strategy pointing to the results delivered. During the second quarter, it reported a 13.2% year on year PRASM growth, leading the industry and besting Delta's 9.9% PRASM growth.
Network strategy driving strong revenue performance
Mr Barnes reported the carrier produced its fifth consecutive quarter of profitability in the second quarter despite USD160 million in additional fuel costs. It reported record 2Q revenues at USD1.2 billion bringing in its historically highest quarterly average fare at USD150. The carrier has a 7.5% operating margin, he added.
Its cash as a percentage of trailing-12-months revenues is second only to Southwest at 28% to Southwest's 33%.
He also reported the company continues to drive free cash flow - nearly USD300 million in 2010 - something it only began doing in 2009.
Year-end free cash flow
Key is maintaining cost advantage
Mr Barnes noted that its costs made it the second lowest producer next to Southwest. JetBlue expects CASM ex fuel to grow between 0-2% this year after growing just below 4% in each of the first two quarters.
Maintaining a competitive cost advantage
Interestingly, during the second quarter earnings season, Southwest reported a 7.63-cent CASM ex fuel to JetBlue's 6.62 cents, according to the companies' second quarter statements.
He cited increasing free cash flow as a prime reason for moderating its growth rate.
Moderating growth rate helps drive free cash flow
Echoing Alaska's strategy, Mr Barnes pointed out fleet acquisition flexibility affords JetBlue growth rates between 4% and 6% through a combination of deliveries, lease expirations and options.
Flexible fleet order book
Still, Mr Barnes said JetBlue fuel efficiency was only bested by Alaska when considering ASMs per gallon. Alaska, he said, gets 77 ASMs per gallon to JetBlue's 71. The aging fleets at Delta and American are clearly in need of replacement since JetBlue's chart indicates they get only 65 and 60 ASM per gallon, respectively.
Fuel efficiency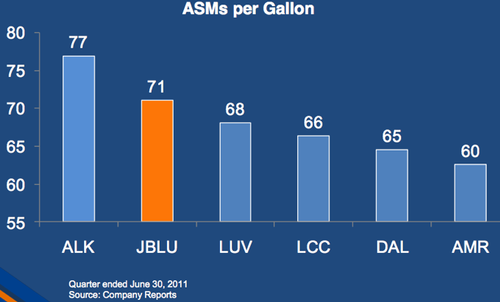 Mr Barnes cited the infrastructure investments JetBlue is making - chiefly with its IT and reservations system that afford it greater ability to capitalise on ancillary revenues. Ancillaries were up 20% in the first quarter and now amount to USD20 per passenger in the second quarter. Mr Barnes expects that to grow when distribution systems can accommodate such revenues.