JetBlue targets leisure travellers from Worcester while expansion in Boston & the Caribbean continue
Analysis
JetBlue Airways is sticking to its strongholds of Boston and San Juan for new route roll-outs during 2013, but it is also introducing flights from Worcester, which is 74km west of its Boston focus city. The move appears to somewhat replicate what JetBlue has done in Newburgh Stewart Airport New York – introducing flights from a smaller market near one of its larger bases to the leisure markets of Orlando and Fort Lauderdale.
While service to Worcester may seem a bit odd, the airport has been engaged with JetBlue intensely in an effort to restore service after Direct Air ended its scheduled flights from the airport in May-2012. During the last decade Worcester has faced challenges in sustaining direct flights, but the airport is now operated by Massport, which is the operator of JetBlue's growing focus city in Boston. Given JetBlue's established relationship with Massport, and the reported incentives the carrier is receiving to launch service in Nov-2013, the new flights are likely low risk for the carrier.
JetBlue could be using Newburgh as a template for Worcester
JetBlue is launching a single daily service from Worcester to Orlando and Fort Lauderdale on 7-Nov-2013 with its 100-seat Embraer 190 jets. JetBlue already serves those destinations from its Boston focus city – which is the carrier's second largest base while Orlando and Fort Lauderdale are JetBlue's third and fourth largest bases, respectively.
JetBlue Airways top 10 hubs/bases/stations by seats: 1-Apr-2013 to 7-Apr-2013
It may seem puzzling that JetBlue is opting to serve a market so close to its larger Boston base, where it is the largest carrier with respect to seats on offer, holding a 29% share. But the combination of the incentives, serving well-established US east coast markets and using 100 seat aircraft result in the start-up likely not taxing JetBlue financially. Worcester is a Boston suburb, so demand for high-density markets could be strong enough to sustain the single daily flights JetBlue is operating in each market. Customers on leisure travel might appreciate not having to drive to Boston to catch their flights.
JetBlue has a similar service pattern in Newburgh, New York, which is 108km north of Manhattan. The carrier operates daily Embraer flights to both Orlando and Fort Lauderdale, two routes the carrier launched in 2006.
It seems JetBlue might be replicating its service pattern at Newburgh in Worcester. Orlando and Fort Lauderdale have been mainstays of JetBlue's network from JFK since its launch in 2000. But the demand in those markets from Newburgh is obviously strong enough as JetBlue has operated to those leisure destinations from the smaller airport. But it has not introduced additional service from Newburgh, and that will likely be the case if JetBlue remains in Worcester for the long term.
Worcester has encountered challenges in sustaining scheduled service during the last decade as The Boston Globe recently recounted that in 2001 four commercial airlines served Worcester – Delta Connection, American Eagle, US Airways and Pan Am. All that service ended in 2003; but Direct Air later began scheduled service primarily to Myrtle Beach and Punta Gorda, Florida. That service ended in 2012.
In addition to JetBlue, US major carriers Delta and US Airways operate flights from Newburgh with regional service to their respective hubs of Detroit and Philadelphia. Delta also operated flights to its Atlanta hub until Sep-2012. Delta at the time stated that both routes were underperforming, and by focusing on Detroit it hoped to make that service successful over the long term.
While Newburgh might have trouble sustaining service to some larger metropolitan business markets, JetBlue's years-long operations in the market to leisure destinations shows the carrier is at least producing enough traffic to post satisfactory results, which could serve as its calculus for launching low-risk service from Worcester.
Houston becomes JetBlue's third destination in Texas from Boston
JetBlue adds its third destination in Texas from Boston in Jul-2013 when it launches service to Houston Hobby Airport. The new service to Houston is reflective of JetBlue's strategy of continuing to add attractive business markets from its Boston focus city. Houston is a natural progression after JetBlue launched Boston-Dallas/Fort Worth service in May-2012. Those recent additions join JetBlue's long-standing Boston-Austin service that launched in 2006.
While Houston Intercontinental is currently the only airport in the Houston metro area offering international flights (Southwest is set to debut international service from Hobby in 2015), Hobby is actually closer to Houston's city centre, which is more convenient for business travellers.
No other carrier offers direct flights from Boston to Hobby, but United Airlines presently operates about 5,100 one-way weekly seats in the market. United already has a strong foundation among business travellers in the Houston area given its hub at Intercontinental where it holds a 83% seat share.
But JetBlue will likely draw some corporate business from smaller firms looking for medium frills for less spend.
Houston George Bush Intercontinental to Boston Logan International (seats per week, one way): 19-Sep-2011 to 22-Sep-2013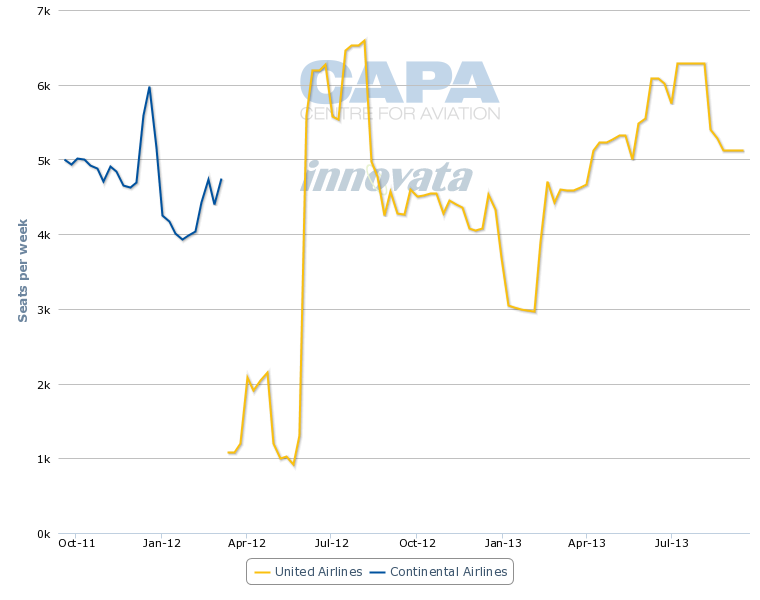 JetBlue often states there are many large business markets its corporate customers in Boston would like to see the carrier serve. Previously it has stated that it would take a measured approach in adding corporate markets from Boston as those routes can take two to three years to spool up, likely as a result of building up a brand awareness among corporate customers.
Its more leisure-oriented and visiting friends and relatives (VFR) take less time to reach maturity and can help support the slower spool-up of business markets. JetBlue's new corporate markets from Boston to Dallas and Houston will be supported by the recent introduction of new leisure service to Charleston, South Carolina and Grand Cayman.
Expanding from San Juan to the US midwest
JetBlue's new fights from Chicago O'Hare to San Juan set to launch on 30-Nov-2013 mark the carrier's first flights from its San Juan focus city beyond the US east coast corridor. The new service joins JetBlue's existing flights from O'Hare to Boston and JFK. JetBlue during the last few years has been building San Juan into a focus city as American Airlines has been dwindling its historically strong presence at the airport through mainline reductions and elimination of San Juan as a base for its regional subsidiary American Eagle.
Now that JetBlue holds a commanding 36% seat share in San Juan, it has built up enough brand recognition to expand to longer-haul markets that have a solid potential for demand. Current schedules in Innovata show that America and United each serve San Juan from O'Hare, which is a hub for each of the carriers. The schedules show United's flights tapering off at the end of Apr-2013, and the carrier's website shows no direct service between O'Hare and San Juan in May-2013.
San Juan Luis Munoz Marin International Airport capacity by carrier (% of seats): 1-Apr-2013 to 7-Apr-2013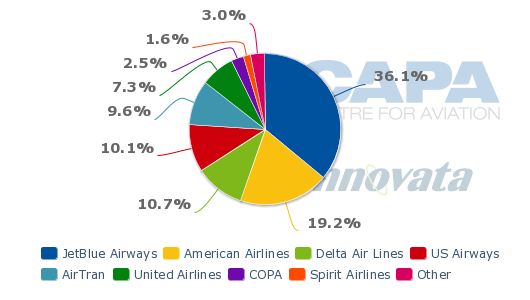 Chicago O'Hare to San Juan Luis Munoz Marin International (seats per week, one way): 19-Sep-2011 to 22-Sep-2013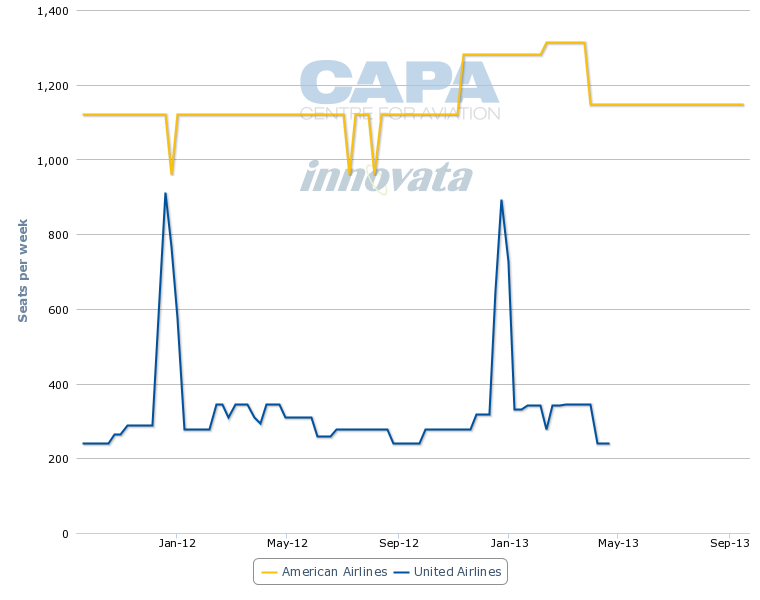 A 2012 study by The Puerto Rican Agenda concluded that Chicago's Puerto Rican population was about 196,000 with a median income of roughly USD36,000. Chicago's native residents, residents with family ties to Puerto Rico and point-of-sale potential in the metropolitan area should provide JetBlue with a good foundation to launch its new service.
JetBlue has an existing partnership with American that entails interlining and frequent flyer reciprocity in east coast markets and some long-haul trans-Atlantic flights. But the contract American and its pilots reached during the Chapter 11 restructuring process allows American more leniency in forging domestic relationships, which could pave the way for American and JetBlue to coordinate their offerings between Chicago and San Juan.
Both carriers could benefit from JetBlue's strong presence in San Juan and American's hub strength in Chicago. But given JetBlue's existing strength in Puerto Rico, it can likely generate enough traffic on the route to reach a quick level of maturity.
Deepening ties between JetBlue and American also depend on the relationship the new management of US Airways-American will retain with American's existing partners once their merger begins; but it seems likely that JetBlue could be a good fit, as US Airways also has a strong presence in the Caribbean and there could be some intra-Caribbean route coordination between JetBlue and the merged company.
Previously JetBlue has said the bulk of its growth would continue to be funnelled toward Boston and the Caribbean and Latin America, and its latest route additions underpin that trend.
It is not yet clear how the new flights from Worcester will perform, but the carrier has likely used its service pattern in Newburgh as a template for the Worcester launch. The mix of leisure and business oriented markets in the latest batch of announcements by JetBlue illustrate its stated strategy of creating a mixed passenger base to smooth out the crests and troughs in demand.