JetBlue sees profitability streak to continue in 2010; Vueling down on net loss
Analysis
Worldwide LCC share prices generally gained on Thursday (24-Jul-09), reflecting stronger conditions in European, Asian and North American equity markets and despite surging oil prices. Oil prices in New York surged USD1.76 to close at USD67.16/barrel, the highest level since 01-Jul-09, following the rally on Wall Street and positive US housing data. In London, oil prices for September delivery jumped USD2.04 to settle at USD69.25.
JetBlue sees profitable run in 2009
Among the gainers yesterday, JetBlue was up 2.9%, as the carrier reported a second consecutive quarterly profit, of USD20 million. CEO, Dave Barger, stated that, despite a "challenging" revenue outlook in the recessionary environment, the carrier continues to expect to generate a profit in every quarter this year.
However, the carrier is feeling the effects of the current challenging operating conditions, experiencing (and predicting) weakness in yields (down 4.4% in the quarter), unit revenues (down 4.4% in 2Q2009, expected to decrease 1-5% in the full year) and average fares (down 8% in 2Q2009). JetBlue's shares are effectively back to where they started 2009.
JetBlue share price growth: Aug-2008 to Jul-2009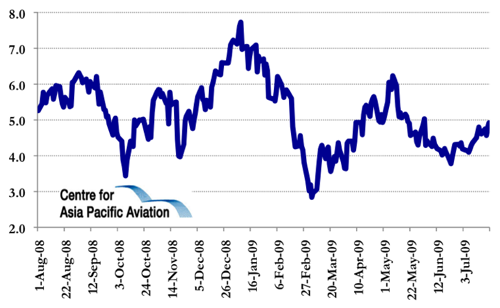 Also reporting yesterday was Spanish LCC, Vueling. Despite the carrier stating that prospects for 3Q2009 are "positive", due to steady bookings and merger synergies with clickair, Vueling's share price slipped 3.3% yesterday, as investors focused on the carrier's disappointing EUR3.3 million net loss in the period. While Vueling stated that possible increases in fuel prices remain a "source of concern", the airline expects to post an EBT profit for the full-year period, even after restructuring costs are factored into.
Elsewhere, in Asia, AirAsia gained 1.6%. AirAsia X CEO, Azran Osman-Rani, yesterday stated it would be interested in merging with AirAsia, stating the combined balance sheet would improve future funding abilities, but added it is not likely to happen this year. AirAsia currently has an option to increase its stake in the long-haul subsidiary from 16% to 30%.
Selected LCCs daily share price movements (% change): 23-Jul-09