JetBlue Airways leverages its network to build pockets of strength, shielded from competition
Analysis
JetBlue Airways' investments in non-hub markets such as Boston and Fort Lauderdale appear to be paying off as the airline exhibited one of the best passenger unit revenue performances among US airlines during 1Q2015.

The company's new premium product Mint deployed in New York transcontinental markets also lifted its unit revenue performance, and now JetBlue appears to be actively seeking new markets for Mint, reiterating previous statements that a deployment from Boston could be in the offing.

Presently, JetBlue has the good fortune of having its pockets of strength free from disruptive competitive capacity, with the exception of New York transcon markets, where it is responsible for much of the industry supply growth. But overall JetBlue's network moves during the last few years are for the moment delivering solid benefits for the airline.
JetBlue recorded a 4.5% rise in passenger unit revenue during 1Q2015, which was the best performance among the three large US network airlines, and Southwest, Alaska and Hawaiian.
US airline passenger unit revenue performance: 1Q2015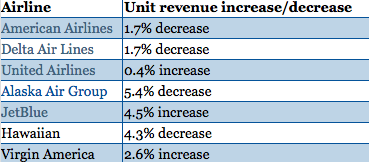 Some of the unit revenue strength was driven by winter storms that occurred in 1Q2015 that reduced JetBlue's top line revenue by USD18 million, but created about 2% benefit to passenger unit revenues.

Absent the tailwind from the winter storms, JeBlue's passenger unit revenue growth was still among the best in the US industry, on par with fellow hybrid Virgin America, which posted a 2.6% increase in passenger unit revenues for 1Q2015.

See related report: Virgin America weathers capacity onslaught in New York, Dallas, with strong unit revenue performance
Investments JetBlue has made in two of its six focus cities – Boston and Fort Lauderdale – appear to be paying off for the airline. Company CEO Robin Hayes recently stated all six of the airline's focus cities continue to be profitable, and that during the last 12 months margin in Boston has expanded three points more than JetBlue's system average. During the last year, said Mr Hayes, JetBlue's margin in Fort Lauderdale has expanded faster than the system average despite twice the capacity growth rate.

JetBlue added Boston to its route network in 2004, but started making a push in the market around 2007 after legacy airlines opted to initiate service drawbacks at the airport. Presently, (11-May-2015 to 17-May-2015) Boston is JetBlue's second largest base measured by ASMs. The airline operates roughly 125 daily departures from Boston to 54 markets in the US and Latin America and the Caribbean.
JetBlue Airways global top 10 hubs/bases/stations by ASMs: 11-May-2015 to 17-May-2015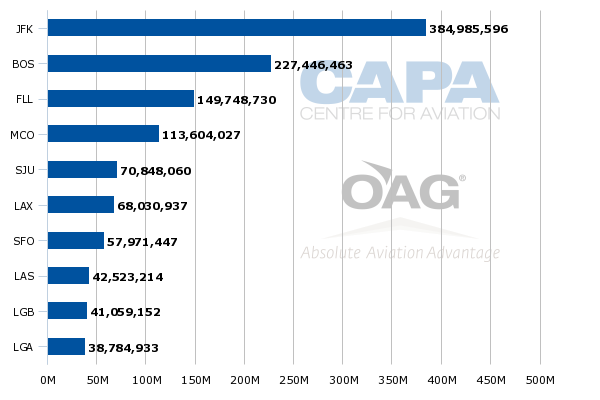 JetBlue represents nearly 21% of Boston's ASMs, and it is leveraging its dominant position to capture business travellers in the market.
That was one of JetBlue's goals in building up its presence in Boston as it worked to level out some of the seasonal peaks and troughs inherent in transporting a high percentage of passengers in the visiting, friends and relatives segment (VFR)
Boston Logan International Airport capacity by airline (% of seats): 11-May-2015 to 17-May-2015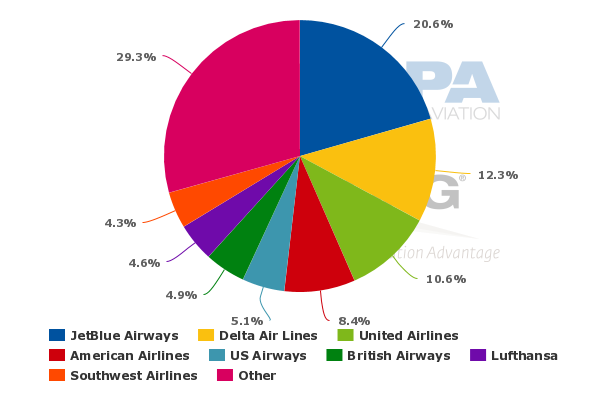 During the last year JetBlue has made comments about possibly expanding its Mint premium offering that debuted in late 2014 on New York transcontinental markets to Boston. Mr Hayes stated that during 1Q2015 unit revenues on routes where Mint is deployed – New York JFK to Los Angeles and San Francisco – increased 20% year-on-year.

With JetBlue's corporate reach in Boston, it is no surprise the airline is examining deploying Mint from market where is has such strong point of sale. If Mint is succeeding in the highly contested NY transcontinental market, then JetBlue could surely secure a strong revenue premium in Boston. "You've heard me mention things like Boston-Los Angeles, Boston-San Francisco before. I mean that's type of market we're looking at, but we haven't made any final decisions yet," said Mr Hayes.

Prior to any new route announcements, JetBlue is deploying Mint once weekly on its existing routes from JFK to Aruba and Barbados in Nov-2015. Previously, the airline has stated those markets feature high-end premium leisure customer demand.

See related report: JetBlue trumpets profitable growth as its capacity expansion remains above the industry average
Fort Lauderdale is now JetBlue's third largest base measured by ASMs, and the airline represents approximately 24% of the airport's ASMs. Fort Lauderdale is the headquarters for ULCC Spirit; but during JetBlue's build up in the market during the last few years the two airlines have seemingly managed to peacefully co-exist even as JetBlue has increased competitive overlap with Spirit in some Caribbean and Latin American markets.
Fort Lauderdale-Hollywood International Airport capacity by airline (% of ASMs) 11-May-2015 to 17-May-2015
etBlue's latest move in Fort Lauderdale is new service to Baltimore-Washington beginning in Nov-2015, where it will compete with Southwest and Spirit. Data from CAPA and OAG show that for the week of 4-May-2015 Southwest deploys approximately 10,280 one-way seats in the market, up 37% year-on-year. Spirit's seats are flat at roughly 2,490.

JetBlue executives were recently queried about the Baltimore-Fort Lauderdale route selection, given Southwest's dominance in the market. Southwest is the largest airline at BWI by a wide margin, representing roughly 70% of the ASMs deployed from the airport (11-May-2015 to 17-May-2015).

JetBlue cited its strength in Fort Lauderdale, not only with domestic routes but as a connection point to Latin America and the Caribbean. Southwest serves San Juan (a US territory) from Fort Lauderdale, but serves many destinations from the Caribbean from Baltimore including Cancun, Nassau, Punta Cana, Montego Bay, and San Juan.

JetBlue's network to the Caribbean and Latin America from Fort Lauderdale is more extensive than Southwest's from Baltimore and includes Bogota, Cartagena and Medellin, Colombia and Lima, Peru. It is likely JetBlue can attract some one-stop passengers to those destinations through Fort Lauderdale from Baltimore.

Baltimore-Fort Lauderdale is among the growing markets where a ULCC, hybrid and more traditional low cost airline compete. JetBlue believes it can compete effectively in the market given that its economy cabin is more comfortable than its competitors. For the moment its seat pitch at 34.7in is one of the most generous in the industry. It will drop to 33in once JetBlue starts adding 15 seats to its A320s starting in 2016. But the airline counters that its seat pitch will remain the best in the industry, slightly above the 32.6in pitch in Virgin America's economy class.

See related report: JetBlue outlines strategy to appease investors, but still offer customers a differentiated product
The Caribbean is a strong performer for JetBlue after industry capacity cuts
In outlining is solid 1Q2015 solid passenger unit revenue performance, JetBlue cited a recovery in the Caribbean and Latin America due to competitive capacity reductions and improved VFR traffic to warm weather destinations.

At the start of 2015 JetBlue stated that competitive capacity growth in the Caribbean and Latin America that pressured yields during 3Q2014 had waned, and stated that 30% of its capacity would be deployed to those regions in 2015.

JetBlue EVP of commercial and planning Martin St George estimated the airline's unit revenue across its combined domestic and Latin networks outpaced the industry "by the order of five points in the first quarter. While we benefitted from comparatively less competitive capacity, underlying demand trends across our network were very strong".
JetBlue's top two international markets by ASM deployment are Puerto Rico and the Dominican Republic. Although Puerto Rico's economy is weak, perhaps there is solid demand in US point of sale for trips to the region. But as the thawing of relations between Cuba and the United States continues, Cuba could capture some of Puerto Rico's tourists, according to a report issued in late 2014 by news outlet Bloomberg. JetBlue recently tabled its plans to launch once weekly charter service from New York to Havana in Jul-2015.
Those flights join JetBlue's charter service to Cuba from Tampa and Fort Lauderdale. The airline started charter service to Cuba in 2011, so it should be well positioned to take advantage of the lifting of travel restrictions between the US and Cuba when that occurs. However, JetBlue has made a significant commitment to Puerto Rico.
It operates 53 daily departures from San Juan to 15 cities, and is the sole operator of a new terminal at San Juan Luis Muñoz Marín International Airport that opened in 2012. San Juan plays a key role in JetBlue's network, and even as it positions itself to capitalise on opportunities to Cuba, JetBlue has firmly entrenched roots in Puerto Rico.
JetBlue Airways international capacity (% of ASMs) by country: 11-May-2015 to 17-May-2015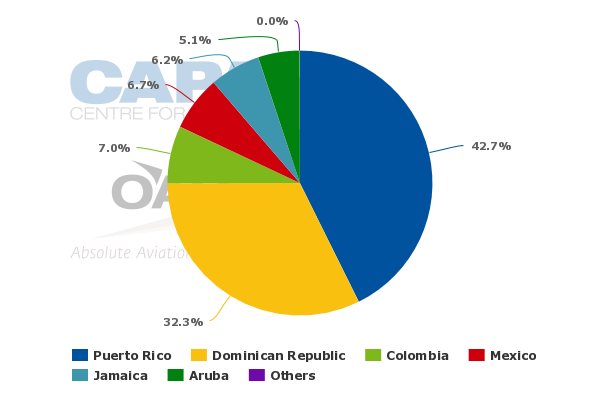 JetBlue is obviously leveraging its strong position in the Dominican Republic, whose GDP growth is projected at a solid 5.1% in 2015. Recently online travel site Expedia stated that travel demand for the Dominican Republic jumped 45% year-on-year. As the leading airline between the US and Dominican Republic with a nearly 31% seat share (week of 4-May-2015), JetBlue should be able to capitalise on strong demand to the Dominican Republic.
JetBlue enjoys a strong position in regions shielded from fierce competition
In some ways JetBlue stands in the enviable position of being shielded from competitive capacity increases in the Dallas market that are pressuring unit revenues for some airlines and an ever changing set of competitive dynamics in Seattle.

JetBlue's major markets outside New York are Boston and Fort Lauderdale, which are somewhat shielded from legacy airline encroachment. That allows JetBlue to leverage a strong position at those airports, which are not legacy hubs but still within the top US airports.
As US competitive dynamics shake out among ULCCs, hybrids and Southwest, which defines itself and the one and only original low cost airline, JetBlue for now is benefitting from network foresight to build pockets of strength that are shielded from competitive onslaught.