JetBlue Airways continues its push from Florida to Latin America and ups competition with US rivals
JetBlue continues to leverage positions of strength in the Florida market when it debuts new flights to Mexico City in late 2015 and service to Quito, Ecuador in early 2016. The airline will largely face foreign competitors in those markets, which means it can tap its point-of-sale strength in both Fort Lauderdale and Orlando for US-based travellers.

The new service to Mexico City helps JetBlue fill a gap in its growing network from Florida to Central and South America and to the Caribbean. Ecuador is a popular and growing tourist destination from the US, so it seems reasonable that JetBlue has the potential to post a solid performance in the market.

JetBlue is also continuing to flesh out its domestic service from Florida in 2015 with new planned service from Orlando to Baltimore and from Fort Lauderdale to Philadelphia, increasing its competitive overlap with Southwest and US Airways. All of the new service reflects JetBlue's intent to bolster its network in Florida as both Fort Lauderdale and Orlando serve key roles in its network.
Mexico City is a key market for JetBlue as its international footprint grows
JetBlue outlined its desire to serve Mexico City in late 2014 when it sought permission from US regulators to operate flights from Fort Lauderdale and Orlando to Mexico City Juarez.

Beginning in Oct-2015 the airline is launching daily flights from its Fort Lauderdale and Orlando focus cities to Mexico City. It is a necessary market for JetBlue, which has been expanding rapidly into the Caribbean and South and Central America from each of the Florida cities during the last few years. Fort Lauderdale and Orlando are JetBlue's third and fourth largest bases measured by both seat and ASMs.
JetBlue is Fort Lauderdale's largest airline, representing roughly 23% of the airports seats on offer and 24% of its ASMs for the week of 1-Jun-2015 to 7-Jun-2015. In Orlando, JetBlue is the third largest airline at the airport behind Southwest and Delta representing 13% of the airport's system-wide seats and 12% of its ASMs.
JetBlue Airways global top 10 hubs/bases/stations by seats: 1-Jun-2015 to 7-Jun-2015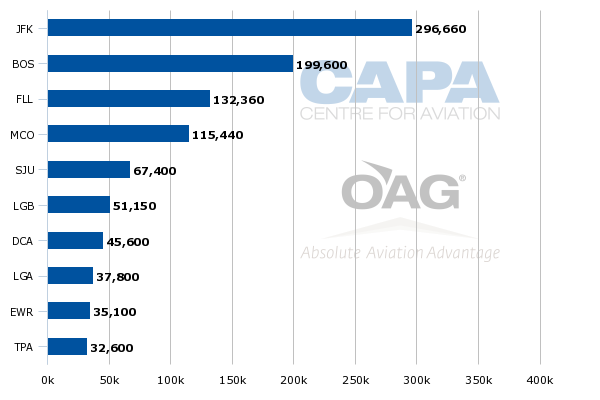 JetBlue Airways top 10 hubs/bases/stations by ASMs: 1-Jun-2015 to 7-Jun-2015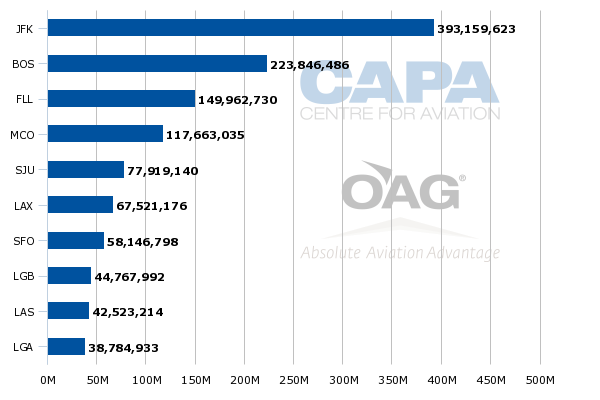 From both Fort Lauderdale and Orlando, JetBlue's Latin and Caribbean destinations include Bogota, Cancun, San Juan, San Jose, Nassau and Montego Bay.
Additional markets from Fort Lauderdale include Cartagena, Medellin, Kingston, Port Au Prince, Santo Domingo, Port of Spain, Punta Cana and Lima. Its additional routes from Orlando include Aguadilla and Ponce.
JetBlue's direct competition from Fort Lauderdale to Juarez is largely from foreign airlines
On its flights from Fort Lauderdale to Mexico City Juarez, JetBlue is competing with Mexican low-cost airline Volaris. Spirit Airlines also serves nearby Mexico City Toluca. Data from CAPA and OAG show that Volaris operates four weekly flights between Fort Lauderdale and Mexico City for the week of 1-Jun-2015 to 7-Jun-2015, so JetBlue will have a slight scheduling advantage in its daily offerings.

Given JetBlue's brand strength, it should have access to strong point of sale in Fort Lauderdale for the new flights to Mexico City, which could create challenges for Volaris. The Mexican airline recently indicated that its US transborder flights generally have a 50-50 sales mix of US and Mexico point of sale.

See related report: Mexico's airlines remain cautious about a domestic rebound while expanding internationally

American, Interjet and Aeromexico all serve Mexico City Juarez from Miami (38km from Fort Lauderdale), offering a total of roughly 9,930 one-way seats on the pairing (according to data from CAPA and OAG). In some instances, Fort Lauderdale and Miami could be considered separate markets as some passengers living in each jurisdiction prefer not to drive to another airport.
Presumably, JetBlue should have some stimulative opportunities in Fort Lauderdale, and there could be a passenger segment that would be willing to drive to the airport for lower prices.

JetBlue is also competing with Volaris on its new route from Orlando to Mexico City along with Aeromexico. A flight between Orlando to the large Mexico City market debuting at the same time as Fort Lauderdale-Mexico City seems logical, and again, has the potential for strong US point of sale. Aeromexico will still have a larger share of seats on offer once JetBlue starts its new flights, and also has the benefit of linking to the network of its codeshare partner Delta, which is Orlando's second largest airline. But JetBlue should be able to hold its own against the SkyTeam partners, as it has its own strong network from Fort Lauderdale.
JetBlue opts for Quito after studying the market for some time
Quito appears to be a destination JetBlue has been studying for some time. Airline officials told local Fort Lauderdale news outlet the Sun Sentinel in late 2013 that service to Ecuador's capital was under consideration. At this point, Ecuador is a more viable market than Brazil given the latter's weak economy. However, JetBlue will need to have a presence in Brazil in the not too distant future, either with its own service or in potential cooperation with Azul, the Brazilian airline founded by JetBlue founder David Neeleman.

Ecuadorian airline Tame launched flights from Quito to Fort Lauderdale in late 2014 and presently offers six weekly flights on the pairing. At the time the airline launched service, the Sun Sentinel reported that roughly 10,000 Ecuadorians resided in Broward County, where Fort Lauderdale is located. Tame also offers flights from Guayaquil to Fort Lauderdale.

Tame's other US market is New York JFK from Quito, and Lan Ecuador serves Miami from Quito and JFK from Guayaquil. American Airlines is the largest airline operating between the US and Ecuador, operating service from Guayaquil and Quito to Miami. United offers flights from Houston Continental to Quito and Delta operates flights from Guayaquil and Quito to Atlanta.
United States of America to Ecuador (seats per week, one way): 2-Jun-2014 and 1-Jun-2015

Similar to the new routes to Mexico, JetBlue should have an ability to tap a strong point of sale passenger base in Fort Lauderdale for the new flight to Quito. Ecuador is a growing tourist destination, and the US is one of the larger travel markets for the country. The World Travel and Tourism Council (WTTC) estimates in 2014 roughly 1.4 million international tourists visited Ecuador, and those counts should grow to nearly 2.3 million in 2024.
JetBlue ups competition with Southwest and US Airways on new domestic routes
Along with expanding its international offerings, JetBlue is also adding new domestic flights from Fort Lauderdale and Orlando in Nov-2015 to Philadelphia and Baltimore/Washington (BWI). Those new flights join previously announced flights from Fort Lauderdale to Baltimore also scheduled to begin in Nov-2015.

With the new service from Orlando and Fort Lauderdale to Baltimore, JetBlue with its daily flights in each market is taking direct aim at Southwest, the largest airline at both Orlando and BWI. In the Orlando-BWI market Southwest offers nearly 10,200 weekly one-way seats (according to data from CAPA and OAG for the week of 1-Jun-2015 to 7-Jun-2015). Its seats between Fort Lauderdale and BWI total nearly 10,400. Spirit also offers nearly 2,500 one-way weekly seats in that market.

As previously reported by CAPA, JetBlue's moves into Southwest's BWI stronghold are sparking some head scratching among the analyst community, but JetBlue believes it can offer international connections to BWI travellers, and a better product at a reasonable price. It has the most generous seat pitch in economy class among US airlines.

See related report: JetBlue Airways leverages its network to build pockets of strength, shielded from competition
Both Southwest and US Airways operate from Fort Lauderdale to Philadelphia, where JetBlue will offer two daily flights once it launches service. US Airways offers approximately 4,300 one-way weekly seats in the market and Southwest offers 286 seats.
The addition of JetBlue seems to be a move by the airline to ensure it is properly building up Fort Lauderdale to serve all the major domestic markets. It should be a boon for consumers as another competitor should lower fares in the market, where US Airways virtually has a lock.
JetBlue is making interesting network moves that on the whole should be successful
JetBlue's latest network moves reflect its stated intent of growing in Latin America and the Caribbean from Florida. It consistently touts Fort Lauderdale as one of its better performing focus cities despite the rapid growth it has posted from the airport during the last few years.

Obviously taking on Southwest Airlines is an ambitious task, but the two airlines compete elsewhere, and similar to Philadelphia, perhaps JetBlue sees an opportunity to draw passengers to its medium frills product at a reasonable price. Southwest no doubt is prepared to compete vigorously now that JetBlue is expanding at BWI.
Perhaps an argument can be made that even in a highly concentrated US domestic market, there are pockets where competition is alive and well, if not involving the big three.