jetBlue Airways' big challenge: can it achieve its ambitious cost targets?
Analysis
JetBlue Airways remains bullish in its ability to meet cost targets the company set in late 2016: unit cost growth excluding fuel of 1% or less from 2018 to 2020. Its ambitions are based on a structural cost reduction programme in which the airline aims to reach USD250 million to USD300 million in annual savings on a run rate basis by 2020.

Nothing in jetBlue's calculus in reaching those goals has changed. The airline continues to list numerous opportunities in four major areas – technical operations, corporate expenses, airports and distribution.

JetBlue's targets are being met with some scepticism as the airline faces cost pressure in 2017 stemming from the effects of hurricanes that struck its system in late 3Q2017. JetBlue's response is that, absent pressure it faces on numerous cost items in 2017, its unit costs for 2017 are essentially flat.
That argument is doing little to quell reservations about jetBlue meeting cost targets, given that the airline has historically struggled with its cost performance, and a looming pilot deal is guaranteed to create significant cost pressure.
JetBlue faces higher cost creep in 2017 than originally forecast
JetBlue's unit costs excluding fuel for 2017 are now forecast to grow 4% to 5% versus guidance, issued in Jul-2017, of a 2% to 3.5% increase. In late 2016, jetBlue expected unit cost growth this year of 1% to 3%.

Approximately 1.5ppt of jetBlue's cost inflation for 2017 stems from the effect of hurricanes that swept over its operations in Florida and the Caribbean in late 3Q2017.

See related report: jetBlue Airways regroups after hurricane disruption; plans lower capacity growth in 2018

Other items pressuring jetBlue's cost in 2017 are capacity reductions and the timing of maintenance and marketing costs.
The airline has realigned its capacity growth forecast in 2017, initially to appease investors concerned about its unit revenue performance. Operational disruptions spurred by the hurricanes have also forced jetBlue to revise its capacity guidance. Originally, the company had aimed to increase its ASMs 6.5% to 8.5% in 2017, but now it projects growth of 4% to 5%.

See related report: jetBlue Airways reluctant to cut capacity despite uncertain revenue performance outlook

"If you strip the storm out and you take into account we've had three capacity reductions, we're still just within the original cost guide we've had", jetBlue CFO Steve Priest recently said.
JetBlue attempts to push discussions toward its long term cost strategy
JetBlue expects its capacity growth to be lower in 2018 than its original baseline target of 6.5% to 8.5% for 2017, which in some ways makes its declarations of achieving unit cost growth (excluding fuel) of 1% or less all the more ambitious.

The airline is attempting to steer cost discussions to elements of its structural cost cutting scheme.

In late 2016 jetBlue outlined a cost savings programme with the goal of realising USD250 million to USD300 million on a run rate basis by 2020. The bulk of the savings – USD120 million to USD125 million – stem from its maintenance and technical operations. The airline is targeting USD75 million to USD90 million in corporate savings, USD20 million in distribution savings and USD55 million to USD65 million from airport operations.

See related report: LCC jetBlue sets ambitious cost targets; quiets critics over staying power of its business model

JetBlue's topline maintenance and repair costs increased by 17% in 2015 and 15% in 2016.
JetBlue Airways maintenance, materials and repairs expense from 2012 to 2016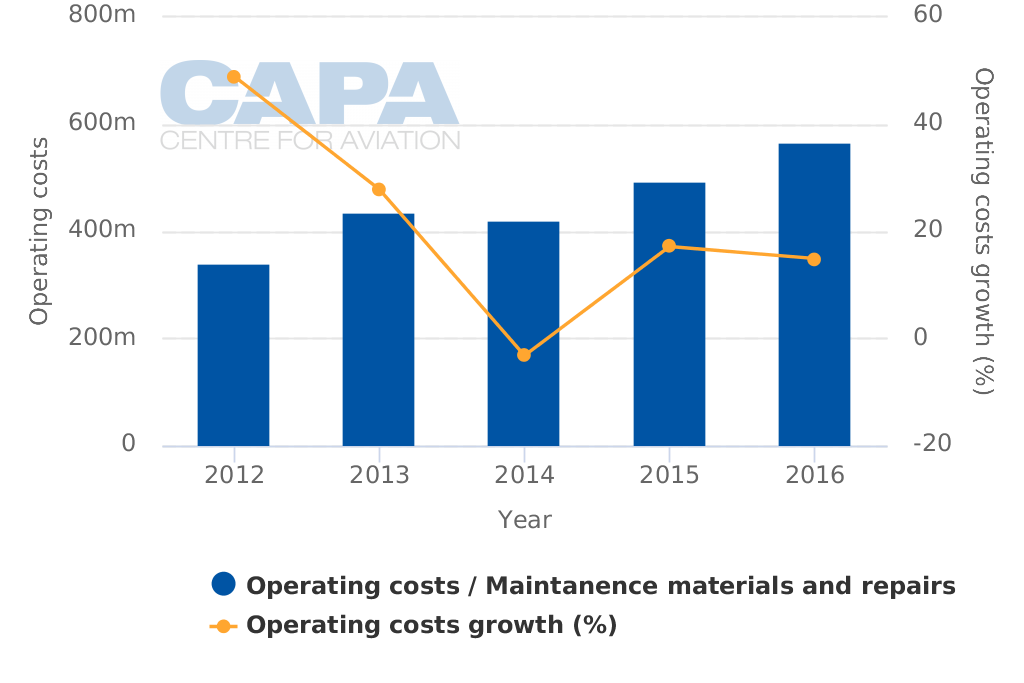 Mr Priest stated that jetBlue had made progress in mitigating some of its maintenance cost headwinds, including undertaking an RFP for engines powering its Airbus A320neo family aircraft on order, and plans to launch an RFP on the IAE V2500 engines powering its existing A320 fleet.
JetBlue Airways fleet summary as of 13-Nov-2017
Another element of jetBlue's cost cutting scheme is seat densification on it Airbus aircraft. The airline is growing seat counts on its A321s from 190 to 200, and from 150 to 162 on its A320s. Mr Priest stated that the project is an accretive use of capital, and helps the airline with cost guidance it has offered for 2018 to 2020.
Pilot negotiations: an overhang impacting jetBlue's cost ambitions
JetBlue has stated that its unit cost forecast excluding fuel for 2018 to 2020 includes profit sharing and additional labour costs. The airline has been in contract negotiations with pilots for three years, and in Jul-2017 the pilots sought assistance from a national mediator. JetBlue's pilots elected to join the Air Line Pilots Association in 2014.

JetBlue's pilots are pushing for market pay rates that keep increasing, and the airline faces a tough hurdle in achieving its cost targets for 2018 if it reaches a new agreement with its pilots.

Recently, an arbitration panel handling negotiations between Alaska Air Group and pilots from Alaska and Virgin America awarded pay increases to the pilots above those requested by Alaska's management, but below pilot preferences.

Alaska has estimated the annual impact of its pilot pay proposal to be USD140 million, with a 3ppt increase in unit costs excluding fuel. After the decision was rendered by the arbitration panel, Alaska calculated the average annualised cost of the joint contract (Alaska is in the midst of merging with Virgin America) to be USD160 million to USD165 million.

JetBlue's ultimate pilot contract may not reach those annualised levels, but even if the airline is factoring in increased labour rates in its cost targets, the likelihood of contract costs exceeding its estimates is high.

Uncertain pilots costs, weather issues and other unexpected costs could work together to upend jetBlue's efforts to cap its unit cost excluding fuel at an inflation rate of 1% or less in 2018, even as the airline argues that it is making significant structural changes to its business to shape unit cost commitments over the long term.

At the end of 3Q2017, jetBlue estimated it had achieved close to USD70 million towards its annualised cost savings of USD250 to USD300 million by 2020.
JetBlue faces challenges in convincing doubters it will achieve 2018 cost targets
Cost pressure is not unique to jetBlue. Most US airlines, across all business models, are struggling with cost inflation in 2017, and are stressing to investors that cost pressure should abate in 2018. The difference between jetBlue and the majority of its US airline counterparts is that jetBlue remains in contract negotiations with its pilots.
Even as the airline reiterates that additional labour costs are included in its cost guide, doubts continue to grow that jetBlue will attain its cost ambitions in 2018.