Jet2.com: more dependent on holidays business of parent as Dart Group increases FY operating profit
Analysis
Setting aside the impact of a provision for possible claims related to historic flight delays, the Dart Group increased its underlying operating profit by 3% in FY2015. This was driven by its leisure travel segment, which now aggregates its leisure airline Jet2.com and its package holidays business Jet2holidays.com and accounted for almost all of the group's profit.
However, operating margin slipped slightly, both for the group and the leisure travel segment, as costs grew a little faster than revenue. It is no longer possible to ascertain whether the causes of this lay with the airline or the package holidays business (or both), since they no longer report separate results.
We do know that the holidays business has grown in importance to the airline and supplied one third of its passengers in FY2015. Jet2.com is one of Europe's most seasonal airlines, with a seasonal peak weekly seat capacity (Jul-2015) nine times that of its lowest weekly seat capacity (Jan-2015, source: OAG). This strong summer leisure focus risks means that the airline and the group have a lot of their eggs in the same basket.
Modest growth in underlying operating profit in FY2015
For FY2015 (year to 31-Mar-2015), the Dart Group reported a 9% drop in net profit to GBP33 million, in spite of revenue growth of 12% to GBP1,253 million. The net result was adversely affected by a one-off provision of GBP17 million in connection with possible compensation claims under EU rules for historic flight delays, partly offset by positive revaluations of derivatives and foreign currency balances.
The underlying operating profit, which excludes these items and better reflects the performance of the business, grew by 3% to GBP51 million.
The Group's balance sheet continued to enjoy robust health, with debt of only GBP9 million and a net cash balance of GBP294 million at the end FY2015 (up 16%). Its gross cash (including money market deposits) of GBP303 million is equivalent to 88 days of revenues (45 days if GBP149 million of restricted cash is excluded).
Dart Group PLC financial highlights FY2015
| Year to March, GBP million except where stated | 2014 | 2015 | Change |
| --- | --- | --- | --- |
| Revenue | 1,120.2 | 1,253.2 | 11.9% |
| Operating profit* | 49.2 | 50.6 | 2.8% |
| Operating margin % | 4.4 | 4.0 | -0.4 |
| Net profit | 35.9 | 32.8 | -8.6% |
| Gross debt | 9.8 | 9.0 | -8.2% |
| Cash & money market deposits | 263.7 | 302.8 | 14.8% |
| Net debt/ (cash) | -253.9 | -293.8 | 15.7% |
| Equity | 181.6 | 157.2 | -13.4% |
| Airline passengers (million) | 5.61 | 6.05 | 7.8% |
| Airline passenger load factor % | 91 | 91.2 | 0.2 |
| Package holiday customers (000) | 830 | 1,000 | 20.5% |
In FY2015 the Dart Group managed a fifth straight year of increasing operating profit (excluding the flight delay provision). However, since revenue growth of 11.9% was modestly outpaced by operating cost growth of 12.3%, the operating margin dipped by 0.4ppts from 4.4% in FY2014 to 4.0% in FY2015.
This margin remains stuck in the 4% to 5% range, where it has hovered since FY2010 after peaking at 9.1% in FY2009. Since FY2008, the group's revenues have grown at a compound average growth rate of 17% pa and underlying operating profit at 21% pa.
Dart Group PLC revenues, operating profit* and net profit (GBP million) FY2008 to FY2015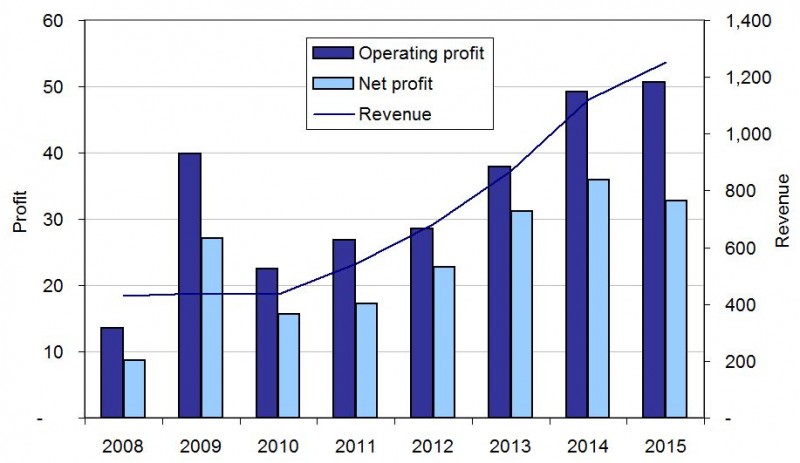 Leisure travel segment now includes both the airline and the package holidays segment
The Dart Group has changed its segment reporting so that the previously separate segments leisure airline (Jet2.com) and package holidays (Jet2holidays.com) are now reported as a single business line. The other segment in the Group, distribution and logistics (Fowler Welch) is an entirely separate business, with a generally less volatile level of profitability. Fowler Welch made an operating profit of GBP3.7 million in FY2015, virtually unchanged from the previous year (GBP3.6 million).
The leisure travel segment accounted for 95% of Dart Group's underlying operating profit in FY2015. In FY2014, Jet2.com accounted for around two thirds of the leisure travel segment's operating profit and Jet2holdays.com accounted for one third. FY2015 results no longer split out these two businesses.
The package holidays business was established only in FY2009 and separately reported from FY2011 to FY2014, during which time its share of the operating profit of what is now the leisure travel segment grew steadily.
Dart Group PLC operating profit by segment (GBP million) FY2008 to FY2015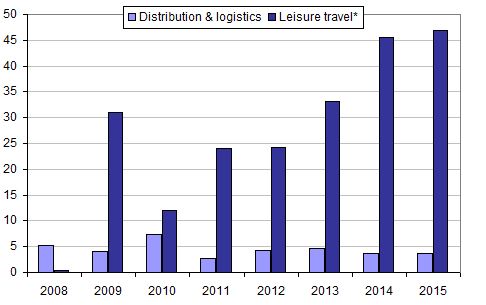 The leisure travel segment also dominates Dart Group's revenue, accounting for 88% of the total in FY2015. Leisure travel revenue grew by 14%, while distribution and logistics revenue fell by 1%.
Dart Group revenues by segment FY2014 and FY2015
| | | | | |
| --- | --- | --- | --- | --- |
| Year to March, GBP million | 2014 | 2015 | Change | % of 2015 total |
| Distribution & logistics | 153.2 | 151.7 | -1.0% | 12% |
| Leisure travel | 967.0 | 1,101.5 | 13.9% | 88% |
| Group total | 1,120.2 | 1,253.2 | 11.9% | 100% |
Leisure travel segment operating profit was up 3%, but margin slips
The leisure travel segment (Jet2.com and Jet2holidays.com) reported an underlying operating profit in FY2015 of GBP47 million, just 3% higher than in FY2014 in spite of the 14% increase in revenue. Its operating margin fell by 0.5ppts to 4.3% as the segment added GBP135 million in revenue, but only a little more than GBP1 million in profit.
As for the Group as a whole, leisure travel has not managed to return to the peak margin achieved in FY2009, when the segment's operating profit was 9.5% of revenue. Its margin has been in the 4% to 5% range most years since then (although it reached 6.0% in FY2011).
Dart Group leisure travel segment revenues, operating profit (GBP million, left hand axis) and operating margin %, right hand axis) FY2008 to FY2015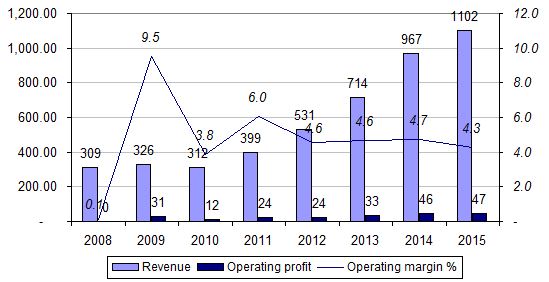 Jet2.com seat numbers rose 7.6%, load factor up 0.2ppts to 91.2%. An integrated approach helps
Jet2.com added 7.6% more seats in FY2015 and passenger numbers for grew by 7.8% to 6.1 million. The number of routes in the network was 217, an increase of 5.9%. It expects to fly 239 routes in summer 2015. Load factor remained broadly stable at the high level of 91.2% (+0.2ppt). Its load factor increased from 72% in FY2008 to 91% in FY2014, but it now seems that further meaningful gains are unlikely.
One third of the airline's passengers were also purchasers of package holidays from Jet2holidays.com.
The company attributed its high load factor to an integrated approach to revenue and demand management between the airline and the tour operator, in addition to the higher proportion of flying to the Canary Islands and the Eastern Mediterranean.
Jet2.com passenger numbers (left hand axis, million) and passenger load factor (right hand axis, %) FY2008 to FY2015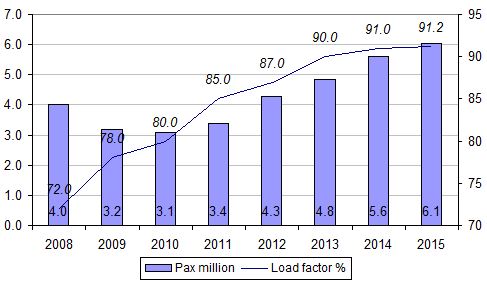 Jet2.com aircraft fleet numbers FY2008 to FY2015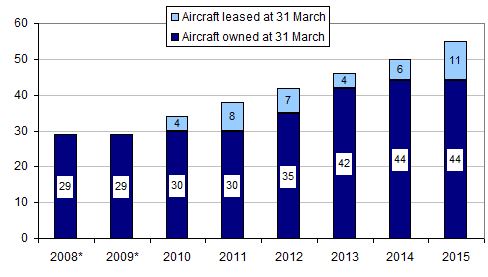 Jet2.com revenue per passenger up 3%
These factors also helped to increase Jet2.com's revenue per passenger, which grew by 3%, although this was slightly less than the 4% increase in average passenger trip length (calculated by CAPA from CAA data).
Net ticket revenue per passenger (excluding taxes) was up by 2% to GBP79.87 and non-ticket revenue increased by 5% to GBP30.91. Non-ticket revenue includes bag check and seat selection, in-flight purchases and ancillary products such as car hire and travel insurance.
Jet2.com passenger ticket revenue per passenger and non ticket revenue per passenger (GBP) FY2014 and FY2015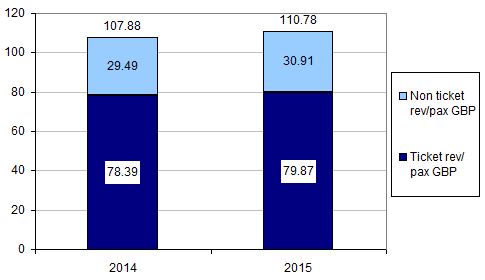 Growing importance of package holiday customers to the airline's passenger numbers
The decision to cease the separate reporting of the results of the package holidays and leisure airline business reflects the growing integration of these two parts of Dart Group's business.
Jet2holidays had 36,000 customers in FY2009, contributing just 2% of Jet2.com's passenger numbers in that year. In FY2011, when the holidays business was first reported as a separate segment, it had 97,000 customers, representing 6% of the airline's passenger numbers.
Jet2holidays then doubled its passenger numbers each year until FY2014, the last year of separate reporting, when it gave the airline 30% of its passengers. The one million holiday customers carried by Jet2.com in FY2015 made up 33% of its passengers.
Jet2.com proportion of passengers travelling on package holidays with Jet2holidays.com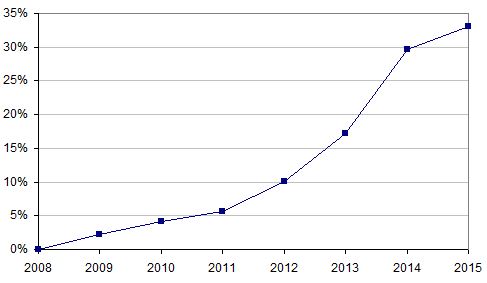 Sales to the holiday business are now a very important part of Jet2.com's business model, but the rate of increase is slowing. Rather than doubling, the growth in holiday customers was 'only' 20% in FY2015. Moreover, incremental holiday sales accounted for 11% of the annual increase in Jet2.com's passenger numbers in FY2011, rising to 54% in FY2014, but this proportion dropped to 39% in FY2015.
The average price of a holiday sold by Jet2holidays increased by just over 3% to GBP590.7 in FY2015. Together with volume growth of 20%, this suggests package holiday revenue growth of around 25%. Data noted above on revenue per passenger and passenger numbers for the airline suggest airline revenue growth at the slower rate of 11% (at least for passenger revenue, which represent the bulk of the airline's revenue, since cargo is a dwindling activity for Jet2.com). Moreover, much of the airline's revenue growth came from the holiday company.
The holidays business has been good for Jet2.com, but magnifies the risks of exposure to leisure
The inception and subsequent expansion of the package holidays business has been a successful move for Dart Group and Jet2.com. However, although the relationship between the tour operator and the airline is far from unravelling, Jet2.com's growing reliance on its sister business makes increases its exposure to volatile leisure markets, in particular during the summer season.
This was highlighted a year ago, when the company warned that demand for leisure travel in its markets was less buoyant looking in summer 2014 than it would have hoped at the time. For FY2016, the group says it is "optimistic" that its financial performance "will exceed current market expectations".
Nevertheless, the impact on Jet2.com and Dart Group of any general downturn in demand for leisure air travel would be intensified by weaker demand for its holiday products.
See related reports: