Jet2.com: increasing seasonality threatens FY2014 profit growth despite a strong first half
Analysis
Jet2.com's parent, Dart Group PLC, enjoyed a strong increase in revenues and profit in the first half of the year to Mar-2014. Leisure-focused LCC Jet2.com is the group's principal business, although it also includes a tour operator and a distribution business. The airline saw very healthy growth in traffic and revenues, improved yields and a positive trend in ancillary revenues.
Nevertheless, the outlook for the second half, which covers the winter season, is for increased losses. Moreover, profit growth for the full year, while still likely, is not guaranteed. The seasonality in the group's business is growing, largely reflecting the wide gap in passenger demand for Jet2.com's leisure network between the summer and the winter.
Counter-seasonal business lines such as charter and cargo operations help to contain this. Nevertheless, comparison with its nearest peers, such as Monarch Airlines and Transavia, suggests that more could be done to narrow the seasonal gap. Any increase in the number of year-round destinations would probably also bring the challenge of increased competition with more cost-efficient LCCs
Dart Group net profit up 37% in 1HFY2014, but cautions on likely increased winter losses
Dart Group PLC reported a 37% year on year increase in its net profit for 1H FY2014 (Apr to Sep), reaching GBP60 million. Revenues were up 35% to GBP787 million and the group's operating profit rose by 39% to GBP81 million, improving its 1H margin by 0.3 ppts to 10%. The 1H net profit figure was almost twice the GBP31 million posted in the whole of FY2013. However, a strong performance in the first half, coinciding with the summer season, does not guarantee the same strength over the full year.
In spite of the strong growth in 1H revenues and profits, Dart Group's management proposed only an 11% increase in the half year dividend. As dividends are often taken as a signal of management's confidence in the future, this effective reduction in the 1H payout ratio suggests that the Group is not confident that it can match its 1H profit growth in the full year, FY2014.
Indeed, in its outlook statement, Dart Group Chairman Philip Meeson cautioned that its leisure travel operations are becoming increasingly seasonal and that winter losses are expected to increase materially. He added that "the Board remains cautiously optimistic in relation to profit growth" for the full year. When profits grow by 37% in the first half, cautious optimism about profit growth in the full year is code for saying that profit growth for the year will be very modest.
Dart Group PLC financial highlights: 1HFY2014
| | | | |
| --- | --- | --- | --- |
| | 1HFY2013 | 1HFY2014 | Change |
| Group revenue GBPm | 584.5 | 787.1 | 35% |
| Group operating profit GBPm | 58.5 | 81.2 | 39% |
| Overall operating margin | 10.0% | 10.3% | 0.3% |
| Net profit GBPm | 43.1 | 60.2 | 40% |
| Profit before tax GBPm | 57.0 | 78.1 | 37% |
| Basic earnings per share | 30.11p | 41.51p | 38% |
| Half year dividend | 0.54p | 0.60p | 11% |
Dart Group seasonality is increasing
The seasonality of Dart Group's business is underlined by the chart below, which shows its revenues and net profit by half year since FY2010 and suggests that the group's dependence on the first half is growing. Between FY2010 and FY2013, 1H revenues grew by 114%, while 2H revenues grew by 76%. Over the same period, 1H net profit grew by 113% and 2H net losses increased by 159%.
1H FY2014 has now seen further strong growth in revenues and profits, but the 2H net profit prospects implied by the Chairman suggest much a wider loss in the second half. If FY2014 net profit might only be a little higher than last year's GBP31 million, then the 2H FY2014 loss could be in the region of GBP20 million to GBP25 million, or around double the 2H 2013 loss of GBP12 million.
Dart Group PLC revenues and net profit by half year: FY2010 to FY2014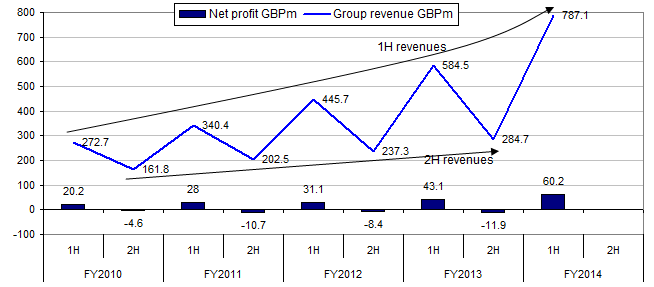 Jet2.com, the Group's main engine, sees strong traffic and revenue growth
The engine of the group remains its leisure airline division, LCC Jet2.com (70% of Group operating profit in FY2013).
See related report: Jet2.com: strong FY2013 profit growth hides major challenges
The airline grew passenger numbers by 13% in 1H FY2014, with load factor up by 0.9 ppts to a dizzy 92.5%. This follows a similar rate of growth in the financial year to Mar-2013 and reflects the continued growth in Jet2.com's fleet, which consisted of 53 aircraft in the summer of 2013.
Jet2.com's revenues increased by 19% year on year to GBP463 million in the first half, with total revenue per passenger up almost 6% to GBP113. Ticket revenue per passenger, net of government taxes, grew by 9% to GBP65, to some extent as a result of the carrier's increased focus on higher-yielding destinations in the Mediterranean and the Canary Islands. Retail revenue per passenger grew by 8% to GBP33, reflecting the success of pre-departure, in-flight and ancillary product sales.
Jet2.com operating and financial highlights: 1HFY2014
| | 1H FY2013 | 1H FY2014 | Change |
| --- | --- | --- | --- |
| Seats* m | 4.0 | 4.4 | 12.0% |
| Pax m | 3.6 | 4.1 | 13.1% |
| Passenger load factor % | 91.6 | 92.5 | 0.9 |
| Revenue GBPm | 388.0 | 463.2 | 19.4% |
| Revenue per pax GBP | 106.89 | 112.84 | 5.6% |
| Ticket rev per pax ex govt taxes GBP | 59.81 | 65.31 | 9.2% |
| Retail revenue per pax GBP | 30.77 | 33.17 | 7.8% |
| Ticket rev ex govt taxes** GBPm | 217 | 268 | 23.5% |
| Retail revenue** GBPm | 112 | 136 | 21.9% |
| Summer fleet | 44 | 53 | 20.5% |
Growing dependence on in-house tour operator, Jet2holidays
A significant driver of passenger growth came from the Group's tour operator, Jet2holidays. The proportion of the airline's passengers coming from the in-house tour operator increased to 31% in 1H FY2014 from 17% in 1H FY2013. In absolute terms, this implies that Jet2holidays passengers increased year on year from roughly 0.6 million to 1.3 million. The increase of around 700,000 in Jet2holidays passengers was more than the 500,000 increase in total passenger numbers.
Jet2holidays saw its customers double compared with 1H FY2013 and its customer numbers have roughly doubled in each of the past two financial years after a standing start in FY2009. The Group says that the tour operator's growth is fuelled by improvements to the product and a fully integrated approach with the airline Jet2.com, "underpinned by a relentless focus on providing a great value offering to our Northern based customers".
From the airline's point of view, this strategy helps to fill aircraft and to sustain its growth, but it increases its reliance on the seasonal holiday market and on the success of its Group tour operator in selling holidays and aircraft seats. As Jet2holidays continues to grow, it may reach a point where it requires or desires the freedom to choose other carriers in competition with Jet2.com.
Jet2.com has a highly seasonal passenger demand profile
As the most important division of the group, Jet2.com is a big driver of Dart Group's seasonality. Jet2.com's seasonality can be clearly seen in the half yearly pattern of its seats and passenger numbers. In FY2013, the second half accounted for only 26% of seats and 25% of passengers, down from 30% and 29% respectively in FY2010.
Plans to increase seat numbers by 23% year on year in winter 2013/2014 (broadly the second half of FY2014) should increase 2H's share of FY2014 seats to 28%, but the reliance on the summer and 1H remains significant.
Jet2.com number of seats* and passengers (million) by half year: FY2010 to FY2014

Revenue impact of seasonality is partly offset by other revenue streams
In the case of revenues, Jet2.com has had some success in fighting off the trend towards greater seasonality. The second half of the year accounted for 30% of FY2013 revenues, more than its share of seats and passengers, and this share was only slightly down on the 31% seen in FY2010. In spite of weaker winter traffic, revenues manage to hold up relatively well in the winter.
To some extent, this reflects Jet2.com's success in equalising the revenue per passenger figures it achieves both from ticket sales and from retail sales in 2H relative to 1H. It may attract fewer passengers in the winter, but it manages to extract a similar level of spend from winter passengers as from summer passengers.
This suggests that winter capacity is well matched to winter demand and that the match has improved (this is also reflected in improved load factors). It also shows that there is no reason why per passenger spend on ancillary products and services cannot be the same in the winter as in the summer.
Jet2.com revenues (GBP million) by half year: FY2010 to FY2014

Jet2.com ticket revenues per passenger (excluding government taxes) and retail revenue per passenger (GBP) by half year: FY2010 to FY2014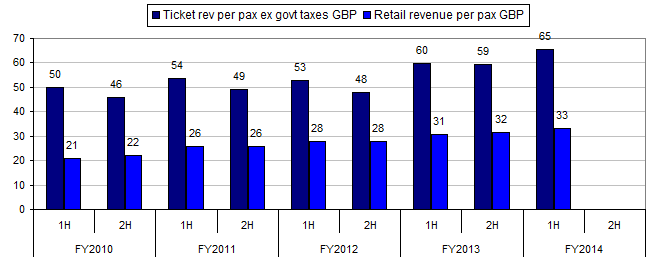 The relative strength of Jet2.com's 2H revenues, compared with its traffic, also reflects its success in deriving revenues from sources other than scheduled passengers. It does not separately disclose all the airline's revenue streams, but, in addition to ticket and retail sales to passengers, it also generates revenues from charter flights and from the carriage of air cargo. A simple calculation of total revenue per passenger reveals that this figure is higher in Jet2.com's 2H (winter) than in 1H (summer), which is in contrast with most European airlines.
This implies a greater use of the fleet for charter operations in the winter, which makes sense given the much reduced scheduled capacity relative to the winter. It also reflects greater cargo activity. The company does not reveal details of its cargo traffic, but the Royal Mail is a major customer and postal volumes tend to peak in the winter around the Christmas period. Jet2.com's fleet includes three 'Quick Change' Boeing 737-300, which can be converted quickly from passenger configuration to freight configuration. This allows it some flexibility to adapt its fleet capacity to match seasonal differences in both passenger and cargo demand.
Jet2.com total revenue per passenger (GBP) by half year: FY2010 to FY2014

Jet2.com revenue, seats and passenger numbers in 2H as a percentage of full year: FY2010 to FY2014

Comparison with nearest peers suggests more could be done to reduce seasonality
As we have seen, Jet2.com has an extremely seasonal pattern of passenger demand, reflecting its summer sun destination focus, but it has had some success in mitigating the seasonality of its revenues through winter revenues streams such as charter and cargo business. Could it do more?
Comparison with Monarch Airlines and Transavia, two Western European leisure airlines with broadly similar average sector lengths and unit costs (CASK – cost per available seat km) is informative. Both have significantly lower CASKs than Jet2.com
Cost per ASK, CASK, (US cent) and average sector length for selected European legacy and low-cost carriers: 2012*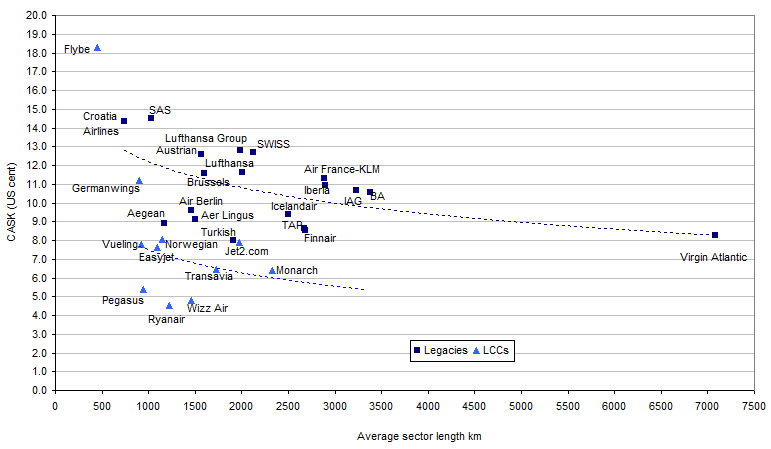 Jet2.com has a significantly more seasonal passenger demand pattern than the other two. Taking the most recent 12 month period (12 months to Sep-2013 for Jet2.com and Transavia; 12 months to Apr-2013 for Monarch Airlines), Jet2.com sees only 23% of its passengers in the winter half, compared with 30% for Monarch and an estimated 32% for Transavia.
Among the three, Jet2.com has the highest overall revenues per passenger across the year and, as noted above, this reflects both good passenger yield/retail sales and also revenues from charter and cargo. However, Monarch is more successful at mitigating the revenue impact of seasonality in the winter half year.
Monarch's winter revenues are 39% of the full year figure (based on its reported figures for external revenues), compared with 27% for Jet2.com and 29% for Transavia.
See related report: Monarch Group - not absolute ruler, but on course to profit in FY2013 with strong turnaround
Jet2.com, Monarch and Transavia winter half year passenger numbers and revenue as a percentage of 12 month figures*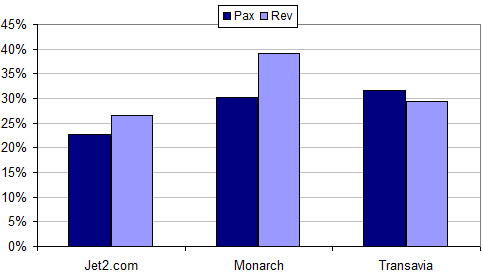 Transavia, with little or no charter and cargo revenues, suffers a bigger seasonal fall in revenues than in passenger numbers in the winter. This could be justifiable on the basis that charter and cargo activities would distract Transavia from its core mission to become the Air France-KLM Group's main weapon in the fight against pan-European LCCs on short haul.
However, as we have concluded in previous CAPA Analysis reports, Air France-KLM for one reason or another does not appear to be making sufficient use of Transavia. Neither, it seems, is it generating sufficient revenues from it.
See related reports:
By comparison with Monarch and Transavia, Jet2.com is neither the best nor the worst performer when it comes to mitigating the revenue impact of seasonal passenger demand. What is striking, however, is the very low proportion of passenger numbers that fly with Jet2.com in the winter half.
Its average fleet age is somewhere around 23 years (source: CAPA Fleet Database) and so much of it will be fully depreciated in Dart Group's books, reducing the reported costs in its accounts. This, combined with respectable winter yields, may be a justification for operating a schedule with such a high degree of seasonality.
Nevertheless, with Mr Meeson expecting winter losses to increase materially, Jet2.com may need to increase the proportion of routes in its network with year-round demand. Its problem would then be that this would likely reduce its average sector length and bring it into closer competition with the lower-cost pan-European LCCs. It seems that a focus on cost cutting is unavoidable.