Jet2.com. Good & bad news. Parent Dart Group announces FY2014 profit growth & FY2015 profit warning
Jet2.com reported healthy growth in traffic, revenues and operating profit in FY2014. The leisure LCC's parent company Dart Group PLC achieved even better results thanks to the expansion of the package holiday business Jet2holidays. Jet2.com operates among the highest load factors in the European airline sector and has been steadily profitable for the past six years.
However, the growing seasonality of the business has increased its dependence on a strong summer, while winter losses continue to grow. The company flagged this with its 1H results in Dec-2013 and even hinted that winter losses could have wiped out full year profit growth. FY2014 did achieve profit growth, but current weakness in demand in its markets has led Dart Group to issue a profit warning for FY2015, the latest in a series of downward revisions to the earnings outlook for European airline businesses.
See related report: European airlines face overcapacity & resurgent labour. Recent profit warnings make alarm bells ring
FY2014 operating profit up 30% for Dart Group
For FY2014 (year to 31-Mar-2014), the Dart Group reported a 15% increase in net profit to GBP36 million, with revenues up 29% to GBP1,120 million. The net result was adversely affected by non-cash valuation adjustments relating to derivatives and USD currency balances totalling GBP7.1 million. Operating profit, which excludes these items, grew by 30% to GBP49 million and this better reflects the underlying performance of the business.
The group's balance sheet continued to enjoy robust health, with a net cash balance of GBP264 million at the end FY2014 (up 20%). Its gross cash (including money market deposits) of GBP264 million is equivalent to 86 days of revenues (40 days if GBP141 million of restricted cash is excluded).
Dart Group PLC financial highlights: FY2014 and FY2013
| Year to March, GBP million except where stated | 2013 | 2014 | Change |
| --- | --- | --- | --- |
| Revenue | 869.2 | 1,120.2 | 28.9% |
| Operating profit | 37.9 | 49.2 | 29.8% |
| Operating margin % | 4.4 | 4.4 | 0.0ppt |
| Net profit | 31.2 | 35.9 | 15.1% |
| Gross debt | 8.5 | 9.8 | 15.3% |
| Cash & money market deposits | 220.9 | 263.7 | 19.4% |
| Net debt/ (cash) | -212.4 | -253.9 | 19.5% |
| Equity | 186.6 | 181.6 | -2.7% |
| Airline passengers (million) | 4.84 | 5.61 | 15.9% |
| Airline passenger load factor % | 90 | 91 | 1ppt |
| Package holiday customers (000) | 417 | 830 | 98.9% |
Dart Group's fourth successive year of profit growth
FY2014 was the Dart Group's fourth successive year of increasing operating profit and net profit and also marked a record high for both figures. The operating margin of 4.4% was flat on FY2013, but below the peak of 9.1% achieved in FY2009.
That peak now looks to have been a one-off and operating margins have been maintained in the 4% to 5% range for the past five years. Since FY2008, the group's revenues have grown at a compound average growth rate of 17% pa and operating profit at 24% pa.
Dart Group PLC revenues, operating profit and net profit (GBP million): FY2008 to FY2014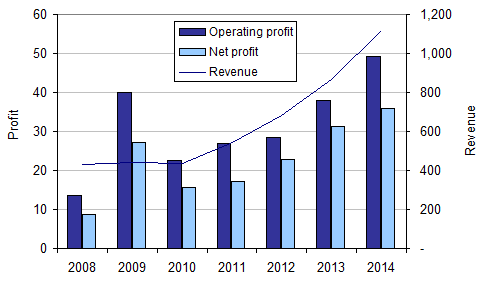 Jet2.com is the group's biggest profit contributor, but Jet2holidays is growing faster
The leisure airline segment, which consists of LCC Jet2.com, remains the biggest contributor to group profits, accounting for 63% of its FY2014 operating profit. However, this proportion was down from 70% in FY2013, due to the strong growth in the package holidays segment Jet2holidays.
Dart Group PLC operating profit by segment (GBP million): FY2008 to FY2014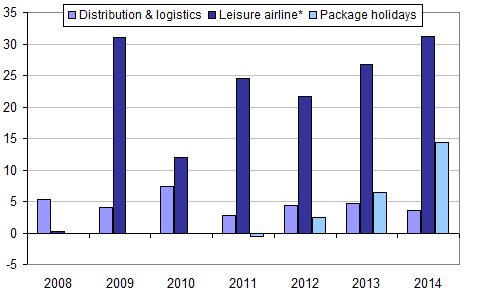 Jet2.com achieved revenue growth of 16% and represented 57% of the group's consolidated revenues (down from 64% in FY2013). Jet2holidays doubled its customer numbers and more than doubled its revenues, raising its share of the group's turnover from 28% to 44%. The distribution and logistics segment, Fowler Welch, which is a leading logistics provider to the UK food industry, saw its revenues fall by 1% after closing its European operating base in Holland.
Dart Group revenues by segment: FY2013 and FY2014
| Year to March, GBP million | 2013 | 2014 | Change | % of 2014 total |
| --- | --- | --- | --- | --- |
| Distribution & logistics | 155.2 | 153.2 | -1.3% | 13.7% |
| Leisure airline | 556.2 | 643.1 | 15.6% | 57.4% |
| Package holidays | 244.8 | 496.2 | 102.7% | 44.3% |
| Group eliminations | -87.0 | -172.3 | 98.0% | -15.4% |
| Group total | 869.2 | 1120.2 | 28.9% | 100.0% |
Jet2.com's operating profit up 17% with margin broadly stable
For the group's airline Jet2.com, FY2014's revenue growth of 16% was slightly outpaced by a 17% increase in operating profit. Its operating margin increased by 0.1 ppt to 4.9% and it has been profitable for at least seven years, with a steady margin for the past three years.
Jet2.com's operating margin puts it above the middle of the range for European airlines, but is below average for European LCCs. In particular, Wizz Air, Ryanair, easyJet, Pegasus and Vueling all have higher operating margins. Its policy of operating ageing aircraft means that its capital base is lower in comparison with its revenues than some competitors and so it should be able to generate a higher return on capital for the same operating margin.
Nevertheless, its operating margin still offers scope for improvement and was as high as 9.5% in FY2009.
Jet2.com revenues, operating profit (GBP million, left hand axis) and operating margin %, right hand axis): FY2008 to FY2014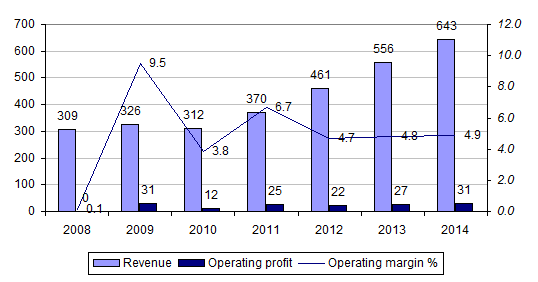 Jet2.com passenger numbers were up 16% and load factor reaches 91%
In FY2014, Jet2.com increased its seat numbers by 14%, with passenger numbers rising by 16% and load factor gaining 1ppt to a very high 91%. The capacity growth was targeted at high volume Mediterranean and Canary Island leisure routes.
The airline's load factor is among the highest for any European carrier and was assisted by sales to Jet2holidays, which accounted for 30% of the airline's seat sales (up from 17% in the previous year). In 1HFY2014 (summer season), load factor was 92.5% (+0.9ppts) and in 2H it was 87.4% (+1.9 ppts).
Jet2.com passenger numbers (left hand axis, million) and passenger load factor (right hand axis, %): FY2008 to FY2014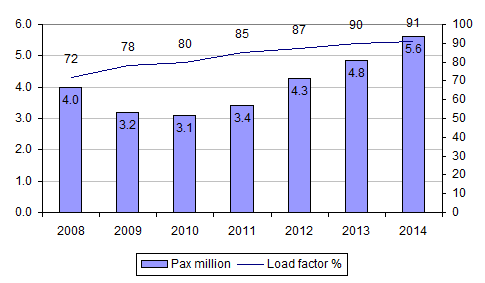 Growth in Jet2.com's ticket yield and retail revenue per passenger
The focus on "Far Sun" (i.e. longer) routes helped to grow ticket revenue per passenger by 5% to GBP78.39. Jet2.com also increased its retail revenue per passenger, which was up 4% to GBP32.14. This came from all areas of non-ticket revenue: check-in bags, seat assignment, ancillary services such as car hire and insurance, on-board catering and other in-flight products such as perfume.
Jet2.com's scheduled passenger-related revenues (ticket revenue plus retail revenue) increased by 21%, but the airline's total revenues grew at the lower rate of 16%. Dart Group does not provide details of other revenues generated by the airline, but it can be deduced that these revenues fell by 49%.
The airline's non-passenger related revenues include charter flights and cargo and mail. In the latter market segment, it operates night flights for the Royal Mail on eight routes under a contract terminating in 2014. It won a tender to continue to operate six of these routes, but the loss of some mail volume reduces Jet2.com's margin.
Jet2.com passenger ticket revenue per passenger and retail revenue per passenger (GBP): FY2013 and FY2014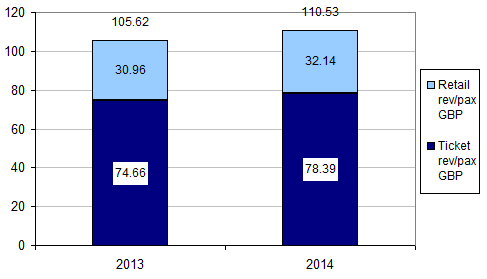 Revenue per seat growth has outpaced cost per seat growth
Both revenues and operating costs for Jet2.com grew broadly in line with passenger numbers and a little faster than seat numbers in FY2014, with total revenue per seat and operating cost per seat both up by 0.9%. The modest increase in operating margin was because revenue per seat grew slightly faster (only visible in the second decimal place).
Since FY2008, when Jet2.com only broke even, it has managed to grow revenue per seat faster than cost per seat, apart from FY2010, when unit costs grew faster. Broadly, however, the two measures have tracked one another
Jet2.com index of revenue per seat and cost per seat: FY2008 to FY2014 (both indexed to FY2008 = 100)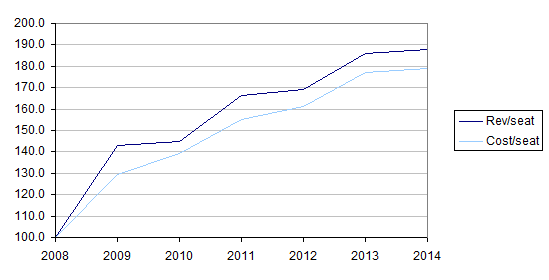 Seasonality of traffic, revenues and profits increases reliance on strong 2H results
As we noted in our report in Dec-2013, the business of the Dart Group and Jet2.com is highly seasonal and the seasonality does not appear to be abating. In FY2014, the Group's 1H (summer) revenues grew by 35%, but its 2H (winter revenues) grew by 17%.
The group's 1H net profit increased by 40%, whereas its 2H net loss more than doubled and its 2H operating loss widened by 55%.
See related report: Jet2.com: increasing seasonality threatens FY2014 profit growth despite a strong first half
Dart Group PLC revenues and net profit by half year: FY2010 to FY2014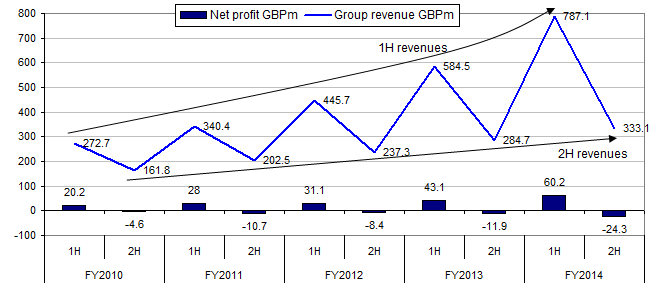 For Jet2.com, the main contributor to Dart Group results, seasonality is very apparent in its traffic numbers.
In FY2014, 2H growth in seats and passengers outpaced 1H growth, but still only accounted for 28% and 27% of FY seats and passenger numbers respectively. Moreover, in spite of higher 2H growth in traffic (passenger numbers grew by 24% in 2H versus 13% in 1H), 1H revenue growth was much higher (19%) than 2H revenue growth (7%).
Jet2.com year on year growth in financial and operating measures by half year: FY2014
| | 1H | 2H |
| --- | --- | --- |
| Seats m | 12.0% | 21.7% |
| Pax m | 13.1% | 24.4% |
| Revenue GBPm | 19.4% | 7.0% |
| Total revenue per pax GBP | 5.6% | -14.0% |
Jet2.com number of seats and passengers (million) by half year: FY2010 to FY2014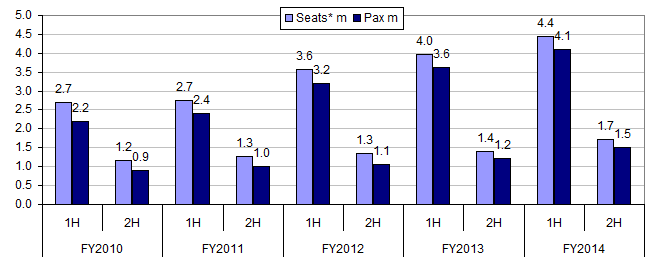 The second half year increased its share of seats and passengers, but reduced its share of revenues as each passenger generated fewer revenues. More worryingly, the year on year fall in total revenue per passenger in 2HFY2014 was the first such decline for a number of years.
It is not clear whether this was due to weaker passenger-related revenues, or to weakness in other revenues such as cargo and charter (or both).
Jet2.com revenue, seats and passenger numbers in 2H as a percentage of full year: FY2010 to FY2014

Jet2.com total revenue per passenger (GBP) by half year: FY2010 to FY2014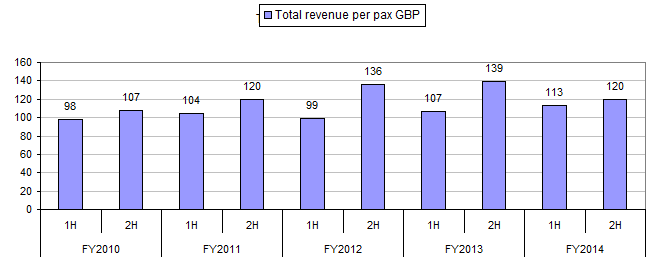 Dart Group's strong FY2014, but issues a profit warning for FY2015
With its FY2014 results, Dart Group has again demonstrated impressive growth in revenues and operating profit. Its airline, Jet2.com, has also demonstrated strong growth in passenger numbers and revenues over a period of years, although its profit growth has been a little more volatile.
However, the seasonality of the business is becoming more pronounced, with FY results increasingly dependent on a strong summer outweighing winter weakness. Moreover, Jet2.com's unit costs are towards the higher end of the European LCC range and this makes it dependent on strong unit revenues for its profits.
See related report: Jet2.com: strong FY2013 profit growth hides major challenges
The risks of being too dependent on a strong summer and on unit revenue strength have been highlighted by the group's revised outlook for FY2015, which contains a profit warning.
It now says that the demand for leisure travel in its markets is less buoyant this summer than it would have hoped and pricing is therefore weak. "This may be due to the weather, the World Cup, or because the financial recovery hasn't yet taken hold in our home territory, the North of the UK", said Dart Group Chairman Philip Mason in a statement released by the company.
This has led it to say that its operating profit this year will be lower than previous market expectations.
The Dart Group and Jet2.com are not the only European aviation companies to have announced profit warnings in recent weeks. Like the others, it cannot avoid the imperative of ensuring that it has a competitive cost base and capacity that matches demand.