Jet fuel prices fall sharply in past week - ICAO and AAPA throw weight behind alternative fuels
Analysis
This compares to an 8% slump in crude prices (WTI) last week on concerns over the US economic stimulus package and higher than expected crude inventories.
Over the past 12 months, jet fuel prices are down 48-53%, whereas the spot price of oil (WTI) has collapsed by just under 60%.
Daily jet fuel prices (kerosene, cents per gallon) at New York, US Gulf Coast, Los Angeles, Amsterdam, Singapore vs Crude Spot price (WTI, USD per barrel): 03-Feb-09 to 10-Feb-09
03-Feb-09

04-Feb-09

05-Feb-09

06-Feb-09

09-Feb-09

10-Feb-09

one week
Change

12 month
Change

New York Harbor

133.8

134.74

138.25

137.95

137.47

131.51

-1.7%

-51.9%

U.S. Gulf Coast

130.05

131.49

135

132.95

132.22

126.76

-2.5%

-53.1%

Los Angeles

131.55

133.74

137.75

139.7

139.97

135.01

2.6%

-50.3%

134.16

133.85

135.06

133.85

134.31

130.38

-2.8%

-52.9%

132.86

130.6

131.9

131.9

129.64

131.43

-1.1%

-48.1%

WTI Spot

40.87

40.27

41.15

40.24

39.58

37.54

-8.1%

-59.9%
Daily jet fuel prices (kerosene, cents per gallon) at New York, US Gulf Coast, Los Angeles, Amsterdam, Singapore: 04-Nov-08 to 10-Feb-09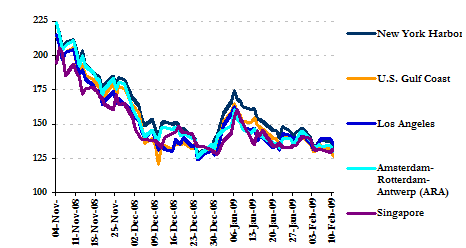 Alternative fuels still firmly on the radar
Despite the steep reductions in crude and jet fuel prices, the aviation industry is still focused on next generation energy sources, to meet its environmental commitments.
Speaking at an ICAO Workshop on Aviation and Alternative Fuels in Montreal this week, ICAO Secretary General, Taïeb Chérif, stated, alternative fuels are "part of a comprehensive energy strategy" required by the sector. He added the current financial and economic crises "should not be seen as an obstacle to this way forward, but rather as an opportunity". He declared that alternative fuels "can play a decisive role in diversifying the global and national energy mixes, and it may help reduce price volatility in energy markets".
Mr Chérif cautioned however that the decision to develop and use alternative fuels "must be an informed and responsible one, taking into account total life-cycle costs and carbon footprints". He also stated that global cooperation would be essential to ensuring the consistent and standardised use of alternative fuels.
The ICAO chief concluded, "at the moment, the international aviation community has not yet achieved an integrated approach to alternative fuels. While regional and national consortia have done an excellent job of bringing together the expertise to consider technical issues, the subject has been addressed in a fragmented way. There is a critical need for more global coordination and ICAO is the recognized forum for that to happen".
Asian airlines also push for "carbon-neutral growth"
Meanwhile the Association of Asia Pacific Airlines (AAPA) this week reiterated its support of the goal of "carbon-neutral growth" in the medium term and the sector's ultimate vision of "zero-emissions flying" using non-carbon based fuels.
AAPA stated its member airlines are "leading the industry", as launch customers and operators of new generation, environmentally friendly aircraft, including the Airbus A380 and Boeing 787 Dreamliner.
The Association's Director General, Andrew Herdman, called upon governments to work towards globally harmonised policies on aviation and the environment, including backing for air transport industry focused environmental research & development programmes; infrastructure improvements to reduce unnecessary carbon emissions; and properly designed market-based measures including emissions trading.
Mr Herdman stated, "AAPA fully supports the efforts of ICAO in working towards global solutions for aviation to complement wider efforts to address climate change. However, AAPA is firmly against the unilateral imposition of punitive "green taxes" that in reality do nothing for the environment".