Jet fuel prices fall again - airlines seek to shape emissions debate
Over the past 12 months, jet fuel prices are down 58-61%, whereas the spot price of oil (WTI) has collapsed by 65%, as the global economy slides into recession.
Daily jet fuel prices (kerosene, cents per gallon) at New York, US Gulf Coast, Los Angeles, Amsterdam, Singapore vs Crude Spot price (WTI, USD per barrel): 05-Nov-08 to 18-Feb-09
11-Feb-09

12-Feb-09

13-Feb-09

17-Feb-09

18-Feb-09

one week
Change

12 month
Change

New York Harbor

133.51

134.25

133.5

120.65

119.9

-10.2%

-58.5%

U.S. Gulf Coast

128.26

130.25

128.25

116.15

112.65

-12.2%

-60.5%

Los Angeles

135.51

136.25

133

119.65

117.15

-13.5%

-59.3%

130

126.75

130.53

120.86

118.59

-8.8%

-58.0%

125.48

126.79

127.74

126.07

119.05

-5.1%

-55.8%

WTI Spot

35.93

34.03

37.63

34.96

34.67

-3.5%

-65.3%
Daily jet fuel prices (kerosene, cents per gallon) at New York, US Gulf Coast, Los Angeles, Amsterdam, Singapore: 05-Nov-08 to 18-Feb-09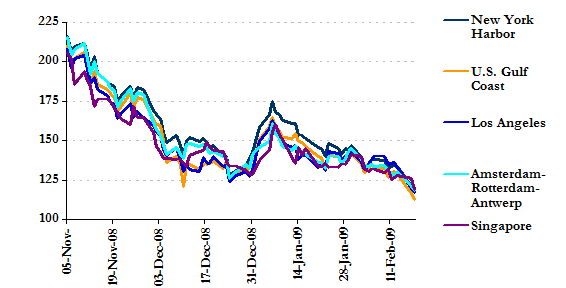 Airlines seek to avoid fragmented approach to emissions trading
Meanwhile, several of the world's leading airlines have taken a new tack in the debate over emissions.
Last week, Air France/KLM, British Airways, Cathay Pacific, Virgin Atlantic and airport operator BAA established a new group to lobby for aviation emissions to be included in a broader global climate agreement that will be negotiated later this year. The Group's work is supported by The Climate Group, an international NGO working with government and business to break political deadlock around a global climate deal.
The aim of pushing for aviation's inclusion in a worldwide approach to tackling climate change is to avoid the proliferation of domestic and regional schemes, which could end up costing airlines more.
Cathay Pacific CEO, Tony Tyler, stated, "aviation has a key part to play in reducing global emissions and for too long has been seen as part of the climate problem rather than part of the solution. We hope the work of our group will offer a practical industry-led solution that creates a level-playing field and appeal to policy-makers, environmental groups and businesses alike".
The airline industry has been strongly critical of European Union plans to include aviation in its emissions trading scheme from 2012, covering all airlines using EU airspace, while Australia will introduce its own emissions trading scheme from 2010. The US government is considering a cap-and-trade system.
The Association of Asia Pacific Airlines estimates the aviation industry emits around 650 million tonnes of carbon dioxide annually. Charged at USD25 per tonne, the cost to the industry would be USD16 billion.