Jeju Air SWOT: Korea's largest LCC must preserve its strengths
Analysis
Jeju Air is at an inflexion point. Korea's largest, most successful and profitable LCC now has as CEO Seok-Joo Lee, who was promoted from Director, VP and Head Commercial. He replaces the smart leadership of Kyu-Nam (Ken) Choi, who stabilised the airline, pursued growth and achieved a successful IPO. Mr Choi is leaving to work in digital businesses.
New management often means a company embarks on a new strategy. Long haul widebody operations are in vogue, but Jeju Air is strongly cautioned not to pursue such growth. The market is not ready, and Jeju Air's existing short haul business has demonstrated success. There are more opportunities with the existing production platform.
The threat of new entrants provides little room for risky deviation.
Summary
Jeju Air has stuck with sound short haul operations and not been tempted into glamorous, but risky, long haul flights.
Expansion at Seoul Incheon gives Jeju Air available infrastructure at its home airport.
Korean aviation is in flux, with possible new entrants.
Strengths
1) Jeju Air is Korea's largest LCC, third largest home airline
Jeju Air is Korea's third largest airline and the largest LCC, approximately one quarter larger than the second largest LCC, Jin Air. Even considering only international seats, Jeju Air is still Korea's third largest LCC; no foreign airline (FSC or LCC) is larger than Korea's home-grown LCCs, unlike in Japan.
Jeju Air has the largest fleet in Korea. In May-2018, Jeju Air took delivery of its 34th 737. CAPA last benchmarked their fleet size in Mar-2018 (see chart below).
Korean LCC fleet at year end: 2008-2017, Mar-2018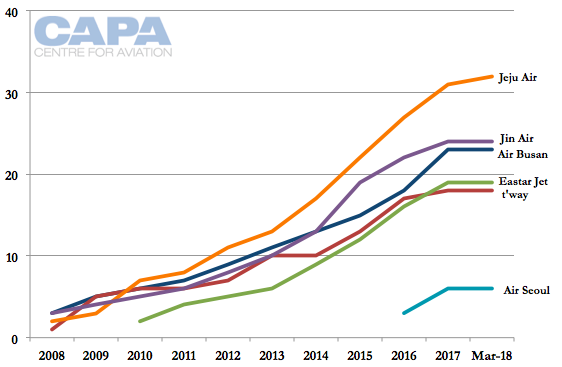 2) Jeju Air is an independent airline
Jeju Air does not have ownership from another Korean (or any airline). Its largest shareholder, the AK Group, has a background in chemical goods – not aviation or tourism. This contrasts to Jin Air (owned by Korean Air), Air Seoul (wholly owned by Asiana) and Air Busan (partially owned by Asiana).
Independence allows Jeju Air to run its business without any possible interference from the mother company, or selectively self-restricting itself, such as not pursuing certain opportunities that the parent company is undertaking. Until Korea's LCC sector became more dynamic, and thus competitive, Jin Air did not have much overlap with Korean Air.
Independence also means Jeju Air is not given "hand-me-down" routes that the parent airline no longer wants to fly or cannot sustain, but at the same time does not want to give up and entirely cede market share. Sometimes transferring a flight to an airline with a lower cost base can turn the route around. But equally true is that some routes are not worth flying. Air Seoul's early days are defined by flying Asiana's thinner markets, rather than Air Seoul asserting itself in major markets.
3) Jeju Air is not pursuing long haul operations
Jeju Air remains a short haul, all-narrowbody operator. This business has demonstrated success. Aviation has long been attracted to higher-profile flying, such as long haul, and with bigger aircraft.
But the aviation framework in Korea is not yet ready for long haul, low cost operations. Europe could be worthwhile for Korean long haul LCCs, but lack of Russian overflight rights precludes operations.
Korea's short haul LCCs have thrived in providing quick holidays to areas considered to be inexpensive or good value. The nature of long haul flying means passengers are taking longer trips, and there is a smaller market of passengers available to take longer trips. While a market does exist, it may not be large enough to fill a widebody in the high-density configuration needed to deliver economics.
Jin Air's own struggle to mount a widebody operation with 777-200s (even if cheaply inherited from its sister airline Korean Air) should give pause for other Korean LCCs considering widebody aircraft.
See related report: Long haul LCCs: big opportunities in Japan and Korea
Weaknesses
1) Jeju Air does not feel part of the establishment
In open markets, LCCs loudly advocate for their needs. But despite being Korea's third largest airline, Jeju Air does not feel part of the Korean aviation establishment weighed towards Asiana and especially Korean Air. Jeju Air feels the societal pressure of "knowing its place" and respecting tradition – however ill-suited that may be in the interest of the consumer, who is increasingly value-driven. Jeju Air does not strongly advocate for what it, and other LCCs, need.
2) Jeju Air is still building awareness in some outbound markets
Internationally, Jeju Air's passengers are mostly Korean. While this reflects strong local reception, Jeju Air could also improve its passenger mix to protect itself better from any sudden changes in markets.
3) Ancillary purchasing is not strong at Korean LCCs
Another disadvantage of having mostly Korean passengers is that ancillary purchasing uptake rates are low with Korean consumers. In Southeast Asia ancillary revenue is a strong revenue component for AirAsia, which sees ancillary revenue growing faster than seat revenue – to say nothing of even more aggressive ancillary revenue chasers, such as Ryanair.
The low uptake rate impacts revenue opportunity as well as pricing, since the airline may not be receiving much more than the advertised fare. There are gradual changes to ancillary revenue in Korea as free luggage becomes more restricted. It is helping that Asiana and Korean Air themselves are becoming more stringent on luggage (such as the introduction of overweight charges), thereby conditioning the consumer to an ancillary-led environment.
Opportunities
Jeju Air's main international base is at Seoul Incheon (see chart below). In Jan-2018 Incheon opened terminal Two, allowing Korean Air and some SkyTeam partners to move from terminal One. This in turn created more gate space in terminal One. Although Incheon's runways have slot capacity, terminal space was constrained, especially in peak hours.
Jeju Air top 10 hubs/bases/stations/focus cities for system seats: week commencing 07-May-2018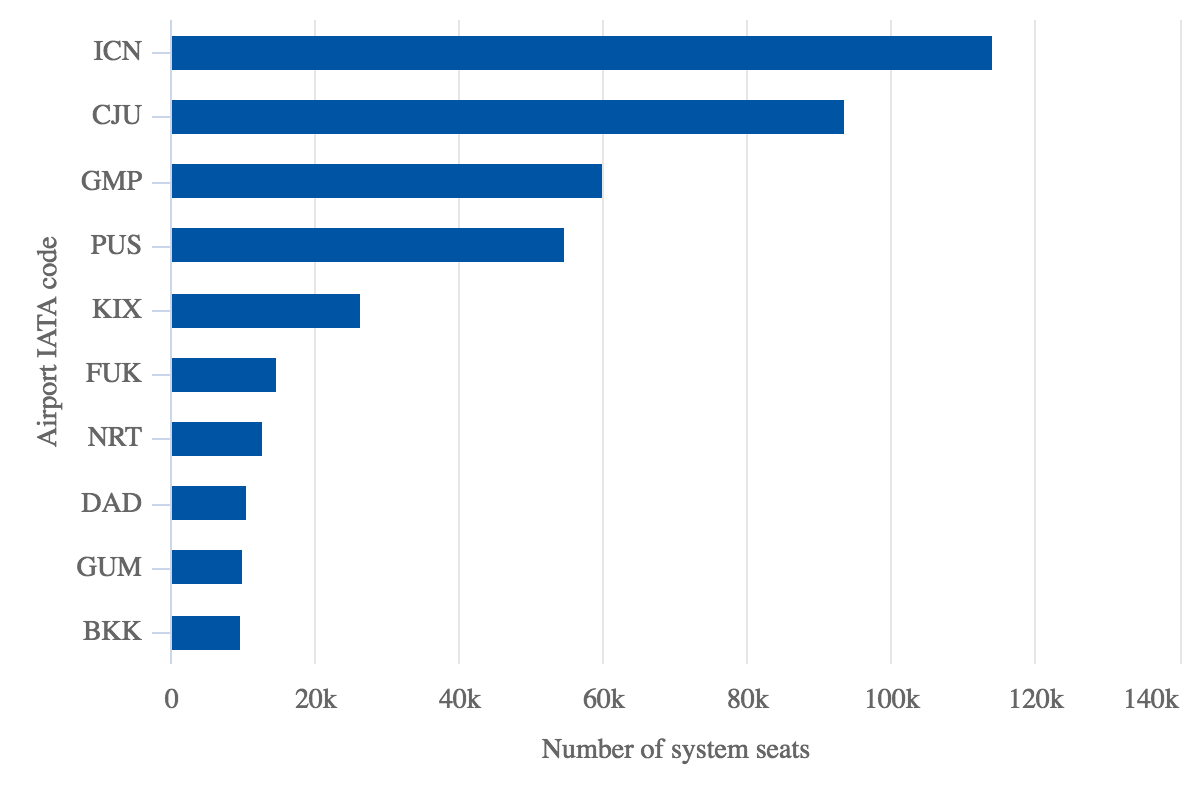 Incheon expansion is important, since other major Korean airports – Seoul Gimpo, Jeju and Busan – are constrained, with no capacity becoming available in the medium term.
2) Liberalisation – especially with China – will drive growth
Korean aviation is still far from reaching its potential. Korea has open skies with Japan and other Asian markets, but critically not with mainland China. Korean LCCs have significant opportunity in China as more Chinese travel and travel propensity increases. Jeju Air has scheduled services to China as well as a large charter network, but China has made charter services more restricted. It is difficult for many to envisage the scale of growth, should Korea and China have open skies.
A lesser bilateral opportunity comes from expanding traffic rights with Taiwan. Flights between Korea and Taiwan are still heavily limited, unlike those with Japan, which has open skies with Taiwan. Taiwan is willing to have open skies with Korea, but it appears there is concern on the Korean side from liberalising with Taiwan and thus angering Beijing.
Threats
1) Health and politics have impacted inbound demand
Jeju Air's home market of Korea has, in a few short years, experienced significant crises. The MERS episode in 2015 brought a sharp contraction of visitor numbers (and during what should have been the peak tourism period).
Korea visitor arrivals: 2015-2017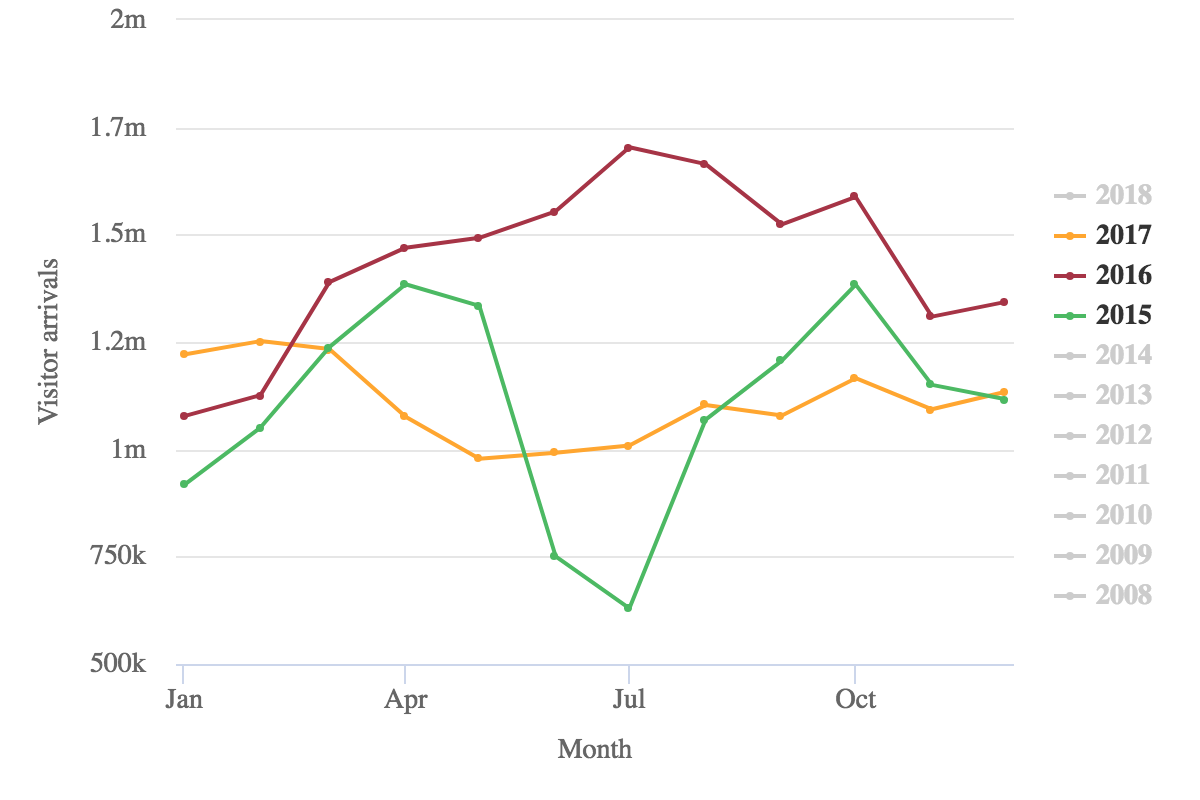 Korea is starting to have normalised relations with China, after 2017 when China became upset about missile detection equipment in Korea that had a radar strong enough to detect activity in China. Korea became culturally unpopular to travel to, although the backlash against Korea was not as strong as anti-Japan and anti-Vietnam sentiments earlier this decade.
Some government-linked travel agencies cancelled Korean trips or strongly advised customers not to take them. For a long time China did not approve requests from Korean carriers, but this is changing.
2) Start-ups could further flood the market
The Korean market is considered to be in need of consolidation among its many LCCs. However, an alternative view is that growth, and especially liberalisation with China, could sustain a large number of operators.
In 2017 there were a number of planned start-ups working more closely towards applying and securing an AOC. At one point there were approximately a half dozen new airlines in the pipeline. Although it seemed Korea would approve some, if not most, of them – and as early as late 2017 – none have been approved, and the line from the government's aviation body is that approval is unlikely. Protectionism appears to be at play.
However, Korea's competition authority will weigh in on the matter and is expected to be in support of allowing new entrants, even if it means incumbents could exit the market.
The start-ups were mostly planning to base themselves at smaller Korean airports. While there is opportunity for better use of such airports and to stimulate demand, it appeared inevitable that the airlines would eventually want a large presence in Seoul, Korea's biggest market. (Jeju Air, despite its name, does more flying from Seoul than Jeju.)
Any start-up approval risks adding to a fragmented market, although chances are slim that a new entrant would be well capitalised enough to grow quickly and start a capacity war. The best funded start-ups would be from an existing LCC group based outside Korea, but Korea has routinely made clear that it does not support a Korean subsidiary of such a company – for example an "AirAsia Korea".
3) Korea is enforcing extensive regulations
Korean aviation policies are extensive and can be unique, as shown in the current situation of Jin Air facing cancellation of its AOC because a director was a non-Korean national. This requirement was not fully understood, and is not common in aviation. Full risk assessment on any airline should be carried out against all regulations and compliance.
Conclusion: there is admiration in restraint
Jeju Air has established a successful platform as a short haul narrowbody operator. Deviating from that in the medium term appears highly risky, with minimal benefits. Jeju Air's existing recipe has more room to run. More beneficial than bigger aircraft would be larger investments in IT, which Jeju Air plans to make. There is no shame in continuing proven success.