Japan invokes 30km no-fly zone around Fukushima plant; more flights to north-east - Update 4
Analysis
Stock markets across Asia were battered yesterday by the worsening nuclear situation near Tokyo. The Nikkei 225 endured its third biggest daily fall, plummeting 10.6% at the close to its lowest level since Apr-2009. The index fell as much as 14.5% during the day. ANA slumped 10.7%. Other North Asian airline stocks were sold off.
Asia Pacific airline shares: 15-Mar-2011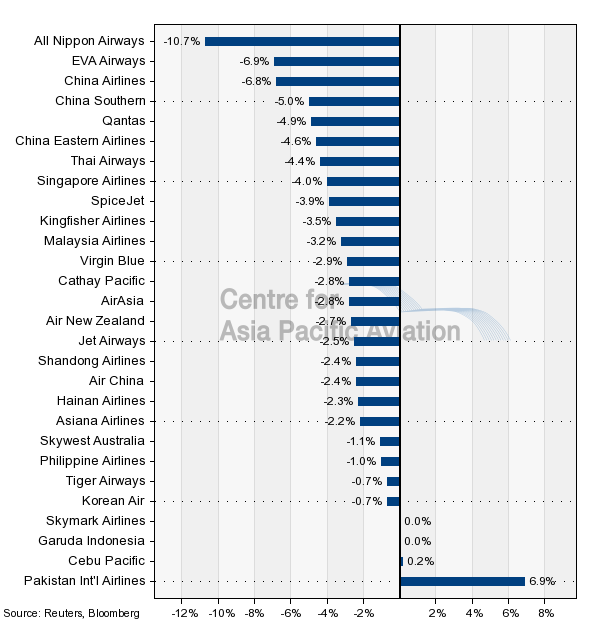 More flights to affected areas
Japanese airlines continue to schedule additional services to Northeast Japan to assist with evacuations and the relief effort.
All Nippon Airways is operating seven extra return services today:
Japan Airlines (JAL) is providing 15 extra return flights:
Sapporo-Aomori - 3 return flights;
Sapporo-Hanamaki - 1 return flight;
Haneda-Hanamaki - 1 return flight;
Osaka-Hanamaki - 1 return flight;
Osaka-Yamagata - 1 return flight;
Osaka-Akita - 1 return flight.
Between 16-Mar-2011 and 26-Mar-2011, JAL will maintain capacity of five daily Tokyo (Haneda) flights to 290 seats per flight, by using 290-seat A300-600 aircraft instead of B737-800 (165 seats) amd MD90 (150).
Air Do is operating two additional Sapporo-Fukushima flights.
US Forces aircraft to use Yamagata Airport for rescue activities
At a press conference held on 15-Mar-2011, Defence Minister Toshimi Kitazawa disclosed that US Forces have permission from the governor of Yamagata Prefecture to use Yamagata Airport for rescue activities related to the Tohoku Earthquake. Yamagata Airport is a base for transporting various materials and supplies necessary for the recovery of Sendai Airport which was inundated by the tsunami. The US Marine Corps are also to help with the clear up of debris and rubble swept onto Sendai Airport's runway and taxiways.
It is quite exceptional for US Forces to use a civil airport in Japan other than those designated in the Japan-US Status of Forces Agreement, except for emergency landings.