Japan Airlines revives a second daily Tokyo-New York service, as Japan's market power wanes
Analysis
Japan Airlines may seem to be reclaiming something of its former glory by bringing back a second-daily Tokyo-New York service, which it last offered prior to its bankruptcy and deep restructure. But the route will have a different strategy – and implications – when resumed on 30-Mar-2014. The service will be on JAL's relatively small 186-seat 787-8, not the 747-400s of past times. That represents a decrease in seat capacity, further aggravated by the service largely replacing American Airlines' recently-cancelled New York-Tokyo flight. The JV between AA and JAL makes that switch relatively easy, coupled with the convenience of being able to alter market profiles with the 787.
Whereas previously one of JAL's New York services continued to Sao Paulo, the re-introduced second daily service will have better connections to South America on partner airlines, not on JAL's own metal. The 787 will overnight at New York, allowing for an early return the next day. JAL will have the second earliest morning departure from JFK to Asia, allowing for more time in Tokyo with limited improved connections. This contrasts to ANA's second daily New York-Tokyo service, which leaves JFK in the evening and arrives in Tokyo even later when there are limited connecting opportunities and ground transport options.
JAL last operated double daily New York services in 2008
Since 2011 JAL has served New York JFK with a daily flight. Prior to that JAL typically had at least 10 weekly flights, including about a year when it had 14 weekly flights. The flights were operated with a mixture of 747-400s and 777-300ERs whereas this time the second daily JFK flight will be on a 787-8, complementing the existing 777-300ER.
While frequency is back, capacity is not and the 777-300ER/787-8 combination is some size away from the days of double daily 747-400 flights, reflecting JAL's narrower focus of recent times as it seeks a manageable network with its high cost base.
JAL weekly Tokyo Narita-New York JFK frequency: 2006-2013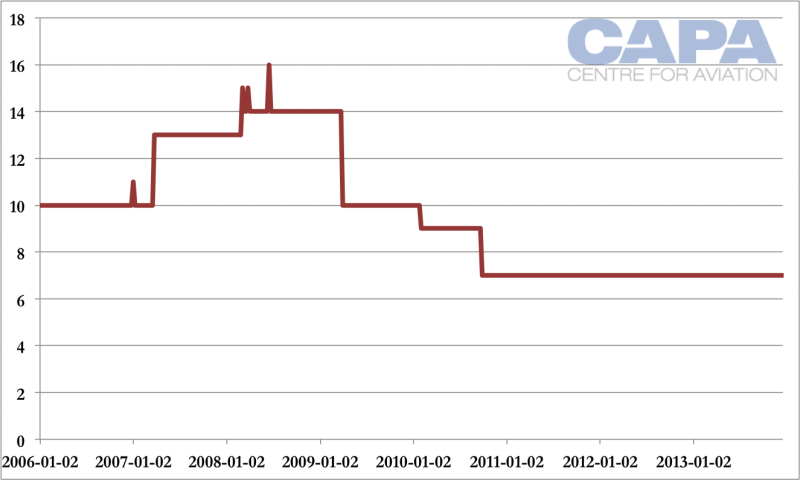 New York JFK will be JAL's only mainland US destination with double daily service (Honolulu receives six daily JAL flights, three from Tokyo Narita). ANA meanwhile has double daily services to Chicago, Los Angeles and New York JFK.
This too is a sign of the times as ANA surpasses JAL, which was once one of the world's largest international carriers. JAL's second daily service is less about matching ANA than it is about replacing the capacity American Airlines has taken out. JAL's other destinations could see frequency growth, but more likely JAL will look for new US points to serve with its 787s.
The new/resumed flights, JL3/JL4, supplement existing flights JL5/6.
JAL Tokyo Narita-New York JFK Schedule: Mar-2014
Overall Tokyo-New York capacity is down: United is long gone from JFK and American cancels its service
Capacity from New York City to Tokyo has fared better in recent years than between 2006 and 2009, but is still down from levels a decade ago. This contrasts to growth elsewhere in the US-Asia market. In some cases the Japanese traffic has been lost to other hubs while other times the traffic was lost as business needs shifted from Japan as a destination to other countries, notably China.
New York City to Tokyo (JFK/Newark to Haneda/Narita) seat capacity by carrier: 2003-2013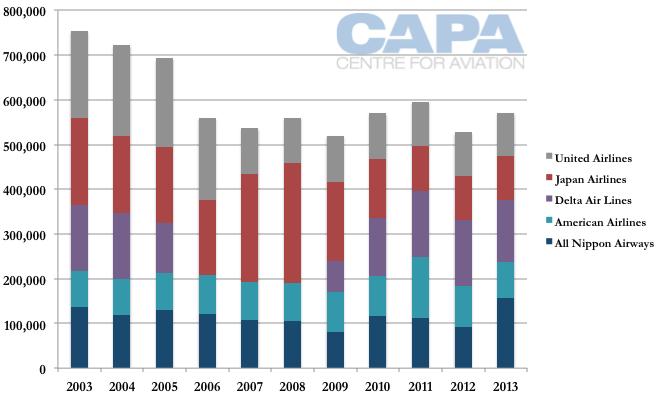 United Airlines ended New York JFK-Narita service in 2006 (along with New York JFK-London Heathrow, ending its long-haul presence at JFK), but merger partner Continental has maintained its Newark-Tokyo service. Northwest (now Delta) suspended New York-Tokyo services between 2006 and 2008 and American exited the New York-Tokyo market in Dec-2013.
American and JAL needed an improved offering in New York
JAL's second-daily New York flight will enable same-day connections from Asia to New York. JAL's existing 11:10 morning departure to New York JFK provides few connecting opportunities from Asia. Previously JAL could route passengers on the Tokyo Narita-New York JFK flight of JV partner American Airlines, which departed Tokyo in the evening, allowing for same-day connections across Asia. But American's shifting of this New York flight to Tokyo Haneda broke those opportunities. Not only was it necessary to transfer between Narita and Haneda, American's service left Tokyo early in the morning, generally requiring passengers to be in Tokyo the night prior to their flight. Few passengers opted for such a convoluted journey when there were an increasing number of non-stop and one-stop alternatives available.
Almost no components of American's Haneda route worked. The flight was unprofitable for American. International connections were limited at Haneda while high-yielding traffic was limited by slot times as well as Japan's economy no longer being the powerhouse it once was. American had tried Haneda on and off, at one time even running a Haneda-JFK service alongside Narita-JFK. American's mid-2012 switch from Narita-JFK to Haneda-JFK begged a solution for the Asia-New York market that faced unideal two-stop services, through Tokyo Narita and then one of American's other US gateways for a domestic connection to New York.
American's withdrawal from Tokyo Haneda-New York JFK was made quietly without a reinstatement of Narita, leaving the market in want of a solution that has now eventuated with JAL's second daily flight.
JAL is overnighting an aircraft at JFK, one of the few long-haul and only Asian carriers to do so. Arguably American could have handled the ground time more efficiently by rotating the aircraft with European/Latin American services, but JAL's 787 is more suitable, not just for basic aircraft operating costs but because of its lower capacity: 186 seats to American's 247 on the 777-200ER. American was reliant on low-yielding transfer traffic whereas this segment can now be de-emphasised.
Even then, low-yielding transfer traffic was not enough. New York was a sore point in American's Tokyo performance, with both Tokyo Narita-JFK and Tokyo Haneda-JFK flights posting some of the lowest Tokyo load factors for American.
American Airlines Japan-US load factor by route: Jan-20122 to May-2013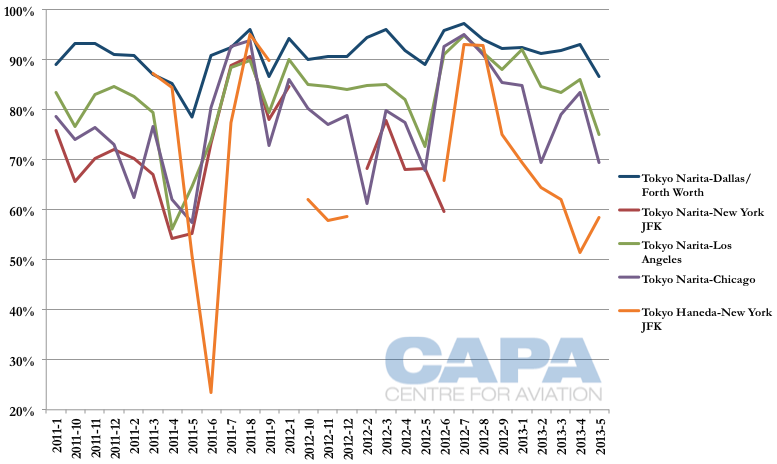 777" height="464" />
JAL has performed much better, at least on a load factor basis, in New York than American. (An exception is peak summer months, when AA typically has higher load factors.)
The New York service is not at the top of JAL's mainland US routes, but nor it is at the bottom. The difference in performance is likely due to JAL's strong US corporate account performance as well as being the preferred airline for Japanese passengers.
Japan Airlines Japan-mainland US load factor by route: Jan-2012 to May-2013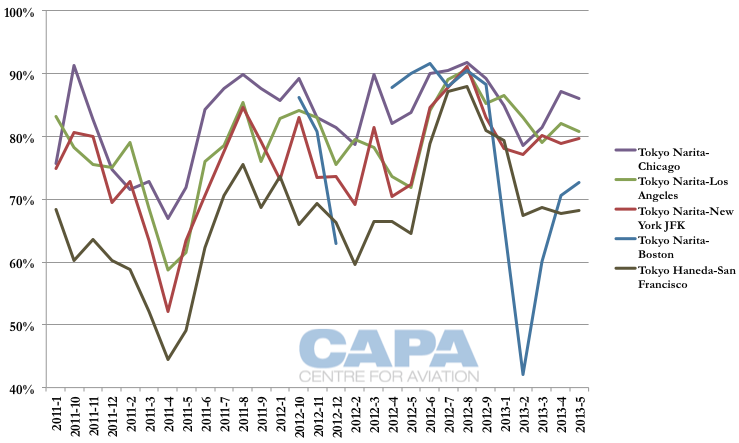 Although not a definitive measure given the macro nature of the statistic, American's trans-Pacific yields have lagged Delta and especially United, with the gap widening in recent years.
Trans-Pacific yields (USD cents/mile) for American Airlines, Delta and United: 2010-2012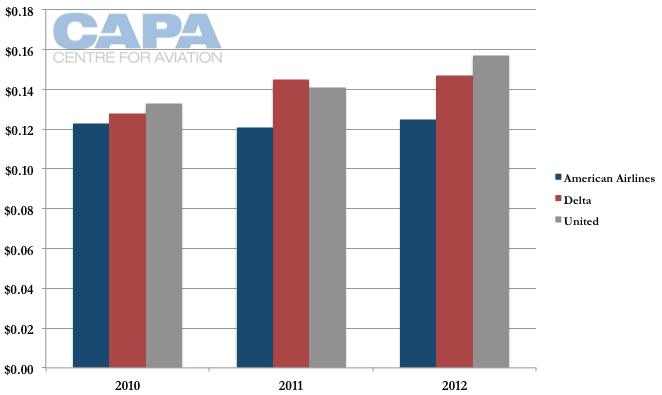 Second daily flight ensures Asia-New York connections are maintained
American's exit from the Tokyo Narita-New York JFK market left Hong Kong, Kaohsiung, Manila and Taipei without same-day non-stop connections to New York under the American and JAL joint venture. (Beijing, Seoul and Shanghai lost one-stop service through Narita but all have non-stop services to one of American's US hubs, where onwards flights can complete the journey to New York.) JAL's new evening departure service from Tokyo Narita addresses these markets, and provides a JAL trans-Pacific flight option for passengers in Beijing, Seoul and Shanghai who would otherwise have to take an AA trans-Pacific flight.
JAL's new evening departure from Tokyo Narita provides another connecting option for Busan passengers (who would otherwise have to depart Busan in the morning) but more importantly for Bangkok and Singapore passengers, who would have had to take an overnight flight to Tokyo to connect with JAL's morning departure but now can take a daylight flight from Bangkok and Singapore to connect with the evening departure. In total, JAL highlights 12 Asian cities with one-stop service to New York under the AA/JAL JV.
These are nice connections but not grounds on which to solely offer a second daily flight, especially with American launching Dallas-Hong Kong services in 2014. What will likely make the second flight viable is offering the connections with the opportunity to better feed Latin American services as well as retain a standing in the Tokyo-New York market.
Westbound connections will see less change. Passengers to all 12 Asian markets highlighted by JAL can take the new earlier departure, but only Shanghai passengers will benefit with an earlier connecting flight from Tokyo; passengers to the 11 other markets will simply have a longer layover at Narita.
JAL shifting its morning Narita departure to the afternoon (and not adding a second flight) was likely seen as unviable as JAL would have lost the segment of the market wanting an early start from Tokyo. A morning departure from Tokyo allows passengers to make an afternoon meeting or dinner in New York, but an evening departure largely writes off the day. Exiting the morning market from Tokyo Narita would have been a boost for ANA, which has an 11:00 departure. T
he only other non-stop operator in the market, Delta, has an afternoon departure from Tokyo Narita. Having just one JAL flight and not replacing American's discontinued service would not have been favoured as it would have given the AA/JAL JV a single daily flight to the New York area, compared to three from the ANA/United JV (two on ANA from Narita to JFK and one on United from Narita to Newark).
JAL Asia-New York JFK connection summary: Mar-2014
Asian City
Arrives Tokyo Narita
Departs Tokyo Narita for
New York JFK
Arrives Tokyo Narita
from New York JFK
Departs Tokyo Narita
Bangkok

08:35

16:15

11:10

19:45

12:40

16:25

17:55

Beijing
13:00
19:45

12:40

16:25

18:10

Busan

10:00

16:00

11:10

19:45

12:40

16:25

18:30
Hanoi
06:55
11:10

12:40

16:25

17:55
Ho Chi Minh City
07:35
11:10

12:40

16:25

17:50
Hong Kong
16:05
19:45

12:40

16:25

18:15
Kaohsiung
13:25
19:45

12:40

16:25

18:30
Manila
14:30
19:45

12:40

16:25

18:10
Seoul
16:00
19:45
12:40

16:25

18:40
Shanghai

13:00

15:50

18:05

19:45

12:40

16:25

14:10

19:15

Singapore

9:45

16:15

11:10

19:45

12:40

16:25

18:05
Taipei

14:20

17:10

19:45

12:40

16:25

18:45
ANA opts for a late New York-Tokyo return while JAL goes for early morning return
JAL's second daily flight is largely being timed the same at the time the carrier last operated the service. The flight will depart Tokyo Narita at 19:45, slightly later than when JAL previously operated the flight around 18:40 or 19:20, according to OAG. This is also later than American's Tokyo Narita-New York JFK departure time of around 18:10 or 18:50.
For connecting traffic, an earlier departure would be better as JAL's last major Asian flight arrives into Narita at 17:10 and JAL has a 60 minute minimum transfer time. (A Shanghai flight arrives at 18:05, but an earlier flight arrives at 15:50, and Shanghai also has its own trans-Pacific services operated by American.) But for the local Tokyo-New York market the timing is ideal as the schedules allow for almost a full work day in Tokyo.
The return flight departs New York JFK at 09:30, earlier than the 10:00 or 11:00 departure time typical from when JAL last operated the flight. This is also earlier than the 11:00 timeframe American's New York JFK-Tokyo Narita flight used to depart. JAL's 09:30 departure gives it the second earliest Asian departure from JFK after a 09:00 Cathay Pacific flight to Hong Kong (this excludes flights from Cathay to Hong Kong and EVA to Taipei that leave shortly after midnight).
This timing is advantageous mainly for the local Japan market as there are no earlier international connecting flights JAL can offer except to Shanghai. A mid-morning departure would be of more use to, for example, Korean carriers with larger sixth freedom networks.
When JAL last operated the second New York service, the aircraft continued to Sao Paulo. With that routing no longer in place, JAL is able to have a later arrival in New York and an earlier return departure as it does not have to allow time for the aircraft to be turned around to/from Sao Paulo.
As noted previously, the earlier departure from New York does not facilitate earlier connections except to Shanghai. The second daily flight amply serves Asian connections. JAL would have had to decide whether to place the second flight before or after its first one. The first flight's departure from JFK provides very smooth international connections at Tokyo: onward flights to 11 cities depart within a 50 minute window, so JAL likely would have hesitated to touch the first flight's schedule.
Moving to an evening departure, as ANA offers with NH1009, was likely unideal as that would have required a 20-plus hour layover at JFK, and upon arrival at Tokyo it likely would have been too late for the aircraft to make another international trip. Aircraft utilisation aside, an evening arrival in Tokyo is not favourable to the local market as ground transport options start to become limited at Narita, which can be nearly two hours from central Tokyo.
There are also limited connections whereas with an earlier arrival in Tokyo, JAL could discount tickets with a longer Narita layover. Load factor information for ANA's two New York flight is not available, but anecdotally the evening departure from New York sees lighter loads.
ANA appears to be offering the flight around local Japanese traffic, whereas JAL's schedules appear to acknowledge the local Japanese market is not sustainable on its own, the way it once was.
ANA and JAL Tokyo Narita-New York JFK Schedule: Mar-2014
Second daily flight improves connections to Latin America
In addition to retaining Asia-Tokyo-New York connections, JAL's second daily flight (JL3/4) will improve connecting times to Latin America. JAL codeshares on oneworld partners American Airlines and LAN Airlines' flights to Lima, Rio de Janeiro and Sao Paulo. JL3/4 can save quite a few hours on Latin American connections as opposed to taking JL5/6, but similar times would have been offered if American retained its New York-Tokyo Narita service, although no doubt the Japanese market will prefer taking JAL.
Examples of improved connections to Latin America via JFK on second daily JL3/4 service: Mar-2014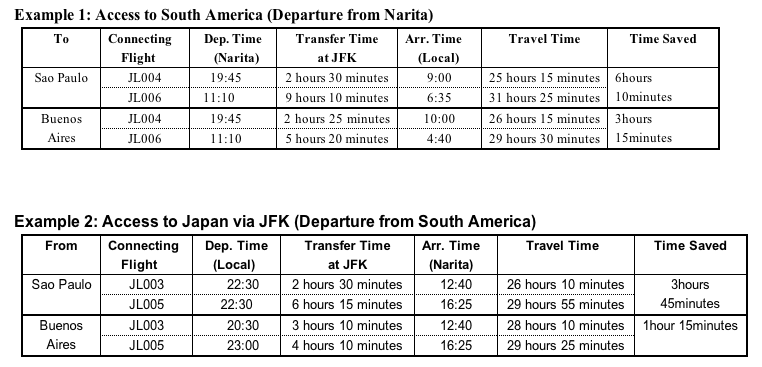 The Asia-Latin America market is a sizeable market, and with no non-stop flights from Asia into southern parts of Latin America, carriers from almost every region are vying for transfer passengers. Japan-Brazil ties are especially close, with Brazil being home to the largest number of Japanese emigrants anywhere in the world. This was a large (if not exactly profitable) catalyst for JAL operating New York-Sao Paulo services.
In the absence of services on JAL metal to the region, JAL on Oct-2010 signed a codeshare agreement with American Airlines covering the New York-Sao Paulo market while an Oct-2011 codeshare agreement with LAN covered Santiago, and a Mar-2013 agreement with LAN Peru added Lima.
Tokyo-New York changes show the value of partners, and the continuing shift away from Tokyo as stopover point
The Latin American agreements allowed JAL to use its partners' services to boost profitability rather than pursue the market on its own metal. The larger changes in the Tokyo-New York market show some of the benefits of a JV: partners can run their business together and right-size capacity using their joint, not individual, fleets. Without the JV, American would either have endured weaker returns or withdrawn. Exiting the market may not have prompted JAL's expansion since it relies on American to help sell the service.
The second important point is that the New York-Tokyo changes are another illustration of the diminishing importance of Japan as a stopover point – and destination – for US carriers as they open more non-stop flights to other Asian destinations.
American's withdrawal from Tokyo Haneda-New York JFK was made - not merely coincidentally - at the same time it announced new services from Dallas to Hong Kong and Shanghai. Japan's market is entering a new phase.
See related reports: