JAL's share price slumps; Cathay yields higher in Dec-2009; Jet expects improved yields in 2010
oneworld alliance presents USD2 billion offer in enhanced commercial benefits for JAL
The oneworld alliance outlined a revised programme of USD2 billion in commercial benefits to Japan Airlines (JAL) over three years and including a pledge to offer JAL guidance and expertise from partners that have successfully executed airline restructurings. See related article: 2010 Year of the Asian Airline Bailout: China Eastern, Air India, JAL, THAI, MAS & Garuda.
JAL sees slump in Dec-2009 domestic pax and load factors
In other JAL news, the carrier reported a 12.0% slump in domestic and a 5.8% reduction in international passengers in Dec-2009, for combined 3.2 million, while load factors slipped 5.5 ppts domestically to 52.0%. International load factor results were more positive, up 8.7 ppts to 70.4%.
Japan Airlines international and domestic passenger number growth: Nov-2008 to Nov-2009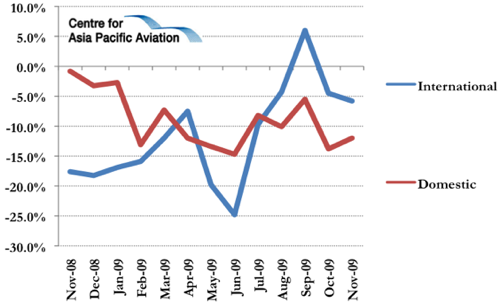 Meanwhile, ANA's shares rose as much as 7.4% yesterday, the most since Jul-2009, to close up 4.2%, while Japanese LCC, Skymark Airlines, rose 18.9% yesterday, after jumping as much as 21%.
Cathay sees strong pax demand and improved yields and load factors in Dec-2009
Also in North Asia, Cathay Pacific (shares up 0.6% yesterday) ended 2009 on a positive note, with stronger passenger demand leading to an improved load factor and yield at the highest level of the year.
Cathay's General Manager Revenue Management, Tom Owen, commented that the "encouraging result" was driven by extracting "better quality demand" in its Economy cabins, and a "continuation of a gradual rise in volume from premium passengers compared to the lows seen earlier in the year".
Mr Owen conceded that the core problem for 2009 was the "precipitous drop in yields, due to the premium demand collapse and intense pricing pressures in the Economy cabins".
In Dec-2009, passenger numbers were up 4.0% to 2.2 million, with load factors improving 4.9 ppts to 83.9%, while in the full year, passenger numbers declined 1.6% to 24.6 million, with load factors up 1.7 ppts to 80.5% - a record in "recent years".
"Very strong" month for Cathay's freight, helping to "push up" yields
In the freight segment, cargo volumes increased notably in Dec-2009 (up 25.0%), for a "very strong" month, with the carrier commenting that the "backlog of freight in the key Hong Kong and Shanghai markets helping to stretch out the peak". The cargo load factor in the month was also the highest of the year, in part due to the capacity reduction, which helped to push up yield. See related report: Christmas delivers for Hactl and AAT; notable pick up in Hong Kong cargo in Nov-2009 and Dec-2009
Cathay Pacific pax growth and cargo volume growth: Nov-2008 to Dec-2009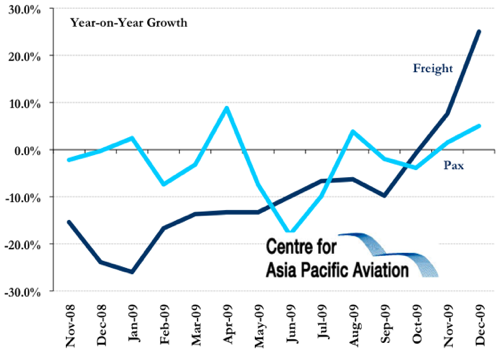 Looking forward, Cathay's General Manager Cargo Sales & Marketing, Titus Diu, stated the carrier "expects to see demand remain fairly robust in the buildup to Chinese New Year".
Jet Airways "confident" it is on growth curve; expects further pax and yield growth in 2010
Jet Airways' shares gained 1.2% yesterday, as the carrier's CEO, Nikos Kardassis, upon the release of the carrier's Dec-2009 traffic highlights, stated the carrier is "confident it is on a growth curve".
Jet Airways domestic and international passenger number growth: Nov-2008 to Dec-2009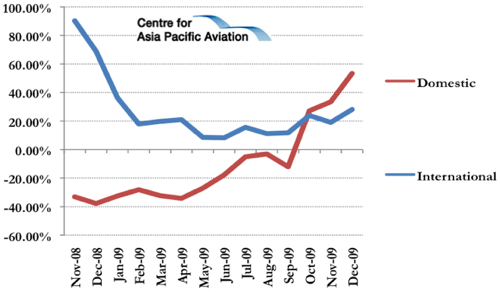 He continued, "our continually improving results in November and December 2009 serve to further re-confirm this", adding that as business and leisure travel "continues to improve in tandem with the global economic scenario, we expect a further growth in network-wide passenger numbers and yields".
During the month, Jet Airways' domestic passenger numbers soared 43% year-on-year, with international passenger numbers up 28%, and JetLite passenger levels gaining 23.4%, for combined passenger numbers of 1.6 million. Load factors also soared across the board, up 18.3 ppts for domestic services (to 78.2%), up 14.2 ppts (to 84.9%) and 12.5 ppts higher at JetLite (to 81.5%).
Full details of these and 30 other reports are available in today's edition of Asia Pacific Airlines Daily.
Asia Pacific selected airlines daily share price movements (% change): 12-Jan-2010