JAL's new 787 Dreamliner routes to Moscow and New Delhi allow it to trim capacity on thin flights
Analysis
Airlines can deploy the B787 in broadly two ways: the high-profile option of opening new long-haul routes, and the less exciting, but often more practical, replacement of older aircraft, B767s in particular. It is in this latter category that fit Japan Airlines' (JAL) new B787 destinations of Moscow and New Delhi. JAL's deployment of the B787 will see the aircraft largely replace the B777-200ERs that currently serve the routes, allowing JAL to trim capacity as its B787s seat 186 while its B777-200ERs seat 245. Moscow and New Delhi may have been better suited to be served by the B767, but JAL and many airlines never planned to fit out B767s for long-haul sectors. JAL will also deploy its B787 to Beijing from Tokyo Haneda, following All Nippon Airways (ANA).
Smaller B787 deployment sees capacity cuts of 19-24%
Moscow
JAL tentatively plans to have the B787 replace the B777-200ER on all three of its weekly Tokyo Narita-Moscow services, a JAL spokeswoman tells CAPA. This will result in a 24% capacity reduction on the route.
JAL's B787 seats 42 in business and 144 in economy. Since business class seats on the B787 and the B777-200ER account for 23% of all seats, JAL will offer the same proportion of business class seats on the route after the B787 is introduced.
JAL flies into Moscow's Domodedovo Airport while Aeroflot serves Tokyo Narita from Sheremetyevo Airport. Aeroflot plans to double its capacity on the Moscow-Tokyo route in mid-March 2012, around the time JAL will introduce the B787 and decrease its overall capacity. This represents higher year-on-year traffic for Aeroflot and not just seasonal factors.
Aeroflot weekly one-way capacity Moscow to Tokyo: Oct-2011 to Mar-2012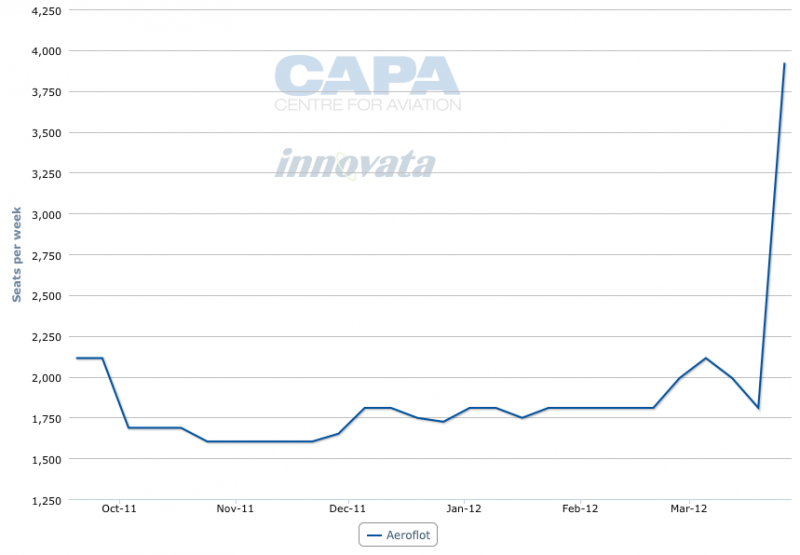 JAL weekly one-way capacity Moscow to Tokyo: Oct-2011 to Mar-2012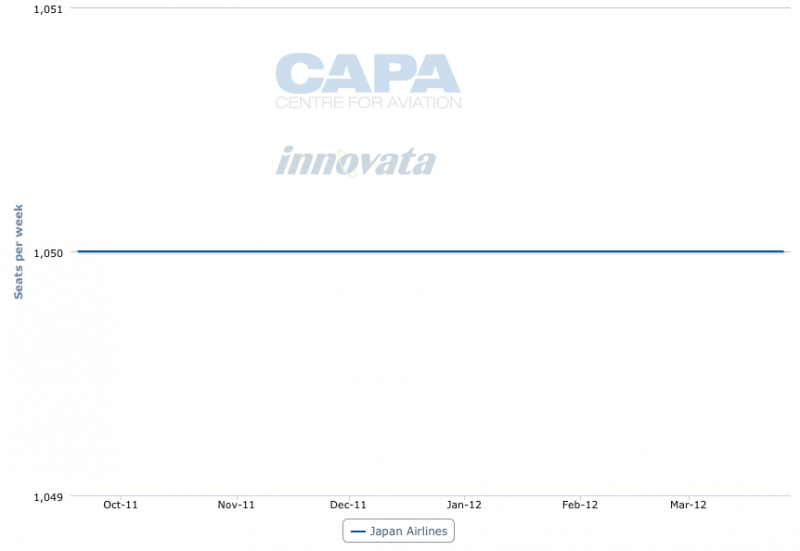 On Tokyo Narita-New Delhi JAL tentatively plans to deploy the B787 on four of the five weekly flights, keeping the B777-200ER on the last remaining frequency. This will result in a 19% capacity reduction on the route. The changes will be take effect in the northern hemisphere spring 2012. JAL in Oct-2011 added an additional one weekly frequency. If JAL is not seeing a higher demand for the extra service, the decrease from B777 to B787 equipment will give JAL about the same capacity pre-Oct-2011 but with greater frequency. Increased frequency has been shown to disproportionately increase demand.
Air India also serves Tokyo Narita-New Delhi but often with half of the capacity of JAL. Air India and JAL both plan capacity decreases in Mar-2012, the start of India's wet summer season.
Tokyo Narita to Delhi weekly one-way capacity: Oct-2011 to Mar-2012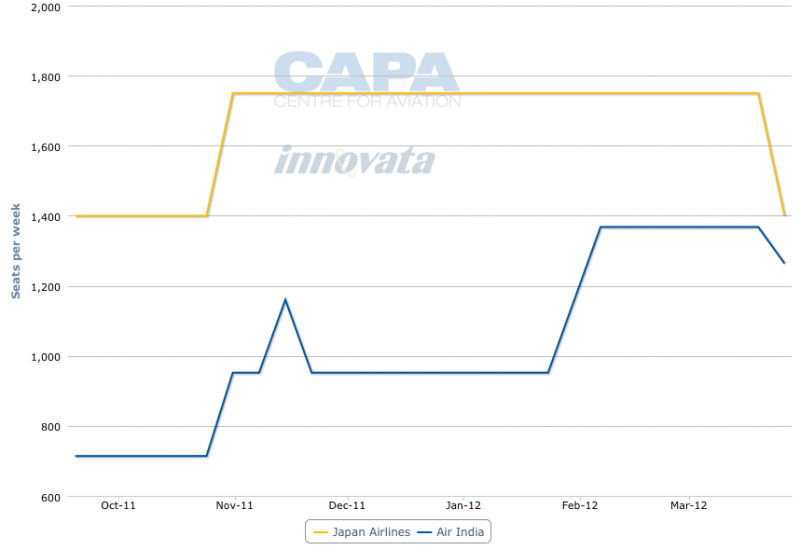 Moscow and New Delhi have the same block flight time of 10hrs 25 mins – far longer than B767 operators envisioned having B767-300ERs serve, and consequently configured them for medium-haul regional flights. For JAL, its smallest available aircraft would have been the B777, which it selected for the routes. The B787 gives airlines a suitable B767 replacement for routes in the upper half of the B767's operating envelope. On other planned B787 routes like JAL's Tokyo Narita-Boston or United's Houston-Auckland, the B787 fills a niche of serving long but thin routes. Specifically with JAL's Delhi service, the B787 may enable additional airlines to replace large sized aircraft with the B787, allowing for an increase of frequency without a capacity glut.
JAL Narita to Moscow and Narita to New Delhi current and planned available seat kilometres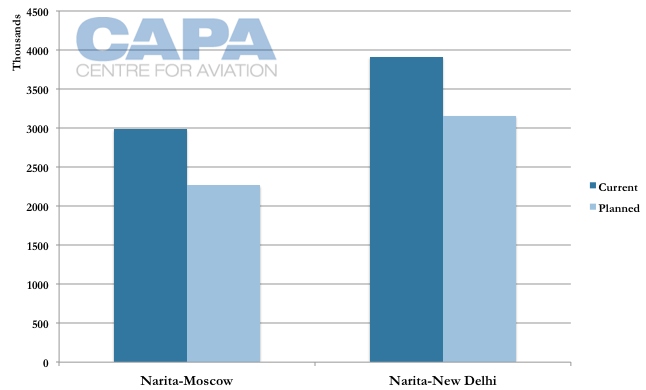 Premium economy class discontinued on the routes
JAL serves Moscow and New Delhi with B777-200ER aircraft equipped with premium economy seats. While JAL has not officially announced details of its B787 interior, the seat map on its website indicates there will no premium economy on the B787. This will see the cabin no longer offered at all to Moscow while it may be offered only once a week to New Delhi or not at all if JAL elects to deploy a B777-200ER without premium economy.
Following ANA into Beijing
JAL also plans to deploy its B787 daily on the Tokyo Haneda-Beijing route. ANA previously said its B787 would operate between the two cities, which form a strategically important route for the two neighbouring countries. It is no surprise the carriers would want to deploy their newest and best product on the route, as well as take advantage of cargo opportunities on the route. Air China's capacity currently eclipses both ANA and JAL.
Tokyo Haneda to Beijing weekly one-way capacity: Oct-2011 to Mar-2012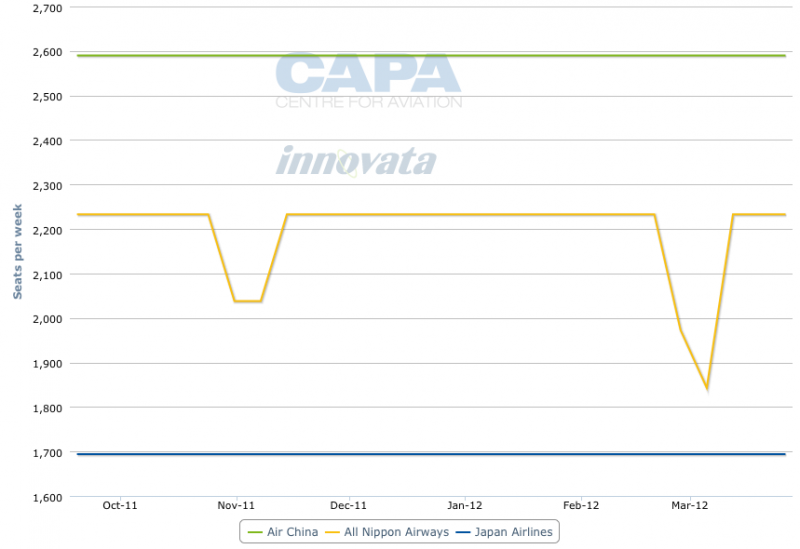 Background Information
International B787 Dreamliner routes (charter and schedueled) announced so far
For more on how airlines are using the B787, see related article: Boeing Dreamliner delivery to ANA begins 787's Asia-Pacific dominance
Announced B787 configurations
Airline

Type

Total seats

First

Business

Premium

economy

Economy

ANA

Domestic

264

12

0

0

252

ANA

International short-haul

222

0

42

0

180

ANA

International long-haul

158

0

46

0

112

Standard

270

0

24

0

246

Hainan

Standard

215

0

36

0

179

International long-haul

186

0

42

0

144

Standard

252

0

18

21

213

Standard

219

0

36

63

120