JAL, Thai Lion, Saudia, flyadeal scoop 2018 CAPA Asia Pacific Aviation Awards for Excellence
Analysis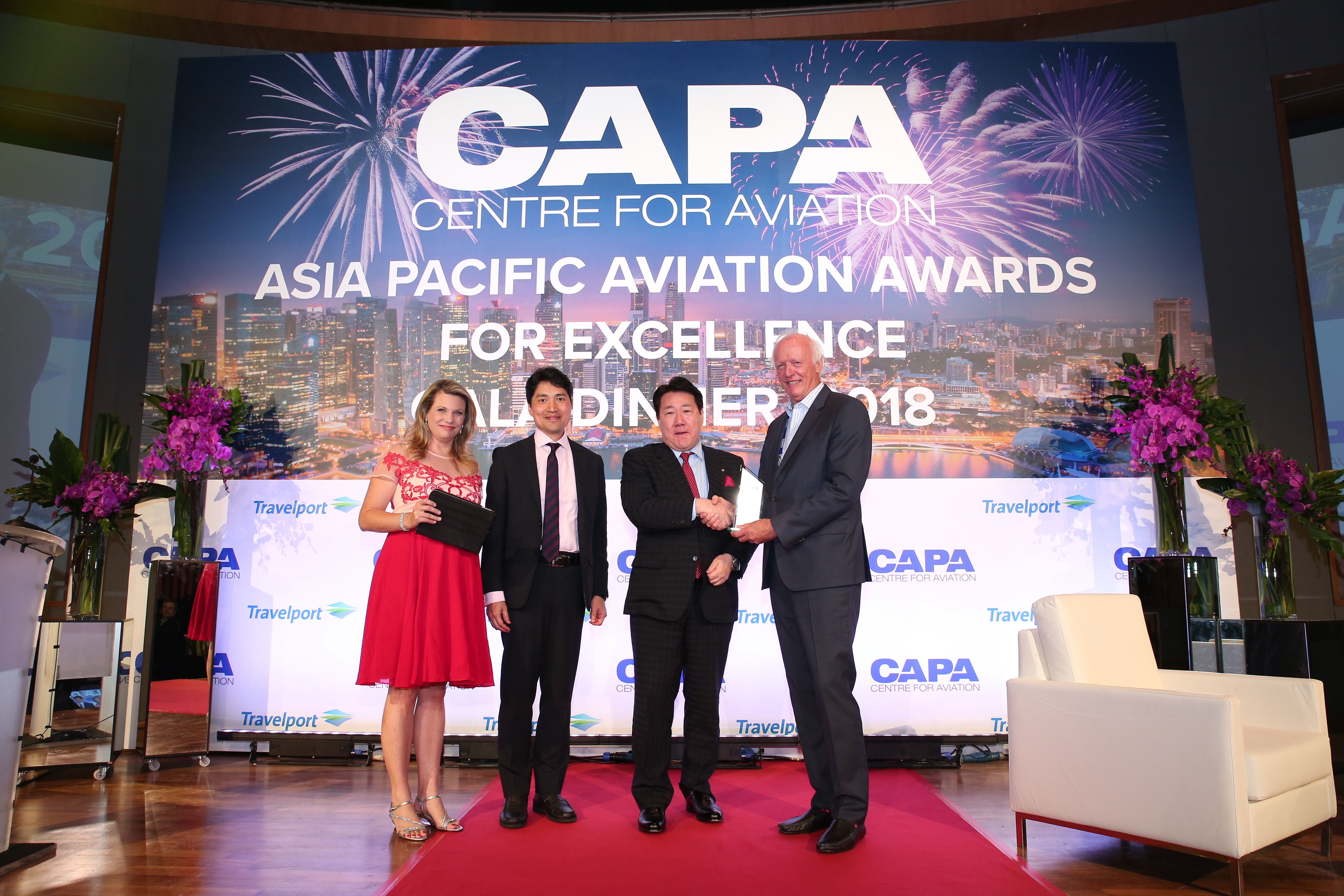 This award is to the airline that has been the biggest standout strategically during the year, has had the greatest impact on the development of the airline industry, has established itself as a leader, and provided a benchmark for others to follow.
JAL was selected for several new strategic initiatives the group has pursued since restrictions that had been imposed as conditions of a 2010 government bailout were lifted in 2017.
JAL has since resumed expansion with several new long-haul routes including Melbourne and Kona. New JVs have been forged this year with China Eastern and Hawaiian Airlines, supplementing existing JVs with American Airlines, British Airways, Iberia and Finnair. JAL also has increased cooperation with American and Alaska and has implemented new partnerships with Aeromexico, Garuda Indonesia and VietJet – the latter a pioneering tie-up with Asia's fastest growing LCC.
JAL established earlier this year a low cost long haul subsidiary, which plans to launch in 2020 with 787s focusing on opportunities in Southeast Asia. JAL already has a stake in Japan's largest short haul LCC (by fleet size), Jetstar Japan, and the new long haul project will improve its position in the strategically important and fast growing budget end of the market ahead of the 2020 Summer Olympics in Tokyo.
JAL, which contracted significantly in 2010 and 2011 as it restructured, has resumed expansion with RPK growth of around 5% the last three years. The airline group has been consistently profitable the last seven years, generating operating profits of at least USD1 billion every year since FY2011/2012.
"JAL has had a momentous year, pursuing several new partnerships and strategic initiatives while resuming growth," CAPA executive chairman Peter Harbison said. "The airline group has been consistently profitable since completing a successful restructuring and re-listing early this decade. JAL is now well positioned for future growth as it implements a well crafted new long-term strategy. The establishment of a long haul low cost subsidiary, a pioneering partnership with VietJet and a new JV with Hawaiian to supplement an expanding JV with American are just three of many examples highlighting JAL's strategic accomplishments."
This is awarded to the low cost or hybrid airline that has been the biggest standout strategically, has established itself as a leader, has been most innovative, and provided a benchmark for others to follow.
Thai Lion Air was selected for its rapid expansion and successful distribution strategy, enabling it to quickly become the second largest LCC in one of Asia's largest and fastest growing markets.
Thai Lion turns only five years old this month and will end this year with a fleet of 35 aircraft and more than 10 million annual passengers. Thai Lion has already overtaken Nok Air, which launched operations nearly a decade earlier, to become the second largest LCC in Thailand. It has also overtaken Bangkok Airways to become Thailand's third largest airline overall after Thai Airways and Thai AirAsia.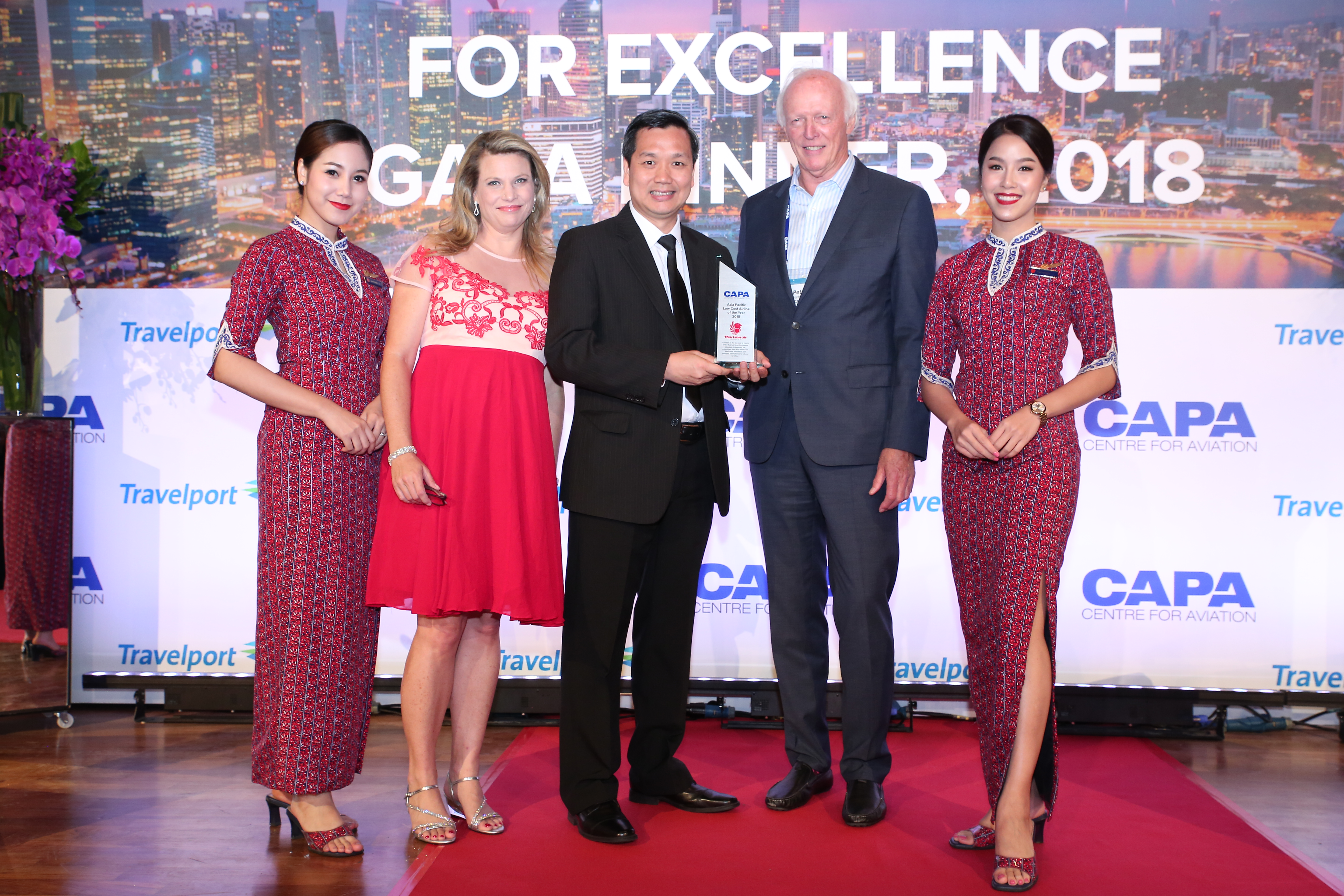 Thai Lion focused initially on the domestic market, where it now has around 20% market share and is the second largest airline. Over the last year it has pursued rapid and successful expansion in the international market, with a focus on China. Thai Lion only began serving China in 2016 and has already become the largest airline from Thailand – and all of Southeast Asia – in the strategically important Chinese market. Earlier this year it overtook Thai AirAsia in the Thailand-China market, an impressive achievement given that Thai AirAsia has served China since 2005.
Thai Lion has been able to expand its China network rapidly by working closely with Chinese travel agents, including OTAs. Relationships with OTAs, which now account for approximately one third of all its bookings, also have been crucial to Thai Lion's success in other markets. Thai Lion is now connected to more than 10 OTAs directly through API.
Offline agents account for another one third of Thai Lion bookings while GDSs account for 6%. Thai Lion's distribution strategy follows more a hybrid rather than pure LCC model but has enabled it to expand rapidly. Thai Lion provides complimentary check-in bags but is a typical LCC with its sale of seat assignments, meals and drinks.
"Thai Lion has adopted the LCC model to suit its market while maintaining a very low cost base through leveraging synergies from its parent the Lion Group," Mr Harbison said. "What Thai Lion has accomplished in less than five years is extraordinary and puts the airline in a strong position for the future as the Thailand market continues to expand rapidly."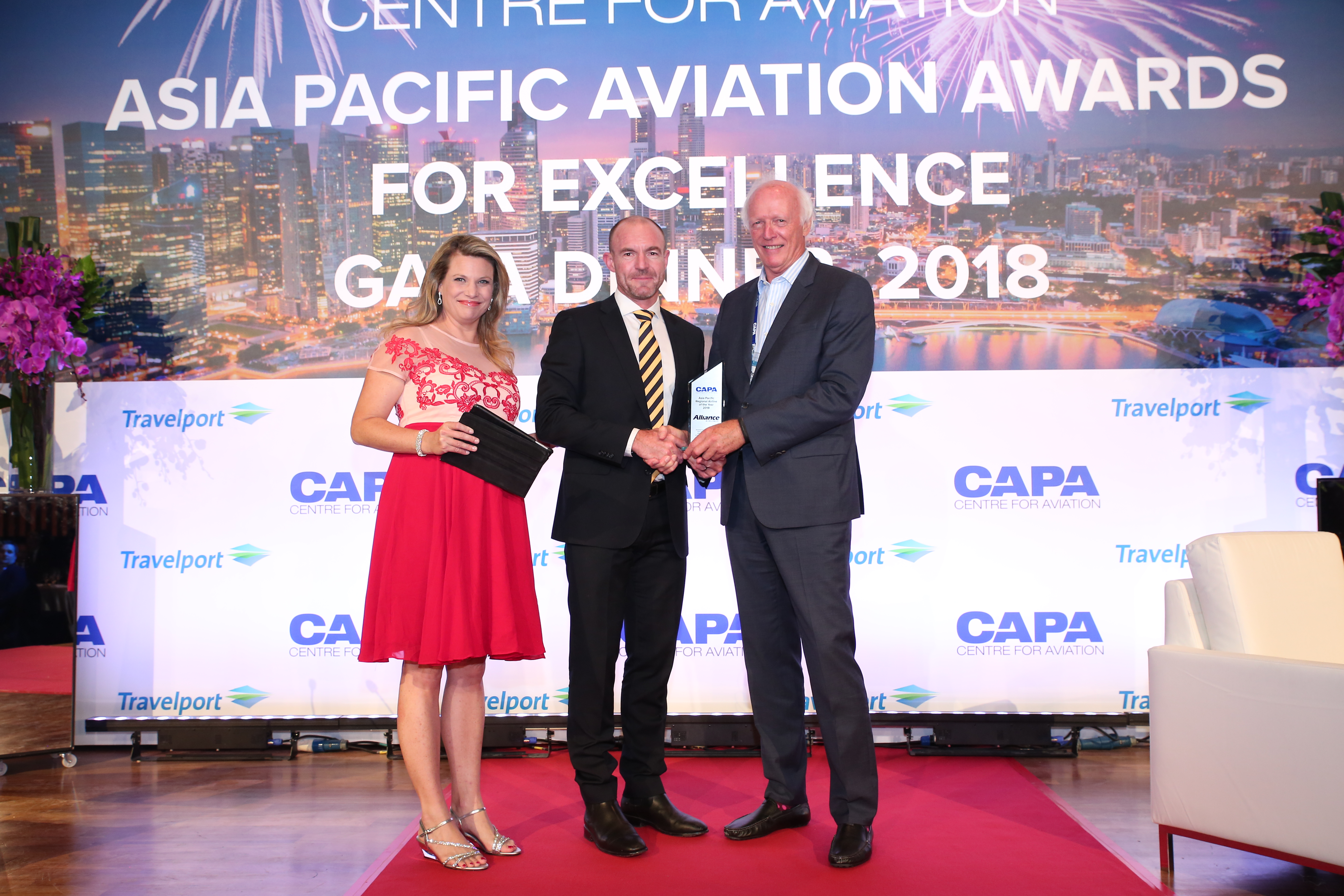 This award is presented to the regional airline that has been the biggest standout strategically, has established itself as a leader, and demonstrated innovation in the regional aviation sector.
Alliance Airlines was selected for its flexible approach, offering wet lease, contract and charter flights as well as scheduled passenger services which are sold under a Virgin Australia codeshare. While fly-in/fly-out (FIFO) operations for the resources/mining industry is still an important and growing revenue source, Alliance's strategy to diversify revenue has been highly successful, leading to improved profitability and increased flying across multiple sectors. It also has an expanding aviation services business.
Alliance has been consistently profitable the last three years and turned an AUD26 million profit before tax in the fiscal year ending Jun-2018. Revenue increased 23% to AUD248 million while total flight hours increased by 34% to 34,612.
Alliance has quietly become the world's largest Fokker operator, with 35 aircraft currently in service (a mix of Fokker 50s, Fokker 70s and Fokker 100s). It expanded its fleet from 29 to 33 aircraft in FY2018 and plans to another six aircraft in the current fiscal year.
"Alliance is not well known, particularly outside Australia, but has been a strategic standout in a challenging segment of the industry," Mr Harbison said. "Alliance's success proves there is still room for small regional airlines that are flexible and innovative."
Saudia awarded the CAPA Asia Pacific Turnaround Airline of the Year
This is awarded for an existing airline that has turned around through innovative strategic changes and/or a restructuring exercise.
Saudia (also known as Saudi Arabian Airlines) was selected for its successful transformation, which has resulted in significant efficiency improvements, in-flight product upgrades, fleet renewal and an accelerated growth rate.
Saudia embarked on an ambitious transformation programme three years ago aimed at improving its efficiency and product. The airline has since taken delivery of more than 70 aircraft, resulting in a young new fleet with new in-flight products and higher service standards. Saudia now has one of the youngest fleets in the world, with an average age of less than five years.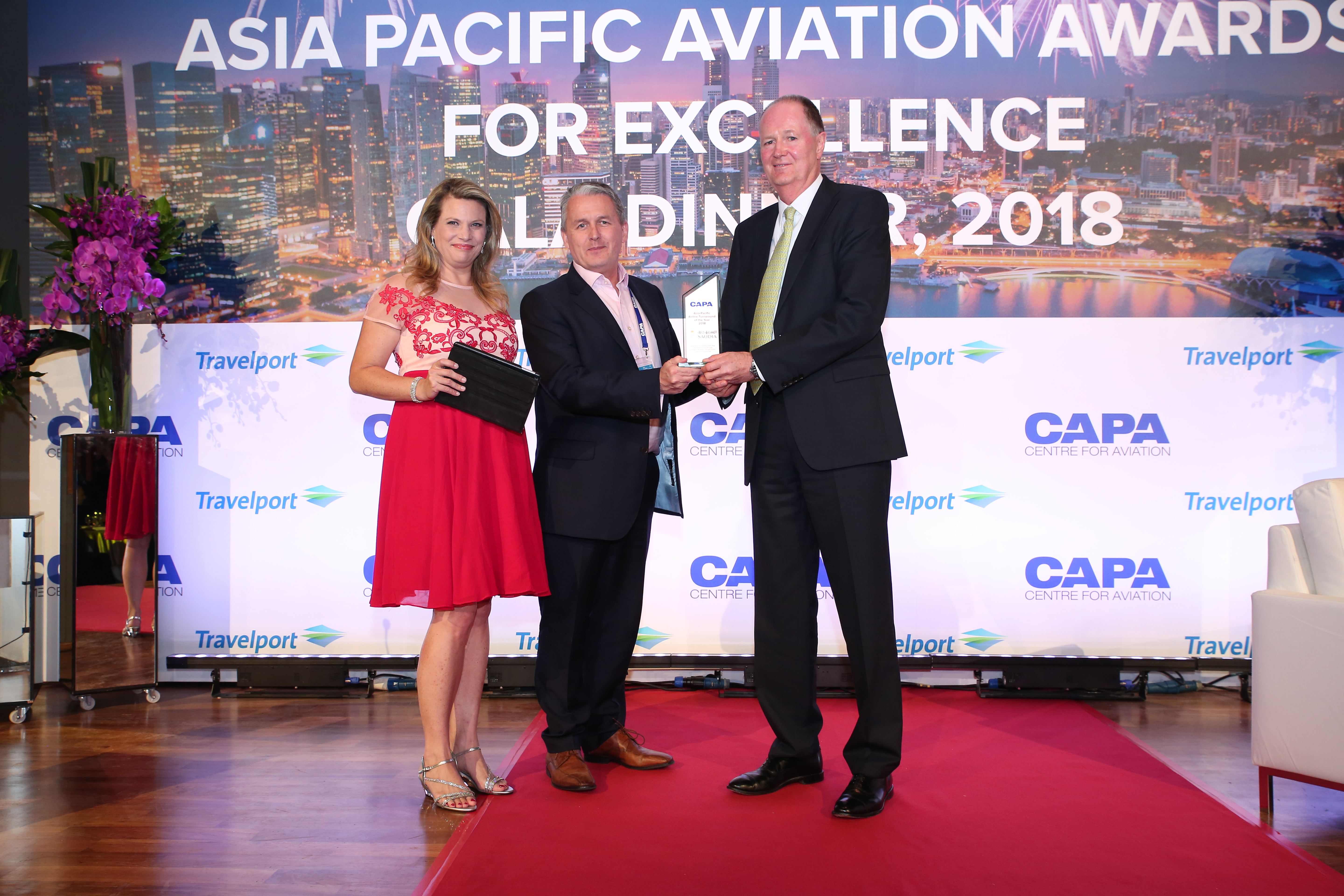 The transformation also included a new dual brand strategy, resulting in the launch of LCC flyadeal in 2017. flyadeal and Saudia's strong domestic position is being effectively used to fend off increased local competition as the market liberalises.
This year Saudia has moved into a new terminal at its Jeddah hub, resulting in massive customer service improvements particularly for transit passengers. Saudia's new strategy includes pursuing more sixth freedom traffic and inbound tourism as the airline expands its international operation. More than a dozen international destinations have been launched in the last two years while capacity has been added to several existing destinations.
"Saudia has been totally transformed and has emerged as a strong network airline with a well-executed dual brand strategy," Mr Harbison said. "Saudia is well positioned to benefit from a booming local market as Saudi Arabia's youthful population travel more frequently and as the kingdom diversifies, becoming a major tourist and business destination."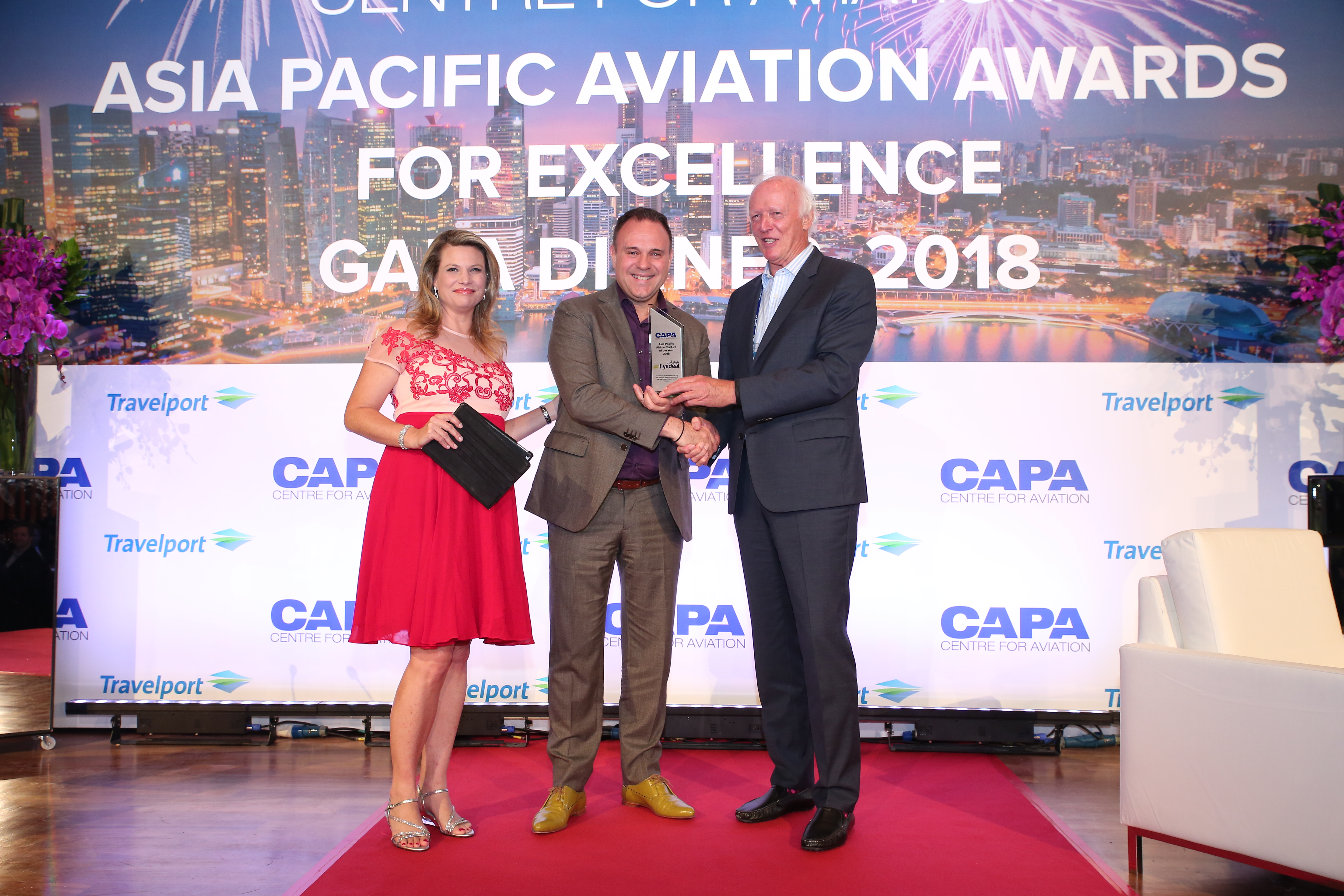 The Start-up of the Year award is for the past year's airline start-up that has been the most innovative and had the greatest impact on the industry since launch.
flyadeal, a new fully owned subsidiary of the Saudi Arabian Airlines Corporation, was selected for its highly successful launch and innovative marketing strategy
flyadeal commenced operations in Sep-2017 and had already carried over 2 million passengers. The LCC currently operates eight A320s to eight domestic destinations and is close to finalising an order for up to 50 aircraft, positioning it for rapid growth over the next several years.
flyadeal is already the third largest domestic competitor in Saudi Arabia and is preparing to launch regional international operations in 2019. Long haul services are also under consideration for the medium term.
flyadeal decided to pursue a pure low cost model – becoming Saudi Arabia's only pure LCC – aptly recognising the market was ready for a a true LCC following the introduction of a more liberal regulatory environment. The model has worked, stimulating demand and capturing high load factors from the first day with a strong following particularly among young Saudis. flyadeal's marketing campaigns successfully educated customers of its low fares no frills approach and resulted in very strong brand recognition.
"flyadeal is off to great start and is already succeeding in a challenging market where others have failed," Mr Harbison said. "The new LCC is poised for future rapid growth given its strong position in Saudi Arabia's rapidly growing market, where there is huge pent up demand at the bottom end, and its affiliation with a reinvigorated Saudia."
Seoul Incheon Airport awarded CAPA Asia Pacific Large Airport of the Year (over 30 million annual passengers)

This is awarded to the airport with over 30 million annual passengers that has been the biggest standout strategically, has established itself as a strategic leader, and done the most to advance the progress of the aviation industry.
Incheon Airport was selected for the successful opening of Terminal 2, which provides further customer service improvements including for transit passengers and cements Incheon's status as one of the leading hub airports in the world.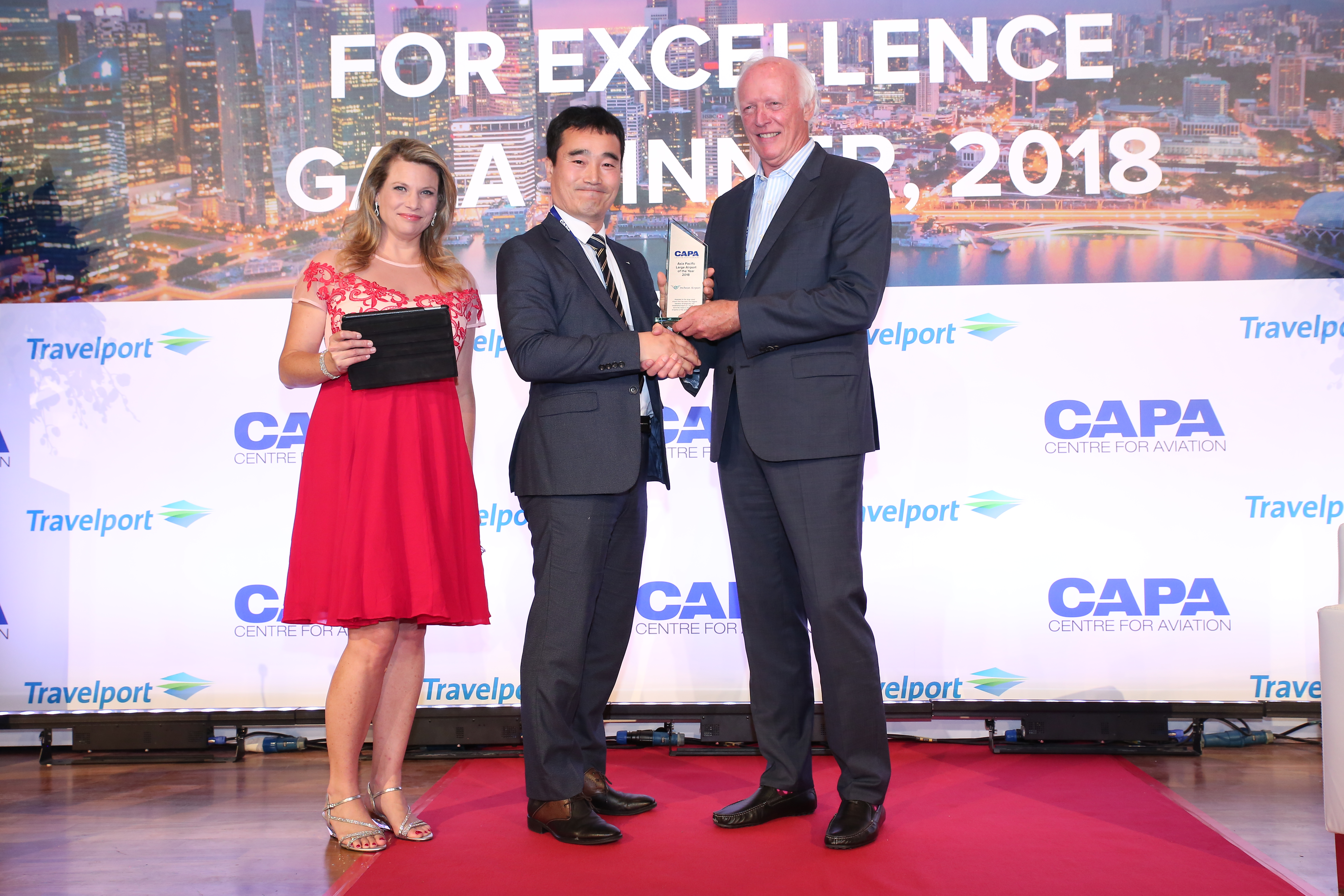 Terminal 2 opened in Jan-2018, just ahead of the 2018 Winter Olympic Games which South Korea hosted. The spacious high-tech terminal is the new hub for Korean Air and its SkyTeam partners.
Incheon's Terminal 2 lifts the airport's capacity to 72 million annual passengers and further upgrades are planned to increase capacity to 100 million passengers by 2023. Incheon handled 62 million passengers in 2017, an increase of 8% compared to 2016. Incheon could reach 70 million passengers this year, having recorded 11% growth through the first three quarters. Traffic has more than doubled since 2009, when the airport handled less than 29 million passengers.
Incheon currently has nonstop passenger flights to over 150 international destinations. Incheon has emerged as the leading hub for East Asia-North America traffic and now has 13 destinations in North America - with two more to be added in Apr-2019 as Korean Air launches Boston and Delta Air Lines launches Minneapolis. Incheon is poised for further East Asia-North America growth as Delta pulls down its Tokyo Narita hub and focuses on Incheon as part of a newly implemented JV with Korean.
"Incheon has emerged as one of the world's best transit hubs and is now undeniably one of Asia's leading airports," Mr Harbison said. "Incheon has upped its game with an extraordinary new terminal that provides an exceptional level of service and significantly improves Korean Air's position as a leading network airline."
Mactan-Cebu awarded Asia Pacific Medium Airport of the Year (over 10 million annual passengers)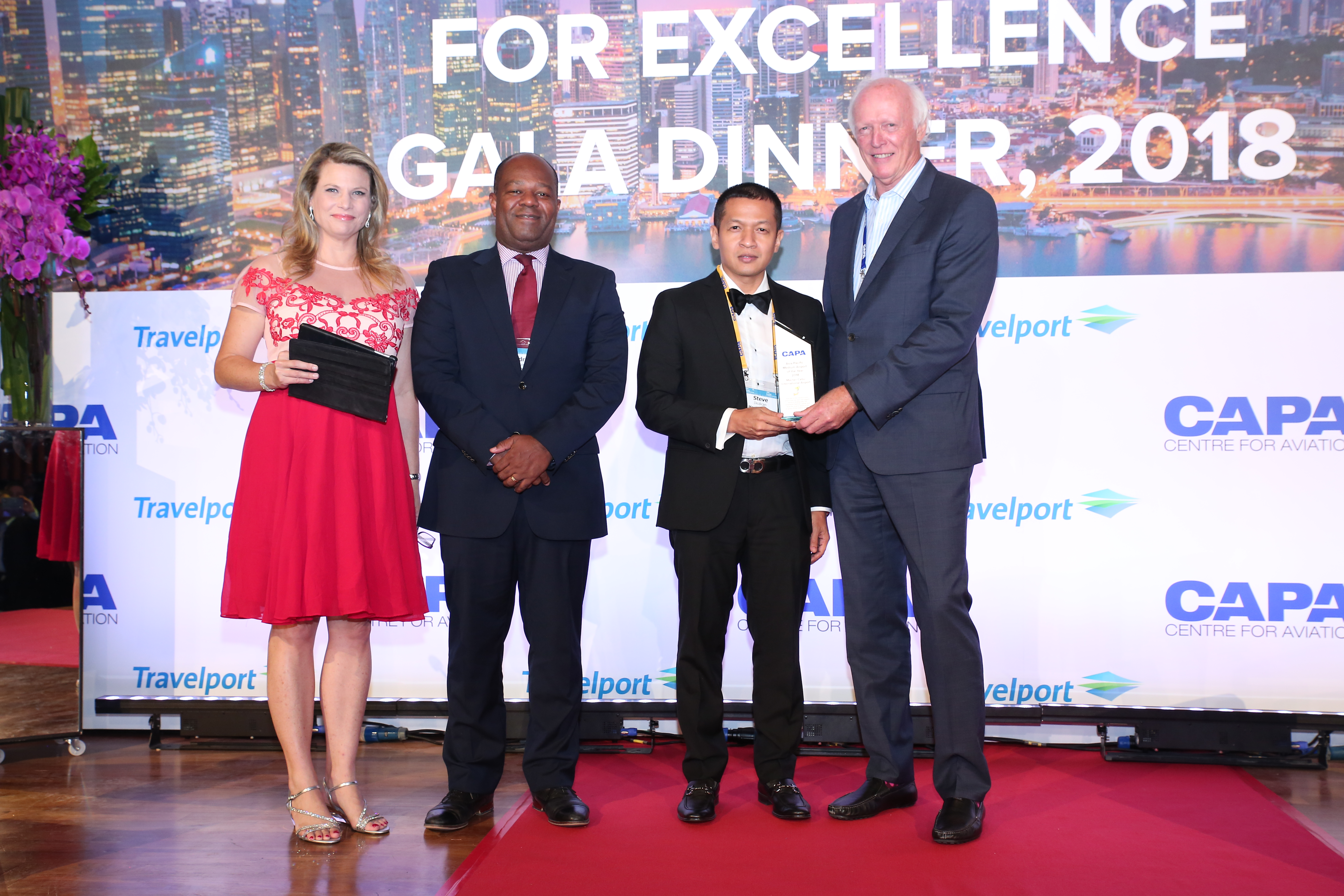 This is awarded to the airport with over 10 million annual passengers that has been the biggest standout strategically, has established itself as a strategic leader, and done the most to advance the progress of the aviation industry.
Mactan-Cebu was selected for the successful opening of Terminal 2, which provides ample capacity to support international growth and offers the best airport passenger experience (by a wider margin) in the Philippines.
Mactan-Cebu's Terminal 2 lifts the airport's capacity from 4.5 million to 12.5 million. Terminal 2 is being used for international operations, which has grown rapidly in recent years, while the original terminal is being used for domestic flights. The terminal took only three years to build with construction beginning less than a year after the airport was transferred to a new private sector consortium consisting of India's GMR and Philippine company Megawide.
Mactan-Cebu won CAPA's Asia Pacific small airport of the year category in 2016, following the successful privatisation. Annual traffic reached the 10 million passenger milestone in 2017, putting Mactan-Cebu in the medium airport category. Total passenger traffic at Cebu grew at a consistent 14% clip in 2015, 2016 and 2017 and has accelerated this year, reaching 26% in the first eight months of 2018.
Mactan-Cebu's international traffic has more than doubled since 2014, when the airport handled only 1.7 million international passengers. International traffic grew 29% in 2017 to 3.1 million and is on pace to exceed 5 million this year following 65% growth through the first eight months.
All three main Philippine airline groups have been pursuing rapid expansion at Cebu, which they are now using the airport as an alternative hub for transfer traffic. The airport also has attracted eight new foreign airlines over the last three years and is currently served by 16 foreign carriers. Mactan-Cebu's network has expanded rapidly and currently consists of 24 international and 16 domestic destinations.
"Mactan-Cebu has done it yet again by demonstrating strategic leadership in Asia's dynamic airport sector," Mr Harbison said. "The opening of the new international terminal follows a highly successful privatisation, positioning the airport for rapid growth and making Mactan-Cebu a model for other airports in the Philippines and throughout Asia as potential PPP opportunities are evaluated."
Johor Bahru Senai awarded Asia Pacific Small Airport of the Year (less than 10 million annual passengers)

This is awarded to the airport with less than 10 million annual passengers that has been the biggest standout strategically, has established itself as a strategic leader, and done the most to advance the progress of the aviation industry.
Senai Airport was selected for its leading role in using new biometrics technology and its support of the LCC model, which has driven rapid growth.
In early 2018 Senai became the first airport in Asia to use biometric facial recognition technology, providing a seamless self-service travel experience from check-in to boarding. Senai is the trial airport for AirAsia's Fast Airport Clearance Experience System (FACES), which offers AirAsia passengers the opportunity to use cutting edge biometrics technology at self-boarding gates. By embracing the new technology, Senai has improved customer service and efficiency, enabling the airport to accommodate further rapid growth.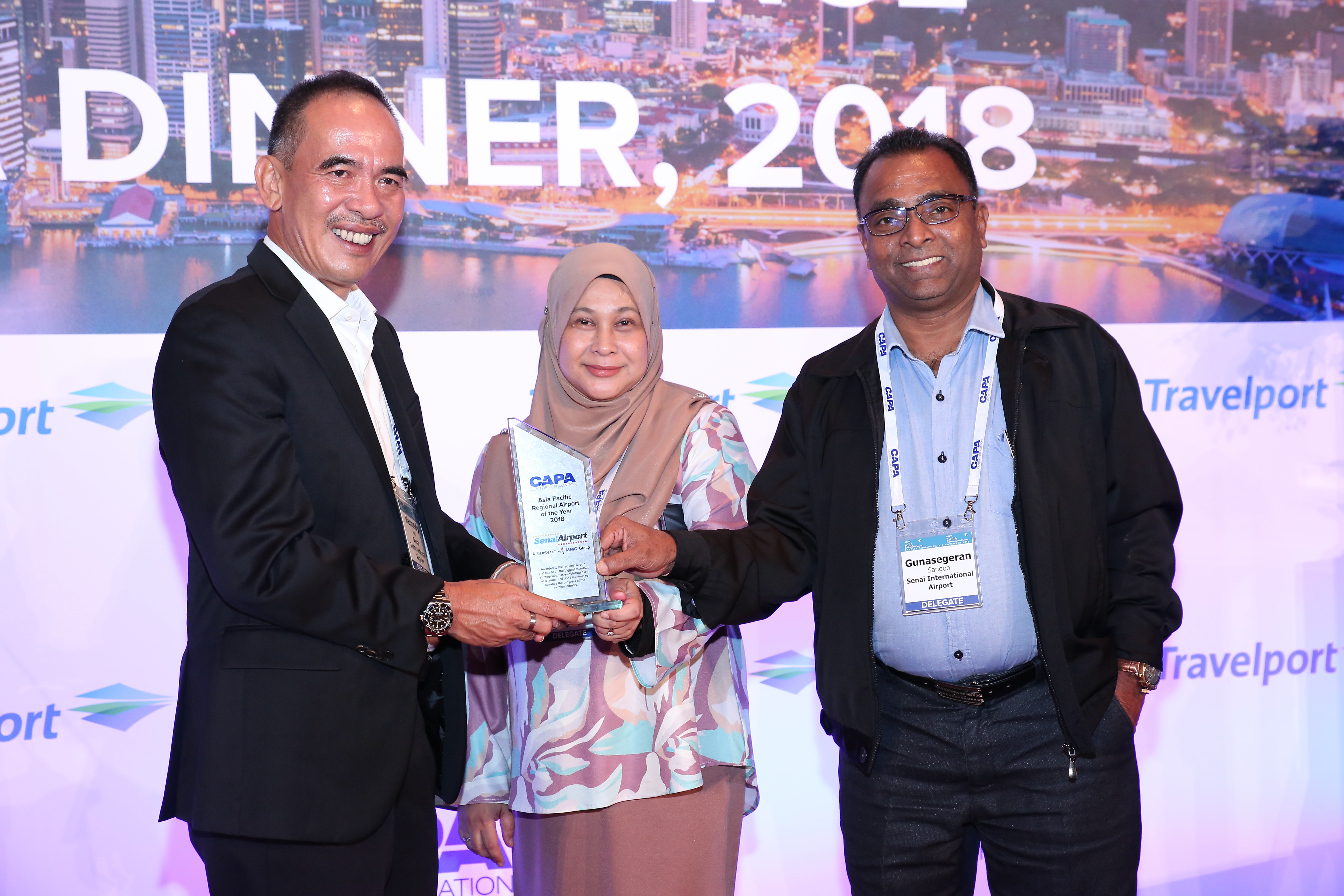 AirAsia is the largest airline group at Senai and currently accounts for nearly 80% of total seat capacity, including 86% of international capacity and 76% of domestic capacity. Senai has emerged as one of AirAsia's fastest growing hubs and the group now operates 17 routes from the airport.
Senai overall now has 19 routes, including 12 domestic and seven international links. Passenger traffic has nearly tripled over the last six years, from only 1.4 million in 2012 to a projected 3.5 million in 2018. The airport handled 3.1 million passengers in 2017 and has recorded growth of at least 10% every year since 2013. International traffic has grown from only 17,000 passengers in 2012 to 444,000 passengers in 2017.
Senai has been privately owned since 2003 and is the only airport in Malaysia outside the Malaysia Airports portfolio. It has grown faster than the Malaysian market average the last six years. Senai is located near the southern Malaysian city of Johor Bahru and is less than 50km from Singapore. While an earlier strategy involved it targeting passengers heading to or from Singapore, Senai in recent years has successfully focused on the local market, attracting several new LCC services which have helped stimulate demand.
"Senai has had tremendous growth and has emerged as a leader in airport technology while operating in the shadow of much larger KLIA and Singapore Changi," Mr Harbison said. "Senai has developed a close win-win relationship with AirAsia, positioning it for more rapid growth and providing a model for other small airports in the region seeking to attract LCC hubs."
About CAPA and the CAPA Aviation Awards for Excellence
Established in 1990, CAPA – Centre for Aviation is the leading provider of independent aviation market intelligence (publishing 500 news stories every working day), analysis and data services, covering worldwide developments.
The CAPA Aviation Awards for Excellence have recognised strategic leadership in the aviation industry since 2002. This year the Aviation Awards for Excellence are being presented at two gala dinners – one for the global industry in Berlin, to be held on 27-Nov-2018, and one for Asia Pacific, which was held on 8-Nov-2018 in Singapore.
For more information on the CAPA Aviation Awards for Excellence including media queries, please contact Daniella Baxter: dbaxter@centreforaviation.com