14-Jan-2010 12:19 PM
JAL share slump continues; Air China and China Southern witness strong growth in Dec-2009
Shares in JAL slumped a further 81% to a record low of just JPY7 (USD 8.00 cents) yesterday, amid rising expectations the carrier will file for bankruptcy protection as soon as next week and be removed from the stock exchange.
Investors dumped shares in the airline with the stock plunging JPY30 (the maximum one-day decline allowed for the second consecutive day), from Tuesday's finish of JPY37.
Asia Pacific selected airlines daily share price movements (% change): 13-Jan-2010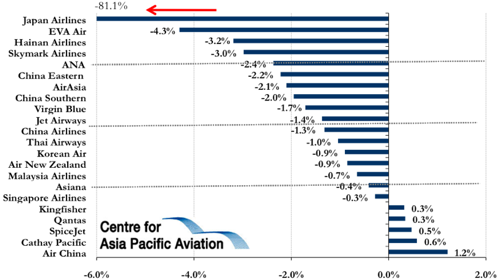 Further reductions are likely, with Mizuho Investors Securities Co Ltd observing "investors are rushing to unload JAL shares before they become worthless. The reports that JAL could be delisted sparked massive selling". SMBC Friend Securities added, "the selling is unstoppable. The market is driving the company to go under".
Almost 823 million shares changed hands yesterday, representing 30% of total volume of 3.1 billion shares on the Tokyo Stock Exchange's first section. JAL has lost approximately USD2.5 billion of market value since 05-Jan-2009, and approximately USD1.8 billion in the past two days alone, with the airline's market value now stands at just USD210 million.
See related article: Japan Airlines sitting on a wonderful opportunity. So is Cathay. It's not one world any more
Downgraded by S&Ps
Standard & Poor's Ratings Services lowered its long-term senior unsecured debt ratings on Japan Airlines Corp and its wholly owned subsidiary, Japan Airlines International, even further into junk territory, from ''CCC" to ''CC'', due to the increased likelihood that JAL's restructuring will be implemented through formal proceedings. The rating means that bonds issued by JAL and JAIC are highly vulnerable and very speculative.
S&P's added it may lower the long-term senior unsecured rating on the two airlines to ''D'' for default and the long-term corporate credit ratings on them from ''SD'' to ''D'' for selective default if JAL files for bankruptcy protection. In addition, S&P has placed the debt ratings on JAL and JAIC on CreditWatch with negative implications. Meanwhile,
Moody's Investors Service downgraded the long-term debt rating and issuer rating on JAIC from ''Caa1,' to ''Ca'', judging that the subsidiary's obligations are highly speculative.
Air China and China Southern witness double-digit passenger and cargo growth in Dec-2009
In 2009 traffic news, Air China reported double-digit passenger and cargo volume growth in Dec-2009, with passenger numbers up 14.1% to 3.2 million, and cargo volume soaring 37.2% to 93,239 tonnes. Passenger load factors also improved in the month, up 2.4 ppts to 75.9%. Air China handled 39.8 million passengers in the full year, a 16.3% year-on-year increase, with an average passenger load factor of 76.8%.
China Southern Airlines witnessed a similar growth trend in Dec-2009, with passenger numbers rising 18.0% to 5.5 million, and cargo volumes gaining 37.8% in the month, to 89,910 tonnes. Passenger load factors were up by 2.1 ppts to 74.1%. In the full year, the carrier handled 66.3 million passengers, for a 13.8% year-on-year increase, with an average passenger load factor of 75.3%.
Cathay expects "slow and gentle" recovery
Cathay Pacific CEO, Tony Tyler, stated he expects recovery to be "slow and gentle at best", adding that 2010 will likely "not be an easy ride". However, in the short term, the carrier is expecting healthy traffic during the Chinese Lunar New Year period.