JAL continues low-density 787 configuration trend with plan for 186 seats
Analysis
Japan Airlines (JAL) will configure its B787-8 in a two-class configuration seating 186 passengers across 42 seats in a 2-2-2 business class configuration and 144 economy class seats in a 2-4-2 economy class configuration. JAL has elected not to feature, at least initially, the first class and premium economy class on its other long-haul aircraft, the B777.
JAL plans to deploy its B787 on a new Tokyo Narita-Boston route from 22-Apr-2012, as well as on existing routes prior to that. JAL's low density option follows a decision from launch customer and operator All Nippon Airways (ANA) to configure its long-haul international B787 fleet with only 158 seats, or 28 fewer seats than JAL.
Both ANA And JAL will have a lower configuration density than Boeing's "typical" three-class configuration plan of 242 seats, as stipulated in a Mar-2011 Airport Compatibility Brochure for the B787. LOT plans to outfit its B787 with 252 seats, and United 219 seats.
JAL's 186-seat configuration, shown in sample bookings for the Tokyo Narita-Boston service, includes 42 business class seats in a 2-2-2 configuration and 144 economy class seats in a 2-4-2 configuration, as shown in sample bookings on JAL's reservation engine. The carrier has not unveiled which seat models it will use on the B787.
The business class cabin occupies zone one of the aircraft – the area between doors 1 and 2 – with three rows of 2-2-2 seats. The cabin continues after doors 2 with four rows of 2-2-2 seats.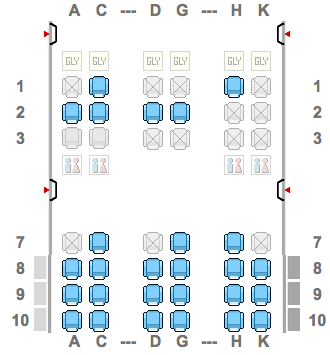 The economy cabin starts after business class and goes until doors 3. In the zone there is one row of two seats on either side with no centre seats, and then seven row of 2-4-2 seats. After doors 3 there is again one row with no centre seats and then nine rows of 2-4-2 seats. There will be galley space around doors 3. Finally there is one row of 2-4-2 seats aft of doors 4, an uncommon layout but one that could maximise seating by decreasing galley space. The extra row is also offers JAL additional exit row seats with enhanced seat pitch the carrier could sell or reserve for elite frequent flyers. Lavatory location and numbers on the aircraft is not clear. Although JAL indicates there will be lavatories aft of rows 3 and 29, the numbers indicated (four and eight respectively) are too high.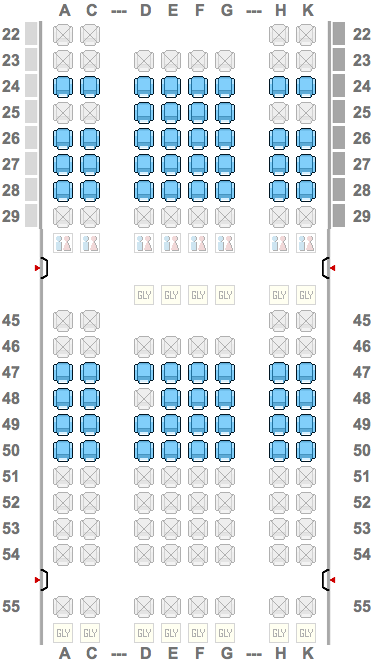 For IFE, JAL will install the MAGIC-V system in economy class. No details on the business class IFE system have been provided, although it will likely be the same version.
The Tokyo Narita-Boston route will commence on 22-Apr-2011 with oneworld member and joint business agreement partner American Airlines. The initial four-weekly flight will increase to a daily service on 01-Jun-2011. JAL president Masaru Onishi said the Tokyo-Boston route would be possible "by making full use of the efficiencies of the revolutionary 787 as well as capitalizing on our closer relationship with American Airlines". American Airlines will codeshare on the service and JAL will work with major Boston carrier and American Airlines partner jetBlue for onward connectivity, suggesting partnerships are just as important as the B787's operating costs.
Read more: B787 routes so far do not push operating envelope
B787 fills gap between B767-300 and B777-200
JAL has 35 B787s on order, all -8 variants. The aircraft fills a niche between the carrier's B767-300 and B777-200 fleets, effectively giving JAL a B767-sized aircraft with a B777-200's range. The B787's length is approximately 57 metres, 2m longer than the B767-300's length of approximately 55 metres. The B767-300 seats 237 passengers in a two-class configuration. The significantly higher density of the B767-300 despite the aircraft being shorter and narrower than the B787 can be attributed to its deployment on short- and medium-haul routes where seat pitch does not need to be as great as on long-haul flights. The B787 is wider and can accommodate one or two extra economy seats per row than the B767-300. JAL's B777-200ER – seven metres longer than the B767-300 and also wider than the B767 and B787 – typically seats 268 passengers in a two-class configuration, including nine-abreast in economy, a wider layout that adds approximately 22 seats than if economy was in a B787's 2-4-2 configuration.
ANA's long-haul international B787s to be configured with 158 seats
Also in the Japanese market, ANA has configured its long-haul international B787s with 158 seats across two cabins. The exceptionally low-density configuration can be attributed to 46 business seats (fully flat Sicma Skylounge business class seats) configured in spacious alternating rows of 1-2-1 and 1-1-1 (compared to a typical 2-2-2 or even 1-2-1 throughout configuration) and the 112 seats in economy (33 to 34 inch seat pitch) arranged in a standard eight-abreast 2-4-2 configuration instead of the nine-abreast option available to airlines and which Boeing uses as a "typical" configuration.
All Nippon Airways regional and intercontinental B787 seat map and cabin seat plan
| Regional B787 configuration | International B787 configuration |
| --- | --- |
| | |
ANA's initial regional and domestic B787s will be configured with 264 seats (12 Sicma Majesty business class seats and 252 economy), the densest B787 configuration confirmed to date, which will be reduced to a 222-seat configuration for regional services.
See related article: Boeing Dreamliner delivery to ANA begins 787's Asia-Pacific dominance
See related article: Beijing and Frankfurt to be first international Boeing 787 destinations for ANA
LOT and United also release B787 seating plans
So far only two other airlines have released their seating plans. LOT plans to configure its B787s with 252 passengers across three cabins: 18 in 2-2-2 business class seats that fold down to lie-flat beds, 21 armchair premium economy seats in a 2-3-2 configuration, and 213 economy seats in a 3-3-3 configuration. United Airlines, meanwhile, is planning a 219-seat configuration, split across a three-class configuration of 36 business, 63 premium economy and 120 economy seats.
Airline

Type

Total seats

First

Business

Premium

economy

Economy

ANA

Domestic

264

12

0

0

252

ANA

International short-haul

222

0

42

0

180

ANA

International long-haul

158

0

46

0

112

International long-haul

186

0

42

0

144

Standard

252

0

18

21

213

Standard

219

0

36

63

120
You can compare these configurations to Boeing's "typical" configuration plans for the B787-8: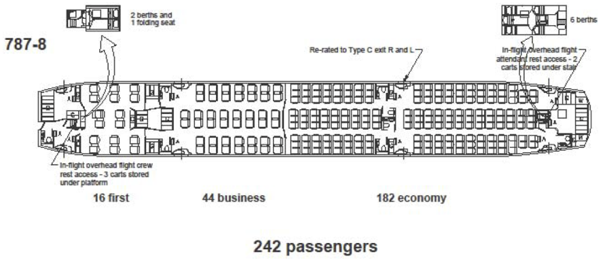 And also for the B787-9: