14-Jul-2009 12:55 PM
Investors welcome China Eastern-Shanghai Air merger; ANA & Virgin Blue fall on capital raising talk
The majority of Asia Pacific airlines' share prices slipped on Monday (13-Jul-09), with Cathay Pacific, Japan Airlines, Qantas and Singapore Airlines all falling, by 5.1%, 4.7%, 3.6% and 1.8%, respectively.
Asia Pacific selected airlines daily share price movements (% change): 13-Jul-09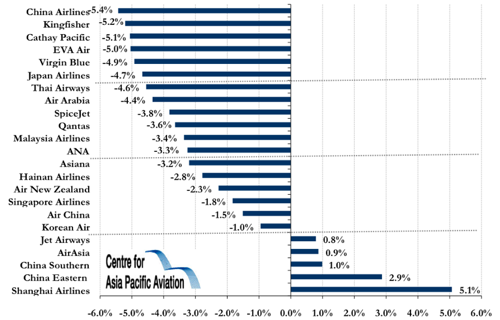 ANA trims share offer
ANA shares fell 3.3% to JPY268 at the close of trading yesterday in Tokyo, as the carrier cut the maximum amount of funds it will raise through its planned public share offering by approximately 20%. The company's share price has fallen sharply since the fund raising plan was announced on 01-Jul-09.
ANA share price growth: Jan-2009 to Jul-2009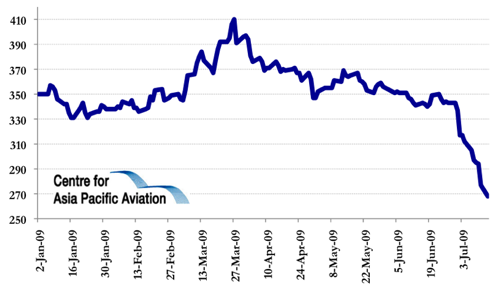 ANA now expects to raise up to JPY141.7 billion (USD1.5 billion) from the issue of 537.5 million new shares (priced at JPY259/share), down from the previously expected JPY183 billion. There are also investor concerns of an earnings dilution from the new share issuance, which will increase the number of outstanding shares by about a quarter.
Investors warm to Shanghai merger
Shares in Shanghai Airlines and China Eastern jumped, by 5.1% and 2.9% (Shanghai B shares), respectively, yesterday on the first day of resumed trading. On 10-Jul-09, the carrieras entered into an "Absorption Agreement", under which they will merge through a share swap. China Eastern's Hong Kong-listed shares rose as much as 14.4% in early trade to an 11-month high, to close 7.5% higher. Shares for both companies had been suspended since 08-Jun-09, pending the announcement on the merger. Shanghai Airlines shares will be delisted after the swap.