Inselair: opportunities for the airline's niche are ripe if the airline commits to an expanded fleet
Analysis
Growth at the Caribbean airline group InselAir appears to have levelled after the company more than doubled its fleet between mid-2014 and the end of 2015. Its fleet composition has remained steady at 19 aircraft throughout 2016, and its seat deployment for the year has fallen below levels the company recorded in 2015.

As its seating capacity has decreased in 2016 InselAir Group has continued to expand its network during the last year, bolstering its model that connects markets in Latin America largely to the Caribbean. New flights include service to Brazil and Colombia and Quito, allowing InselAir Group to expand its reach into South America to support its network model. The company is fairly insulated from high levels of competition; on several of its routes it is the lone operator.
For a year the InselAir Group has been exploring opportunities to add aircraft with greater range to its fleet, and at one point was considering Airbus narrowbodies.
As those evaluations continue, the company could also be waiting on a firm decision until the economic situation in Latin America improves – before adding longer range aircraft for deeper penetration in the region. InselAir Group's unique model could create an opportunity for the company to become a positive force in Caribbean aviation, but governments in the region remained mired in protectionist mindsets that hinder free market progress.
InselAir Groups seat growth appears to moderate in 2016 after solid increases in 2015
Between Jun-2014 and the end of 2015 InselAir Group (InselAir and InselAir Aruba) added eight aircraft to its fleet, increasing the company's total fleet to 19 aircraft, composed of MD-80s and Fokker turboprops.
InselAir Group fleet summary as of 14-Oct-2016
During 2016 InselAir Group's fleet has remained steady at 19 aircraft, and its overall weekly seating capacity has fallen below 2015 levels.
InselAir Group weekly system wide seats: 2014 through early 2017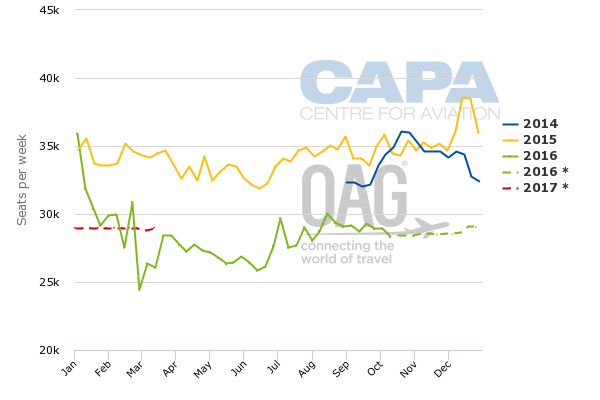 Data from CAPA and OAG show that InselAir Group's seats on offer are forecast to fall 16.7% year-on-year in 2016 after growing 12.5% in 2015.
InselAir Group system capacity year-on-year, measured by seats: 2012-2017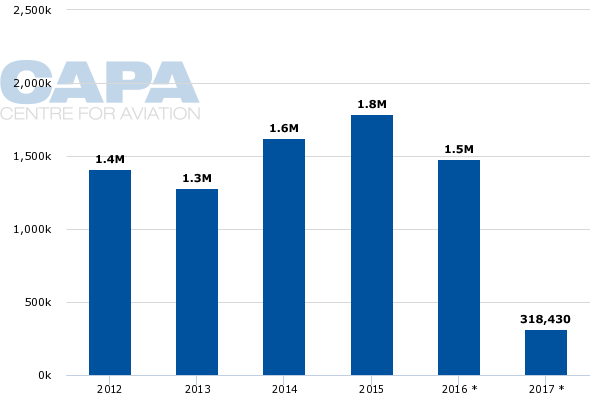 For the week of 3-Oct-2016 InselAir Group is the third largest airline group in the Caribbean, behind Caribbean Airlines and the intra-Caribbean airline Liat.
System seat deployment for the Caribbean's five largest airline groups: 3-Oct-2016
For most of 2016 it appears that InselAir has been digesting growth that occurred in 2015, underpinned by the induction of new aircraft into the company's fleet. The local news outlet The Curaçao Chronicle has published reports that the company was facing a shortage of pilots, but is working to fill in the gaps. InselAir Group could be aligning capacity to adjust to staffing challenges until its bolsters its pilot ranks.
InselAir Group has hubs in Curaçao and Aruba, and its network composition is designed to connect passengers between Latin America and the Caribbean and to some points in North America.
InselAir Group global top 10 hubs/bases/stations by seats: 10-Oct-2016 to 16-Oct-2016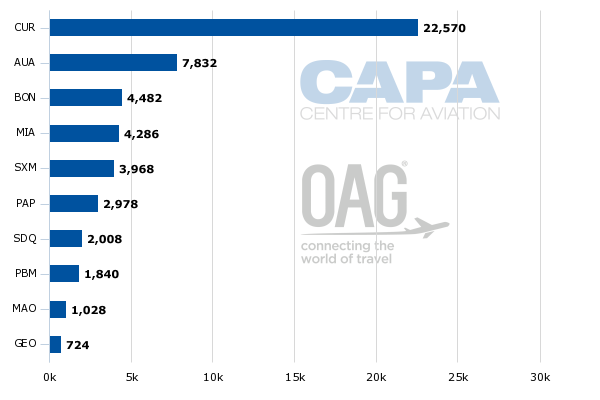 In the time it was growing its fleet InselAir Group added flights from its Curaçao hub to Manaus, Brazil and Quito, Ecuador. From Aruba the company has expanded service to Medellín, Colombia; Santo Domingo and Punta Cana, Dominican Republic; San Juan, Puerto Rico; and Quito, Ecuador. Nearly 86% of InselAir Group's ASMs are allocated to InselAir and the remainder is dedicated to InselAir Aruba.
InselAir Group capacity by airlines (% of seats): 10-Oct-2016 to 16-Oct-2016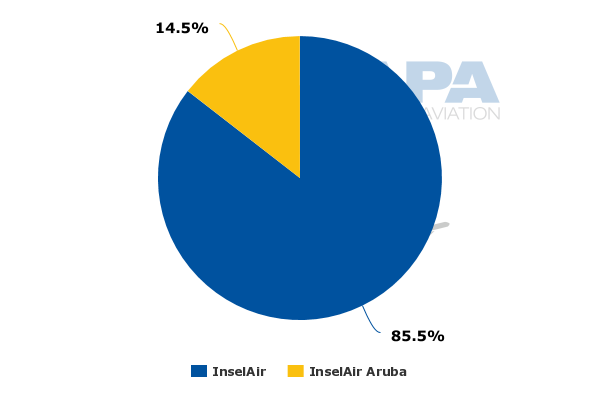 InselAir Group has created a network niche that shields the company from high levels of intense competition. It has also benefitted from growing demand between Latin America and the Caribbean, offering passengers connections to cities in Cuba, the Dominican Republic, Puerto Rico, Jamaica, Trinidad and Tobago and Haiti. There are few direct routes from South America to those Caribbean destinations, so InselAir is capitalising on an ability to offer passengers one-stop service on those routes.

InselAir Group now serves the South American countries of Colombia, Ecuador, Brazil, Venezuela, Guyana and Suriname. It has the most extensive network in South America among airlines based in the Caribbean. InselAir Group marked its first intra-South American service in Jul-2016 when it inaugurated flights from Georgetown to Boa Vista, Brazil.
InselAir will eventually need larger aircraft to fill out its network niche
InselAir Group's network is pushing the limits of its fleet of MD-80s and Fokker turboprops. During 2015 the company stated it was studying Airbus A319 narrowbodies as the value of those current generation aircraft have fallen during the past few years. The US ULCC Allegiant Air has capitalised on favourable Airbus values, and is in the process of transitioning from the MD-80 to Airbus narrowbodies.

The rationale behind InselAir's evaluation of Airbus A319s is that the aircraft's range would allow the company to add routes deeper in the Americas from its largest hubs in Curaçao and Aruba. InselAir Group has highlighted opportunities in southern Brazil and Argentina specifically. Presently its average sector length is just over one hour.
InselAir average sector length by ASMs: 10-Oct-2016 to 16-Oct-2016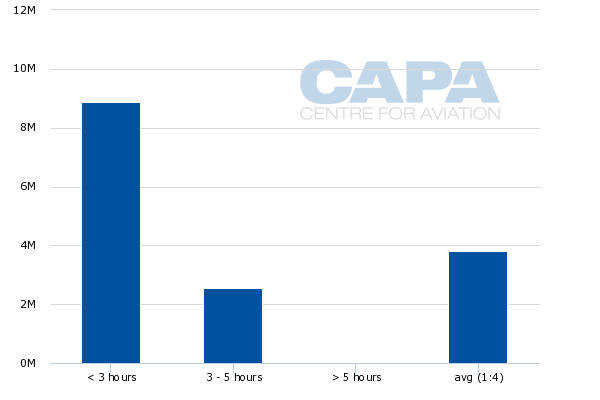 See related report: Caribbean airline group InselAir pursues more rapid expansion with 14 new routes from Aruba, Curacao

InselAir Group appears to be taking a cautious approach to acquiring additional aircraft. The company could be waiting for better economic conditions to return to Latin America before investing in aircraft to serve destinations located deeper in the region. Overall, Latin America's economic growth is forecast to contract again in 2016, and projections for Brazil and Argentina show contractions in 2016 for those countries as well.

It would be a logical move for InselAir Group to move cautiously in its decision to expand its fleet with Airbus narrowbodies, given the tenuous state of Latin America's economies. But it is clear that at some point in the not too distant future InselAir will have to equip itself with aircraft to reach destinations further in South America to support its model of connecting the region with markets in the Caribbean. Expanding its reach in South America could also give InselAir robust feed to add more routes into the Caribbean.
InselAir could become a positive force in the Caribbean with a regional mindset change
In some ways intra-Caribbean aviation is facing a crisis of confidence as two of the region's largest airlines – Caribbean Airlines and Liat – continue to disappoint, and miss opportunities to reach their full potential.

See related reports:

LIAT's woes reflect business conflicts, limited vision in intra-regional aviation
Caribbean Airlines' regional leadership has vaporised; control issues and instability persist

Armed with feed from Latin America InselAir could become a positive force in intra-regional aviation in the Caribbean. But as previously reported by CAPA, the biggest change necessary in the region is a mindset change among governments. Those entities need to cease propping up their state-owned airlines and allow free market forces to take hold. However, no government has shown a willingness to pivot away from their entrenched protectionist policies. Ticket prices are also inflated by high prices, which – given the short flying distances between the islands – makes some operations unviable.
InselAir has ample opportunities in the Americas. Lack of vision remains a challenge
InselAir has worked to establish itself as a bridge between Latin America and the Caribbean, building a niche model that is largely shielded from high levels of competition. Many growth opportunities remain for the company, and to support that growth InselAir seems to realise that it needs to introduce aircraft with a range to add markets deeper into South America.

InselAir could also have more opportunities for expansion in the Caribbean if governments in the region commit to working towards a path to liberalisation. But for now Caribbean aviation remains in a state of inertia, while opportunities for real change in the region's aviation market are squandered away.