IndiGo reports first ever fall in passenger traffic
IndiGo reported its first monthly contraction in passenger numbers in Sep-08 since it launched operations in Aug-06, suffering the consequences of India's domestic slowdown in demand. The Ministry of Civil Aviation reports IndiGo's passenger numbers fell 8.1% year-on-year in Sep-08 to 271,000, while its load factors were also weak at 56% (year-on-year comparisons not disclosed).
IndiGo passenger numbers and passenger numbers growth (% change year-on-year): Oct-07 to Sep-08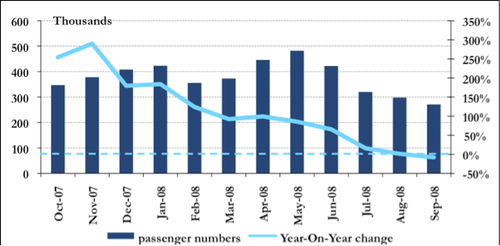 IndiGo however was able to maintain its market share position, growing 1.2 ppts year-on-year to 10.1% in Sep-08. IndiGo has been steadily growing its domestic market share since launch, stabilising at 10-12% this year.
Indigo domestic market share: Jan-07 to Sep-08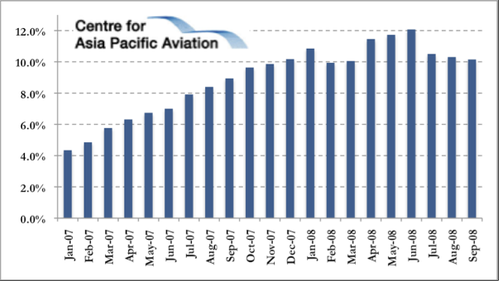 Continues domestic route network
IndiGo aims to consolidate its market share position through an aggressive domestic route expansion strategy, which saw it launch eight new daily services on 14-Oct-08, expanding its domestic services from 95 to 120 per day for the Winter-08/09 schedule. Bruce Ashby, CEO, stated, "we are pleased to announce these services, which provide additional ways for our customers to travel across our route network."
IndiGo new daily services
| Origin | Destination | Launch date |
| --- | --- | --- |
| | | 14-Oct-08 |
| | | 14-Oct-08 |
| | | 14-Oct-08 |
| | | 14-Oct-08 |
| | | 14-Oct-08 |
| | | 14-Oct-08 |
| | | 14-Oct-08 |
| | | 14-Oct-08 |
The airline now connects 17 destinations, including Agartala, Ahmedabad, Bangalore, Bhubaneshwar, Chennai, Delhi, Goa, Guwahati, Hyderabad, Imphal, Jaipur, Kochi, Kolkata, Mumbai, Nagpur, Pune and Vadodara. The carrier aims to serve 30 Indian cities by 2010.
IndiGo destination map: Sep-08
IndiGo ordered 100 A320s in Jun-05. The carrier currently operates 20 A320 aircraft, operated on sale-and-lease-back agreements. It is scheduled to take delivery of an A320 aircraft every month for the next five years.
IndiGo A320 family fleet delivery schedule: 2008 to 2015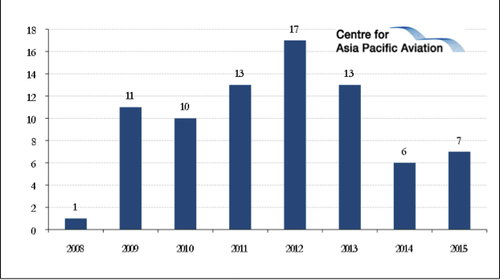 But the airline could slow the rate of capacity growth as the market is expected to grow slowly in 2008. Having already leased out two A320s to Turkish Airlines, IndiGo could further slow the rate of deliveries over the next 12-18 months, to bring its load factors back to reasonable levels.
Background Information:
IndiGo launched domestic services in Aug-06, and forecasts it will become profitable in the financial year 2008/2009;