IndiGo orders 180 A320s. The largest jet order in aviation history gives a boost to Airbus' A320neo
Analysis
IndiGo, India's biggest low cost airline, on 11-Jan-2011 signed an MoU for 180 A320 aircraft, marking the largest single firm order in commercial aviation history by number of aircraft, according to Airbus. Of the 180 aircraft, 150 will be A320neos making IndiGo the launch customer for the A320neo. 30 of the orders are for standard A320s. Deliveries will occur between 2016 and 2025.
Airbus stated the deal, if confirmed as a firm order, would have a value at list prices of USD15.6 billion. Airbus expects the MoU to become a firm order in around two months. Airbus has previously stated the A320neo's list price would be around USD6 million higher than existing models to support modifications to the airframe and for the addition of sharklet wingtips. The 2010 list price for an A320 was USD81.4 million while the A320neo has a list price of USD87.8 million.
The A320neo, set to enter service in 2016, incorporates more efficient engines and wing-tip "sharklets" to deliver significant fuel savings of up to 15%, or up to 3600 tonnes of CO2 annually per aircraft. In addition, the A320neo provides a double-digit reduction in NOx emissions and reduced engine noise. The aircraft comes with either a Pratt &Whitney geared turbofan or a CFM International LEAP-X engine. IndiGo's engine selection will be announced by the LCC at a later date. The A320neo will have over 95% airframe commonality with the A320 family whilst offering up to 500nm (950 km) more range or two tonnes more payload.
The A320neo also has a greater range capability, with up to another 900km - a feature that resounds well in the Asian LCC market, where average stage lengths are typically much longer than in north America and Europe.
Image of A320NEO in IndiGo livery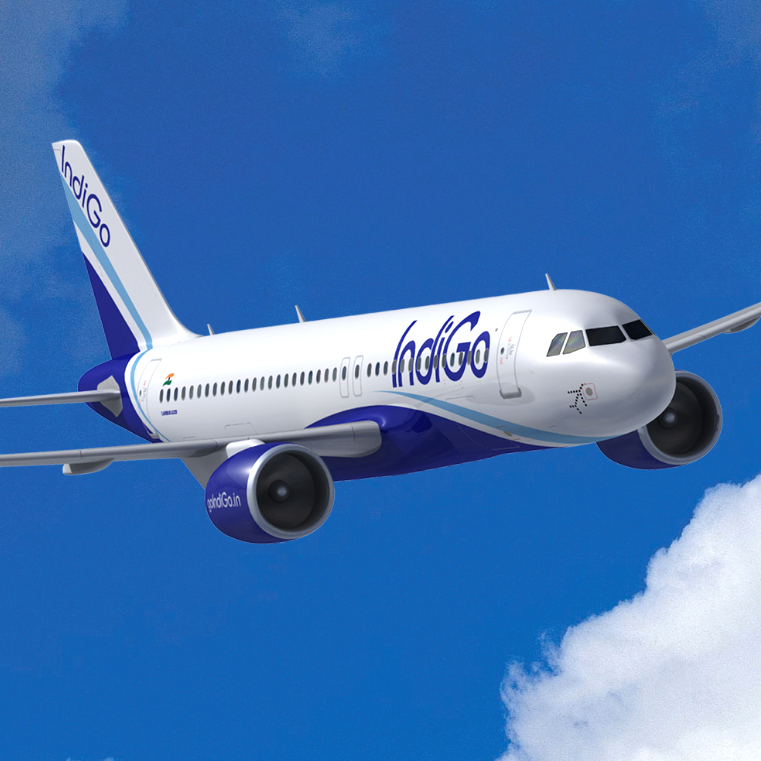 IndiGo preparing for growth in Indian air travel
IndiGo co-founders Rakesh Gangwal and Rahul Bhatia, announcing the order, commented: "This order for industry leading fuel efficient aircraft will allow IndiGo to continue to offer low fares. Ordering more A320s was the natural choice to meet India's growing flying needs. The opportunity to reduce costs and to further improve our environmental performance through the A320neo were key to our decision."
The carrier's president, Aditya Ghosh, in an interview with Bloomberg added: "You need more planes coming into the country even at the current load factors and demand. That is just not happening". He continued: "There is a fundamental demand for air travel and more so for low-fare air travel. If we take a longer term view, we definitely see passenger traffic and demand increasing. The gap between capacity and demand is increasing and these planes will extend our order book beyond 2015, when the 100 planes we ordered earlier are delivered."
Airbus Sales Chief John Leahy, announcing the order, commented: "This order positions IndiGo to take full advantage of the predicted growth in Indian air travel and we are delighted that they continue to build their future with Airbus". He separately commented: "India is one of the key growth markets of the world for aviation, and we are betting on the winners in India".
IndiGo has capitalised on the country's fast economic rise and booming middle class to expand rapidly in the high potential and fast growing market while the nation's network carriers have struggled with the fast pace of growth and financial pressures. For this reason, CAPA last year predicted a significant order from the carrier.
This expectation was partly founded on the carrier's international aspirations with the carrier planning to launch services to the Middle East, Southeast Asia and other South Asian destinations. Under India's licensing provisions IndiGo may not operate internationally until Aug-2011, following completion of five years of domestic operations. The carrier also meets the requirement of operating a 20-aircraft fleet.
The carrier has been granted international traffic rights by the Government of India to operate services from several cities in India to Singapore, Bangkok, Dubai and Muscat during the forthcoming summer schedule. Announcing the permissions, received on 19-Jan-2011, IndiGo commented: "IndiGo is delighted to receive these important traffic rights, and is grateful to the Ministry of Civil Aviation for approving its application in a timely manner. As IndiGo turns five in Aug-2011, this approval dovetails well into its planning process.This will hasten the process of Indian carriers taking back some of the market share that has been lost over the past many decades to foreign carriers. At the same time, this will allow airport operators in India to benefit from the significant investments they have made in developing the airport infrastructure necessary, to meet the growing needs of the traveling public. The schedules and dates for the launch of these international services will be announced in the coming months".
IndiGo also has a history of placing large orders. As a startup airline in 2005 and prior to the commencement of operations, IndiGo placed an initial order for 100 A320s. Of those, 37 have been delivered and the carrier is currently operating 32 of the aircraft. For its previous order, IndiGo has financed aircraft deliveries through a combination of loans and leases, typically through sale-and-leaseback agreements.
IndiGo has not yet decided how to finance the order, according Mr Ghosh who commented: "The order is still 5-6 years before kicking in and the company has time to decide on funding options.". The carrier's strong track record has previously facilitated financing and the carrier could also launch an IPO to finance the order according to Mr Ghosh, who commented: "You can't run a business without considering various financing options with this (IPO) being one of them but it's too early for me to comment".
International services will be a high priority for IndiGo
India's domestic market is booming, even despite infrastructure inadequacies and punitive taxes and charges levied on airlines at almost every turn. Providing for this growth over the next decade will be an enormous undertaking, if potential growth targets are achieved.
But there is even greater potential for expansion in the wider Asian and Gulf markets. Non-flag low cost airlines with geographic aspirations, like AirAsia, Air Arabia, Jetstar and Tiger Airways are each expanding fast, each with very substantial aircraft orders in the pipeline. And Indonesia's Lion Air for example has ordered B737NGs to arrive at the rate of two each month for the next four years, also loudly proclaiming a strategy of expanding internationally.
The ownership model does not limit the LCCs to operating just from their home bases, but by establishing cross border joint ventures with local interests in countries such as Singapore, Vietnam, the Philippines, Thailand and Indonesia (and, for Air Arabia, in Egypt and Morocco), the carriers open up a whole new array of third and fourth freedom opportunities. Similar models will grow also in Korea, Japan and, in due course, China. By establishing linking networks, these commonly branded airlines can develop the same sort of operational efficiencies as the EU airlines have been able to, by establishing bases in numerous countries.
India will also undoubtedly offer an enormous international short haul market in its own right. The Indian diaspora has traditionally been underserved and, as new regional centres open up, the opportunities for low priced non-stop travel are magnified.
In Sep-2010, the very aggressive and successful IndiGo stated it planned to take delivery of more than 70 aircraft by 2015. The Government in Aug-2010 had given in-principle clearance for IndiGo to purchase 150 new aircraft over the next two to three years, for delivery after 2015, to provide for its international expansion.
Owned by InterGlobe Enterprises and Rakesh Gangwal, a former chief executive of US Airways, IndiGo is India's third largest domestic airline (after Jet Airways and Kingfisher). The carrier is expected to have a fleet of around 75 aircraft by 2016, when the A3320neos start to arrive. The new aircraft will partly be used to phase out the earlier models.
IndiGo is not the only LCC in India to be planning rapid fleet growth over the next few years. SpiceJet has a fleet of 50 aircraft on firm order through 2016, GoAir has ten aircraft scheduled for delivery by 2013 and JetLite has nine aircraft scheduled for delivery through 2013, according to Ascend. The prospects for more aircraft orders from other Indian carriers in the near future are high.
The A320neo launch carries considerable strategic significance
Airbus General Director Fabrice stated the order presents around six months of production, stating: "It's great news. This order, it's the equivalent of six months of production, spread out over several years, of course". Meanwhile, EADS President Louis Gallois described the agreement as the "deal of the year". Until now Airbus had lagged behind Boeing in India although Airbus has been quick to state that "thanks to this contract, we are now ahead in this zone (Indian subcontinent)".
For Airbus the prospective sale is worth more than the very high price tag, even allowing for a significant discount for the launch customer's large order. A launch order for the A320neo with a headline profile like this is a dream deal. The manufacturer has managed to establish an edge over Boeing's competitive B737NGs with its new concept. It is not the quantum leap in aircraft design that the airline industry is seeking, but it does deliver more than a nominal improvement in efficiency so long as neither major manufacturer can afford to embark on a separate development programme.
The IndiGo order - especially if it is followed by others - could increase pressure on Boeing to reconsider the future of its single-aisle jet aircraft. Boeing recently said it had pushed back a decision on whether to re-engine the B737 or to replace it some time after 2016 with an all-new design.
There are rich pickings to be had. Boeing estimates India will purchase 1150 commercial aircraft valued at USD130 billion over the next 20 years. Even this is probably highly conservative. Airbus, meanwhile, expects the country to require 1030 new commercial aircraft over the next 20 years. CAPA's estimates stretch to as much as double this amount, as environmental pressures accelerate the renewal process. And then there is China, along with an array of other Asian markets where economic expansion is prompting new airline entry and rapid traffic growth.
With the IndiGo order (still technically an MoU), there are currently over 3,500 aircraft on order for delivery to Asian and Middle East airlines, of which approximately two thirds are single aisle types.
Footnote: Where will all the pilots come from?
Each single aisle aircraft requires approximately 10 pilots, in order to meet the full utilisation requirements of an LCC. Thus IndiGo's order alone implies the need for as much as another 1,800 pilots, roughly half of whom need to be captains. Although many of those aircraft will not arrive until after 2016, the period for training an experienced captain would imply that many of those new pilots will need to start training this year.
Already there is a critical shortage of pilots - and other skilled aviation professionals - in the region, with aircraft being under-utilised due to pilot shortages. There is a serious shortage of training facilities, yet little is being done to head off a looming crisis in the airline business.