Indian airline shares gain on increased pax demand and more positive earning outlook: SHARE WRAP
SpiceJet, Jet Airways and Kingfisher Airlines shares gained 9.7%, 4.5% and 1.2%, yesterday continuing a rally that has seen the carriers' shares gain 41.7%, 70.5% and 23.5% over the past month (comparatively, the Sensex rose just 4.9%).
Yesterday's gains came as SpiceJet CEO, Sanjay Agarwal, stated he expects airlines to post improved earnings in the future, due to increased passenger demand. Mr Agarwal added that passenger numbers increased by almost 20% in Sep-2009, although yields remained low. Mr Agarwal added that yields have improved in the last three to four weeks, due to the implementation of a fare increase in mid Sep-2009, with a further increase implemented at the beginning of this month.
Typhoon forces ANA and JAL flight cancellations
In Japan, All Nippon Airways and Japan Airlines shares slipped 1.7% and 0.8%, respectively, following declines of 3.6% and 3.0% on Tuesday, as the carriers were forced to cancel 172 flights due to Typhoon Meler, which reached Southwest Japan yesterday.
Japan Airlines also reported Aug-2009 traffic results, which revealed a 10.1% slump in domestic passenger numbers, and a 4.3% contraction in international passengers. Domestic load factors also continued to decline, down 4.7 ppts (to 67.1%), although international load factors gained 6.2 ppts to 75.5%. Cargo traffic declines remained in the double digits, with domestic volumes down 11% and international cargo slumping 23%.
Asia Pacific selected airlines daily share price movements (% change): 07-Oct-09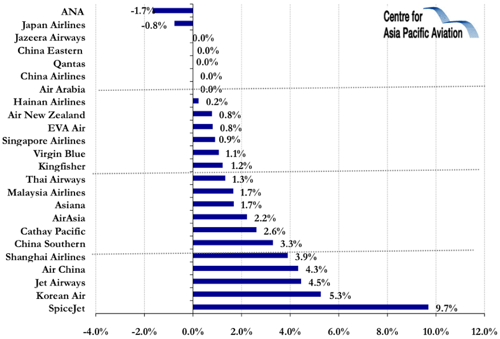 UNWTO expects Asia Pacific tourist arrivals to return to positive growth in Aug-2009
In more general news, United Nations World Tourism Organisation (UNWTO) stated its forecast for tourism arrivals for 2010 is improving, noting that the conditions of the tourism market are starting to indicate stronger prospects for a recovery.
Jul-2009 tourist arrivals in the Asia and Pacific region were down 6% year-on-year in Jul-2009 (a figure also confirmed by Pacific Asia Travel Association), although UNWTO stated it is "very likely" that Asia returned to positive growth in Aug-2009, as many destinations already reported significant improvement.
But "still fighting to get back to ground zero" according to PATA

However, PATA stated the Jul-2009 results, while representing an improvement over May-2009 and Jun-2009 levels (with contractions of 10% and 18%, respectively), "confirm that the prevailing depressed market conditions are still having an impact on international travel flows and, while the global economy appears to be showing signs of renewed activity in some areas, it is doing so at a sluggish pace".
PATA added, "the reality is that there is no quick fix for the travel and tourism industry. We are still fighting to get back to ground zero".
Air booking down 12% in the Asia Pacific in Aug-2009; yield weakness remains week
Meanwhile, Amadeus stated its Aug-2009 air bookings in the Asia Pacific region were down 12% in Aug-2009, with year-to-date bookings down 15%. However, Amadeus added that yield weakness remans a concern, with business class travel remaining significantly down from 2008 levels.