ILFC selling aircraft, seeks to raise additional finance to avoid going bust - supplier share wrap
The world's second largest aircraft lessor, ILFC, has stated that without additional support from parent, AIG, or obtaining secured financing from a third party lender, "there could exist doubt concerning our ability to continue as a going concern", in the future.
In a frank update on its position, ILFC has disclosed it borrowed USD800 million from AIG Funding on 12-Mar-2009 to fund its contractual obligations through to the end of this month. AIG has additionally approved a USD900 million loan to fund ILFC's obligations until the end of Apr-2009, a step which is subject to approval from the NY Fed.
In order to meet its future liquidity needs (in excess of USD4 billion over the next 12 months), ILFC is currently seeking additional secured financing and it may need to seek extra funding from AIG, which again would be subject to NY Fed consent.
Massive fleet backlog
During 2008, ILFC took delivery of 66 new aircraft from Boeing and Airbus and sold 11 aircraft from its leased fleet.
As of 31-Dec-2009, ILFC owned 955 aircraft, had nine additional aircraft in the fleet classified as finance and sale-type leases, and provided fleet management services for 99 aircraft.
ILFC' operating lease portfolio, by date of scheduled lease terminations: At 31-Dec-2008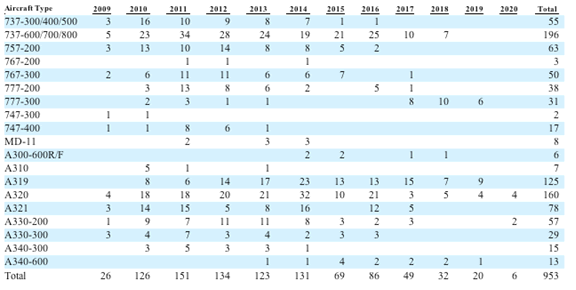 It has contracted with Airbus and Boeing to acquire 168 new aircraft for delivery through to 2019 with an estimated purchase price of USD16.7 billion, 49 of which will deliver during 2009.
ILFC's aircraft purchase commitments by delivery year: at 31-Dec-2008

The largest group of ILFC customers are based in Europe, accounting for 48.3% of the total.
ILFC customers by region: At 31-Dec-2008

ILFC pleads for production slowdown
The lessor has become increasingly urgent in its calls for Airbus and Boeing to slow their production rates, to support aircraft values.
Commenting on the sharp downturn in global aviation markets, ILFC Founder and CEO, Steven Udvar-Hazy, told a conference last week, "when a bomb explodes, the light flash travels a lot faster than the sound. The flash occurred in September, but the sound hasn't reached Seattle and Toulouse yet".
But it is ILFC's dependence on access to public debt markets and bank loans, in addition to its operating cash flows, to finance the purchase of aircraft that has brought it undone. Due to the global credit crunch, ILFC has been unable to issue commercial paper since Oct-2008. The lessor stated, "this market remains unavailable to us and we cannot determine when it may be available to us again".
It added that since Sep-2008, due to the credit crunch and the challenges facing its parent, AIG, "we have also been unable to issue unsecured public debt and we cannot determine when the unsecured public debt markets may be available to us again".
AIG sale of ILFC could trigger default
AIG is in the process of selling ILFC. But the lessor noted, "if AIG sells 51% or more of our equity interests without our lenders' consent, it would be an event of default under our bank term loans and revolving credit agreements and would allow our lenders to declare our debt immediately due and payable. Accordingly, any such sale of us by AIG would require consideration of these credit arrangements".
Future Airbus deliveries threatened, seeks manufacturer finance
ILFC stated it is currently seeking the following sources of financing:
Sales of aircraft;
Secured financings from banks and manufacturers;
ECA facility: At 31-Dec-2008, ILFC had approximately USD800 million available for the financing of Airbus aircraft under its 2004 ECA facility. But as a result of the most recent downgrade of ILFC's long-term credit rating by Moody's to Baa2 on 17-Mar-2009, ILFC will need written consent from the agent of its 2004 ECA facility before the lessor can fund future Airbus aircraft deliveries under the facility.
ILFC safe for the next 12 months
A spokesman for AIG told Bloomberg that there was "no risk of ILFC going bust", and that the company and the US Government would support the lessor.
ILFC stated that based on AIG's continued commitment of support and management's plans to raise additional finance, the company believes it will have "adequate liquidity to finance and operate our business and repay our obligations for at least the next 12 months".
But ILFC warned, "it is possible that the actual outcome of one or more of management's plans could be materially different or that one or more of management's significant judgments or estimates about the potential effects of the risks and uncertainties could prove to be materially incorrect".

The share price performance of rival aircraft lessors has been extremely volatile lately. Yesterday was no exception, with Babcock & Brown Air sliding 6.5%, while AerCap surged 11.1%.
Selected aviation suppliers daily share price movements (% change): 25-Mar-09