IATA AGM Perspective: Things could get worse before they get better
The world's airlines are seeing few concrete signs of recovery and many players are at a knife-edge. Several orders for the landmark B787s and A380 programmes are in the balance. At the IATA AGM in Kuala Lumpur at the weekend, airline CEOs conceded they are throwing everything at stimulating demand, but little progress is being made. Yields are crumbling and losses are widening at a frightening pace.
Officially, IATA stated industry capacity levels are being "resized" in response to the slump in demand. But excess capacity is rife, prompting airlines to cut fares to generational lows. IATA noted, "load factors have fallen very sharply and growing excess capacity is causing fares and cargo rates to decline at a rapid pace". Schedules posted by airlines point to a rise in industry capacity levels from Sep-2009.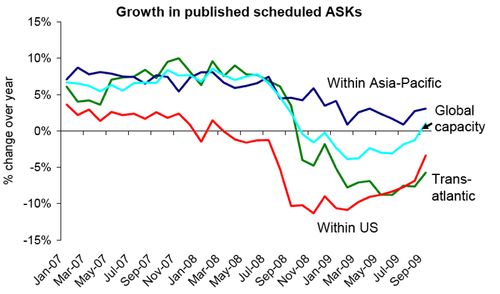 Airline passenger yields tipped to fall 7% this year, cargo to plunge 11%
IATA stated ancillary unit revenues are growing as airlines unbundle their product, "but we expect passenger yields to fall 7% this year and cargo yields to decline 11%.
A survey by the Centre for Asia Pacific Aviation of just under 40 airlines showed that yields (excluding currency effects) fell by approximately 3% in 1Q2009.
Airline yield growth (% change year-on-year): 1Q2009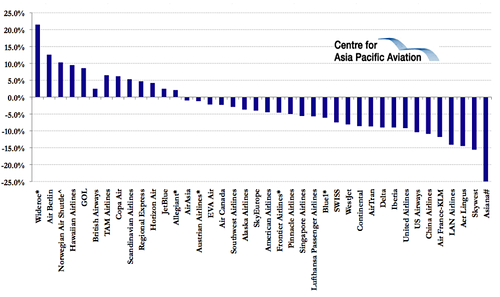 Recent monthly airline yield data covered in Asia Pacific Airline Daily, Europe Airline Daily and America Airline Daily shows further deep declines in April and May, which suggests an economic recovery is still some way off.
IATA is now forecasting airline revenues will shrink 15% in 2009 and losses will balloon to USD9 billion. But that is unlikely to be the end of story.