IAG back in profit. British Airways' profit doubles, Iberia losses narrow & Vueling shows its worth
Analysis
IAG returned to profit in 2013 after a dip into red ink in 2012. The improved results were driven mainly by unit cost reduction and by a first contribution from LCC Vueling after its acquisition on 26-Apr-2013. The group's operating profit of EUR770 million was better than the target of EUR740 million set in Nov-2013 and broadly in line with analysts' forecasts. It was much better than the target set in early 2013, before the Vueling acquisition, to beat 2011's EUR485 million. Deducting Vueling's contribution, the like for like operating result was EUR602 million compared with a EUR23 million loss in 2012.
Inevitably, challenges remain. IAG must implement its new labour agreements with Iberia pilots and cabin crew and conclude negotiations with Iberia ground staff. It must manage BA's long-haul expansion and switch to higher gauge aircraft, while retaining control of its costs. Regarding Vueling, the key will be to allow it to keep its independence and low-cost culture, while allowing it to pursue its rapid growth.
The signs are growing that IAG can meet these challenges.
Hear from Willie Walsh, CEO, IAG, at the upcoming CAPA Airlines in Transition 2014, Dublin, 10-11 April.
2013 results turn around from 2012 losses
IAG's 2013 net result was a profit of EUR147 million, compared with a loss of EUR696 million in 2012 (re-stated from EUR885 million following a change in accounting standards). Exceptional items in the net result included a EUR265 million charge in respect of headcount reductions at Iberia. The pre-exceptional operating result was a profit of EUR770 million, turning around a loss of EUR23 million from 2012. Revenues were up by 3.1% to EUR18,675 million (before an exceptional EUR106 million negative item in connection with a change in FFP revenue recognition).
The EBIT margin gained 4.3 ppts to 4.1%, a strong improvement, although still well short of industry leading levels. According to IAG methodology, its return on invested capital (RoIC) improved from -0.2% in 2012 to 5.6%. Progress was impressive, but it still has a long way to go to match its weighted average cost of capital (WACC), which it estimates at around 10% pre-tax. The group's 2015 operating profit target of EUR1.8 billion is designed to enable it to cover its WACC, which would be a rare achievement for a European legacy carrier.
IAG financial highlights: 2013
| EUR million except where stated | 2012* | 2013 | Change |
| --- | --- | --- | --- |
| Revenue before exceptional item | 18,117 | 18,675 | 3.1% |
| Operating result before exceptional items | -23 | 770 | +793 |
| EBIT margin % | -0.1 | 4.1 | 4.3 |
| Net profit | -696 | 147 | +549 |
| Cash | 2,909 | 3,633 | 24.9% |
| Gross debt | 4,798 | 5,122 | 6.8% |
| Net debt (minus sign indicates net cash) | 1,889 | 1,489 | -21.2% |
| Net debt incl op leases** | 5,345 | 5,701 | 6.7% |
| Equity | 2,978 | 4,216 | 41.6% |
| ASK (millions) | 219,172 | 230,573 | 5.2% |
| RPK (millions) | 176,102 | 186,304 | 5.8% |
| CTK (millions) | 6,080 | 5,653 | -7.0% |
| Passenger load factor % | 80.3 | 80.8 | +0.5ppts |
| Reported | | | |
| Passenger RASK (c.€) | 7.01 | 7.05 | 0.6% |
| CASK (c.€) | 8.28 | 7.77 | -6.2% |
| CASK ex-fuel (c.€) | 5.49 | 5.18 | -5.6% |
British Airways' profit more than doubles as Iberia's losses reduce and Vueling contributes for the first time
IAG's return to profit, at both the operating and net levels, is a welcome resumption of the recovery trend seen in 2010 and 2011 after heavy losses in 2009. British Airways more than doubled its operating profit to reach EUR762 million, contributing EUR415 million out of the total EUR793 million improvement in the group's operating result.
Iberia reduced its pre-exceptional operating loss from EUR351 million to EUR166 million. IAG acquired Vueling on 26 Apr-2013, from which date it contributed EUR168 million to the group operating result.
IAG revenues, net profit and pre-exceptional operating profit (EUR million): 2009* to 2013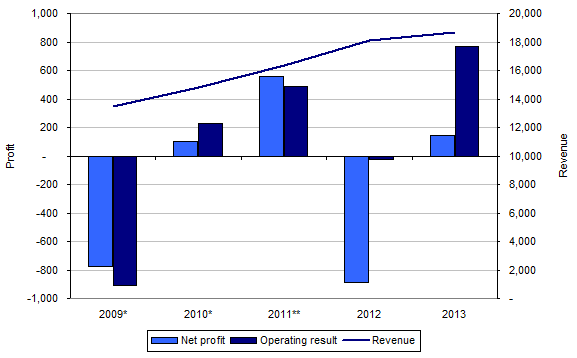 IAG operating profit by business segment (EUR million): 2009*-2013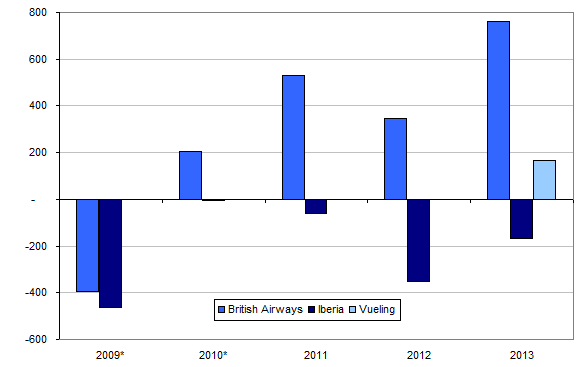 Vueling's own operating result for the full year 2013 was EUR137 million, with revenues up 28% on a capacity increase of 21.9% and cost growth broadly in line with capacity. Its operating result was almost four times its 2012 profit and marks a continuation of a trend of improving results from the dip in profitability seen in 2011.
According to Vueling CEO Alex Cruz, speaking at the IAG 2013 results presentation to analysts, the main reason for his airline's strong performance was the lowering of costs, which he called "an obsession of ours". He added that Vueling would continue to attract business travellers, but that revenue initiatives would not take priority over cost control.
British Airways, Iberia and Vueling operating profit (EUR million): 2010-2013
Liquidity improves and net debt falls
IAG's on-balance sheet net debt fell by 21% in 2013 to a level of EUR1.5 billion at year end. Adding capitalised operating leases to this, the adjusted net debt increased by 7% to EUR5.7 billion, mainly due to the operating leases of Vueling. Its gross cash position increased by EUR724 million to EUR3.6 billion, which is equivalent to 71 days of revenues (up from 59 days in at the end of 2012).
The improved liquidity was due to a EUR390 million convertible bond issue and the cash acquired with Vueling. In addition, the group had EUR3.7 billion of undrawn financing facilities. In spite of its strong liquidity, IAG's board is not proposing to pay a dividend to shareholders, preferring to wait until it reaches a sustainable level of healthy profits. Given that capital expenditure exceeded cash flow generated from operations in 2013, this makes sense.
IAG development of net debt and cash: 2009*-2013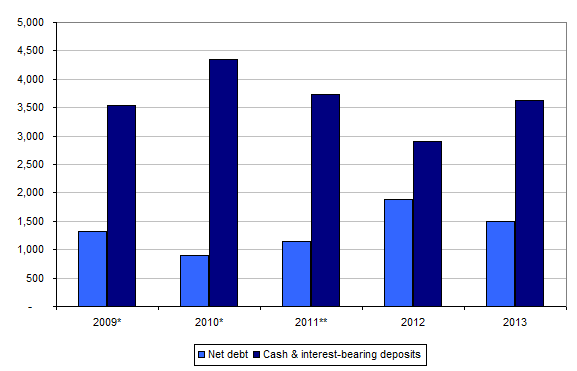 ASK growth was fuelled by the Vueling acquisition
Group ASKs, as reported, increased by 5.2% in 2013 and passenger load factor continued its upward trend, adding 0.5ppts to reach 80.8%. The highest load factor was on the North America network, where it gained 0.9ppts to 84.6%, reflecting the benefits of the joint venture with American Airlines.
Without the Vueling acquisition, ASKs would have reduced by 2.4%. Iberia cut capacity by 14.0%, while BA added 2.0% to its ASKs and Vueling grew by 23.8% year on year from the time of its acquisition in Apr-2013.
IAG development capacity (ASK, million) and load factor (%): 2010*-2013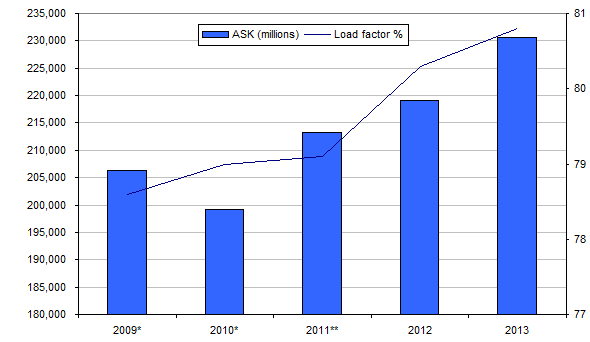 IAG ASKs by region: 2013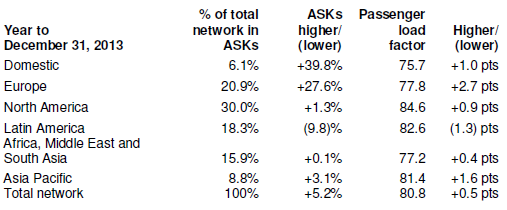 Passenger revenues grow faster than ASKs, but cargo and other revenues fall
Revenue growth of 2.5% was less than the ASK increase because of falling cargo and other revenues. Passenger revenue growth of 5.8% outstripped ASK growth. Cargo revenues fell by almost 12%, a bigger drop than the 7% fall in cargo volumes, reflecting weak demand and pricing.
CEO Willie Walsh told analysts at the results presentation that cargo was no longer a lead indicator for the passenger business and that overcapacity as a result of growth in passenger belly space remained a factor in the market. He added that volume was not a measure of success in the cargo market. "We are very focused on profitability", he said.
IAG's decision to end its wet lease of dedicated freighters increases its cost flexibility in the cargo segment and its agreement with oneworld member Qatar Airways gives it increased network and revenue flexibility.
See related report: Air cargo: structural reform urgently needed where capacity exceeds demand by over 100%
Other revenues, which include ground handling and MRO services through Iberia, were hit by strikes in Spain, although BA Holidays saw demand increase in its business.
In 2013, as part of the transition of the Avios loyalty scheme, IAG changed how it recognised FFP revenue, deferring it until the passenger departs, rather than recognising it on booking. This gave rise to a timing difference and an exceptional charge reducing 2013 passenger revenue by EUR106 million.
IAG revenues (EUR million): 2012 and 2013
2012

2013

Change

% of 2013
revenue

Passenger revenue

15,372

16,264

5.8%

87.1%

Cargo revenue

1,217

1,073

-11.8%

5.7%

Other revenue

1,528

1,338

-12.4%

7.2%

Total

18,117

18,675

3.1%

100.0%

13,312

13,337

0.2%

71.4%

4,805

4,102

-14.6%

22.0%

-

1,130

-

6.1%

Add back exceptional charge

106

-

0.6%

Total revenues before exceptional item

18,117

18,675

2.5%

100.0%
British Airways' 2013 revenues were flat, in spite of the 2% increase in ASKs, while Iberia's revenues fell 14.6%, broadly in line with ASK cuts. Vueling contributed 6.1% to consolidated group revenues for the year. On a full year basis, its revenues grew 28% versus 2012, outstripping its capacity growth.
By region, the strongest reported year on year revenue growth was seen in Spain, reflecting the Vueling acquisition. The other regions saw revenues grow by around 1%. US revenue growth broadly matched ASK growth.
IAG geographical breakdown of traffic revenues by area of sale, EUR million: 2012-2013
| | 2012 | 2013 | Change | % of 2013 revenue |
| --- | --- | --- | --- | --- |
| | 6,029 | 6,085 | 0.9% | 32.6% |
| | 2,548 | 2,839 | 11.4% | 15.2% |
| | 2,647 | 2,677 | 1.1% | 14.3% |
| Rest of World | 6,893 | 6,968 | 1.1% | 37.3% |
| Exceptional item | - | 106 | - | 0.6% |
| Total | 18,117 | 18,675 | 2.5% | 100.0% |
Reduction in operating costs led by headcount cuts at Iberia and lower fuel costs
Operating costs fell by 1.3%, below the growth in revenues and driving the improvement in operating profit. Fuel costs, which accounted for one third of the total, fell by 2.5% and non-fuel costs fell by 0.7%. Labour costs, which were 23% of the total, fell by 5% in spite of an increase in headcount of 0.9% (resulting from the Vueling acquisition, offset by cuts in Iberia). Iberia headcount was reduced by 12%, or 2,507, during 2013.
Labour productivity, measured by ATK per employee, fell by 2.8% (mainly reflecting the drop in cargo capacity), but employee costs per ATK improved (i.e. fell) by 3.2%. Moreover, revenues per employee increased by 2.2%.
Overall, then labour productivity measures moved in the right direction, although further improvements rightly remain a key priority, particularly for Iberia. Important agreements on labour productivity have been reached with Iberia's pilots and cabin crew and negotiations are ongoing with ground staff.
IAG operating costs, EUR million: 2012 and 2013
Costs

2012

2013

Change

% of 2013
costs

Employee costs

4,341

4,123

-5.0%

23.0%

Fuel

6,101

5,951

-2.5%

33.2%

Handling, catering, other operating

1,805

1,932

7.0%

10.8%

Landing fees & en route charges

1,278

1,422

11.3%

7.9%

Engineering

1,285

1,237

-3.7%

6.9%

Property, IT & other

997

922

-7.5%

5.1%

Selling costs

830

785

-5.4%

4.4%

Depreciation, impairment

1,071

1,006

-6.1%

5.6%

Aircraft leases

432

482

11.6%

2.7%

Currency differences

-

45

-

0.3%

Total

18,140

17,905

-1.3%

100.0%

Total ex fuel

12,039

11,954

-0.7%

66.8%
IAG labour productivity measures: 2011, 2012 and 2013
| | 2011 | 2012* | 2013 | Change |
| --- | --- | --- | --- | --- |
| Total full time equivalent headcount | 56,791 | 59,574 | 60,089 | 0.9% |
| Total labour cost EUR million | 3870 | 4341 | 4,123 | -5.0% |
| Employee cost per employee (EUR) | 68,145 | 72,867 | 68,615 | -5.8% |
| ATK per employee | 529 | 520 | 505 | -2.8% |
| Employee costs per ATK (EUR) | 0.13 | 0.14 | 0.14 | -3.2% |
| Revenue per employee | 287,704 | 304,109 | 310,789 | 2.2% |
See related report: European airline labour productivity: CAPA rankings
Operating profit improvement was driven mainly by unit cost reduction
IAG's cost per ASK fell by 6.2% in 2013, with ex fuel CASK falling 5.6%. Currency movements helped the unit cost reduction: ex fuel CASK at constant currency was down 2.7%, but this still reflects a good level of cost control even though Iberia's restructuring is not yet complete.
BA's non-fuel unit costs at constant currency fell by 0.5%, while Iberia's increased by 2.7%. Iberia has reached important productivity agreements with both pilot and cabin crew unions and negotiations are ongoing with ground staff. IAG CEO Willie Walsh expects Iberia to return to profit in 2014. While admitting that its profit would "not be at a level that is acceptable", he said it was "going in the right direction".
The group's unit revenues (total revenue per ASK) fell by 2.0%, while its passenger RASK increased by 0.6%. Passenger RASK at constant currency improved by 3.7%. On balance, the improvement in operating profit in 2013 was driven more by unit cost reduction than by unit revenue growth.
After heavy losses in 2009, the profit recovery of 2010 and 2011 was driven by RASK growth, while CASK growth was modest, but 2012's return to loss was the result of a spike in CASK (see chart below). Sustained profitability requires a continued focus on unit costs.
IAG – index of operating cost per ASK and fare revenues per ASK (each indexed to 100 in 2010)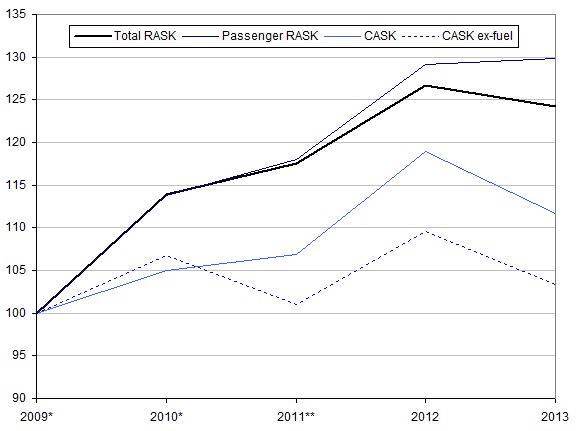 IAG's confident 2014 outlook
IAG says that the current trading environment is stable in all passenger markets, but that cargo markets continue to be weak. It is happy with the performance of BA's new A380 aircraft, which it says offer a cost per seat advantage of around 18% versus the 747-400. The larger aircraft are configured with 469 seats compared with 317 on average for the 747, but the total trip cost from London to Los Angeles is only 22% higher.
The northern summer 2014 schedule will see BA replace three daily 747-400 flights to LAX with two daily A380s, giving 1% fewer seats per day and 19% lower total trip costs per day. While these cost economics appear attractive, IAG is not saying what the yield impact of the switch will be. Frequency reduction may be a turn-off to premium passengers and this could dampen yield.
IAG's current trading environment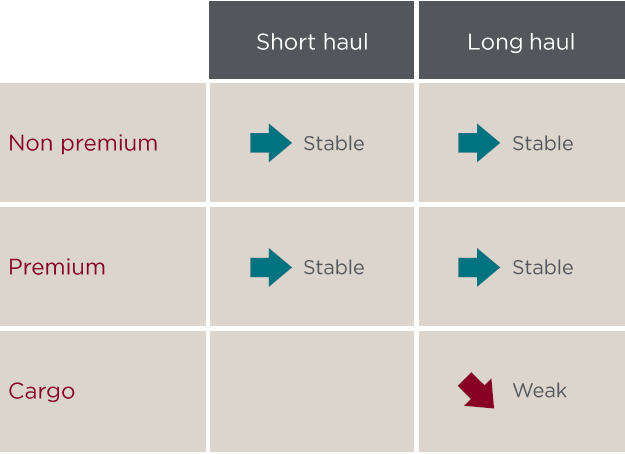 The group will add 10.2% more ASKs in 2014 versus 2013, although the like for like growth rate (treating Vueling as part of the group for the whole of 2013) is 8.1%. BA plans to grow ASKs by 6.9%, mainly as a result of longer sector lengths, but also partly due to the larger gauge aircraft on long-haul, and Iberia will grow by 1.9%. This will be BA's highest level of ASK growth since before the global financial crisis and may lead to some downward pressure on unit revenues.
For Iberia, this year will mark a return to positive ASK growth by Iberia, albeit at a modest level, with some of the growth simply a recovery of capacity lost to strikes in 2013. More significant growth by Iberia will depend on its completing its restructuring. Vueling plans ASK growth of 30.1% in 2014, with a strong focus on the Italian domestic market and on international markets into Spain.
IAG planned capacity (ASK) changes by quarter: 2014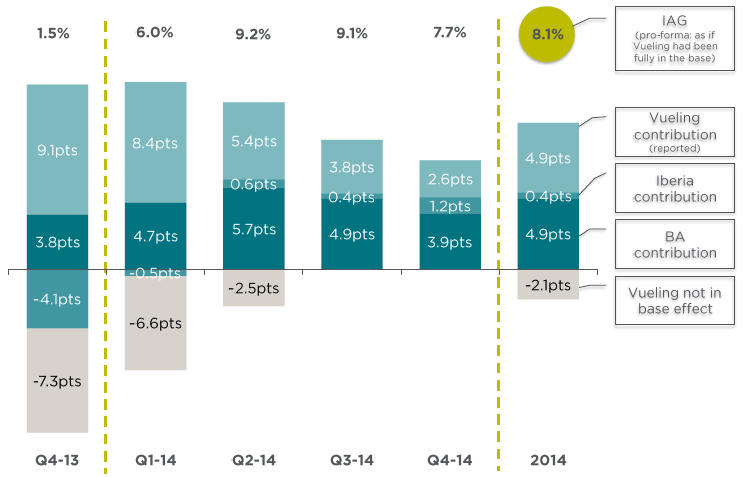 At this stage of the year, IAG typically does not provide profit guidance for the year, but it does say that it expects "steady progress towards 2015 target" of EUR1.8 billion of operating profit. It expect unit revenues to be flat, ex fuel unit costs to be down (both expressed before the impact of any currency movements) and a EUR6.1 billion fuel bill in 2014, versus EUR6.0 billion in 2013.
2015's target is coming into view
IAG is appropriately not predicting unit revenue growth, meaning that the focus will continue to be on unit costs. Combining the elements of guidance, and assuming no currency impacts, even flat ex fuel unit costs would produce a 2014 operating profit of around EUR1.3 billion and a 6% margin, up from 2013's EUR770 million and 4.1% margin.
A 1% drop in ex fuel unit costs would deliver EUR1.4 billion and a 4% cut would get the group all the way to its 2015 target of EUR1.8 billion a year early.
Of course, there is a large number of variables that could throw it off course, but IAG really does appear to have its 2015 target within reach, whereas this looked a very stretched target a year ago.
The major test for the group, with Vueling fully on board and once Iberia's restructuring is compete, will be its resilience to any significant downturn in the industry.
IAG guidance for 2014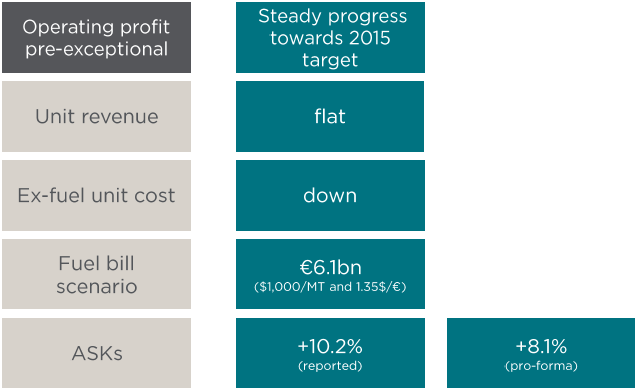 See related reports: