'Houston, we have a problem', Continental Airlines' painfully slow yield recovery
Analysis
Continental Airlines' yields appear to have bottomed, but the carrier reported its sixth consecutive month of double-digit declines last month. The Houston-based carrier's consolidated revenue per available seat mile (PRASM) is estimated to have decreased between 16.5% and 17.5% year-on-year in Jul-2009, after 19.9% falls in both May-2009 and Jun-2009.
Continental Airlines' consolidated PRASM growth (% change year-on-year): Jul-08 to Jul-09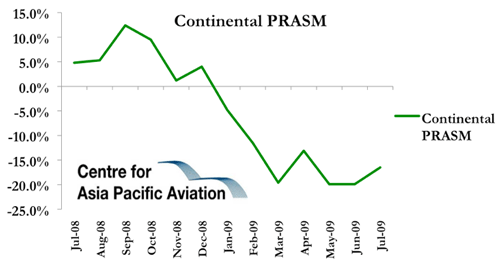 All-time record load factors
Continental Airlines reported a Jul-2009 consolidated (mainline plus regional) load factor of 87.3%, up 3.1 ppts year-on-year. The carrier reported a domestic mainline July load factor of 90.5%, up 5.0 ppts, and an international mainline load factor of 85.3 percent, up 0.3 ppts,.
Continental flew 8.9 billion consolidated revenue passenger miles (RPMs) and 10.2 billion consolidated available seat miles (ASMs), resulting in a consolidated traffic decrease of 3.4% and a capacity decrease of 6.9% year-on-year.
Deep discounting across the industry appears to be working, as industry load factors continue to rise. The hope is that some traction on pricing will soon follow.