Hong Kong vs Dubai - Gravitational force and new entrants help Dubai, Hong Kong traffic tanks
Analysis
Traffic volumes at Hong Kong International Airport continue to contract in May - situation expected to worsen in June

HKIA handled 3.6 million passengers and 259,000 tonnes of cargo in May-2009, representing year-on-year reductions of 12.7% and 17.6%, respectively. The SAR has been hit hard by the continuing global recession and now the swine flu outbreak. Air traffic movements were down 9.1% to 23,435.
Hong Kong International Airport passenger number growth and cargo volume growth: Jun-08 to May-09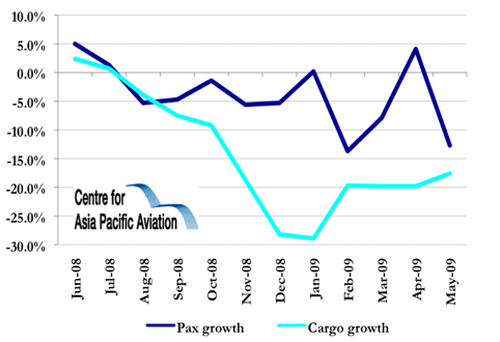 Hong Kong International Airport traffic: May-2009
| | | |
| --- | --- | --- |
| Passenger traffic (mill) | 3.6 | -12.7% |
| Cargo volume (tonnes) | 259,000 | -17.6% |
| Aircraft movements | 23,435 | -9.1% |
The double-digit reduction in passenger volume was across the board with all traffic types affected, according to the airport, but was predominantly attributable to reductions in visitor traffic, which plunged by more than 20%. Markets experiencing pronounced drops were Southeast Asia, the Chinese Mainland, North America, Taiwan and Japan.
Hong Kong's largest international markets are currently among those most affected markets: Taipei, with a 13.4% capacity (seats) share, followed by Shanghai Pudong and Bangkok Suvarnabhumi, with a 7.4% and 5.5% capacity share, respectively, with Manila Ninoy Aquino and Beijing Capital rounding out the Top 5.
Top 5 international routes by capacity share (% of total) to/from Hong Kong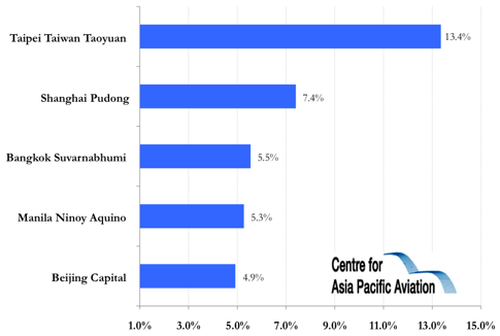 According to Airport Authority Hong Kong CEO, Stanley Hui, "the negative performance reflected largely the impact of continuing global recession and the new but serious impact of Influenza A (H1N1) virus, further weakening the aviation market and resulting in airlines reducing flight frequencies. This prevailing trend in passenger traffic and air traffic movements is expected to continue and will likely further deteriorate in June."
HKIA's fortunes are also strongly linked to the situation at Cathay Pacific, which, together with Dragonair, has a 49% capacity share and 43.3% frequency share at the airport. The carriers reported deep declines in passenger and cargo volumes last month.
Hong Kong International Airport capacity and frequency share: Top 10 airlines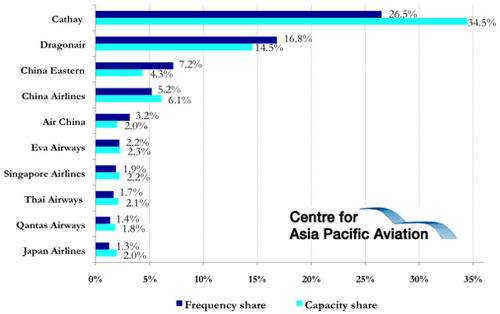 Cathay Pacific CEO, Tony Tyler, earlier this month stated that current business conditions are "very difficult", with the CEO adding, "we haven't yet seen any sign of a recovery". The carrier, which reported a 6.7% reduction in traffic an ad 13.3% reduction in cargo levels in May-2009, is facing a "toxic" combination of low fares, a significant reduction in premium travel, weak cargo load factors, "poor" yields and a negative currency impact, which is making it "more important than ever" for the carrier to protect its cash levels.
Cargo levels hit by reduction in US and European cargo levels
However, the carrier stated its cargo business is showing some signs of stabilisation and "things have stopped getting worse", although a full recovery will depend on economic improvement in the US and Europe.
On the cargo side, reduction in cargo levels to/from the US and Europe accounted for the airport's May-2009 weak export figure, which experienced a more than 20% year-on-year decline. During the same period, imports declined 15%, while transshipment traffic dropped 9%. See the HACTL figures for May-2009.
Meanwhile, Dubai International Airport, the world's sixth busiest international airport, reported a 7% year-on-year increase in passenger numbers to 3.2 million in May-2009 (although no freight figures were provided, as usual), representing a welcome contrast to the general global trend of declining traffic numbers amid the global economic crisis.
Dubai Airport passenger number growth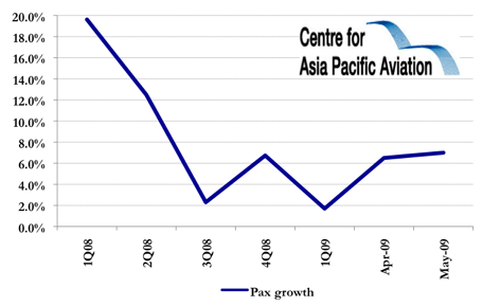 According to Dubai Airports CEO, Paul Griffiths, "the fact that we continue to record positive growth even during a time when international travel has been severely affected by the global economic situation is a testimony to the attraction that Dubai holds internationally for business and tourism."
The airport's growth has been aided by the increasing focus of capacity on the (still growing) Middle East region by foreign carriers. Five new carriers have also launched services to Dubai already in 2009, including including Toumai Air Tchad and Hainan Airlines. A further boost came with the launch of flydubai on 01-Jun-09. The LCC currently operates services to Beirut, Amman, Alexandria and Damascus, with plans to expand its network to cover up to 16 routes by the end of 2009.
Gulf region governments in particular have been aggressively promoting discounted tourism packages to the region, including discounted airfares, accommodation and attraction entry.
Dubai's traffic figures have also been bolstered by new international routes launched by Emirates, the airport's largest customer (with 58.4% capacity (seats) share), in the past 12 months.
Dubai International Airport capacity and frequency share: Top 10 airlines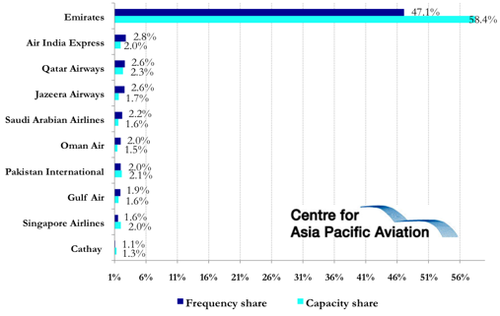 Dubai International Airport's route network is also quite diverse, with the largest international markets (including London Heathrow, with a 4.4% capacity share, Kuwait and Doha), comprising less than 20% of total capacity.
Top 5 international routes by capacity share (% of total) to/from Dubai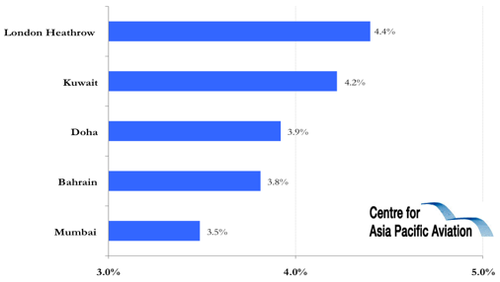 Outlook: Mixed
Unlike Hong Kong, which could expect further near term weakness in throughput as airlines cut capacity, Dubai Airport remains optimistic about its outlook for the balance of 2009. The airport should take over Singapore's place in the world rankings of international airports this year. Next stop, Hong Kong.